Georgette Falcone (born February 11, 2010; Age: 13 years) is a young American actress, also known as Melissa McCarthy's daughter. Georgette debuted her acting career with an appearance in the 2016 movie, The Boss.
Georgette Falcone's mom is a well-known writer, actress, comedian, and stylist. Her father, on the other hand, is Benjamin Falcone, a Hollywood director, screenwriter, actor, and comedian.
Summary of Georgette Falcone's Bio
Full name: Georgette Falcone
Gender: Female
Date of birth: February 11, 2010
Georgette Falcone's Age: 13 year old
Ethnicity: Caucasian
Nationality: American
Zodiac Sign:  Aquarius
Religion: Christianity
Marital Status: Single
Georgette Falcone's Parents: Melissa McCarthy and Benjamin Falcone
Siblings: Vivian Falcone
Georgette Falcone's Net Worth: $1 Million
Eye Color: Brown
Hair Color: Blonde
Famous for: Being a child actress and the daughter of popular Hollywood actress and comedian, Melissa McCarthy
Georgette Falcone Has Italian-Scottish Ancestry
Georgette Falcone was born in the United States on February 11, 2010. She is 13 years old, and every year, she celebrates her birthday three days before Valentine's day.
This child actress was born to the Hollywood stars; Melissa McCarthy and Benjamin Falcone. Her mother, Melissa, is a renowned American actress, writer, comedian, and designer, while her dad, Benjamin, is a seasoned screenwriter and actor.
Miss Georgette is an American citizen of white ethnicity. However, she is of mixed descent as her father has Italian heritage and her mom is of Scottish ancestry. As a young girl, she is raised in America alongside her sister, Vivian. Her elder sister is also an actress. Also, the two girls are said to be very close.
As regards her education, Georgette is still schooling. Melissa McCarthy's second daughter is very young. She is attending a primary school in the US, but the name of her school is not known to the public. She is said to be an active member of her school's drama group. Aside from that, she loves to play football.
In addition to this, the celebrity kid is getting used to growing under the spotlight. Apart from her parents, who are celebrities, her elder sister, Vivian, also holds her own in and around the celebrity circles.
Not just that, she has aunties who are also in the limelight, like actress, model, and TV host Jenny McCarthy and pro basketball player Joanne McCarthy. However, her parents are doing everything within their power to make Georgette have a normal childhood experience.
Georgette Falcone's Parents Have Been Married Since 2005
Little Miss Falcone's parents are masters in the entertainment and movie industry. Her mother, Melissa McCarthy, is a sought-after actress who is famous for her role in the comedy movie, Bridesmaids.
On the other hand, her dad, Benjamin Falcone, is a renowned screenwriter, director, comedian, and actor. He has written about 14 episodes of the animated comedy movie titled The Looney Tunes Show. Also, he acted in 17 episodes of the comedy series Joey.
Together, the couple has two beautiful daughters, Vivian and Georgette. Vivian is older and was born in May 2007, while Georgette came almost three years later, in February 2010.
This Hollywood couple first met as teenagers in the 90s. Melissa was a freshman in college while Ben was still in high school. In 1998, they met again in Los Angeles when they enrolled in the same comedy writing class. These two liked each other and became friends.
Since then, they have worked together, writing and producing their scripts. They have also shared screens as co-actors. The first movie they acted in together was Gilmore Girls in 2003.
Georgette Falcone's parents got married in a private ceremony on October 8, 2005. This came after they had courted for seven years. As of October 2022, the couple celebrated seventeen years of marital bliss. Currently, this couple is still together, and there are no rumors of divorce from this pair.
Georgette Falcone Got Inspired By Her Only Sister To Act
Melissa McCarthy's younger daughter is a child actress. Her parents are renowned personalities in the movie industry. Thus, she developed an interest in acting as a child. In 2016, she made her first appearance on screen alongside her mom, who is a comedy superstar. She made her acting debut as a six-year-old in a movie directed by her father titled The Boss. She interpreted the role of Evelyn in the movie and did so excellently well.
Georgette came into the screenplay after she heard that her sister was going to act. Vivian was to act as the youthful version of her mom's character. When the news got to Falcone, she wanted to be cast too.
Burning with desire, she asked her parents if she could appear in the movie. They agreed and gave her a small role. Georgette was featured alongside her mom and sister. Also, some movie stars like Kristen Bell, Tyler Labine, and Kathy Bates were in the movie.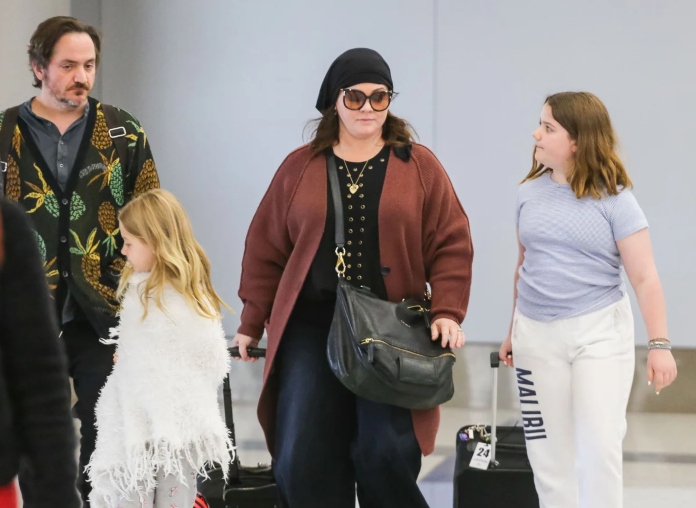 Apart from The Boss, Georgette has not appeared in any other movie. There is also no information about any forthcoming project, but fans are hopeful that she would consider a career in the movie industry.
On the flip side, her parents want their daughters to focus on their studies for now. Mr. Falcone told eonline.com that his girls haven't asked for another role yet. However, he said he would neither encourage nor discourage them.
As of the time of writing, Georgette Falcone's career path is still unknown to the public. The child actress has not said anything about it yet, even though fans expect her to walk in her parent's path.
Is Georgette Falcone Active On Social Media?
No, the celebrity kid is currently absent from the media space. Despite being a child actress and having a lot of fans, she does not have an Instagram account. The only way to keep track of her is via her parents' media handles.
On Instagram, her dad @bengyfalcone has over 210K followers. He is quite active on this platform, with over 200 Instagram posts, but he rarely posts pictures and videos of his daughters.
Similarly, Georgette's mom does exactly what her dad does. Melissa boasts of about 11.3m followers on Instagram @melissamccarthy, but she only shares content about her girls once in a while.
Unfortunately, Georgette and her sister, Vivian, share the same fate. Vivian is also absent on social media, and as such, their life is hardly open to the public.
Who is Georgette Falcone's Boyfriend?
Georgette Falcone does not have a boyfriend at the time of writing, probably because of her age. As a student, it is fair to say she has a number of friends, and even though nothing has been said about a relationship, it would be safe to believe that she has eyes for only her studies at the moment.
However, as she grows older and is able to make her own decision, it is certain that her relationship status is likely to change.