Ben Simmons's parents are Dave Simmons (father) and Julie Simmons (mother). His father is a naturalized Australian and a former basketball player. Ben Simmons is one of his parents' six children. He was born on July 20 1996 and is 27 years old as of 2023.
Benjamin David Simmons rose to fame as a basketball player selected as the first overall pick at the 2016 NBA Draft. Since then, he played for the Philadelphia 76ers until 2022, when he moved to the Brooklyn Nets. While he continues to record many successes as a basketball player, there have also been many questions regarding his family life and parents in particular.
Who Is Ben Simmons' Dad?
The father of Ben Simmons is Dave Simmons, also known as David Simmons. He was born on April 13, 1963, and is now 60 years old. He came to the limelight as a basketball player who had his high school career with South Bronx. For his collegiate career, he played for Oklahoma Baptist, Redlands CC, and then Oklahoma City.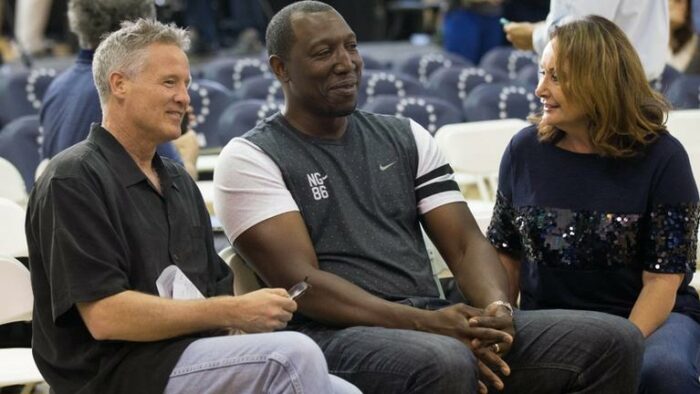 He played professionally for 12 years, from 1989 to 2001. He played for the Melbourne Tigers in the Australian National Basketball League before he joined Melbourne Tigers, where he won the NBL Championships. Before he retired, he would go on to play for other teams, such as Westchester Stallions, Newcastle Falcons, Sydney Kings, and Canberra Cannons.
The older Simmons took to coaching after his playing days ended. He coached Hunter Pirates from 2003 to 2005. The No. 25 jersey of Simmons was retired by the Melbourne Tigers.
Who Is Ben Simmons' Mom?
Ben Simmons' mom is Julie Simmons. She was born on January 21, 1958, as Julie Blake. Now 65 years old, she reportedly got her education from Loreto Mandeville Hall and was also a cheerleader. She had her career as an aerobic instructor and as a personal assistant.
Unlike Ben Simmons, there is not much known about the past activities of Julie, except that she has been very supportive of Ben and all her kids.
Ben Simmons Parents Have Been Married For Many Years
Ben Simmons' mom and dad have been together as a married couple for close to three decades. The pair met for the first time in the late 1980s. To be precise, the speculation is that their first meeting was at a gym in Melbourne in 1989.
When their paths crossed for the first time, Dave was starting his professional career with Melbourne Tigers. By this time, Julie Simmons was already married to a man known as Mr. Tribe. There is hardly any information about her marriage to her first husband as regards how they met and got married.
Julie's first marriage was blessed with four kids before it finally ended in divorce. In the same way that nothing was made known about the marriage, nothing was also revealed about how the marriage ended. However, after the marriage ended, she met and fell in love with David.
They dated for a while before they finally decided to get married in the early 1990s, but the exact date of their marriage remains hidden. It was the second marriage for Julie, while it was the first for her husband, who had no problem adopting her kids and playing the role of a stepfather.
Since Ben Simmons's parents' marriage, the pair have remained very close many years later.
Ben Simmons's Parents' Nationality
The parents of Ben Simmons are of American and Australian nationalities. His father is of American nationality, as he was born in New York, the United States. He is of African-American ethnic extraction.
The New York City native spent the early years of his life in the States before he moved to Australia to pursue his career. Having stayed there for many years, he finally naturalized and got an Australian nationality.
On her part, Julie Simmons is of white ethnic extraction. As stated, she was born in Melbourne, Australia, where she has continued to spend her life. Her nationality is Australian.
Thanks to his parents' nationalities, Ben Simmons also holds dual nationalities; he is American and Australian. The African-American basketball star opted to represent Australia, the country of birth, at the FIBA Oceania Championship in 2013, where the country won gold, and the FIBA World U17 Championship in Lithuania, where the team clinched silver. That said, he is still yet to make any senior appearance for the team in any significant competition.
Ben Simmons Is Not The Only Child of His Parents
Ben may be the most known of the children of his parents, but he is not the only one the couple has. He has a total of five siblings, including Olivia Simmons, Liam Tribe Simmons, Emily Katherine Tribe, Melissa Tribe, and Sean Tribe.
Olivia Simmons is the second child Ben's parents have together and his only full sibling. Olivia was born on December 19, 1991, which means she is now 31 years old. Unsurprisingly, she also played basketball like her father and brother while she was in college. She now has a career as a health worker.
Emily Katherine Tribe was born on October 17, 1980, and she is now 43 years old. She is the half-sister of Ben Simmons, as his mom birthed her from her aforementioned marriage, which ended in divorce. 
Next is Sean Tribe, who was born in 1986. The 37-year-old is also the half-brother of Ben. He gained attention in 2021 when his half-sister, Olivia, claimed that he sexually abused her as a child, a case that went in his favor in court.
Liam Tribe-Simmons is yet another child of the family, although he is not as popular as his other siblings. It is estimated that he was born in 1983 from Julie Simmons's previous marriage. 
The only child of the family less known than Liam is Melissa Tribe-Simmons, who maintains life away from the public. She is also the half-sibling of Ben Simmons.
Ben Simmons Has A Great Relationship With His Parents
Regarding the relationship between Ben and his parents, the basketball star is very close to his dad and mom. He was raised in a closely knitted family, and so he once revealed that one of the things he missed as a result of his career was not being able to spend a good time with his parents.
Ben spent six years playing for the Philadelphia 76ers. During those years, he enjoyed the presence of his parents, who are a part of his inner circle. They found a house in Philadelphia very close to their son. Ben made it known that he is well grounded today thanks to his parents and, most especially, his mom, who has been able to keep the family together.