Libby Offutt is the mother of American footballer Thaddeus Moss who plays as a tight end for the Cincinnati Bengals in the National Football League (NFL). Despite her son's popularity, Libby's best claim to fame is her romantic history with former NFL player Randy Moss.
Before his retirement, Randy Moss had represented major NFL teams like the San Francisco 49ers, Minnesota Vikings, New England Patriots, Tennessee Titans, and Oakland Raiders. He is also a member of the esteemed Football Hall of Fame and resigned with a net worth of over $60 million.
Libby's relationship with the star footballer was pretty much gossip fodder for tabloids in the late nineties as it was a highly publicized interracial relationship, which was frowned upon at the time. The relationship was also known for being a highly toxic one, and the couple constantly went on and off until their final split in 2015.
Well, notwithstanding all that, Libby and Randy still managed to have five children together, with Thaddeus being the first son and Sylee being the youngest daughter. Years after their relationship finally came to an end, fans are now wondering what has happened to Thaddeus Moss' mother, and we are here to help you out. Read on for a brief summary of Libby Offutt's life.
Summary of
Libby Offutt's Biography
Full Name: Elizabeth Ann Offutt
Nickname: Libby Offutt
Gender: Female
Date of Birth: November 1, 1975
Libby Offutt's Age: 46 years old
Ethnicity: Caucasian
Nationality: American
Zodiac Sign: Scorpio
Sexual Orientation: Straight
Religion: Christian
Education: Saint Albans High School and Riverside High School (formerly DuPont High School)
Marital Status: Single
Libby Offutt's Ex-boyfriend: Randy Moss
Libby Offutt's Children: Sydney Nikale Moss (daughter), Thaddeus Moss (son), Senali Moss (daughter), Montigo Moss (son), Sylee Moss (daughter)
Libby Offutt's Parents: Frank Mongomery Offutt (father) and Margarette Offutt (mother)
Siblings: Jennifer and Angela Offutt (sisters)
Libby Offutt's Height in Inches: 66 Inches
Libby Offutt's Height in Centimeters: 168 cm
Libby Offutt's Weight: 62 kg (136 lbs)
Body Measurements in Inches: 40-30-38 Inches (bust-waist-hip ratio)
Body Measurements in Centimeters: 102-76-97 cm (bust-waist-hip ratio)
Shoe Size: Size 6 (UK)
Hair Color: Blonde
Eye Color: Blue
Libby Offutt's Net Worth: $1 million
Famous for: Being Randy Moss' girlfriend
Libby Offutt's Instagram: @libbyoff5
How Old is Libby Offutt?
Libby Offutt is currently 46 years old. She was born Elizabeth Ann Offutt on November 1, 1975, in St. Albans, West Virginia, the USA, to parents Frank Montgomery Offutt and Margarette Offutt. She belongs to the Scorpio zodiac sign and is ethnically Caucasian, although her ancestry can be traced all the way to England. Libby's father, Frank Montgomery Offutt, was a pastor and basketball coach.
He worked as an engineer with many companies during his lifetime, including the Kanawha Valley Chemical Industry, the Goodrich-Gulf Rubber plant, and Monsanto. Frank Montgomery also served as the Chairman of the Board of Christian Education and as the deacon.
Sadly, he died on November 28, 2012, as his health had continued to deteriorate due to a disease called Pure Autonomic Failure. On the other hand, nobody knows exactly what Margarette's career path was; she was likely a housewife for the most part.
Moving on, Libby Offutt was raised alongside her two sisters named Jennifer and Angela. She attended Saint Albans High School, West Virginia, before transferring to DuPont High School (now Riverside High School), where she eventually graduated from.
As a high school student, Libby was very interested in sports and was particularly an excellent swimmer. When she was only 18, Libby got pregnant, and while she didn't drop out of school, she never proceeded to college.
Libby Offutt Started As A Cashier But Currently Works As A Sales Manager
Many of the online reports fixate on Libby's relationship with her footballer ex-boyfriend than her actual personal achievements. This might seem a little bit unfair; however, the reality is that Libby didn't do much careerwise – at least not to the knowledge of the public anyways.
Her first known job is believed to be a cashier job at a departmental home furnishing chain store called 7-Eleven. She worked this job as a teenager. Currently, she is believed to be a sales manager at a retail company called HomeGoods, which has its headquarters located in Framingham, Massachusetts.
Obviously, during her decade-long relationship with Randy Moss, Libby preferred to be a housewife than a career woman. Randy was immensely successful and has accumulated a net worth of over $82 million.
At the time of their relationship, Libby and her children relied heavily on his income, which amounted to nearly $6.5 million per year. Nevertheless, reputable online sources peg her net worth at $1 million. It's very likely that she has several businesses running but prefers to keep them off social media.
Libby Offutt's Relationship With Randy Moss Began In High School
Libby Offutt and Randy Moss met way back in the early nineties as high school students. It was supposed to be the classic high school romance story where the popular IT girl meets the athletic boy, but this story had a twist; one was White and the other Black.
Offutt was a star athlete student of St Albans High, while Moss, a year younger and a class behind, was on a sports scholarship at DuPont High School. They caught each other's attention, and a relationship blossomed between them. Offutt transferred to DuPont High School to be closer to her new beau, and soon the relationship became public.
Their Interracial Relationship Was Heavy Criticised
Unfortunately for the couple, interracial relationships were not exactly popular at the time, and they received a lot of criticism from fellow students and teachers alike. Things only worsened the state of their reputation when Libby discovered she was pregnant in her penultimate year at high school.
The racist comments became more vicious, and Moss, taking the bait, got into an altercation with a couple of students. This cost him his college scholarship, and he was kicked out of Notre Dame. In 1995, he was also sentenced to a month in jail and spent three days there, serving the remainder of his sentence in community service.
Besides Public Criticism, Offutt's Relationship With Moss Was Tumultuous
In 1996, Randy and Libby made headlines for another negative reason after being arrested for domestic violence. It was said that the two got into a heated argument that led to Moss throwing hot water at Libby. However, the case was resolved.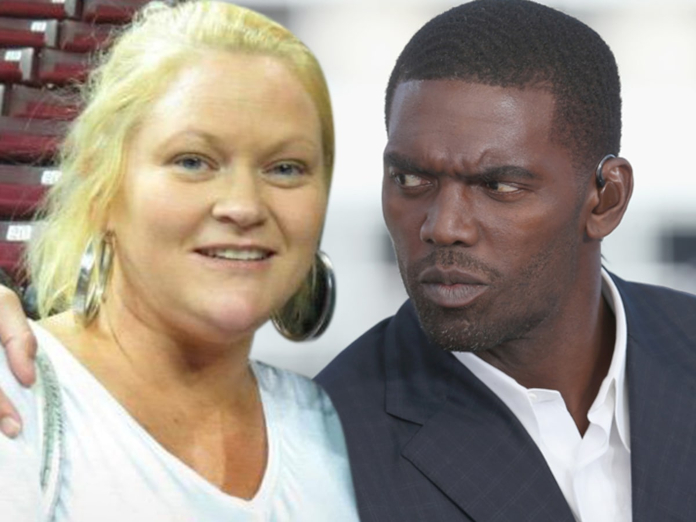 The relationship was tumultuous, with cases of domestic violence and battery arising often. Finally, Libby decided she'd had enough and filed a restraining order against her boyfriend in 2005.
This was after he'd assaulted her and inflicted multiple cuts on her neck and arms. Even though the order was later rescinded, things were never the same for the couple. They eventually broke up not long after and have decided to co-parent instead.
Libby Offutt Was Never Married to Randy Moss, But She Has Five Children
Libby Offutt's five children were born during her decade-long relationship with football Randy Moss. Indeed, Libby Offutt and Randy Moss were never officially married as things deteriorated before they could tie the knot. However, despite the rancorous nature of their relationship, the couple still had five children together. They are Sydney, Thaddeus, Senali, Montigo, and Sylee Moss.
Her first child, Sydney Moss, was born on March 6, 1994. She is 28 years old currently and is an athlete like her parents. Sydney plays professional basketball—she played at the NCAA Division III, the Thomas More College, and the 2014 Division III NCAA Tournament.
Sydney is a two-time winner of the WBCA 'Player of the Year' award. Sydney has done so well for herself in the world of athletics, and since 2019, the 28-year-old has been serving on the St. Thomas University women's basketball team as the assistant coach.
Libby Offutt's second child and first son is Thaddeus Moss. He was born on May 14, 1998, and became a professional football player like his father. The 24-year-old has played as a tight end for schools like Lincoln High, Boone County High School, NC State Wolfpack, Victory Christian Center High School, and even his mother's alma mater, St. Albans High School.
In 2017, the promising player transferred to Louisiana State University (LSU), where he played for the LSU Tigers, aka Fighting Tigers, until 2020. He seems to be the most popular of Libby Offutt's children.
Her third child and second son, Montigo Moss, aka Tigo, was born in June 2002 and, like his big brother and dad, has also decided to become a footballer. Libby's fourth child and third son, Senali, was born on March 24, 2004.
The 18-year-old teenager plays basketball, taking after his eldest sister in that aspect. Their last child and second daughter, Sylee Moss, was born in 2005. Following their parents' split, they spent the greater part of their life in West Virginia and North Carolina.
What Is Libby's Offutt's Relationship with Son Thaddeus Moss Like?
Thaddeus Moss, as we already know, is an American football player. He mostly plays the tight end position and is currently a team member of the Cincinnati Bengals in the NFL. Although he played a lot in college, his professional football career didn't start until 2020, when he was signed as an undrafted free agent with the Washington Football Team.
Since then, a series of leg injuries have kept Thaddeus off the pitch and more on the waiver list. However, his career is steadily on the rise, and we hope he can resume playing soon so he can unveil his talents.
Although the 2019 CFP national champion is quite close to his mother, their relationship has been overshadowed by many factors. First, Libby is mainly known as Randy Moss' ex-girlfriend, and this tag precedes even her motherhood status, especially where the public is concerned.
Secondly, her relationship with her first son appears to be slightly strained, and Libby insists that among all her children, the one who has always had her back, no matter what, is her first child Sydney.
Libby Offutt Once Struggled With Drug Addiction
It isn't apparent whether Libby Offutt is addicted to drugs. However, what is clear is that she was once struggling with addiction issues in the past. The mother-of-five has insisted that she quit drugs as far back as 2007 and has remained clean ever since. However, her ex-boyfriend seemed to disagree as he came out in December 2016 to accuse Offutt of spending $4 million on drugs.
He alleged that she abandoned her children and left them unattended for long periods. He also accused the mother of his children of refusing to seek professional help, forcing him to resign from his enviable football career so that he could take care of their children himself.
Offutt came out a month later to deny the accusations. She asked him to provide proof of his accusations, saying that there was no way she would still be alive if she spent that much on drugs. Libby then counter-accused Moss of cooking up lies to prevent her from having access to the children.
She went on to say that he was trying to get sole custody of their kids with the help of his current wife, Lydia Moss. Libby's mother, Margarette, also corroborated her daughter's story, confirming that she had been completely clean for almost a decade before the call out. To date, apart from Moss' call out, there has been no other link between Libby Offutt and drug abuse.
Where is Libby Offutt Now?
Libby Offutt has been living a very quiet, low-key life recently. Since her split from Randy Moss, she has limited her public appearances and has remained decidedly private. Her Instagram posts seem to show that she has also become religious, and she seems to have taken up fitness training as well. To the best of our knowledge, Libby is single and has remained so since her and Moss' breakup in 2005.
It isn't clear whether Libby Offutt is in a romantic relationship with someone and simply unmarried or completely single. The most likely answer is that she prefers to focus on herself and her children alone. It seems the former athlete intends to recover what's left of her life and start all over again—this time, on a new page.