Jon Bon Jovi has a total of four children with Dorothea Hurley, his wife of over three decades, and they include three sons named Jesse Bongiovi,  Jacob Hurley Bongiovi, Romeo Jon Bongiovi, and a daughter, Stephanie Rose Bongiovi.
While the lives of most rock stars are fueled by trappings such as sex and drugs, there are some notable exceptions and one of them is Jon Bon Jovi. The American singer holds sway as one of the greatest rock stars in the world, selling more than 130 million records with his eponymous band and winning a slew of accolades. He is also one of the richest in his field with a fortune that is estimated at about $40 million. Jovi's success has been attributed to several factors and one of them is his un-rockstar-like stability.
The New Jersey native is happily married to his high school sweetheart, Dorothea Hurley, and they have managed to sustain their union for over 3 decades with no scandals and the likes. They have gone on to welcome four beautiful kids and although they are not perfect, they are all thriving. One is a budding entrepreneur while another has made the headlines for his student activism.
Jon Bon Jovi is Married to Former Karate Instructor, Dorothea Hurley
Jon Bon Jovi's wife is a fellow New Jersey native named Dorothea Hurley. Hurley was born on the 29th of September 1962. Her father's name is Donald Hurley while her mother's name is Dorothy Pawlyk. Hurley grew up in New Jersey and attended the Sayreville War Memorial High School in the town of Parlin. She excelled in both academics and athletics, going on to win multiple junior championships in karate. Her exploits exceeded her state boundary and she went on to be named the 4th best greenbelt karate master in the United States of America. Hurley spent some years as a karate instructor, later acquiring a fourth-degree black belt.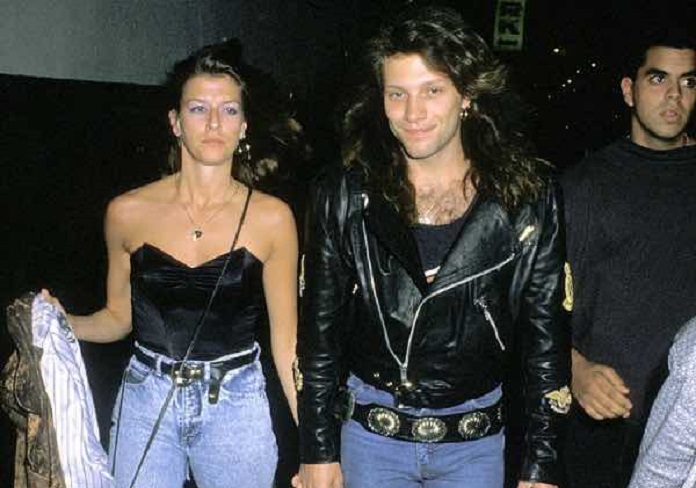 They Began Dating as High Schoolers and Wed in 1989
Even though Jon Bon Jovi refuses to write any memoirs about his personal life, you can tell that it will be a bestseller should it ever hit the shelves. The award-winning singer boasts of an incredible life and one of the most interesting aspects is his romance with his wife, Dorothea Hurley. As the story goes, Jovi first met Hurley in a high school history class around the year 1980. They were both seniors and it was love at first sight for him. Unfortunately, he couldn't do anything about his feelings as Hurley was going steady with another schoolmate at that time.
Fate would smile on Jon Bon Jovi when Hurley's then-boyfriend relocated to another town. He gave her a three-week period to get over her ex and promptly asked her out. They started dating and "that was the end of that". Hurley saw the potential in Jovi and stuck by his side as he and his band tried to establish their musical career. Their first two albums recorded minimal success but by the third album in 1986, titled Slippery When Wet, they became a global sensation. This led to an endless cycle of touring and Hurley gladly came along on it all. It was during one of these tours that the couple ran off to the Graceland Chapel in Las Vegas and quietly tied the knot on the 29th of April 1989.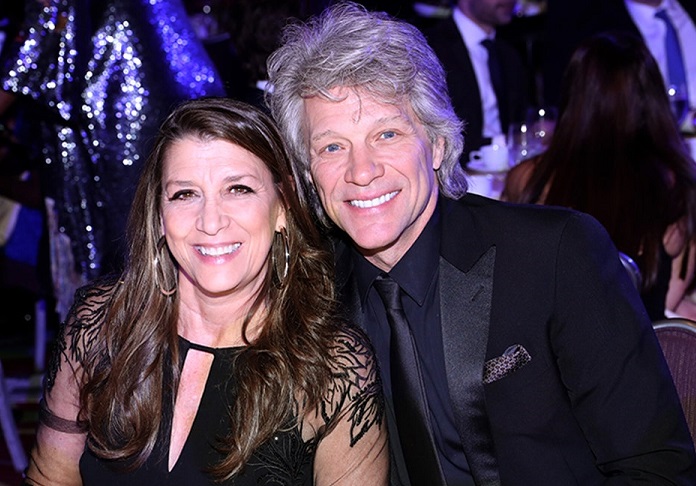 The Couple Run the JBJ Soul Foundation Together
Jon Bon Jovi and Elizabeth Hurley have been married for 33 years now and their marriage keeps going stronger. The singer has attributed the success of their union to mutual respect. There is also the fact that they work hard at it and made sure not to fall for the trappings of celebrity life. Jovi describes Hurley as the rock that has kept him grounded. While he tends to be the crazy visionary between the two, Hurley is the one who keeps it all together and he dedicated the 2001 song, Bobby's Girl, to her.
Another thing that Jovi and his wife have in common is a passion for helping people that are suffering unjustly. It was this passion that motivated them to start the Soul Foundation in 2006. The foundation is dedicated to creating and funding programs that will help families and individuals break through the cycle of poverty and homelessness. It has helped rebuild rundown homes in parts of Philadelphia. They have also set up community kitchens known as JBJ Soul Kitchens. These kitchens provide healthy food to individuals who repay through donations or helping out as volunteers.
Jon Bon Jovi and Dorothea Hurley Have Four Children Together
The marriage between Jon Bon Jovi and Dorothea Hurley has produced a total of four children namely Samantha, Jesse, Jacob, and Romeo. The entire family made their home in an affluent suburb of New Jersey but some of the oldest kids have moved out as they seek their own paths in life. Bon Jovi and his family have graced the red carpet on a few occasions but he and his wife make sure to not overexpose their kids to the spotlight. None of Jon Bon Jovi's children have followed his footsteps into music yet but you never can tell what will transpire in the future.
Their Daughter, Stephanie, Survived a Heroin Overdose in 2012 and is Now a Camera Assistant in Hollywood
Full name: Stephanie Rose Bongiovi
Date of birth: 31st of May 1993
Age: 29
Education institutions attended: Hamilton College New York
Occupation: camera assistant
Partner: N/A
The first of Jon Bon Jovi's four children is a daughter named Stephanie Rose Bongiovi. She was born on the 31st of May 1993 and her parents love her very much with her dad even penning a song for her when she was seven – the song was titled I've Got The Girl. That assurance of her parents' love helped Stephanie excel in her studies and she later went on to attend a pricey liberal arts institution in New York known as Hamilton College. She was working towards her degree when she was involved in an accidental heroin overdose in 2012. Luckily for her, her companion got help fast and she was taken to the hospital where she was resuscitated. She thereafter called her dad who immediately dropped everything to be by her side.
The whole thing was a trying moment for the family and was made even worse by the invasive media coverage. Stephanie was later released from the hospital and she and her parents returned to their summer home in the East Hamptons so that she could recover. Her father later addressed the press and described the incident as a tragic life lesson. He made it known that his daughter's actions were not a result of their busy schedule but rather the peculiarities that the modern generation faced.
According to him, there is a lot of synthetic stuff in the world right now with lots of temptation and access. There is also all sorts of pressure with young people wondering what they are going to do when they grow up or if they will accomplish anything. The singer believed such pressures may have had an effect on his daughter but remained grateful that she escaped unhurt.
Stephanie luckily avoided any criminal charges and got her life back on track. She is now making inroads into the movie business and has worked as a camera assistant on the Impractical Jokers franchise. Impractical Jokers is a hidden camera prank show featuring four friends as the main cast members. It debuted in 2011 and Stephanie has worked on the main show. She is also part of the crew for the spinoffs such as Impractical Jokers: Inside Jokes (2016) and Impractical Jokers: After Party (2017). Stephanie Rose maintains a close relationship with her parents and joined her dad on stage during a Las Vegas concert in March 2017. He was performing I've Got The Girl and midway, she joined him on stage. They shared a dance and hugged after the performance.
Their Second Child, Jesse James, is a Wine Entrepreneur
Full name: Jesse James Louis Bongiovi
Date of birth: 19th of February 1995
Age: 27
Education institutions attended: Poly Prep Brooklyn, Notre Dame College
Occupation: winemaker and entrepreneur
Partner: NA
The second of Jon Bon Jovi's four children is his son, Jesse James Louis Bongiovi. Jesse James was born on the 19th of February 1995 in New Jersey. He grew up with his parents in an affluent suburb of New Jersey but later relocated to nearby New York to attend the expensive elite private school known as Poly Prep Brooklyn. During his high school days, Jesse played both lacrosse and football. He achieved the status of an all-conference midfielder in lacrosse and participated in the New York City football all-star game. Jesse was also an academically sound student and was able to gain admission into Notre Dame to study political science and business economics. He also joined their Irish football team as a cornerback.
Jesse has left school and is now fashioning a career as a winemaker with the help of his father. The idea for this came from his own personal experience. While he was growing up, the entire family usually spent summers in the East Hamptons. Their father consumed several glasses of rosé wine during this period and they started referring to it as pink juice. Soon enough, he fashioned the term Hampton Water for it and his dad gave him the go-ahead to explore it further. Jesse embarked on months of meetings, tastings, and wine education and thereafter designed his own wine bottle and label. He also came up with a business plan and he and his dad joined hands with famed French winemaker, Gérard Bertrand, to launch Hampton Water in February 2018.
The rosé comprises grapes grown in the southern coastal French region of Languedoc and is available in New Jersey and beyond. It was named among Wine Spectator's top 100 wines of 2018. Jesse hopes to use Hampton Water to challenge the conception that rosé is consumed by females. Beyond wine-making, Jesse is also working to make the world a better place. He is well aware of the opportunities he has been given and so spends time giving back to others through his involvement in charities, focusing on hunger, poverty, and homelessness.
He has also not shied away from speaking out about events in American politics. He supported the decision of Notre Dame students to walk out of the commencement address by then-Vice President Mike Pence in May 2017 over marginalization. Jesse James is pretty close to his parents and his dad often sends him a shout-out on his birthday. During his 26th birthday in 2021, his dad described him as the best partner and kid.
Their Third Child, Jacob Hurley Bongiovi, is a Student Activist
Full name: Jacob Hurley Bongiovi
Date of birth: 7th of May 2002
Age: 20
Education institutions attended: The Pennington School and Syracuse University
Occupation: college student
Partner: Millie Bobby Brown (dating)
Jon Bon Jovi's third child is his son, Jacob Hurley Bongiovi. Jake was born on the 7th of May 2002. He attended one of New Jersey's top private schools, The Pennington School, and was a member of their football team. He is presently undergoing his college studies at Syracuse University and plans to study all the way to a doctorate. Jacob may not have gotten his father's musical genes but he inherited his taste for activism. During his senior year in high school in 2018, he organized a walkout by his fellow students to protest the lack of action on gun control. The walkout took place on the one-month anniversary of the shooting at a Parkland, Florida school that took 17 lives.
Jake stated that the whole thing was enough and they couldn't let it go as it had happened too many times. He disclosed that he was inspired by his father, as well as his fellow students' bravery. In his personal life, Jacob Bongiovi is dating British actress and model, Millie Bobby Brown. Brown is famous for the hit Netflix series, Stranger Things, and has appeared in movies such as Godzilla: King of the Monsters. Jacob and Brown first sparked dating rumors when he posted a picture of them together on his Instagram in June 2021 and tagged it BFF. They were later spotted taking a stylish walk around New York that same month. The two are now Instagram-official after posting photos of themselves sharing a kiss in November 2021.
Their Youngest Child, Romeo Bongiovi, Graduates From High School in 2021
Full name: Romeo Jon Bongiovi
Date of birth: 24th of March 2004
Age: 18
Education institutions attended: High School in Manhattan
Occupation: N/A
Partner: N/A
Thus far, none of Jon Bon Jovi's children are following his footsteps into music. Some hope however remains in the form of his youngest child, Romeo. Romeo was born on the 24th of March 2004 and also spent his formative years in New Jersey. He however attended a high school in Manhattan and is set to graduate in 2021/2022. There is every possibility that he will follow in his siblings' footsteps and go on to obtain a college degree before forging his own path in life.
For now, he remains with his parents and they have expressed their enthusiasm for when he will graduate and go off with their home becoming an empty nest. Romeo doesn't have an online presence but he has joined his family on the red carpet at some events. His proud father also never forgets to give him a shout-out on important days such as his birthday.