Joan Sebastian has eight children and his kids include José Manuel Figueroa, Juan Sebastián Figueroa González, Trigo de Jesús, and Julian Figueroa Fernandez. Others are Zarelea Figueroa Ocampo, Joana Marcelia Figueroa Espín, Juliana Joeri Figueroa Alonso and D'Yave Figueroa Espín.
Joan Sebastian had his eight children from five different women. His wife number one, Teresa González, is responsible for the birth of his first three children, José Manuel Figueroa, Juan Sebastián Figueroa González, and Trigo de Jesús. Alina Espín gave him two daughters and the other three came from his other wives and relationships. Two members of the Sebastian brood, Trigo and Juan preceded their father to the grave but he still has six surviving children. A good number of the late music hitmaker's children are following in his footsteps and while he is long gone, his spirit still lives in the minds of kids.
José Manuel Figueroa González is Joan Sebastian 's Fisrt Child
Date of birth: May 15, 1975
Age: 48
Mother: Teresa Figueroa
Occupation: Actor, singer cum songwriter
José Manuel Figueroa González was born on May 15th 1975 at a health facility in Chicago, Illinois. This makes him an American by nationality, however, his ethnic background mixed. He is the first son of Mexican music superstar, Joan Sebastian , and his first wife, Teresa Figueroa González. While it is common knowledge that his father gained fame as a singer cum songwriter, the details of his mother's professional life are not known.
Meanwhile, nothing has been said about Jose's academic journey but reports have it that he was educated in Chicago, Illinois, where he spent a greater part of his growing-up years.
He followed in his Father's Footsteps
Talking about his professional life, José Manuel Figueroa González is listed as a Mexican-American vocalist, composer, and actor with a specialty in Regional Mexican music just like his late dad. He takes credit for modernizing what is known as the ranchera tradition and bringing it to pop through the melding of unique musical settings.
Jose began displaying a healthy interest in music at an early age and it comes as no surprise that he has already recorded tremendous success at his current age. At 19, he had already signed up with Fonovisia record label, releasing his debut album, Expulsado del Paraiso at 20 in 1995. The album went on to sell over 30 million copies and counting.
His other albums include Jose Manuel Figueroa in 1998, Mala Hierba in 1999, A Caballo (2002), and Inmortal (2004). Others include, Rosas y Espinas (2013) and No Estás Tú in 2017. Jose's most recent release is the alum, Paso a Pasito (2022). He is involved in a lot of stage productions and has done some gigs with his younger brother, Julian Figueroa.
Apart from his exploits in the music industry, José Manuel Figueroa González also has a finger in the acting world. When the television series, Por Siempre Joan Sebastian which chronicled the life of his legendary singer father was created, he was called on to portray Joan in his later days. The series premiered on 27th June 2016 and recorded tremendous success. Jose has also appeared in other roles on the sets of La hora pico in 2000 and Todo incluido in 2013.
Jose shares a great family bond with his parents and siblings. He keeps his father's spirit alive in the music industry even though he is long gone.
The Second Child of Joan Sebastian was Juan Sebastián Figueroa González
Date of birth: Born August 17, 1977
Date of Death: 12th of June 2010
Mother: Teresa González
Juan Sebastián Figueroa González was the second child born to the Mexican singer, Joan Sebastian. He was born on the 17th of August 1977 and he was a couple of years younger than his big brother, Jose. His exact place of birth is not known but he is an American national and multiracial by ethnicity just like Jose.
The other thing that Juan has in common with Jose is that they share they same mother, Teresa González. The details of Juan's academic journey are not known and nothing has been said about what he did for a living.
Joan Sebastian is already late. He lost his life on the 12th of June 2010 in Cuernavaca, Morelos in Mexico at the age of 32. According to the story, he was refused entrance after arriving at a night club and the ensuing fracas led to his death after he sustained a bullet wound.
Juan's death made headlines as the news started circulating immediately. Speculations that were making the rounds then alleged that his death was connected to the Mexican drug cartels but this has never been confirmed. His legendary singer father was quick to debunk the rumors, claiming that his son's death had absolutely nothing to do with what people were saying.
A few months after Juan's death, Televisa announced that it was about to commence filming for a series that will chronicle his life.
Trigo de Jesús Figueroa
Date of birth: June 25, 1979
Mother: Teresa González.
Born on the 25th of June 1979, Trigo de Jesús Figueroa was Joan Sebastian 's son number three. He made up the three children his first wife, Teresa González, shared with him. Trigo was four years younger than Jose and two years Juan's junior.
Just as there is no information about where he was born, nothing is also known about his academic journey though it is common knowledge that he worked with his father till his demise. Obviously, Trigo didn't get a share of the artistic talent in his family, thus, he decided to support his dad, working as his collaborator at the events. His job description was to follow him on his tours, shows, and performances to coordinate things, especially security.
It was while Trigo was on one of such trips that the he met his untimely death at the age of 27. The maestro performed a concert at Mission, Hidalgo County in Texas in the United States on August 27, 2006. When the show was eventually over, some raucous fans tried to approach Joan to get his autograph and as his coordinator of events, Trigo felt it was his duty to shield his father from unwanted attention.
The young man wasted no time in putting the crowd under some form of control but it happened that it didn't go down well with some people. His actions got three people in the crowd angry and they instantly drew a pistol and shot at the ground. The sound of gunshots sent the crowd scurrying to safety and Trigo tried to escape with them but was unlucky as one of the trigger-happy fans chased him down and shot him in the head.
Trigo ended up at the Texas-based McAllen Medical Center where he underwent a head operation but unfortunately, the gunshot was fatal, leading to his death a short while later. He was interred at Juliantla, Taxco de Alarcón Municipality, Guerrero in his home country, Mexico.
Zarelea Figueroa Ocampo is Joan Sebastian's First Daughter
Date of birth: August 23, 1988
Age: 34 years old
Mother: María del Carmen Ocampo
Occupation: Singer and songwriter
Zarelea Figueroa Ocampo is one of Joan Sebastian's daughters. She was born on the 23rd of August 1988 in her home country Mexico which points to her Mexican nationality, though her ethnic background is said to be mixed. Nothing is known about her academic achievements but she is amongJoan Sebastian's children who are upholding the family's music tradition.
Joan Sebastian had Zarelea Figueroa Ocampo with María del Carmen Ocampo, an actress who recorded only a single acting credit in Megatón Ye-Ye (1965). A scrutiny of the list of Joan's wives who are five in number shows that María never got married to the music hit maker. Rather, they dated before 1998 which resulted in Zarelea's birth.
Zarelea is Living Up to Her Late Dad's Standards
The young lady is a singer, composer, and social media influencer. A signee of CHR Records, Zarelea launched her debut album entitled Te Recuerdo Bonito in May 2017. In May 2017, she released the music video for her song "The Monster" and it featured her father.
Talking in an interview session moments before her record dropped, Zarelea said that she does not feel alone even though the opportunity to perform the song live with her dad will never arise. Going on, the youngster stated that she well understands that her father is by her side in this musical adventure, promising to do all in her power to keep the maestro's legacy alive.
She described her first album as a mixture of mariachi and banda and it has been well-received by fans.
Joan Sebastian's First Daughter is a social media Influencer
In addition to her music career, Zarelea is also an influencer on several social media platforms such as Instagram, Twitter, YouTube, TikTok, and more.
On Instagram, her handle is already verified and she can be located @zareleafigueroa. She has shared over 650 posts on the platform and has garnered 112k followers and still counting. The type of posts to expect from her handle include pictures and videos of her on holidays, performing, riding on horseback, and hanging out with friends and family. Zarelea also shares pictures of her beautiful pet poodle dog.
The blossoming Mexican musician joined Twitter platform on May 2010 and so far, she has tweeted more than 600 times. She has over 4,982 followers on the social site. Additionally, Zarelea became a YouTuber on the 13th of May 2017 and currently, she can boast over 2,095,096 views. Her channel, @ZareleaFigueroa, has 21 videos with 6K subscribers and counting
The influencer appears to be new on TikTok, @ zareleafigueroa, where she has shared only 17 posts. Her handle has no bio yet but has recorded 5632 followers and 24k likes.
Julian Figueroa Fernandez
Date of birth: May 2, 1995
Age: 28 years old
Mother: Maribel Guardia
Occupation: Singer, songwriter, and actor
Julian Figueroa Fernandez's full name is Juliancito Figueroa Fernandez and he was born on May 2, 1995, in Texas, United States, which points to his American nationality. However, his ethnicity is said to be mixed. His mother is Maribel Guardia whom Joan Sebastian married in 1992. They stayed together for four years till their divorce in 1996. He was born a year before his parents' union hit the rocks.
Before Maribel married Joan, she was quite popular in the world of movies, TV, modeling, and beauty pageantry. She emerged as the winner of Miss Costa Rica in 1978 and contested for Miss Universe.
He is Also Part of the Music Industry
Juliancito is obviously a true son of his iconic musician father as he followed in his steps to establish himself in the music industry. He is listed as a vocalist and songwriter, and his major focus is the ranchero genre.
Joan Sebastian's Son is Equally an Actor
Julian's gig as an actor was recorded on the set of the TV series Por Siempre Joan Sebastian, where he portrayed his father in his younger days while his older brother, Jose, depicted his older version.
According to the ranchero singer, he owes what he knows today to his late dad who taught him to be a brave man who works for what he needs and fights for his family's welfare. While his siblings were battling for their late father's properties, Julian was the one who maintained that the ongoing battle cannot take away his sleep as he can conveniently fend for himself.
From what is obvious, Juliancito was quite close to his father as reports have it that he (Joan) died in his arms.
Joana Marcelia Figueroa Espín
Date of birth: February 10, 1998
Age: 25 years old
Mother: Alina Espin
Occupation: Social media personality and aspiring actress
Joana Marcelia Figueroa Espín is among the daughters of the late singer and songwriter, Joan Sebastian. Born on the 10th of February 1998, Joan is the product of the marriage between Joan and Alina Espin. She is a citizen of Mexico but of mixed ethnicity.
Joan grew up in her home country, Mexico, alongside her biological sibling D'Yavé who is younger by a few years. Both of them are the only kids Alina had for the great musician. Her academic background is not known.
She is Making Headway on Social Media
At 25 Joana is garnering interest on various social media platforms and can be found on the Instagram handle @marceliafigueroa. Her handle, which is already verified, has amassed over 113k followers with 314 likes. She joined the platform towards the end of 2018 when she shared pictures of her Japan trip. She primarily showcases her professional and personal life snippets on the social site.
The Mexican celebrity kid is also described as an upcoming actress, though she is yet to record any notable gig in the movie industry.
Joana Marcelia Figueroa Espín is another person in the talented Mexican family that is very close to her father, Joan Sebastian. Perhaps that was why he gave her the female version of his own name, Joana.
D'Yave Figueroa Espín
Mother: Alina Espin
Occupation: Social Media Personality
D'Yave Figueroa Espín is the least known among the children born to Joan Sebastian. Absolutely nothing about her is known. The public only knows that she shares the same mother, Alina Espin, as her sister, Joana Marcelia Figueroa Espín, who is older than her by a few years. The sisters share a great bond and are also close to their step-siblings.
With that said, we must acknowledge a rumor that once made the rounds about D'Yave Figueroa Espín not being Joan's biological daughter. However, all the speculations were later laid to rest but the public was never cleared on the issue. The question continues to beg for answers to date.
D'Yave Figueroa Espín is not an artist like most of the late singer's children but she is trying to create a niche for herself on social media. She is currently operating an Instagram handle @dyavefigueroa where she has garnered over 21k followers with just three posts.
Juliana Joeri Figueroa Alonso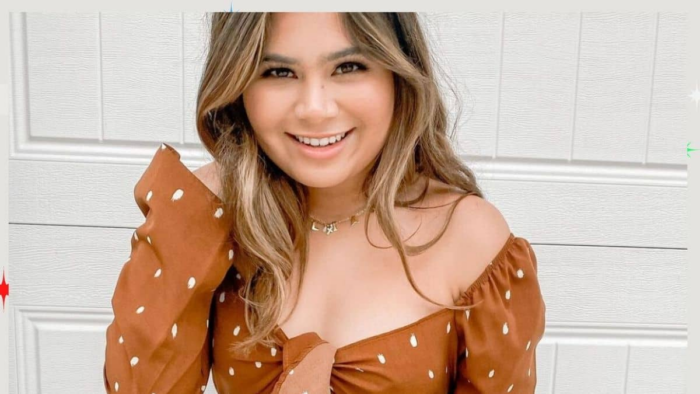 Date of birth: March 8, 2003
Age: 20
Mother: Érica Alonso
Occupation: Singer and songwriter
The last child of Joan Sebastian is a young lady who goes by the name of Juliana Joeri Figueroa Alonso. She was born on March 8, 2003, in Mexico City. She is obviously a Mexican by nationality and of mixed ethnicity. Joan named his little girl after his sister, Juliana, who lost her life in a road mishap at the tender age of two.
Juliana is the product of the marriage between Érica Alonso and the music icon. It was while Joan was cheating on his wife, Maribel Guardia, with actress Arleth Terán that he first crossed paths with Juliana's mum. The duo eventually went into a union that lasted for 12 years and Juliana is the only product of that relationship.
Juliana is already undergoing her university education. She is a student at Stanford University, however, her course of study is not known and she has not said much about her year of graduation which is obviously imminent.
She was the Apple of Joan Sebastian's Eye
Perhaps it may not be far from the truth to say that Juliana was the one closest to the late singer's heart. Joan Sebastian was severally spotted in pictures with his little girl when he was alive. The dotting papa was once seen trying to teach Juliana how to ride and there were lots of father-daughter hangouts.
Juliana made her stage debut as a musician alongside her dad when she was just eight. Her father held her hand through childhood until she became the successful singer we know today.
Juliana's Instagram account is a testament to the love she feels for her dad, Joan Sebastian. The youngster's IG bio reads "Te amo pap" which is interpreted in English as "I Love You, Papa!". Her IG handle is flooded with sweet memories of her mum and dad and the cutest of them all was the picture taken at one of her birthday parties.
Juliana started singing at a Tender Age
As earlier mentioned, Juliana Joeri Figueroa Alonso just clocked eight when she debuted on stage as a performer at the Latin Grammy Award. However, she was already practicing how to play the violin by age four. Currently, she is working towards establishing a successful career as a musician.
She is a Fashionista
In addition to her musical talent, Juliana also seems to have a good head where fashion is concerned. While undergoing her studies in college, she interned at quite a good number of fashion houses, including Oscar de la Renta, Carolina Herrera, and more.
Talking in an interview session, the young lady revealed that she won't let her passion for fashion go to waste. She has every intention of pursuing a career in fashion design and she already has a name for her brand, Joeri (women's outfit).
Juliana is a Social Media Star
Just like several other celebrity kids of her Ilk, Joan Sebastian's little girl is also a sensation on social media platforms like TikTok and Instagram. On the former, her page, julianajfigueroa, has gathered more than 290k followers and 8.7 million likes.
She operates her IG handle under the username, @julianajfigueroa. The account is already verified and has amassed over 146k followers and has over 700 posts.
It was through her Instagram handle that Juliana published a revealing video about how her half-brothers, José Manuel Figueroa, and Julián Figueroa were trying to cut her off from getting a share of their father's properties. According to the rising singer, Joan Sebastian left 51 landed properties in different cities in Mexico, A fleet of plush automobiles, jewelry, and over $5 million in cash but her two older half-brothers chose to hide things away from her.
Claiming that she is doing well without the inheritance, Juliana said it doesn't imply that she should forfeit her entitlement from their dad's bequeath. Through the same video on IG, Juliana vowed to go through any legal means to reclaim her inheritance, lamenting that she only got two jackets, two shirts, and a pair of shoes from them and the most painful part was that they sent an outsider to deliver the items.
However, Both Jose and Julian have denied all these allegations and the attorney for Joan's testamentary succession has declared that the beneficiaries of the late singer's properties are his surviving six children and his last spouse, Claudia Alina. Even the children of late Trigo and Juan will also get shares.