Ryan Seacrest, the popular American media personality who is best known for hosting Live with Kelly and Ryan, American Top 40, and American Idol is not gay, and neither is he married, but he raised a lot of dust as regards his sexuality. His reoccurring homosexual jokes have made a lot of people think he is gay, but his dating history proves otherwise.
During the time he was the host of American Idol, himself, alongside his fellow hosts, Simon Cowell and Randy Jackson, were known for making jokes about his sexuality. Ryan does a good job leading people to believe he is gay and even one of his girlfriends also thought he was gay. However, Ryan Seacrest is currently in a relationship with model Aubrey Paige Petcosky.
Is Ryan Seacrest Gay?
If you still need a plain answer to the question; 'is Ryan Seacrest gay?' the answer is most likely 'No!, he is not gay.' It is true that he once grabbed a man from the American Idols show audience to dance with and once made lustful comments about Adam Lambert who turned out to be gay, but there is no proof that Ryan Seacrest is gay.
It is also true that Ryan is known for making people think he may be gay, but he has never been popularly involved with another man. Since 2005, his relationships have been open to the public and it has always been with women, so it is safe to say his love interest lies with the opposite sex.
Is Ryan Seacrest Married or Single?
Since 2005, Ryan Seacrest has been in several relationships which involved five different beautiful ladies, but he has never proposed to any and has never been married to anyone. To date, Ryan Seacrest is not married. However, it may not be correct to say he is single, because he is currently in a relationship.
Who Is Ryan Seacrest's Girlfriend?
Ryan Seacrest is in a relationship with Aubrey Paige Petcosky. She is a professional model and has been in the industry since 2019. Rumors about Ryan's relationship with Aubery Paige hit the internet sometime around May 2021 when they both traveled to Hampton and were spotted together while returning to New York.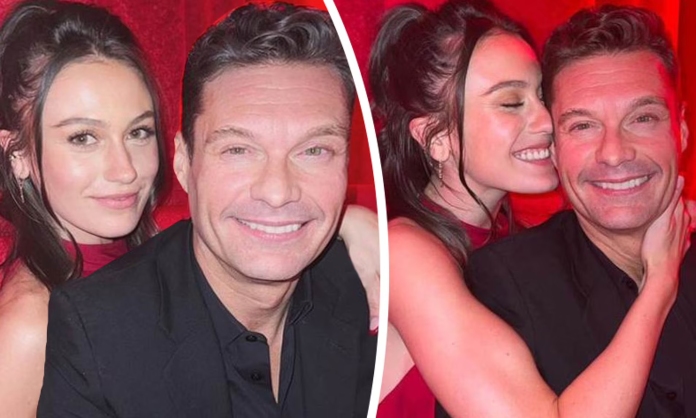 By June that year, it was confirmed by Closer that they were dating. The age difference between the two has been of interest to the public because Ryan is in his 40s while Aubrey is in her 20s, however, it does not seem to be a problem for them. Rather, their age difference has helped eliminate the pressure of not rushing things in the relationship.
There are reports that Ryan sees a future with Paige but their relationship has been so smooth that he would not like to jeopardize it by rushing to the next stage.
Who Has Ryan Seacrest Dated In The Past?
Despite Ryan Seacrest's consistent homosexuality jokes, the media personality has not been taken seriously because his dating history does not confirm the suspicion. Ryan has always been known to be involved with ladies, and despite some efforts to keep his private life as private as possible, we were able to gather details about his past relationships.
From 2003 to 2005, He Was In A Relationship With Shana Wall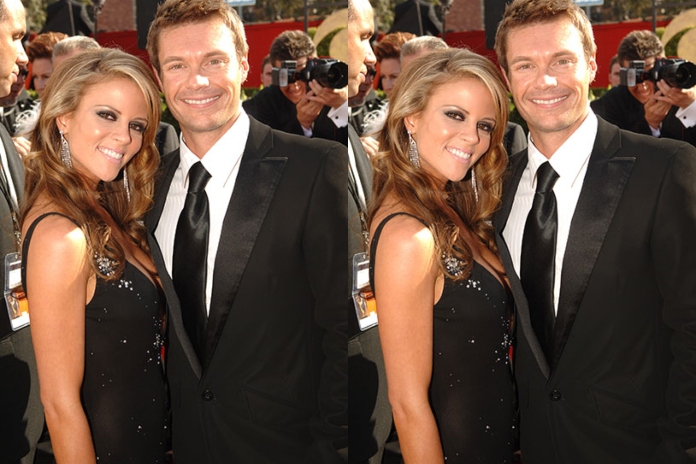 Ryan Seacrest's first-ever known relationship was with Shana Wall, a model, actress, and alumni of Amazing Run. Not much is known about their relationship, however, we know that it lasted for about two years as they started dating in 2003 and broke up in 2005.
About a decade after their break up, they were spotted again together and this sparked rumors about them getting back together, but it was not true. The duo has managed to maintain a good friendly relationship despite bringing an end to their romance.
In 2006, Ryan Seacrest Dated Teri Hatcher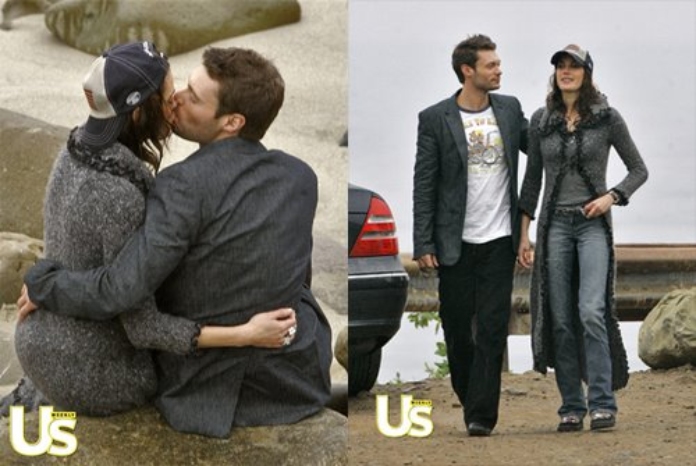 A year after breaking up with Shana Wall, Ryan Seacrest was spotted kissing Teri Hatcher, the Desperate Housewives star in March 2006. Unfortunately, the day their relationship came to the open was the same day it came to an end.
As Teri Hatcher later revealed, the day they were seen kissing was on their third date. And that night, Ryan called her to let her know he can't continue with the relationship. His reason was not revealed though.
Around 2009, Ryan Seacrest Was Head Over Heels With Jasmine Waltz
Ryan Seacrest got into a private and brief relationship with Jasmine Waltz, an actress, reality TV star, and model in 2009. Unfortunately, not much is known about their relationship as they were both very private about it.
Around 2014, the two sparked rumors about getting back together, but it turned out to be false. However, it was confirmed that after their breakup, they remained in contact with each other.
Ryan Seacrest And Julianne Hough Were In A Relationship From 2010 to 2013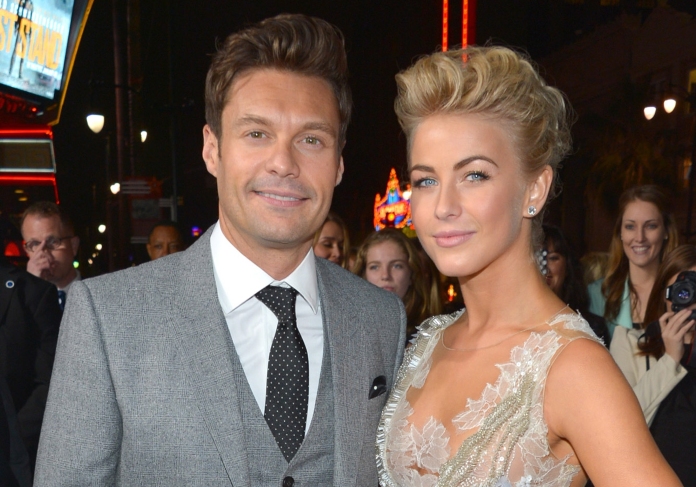 Between 2010 and 2013, Ryan Seacrest was in a relationship with Julianne Hough, an American actress, and dancer. There are reports that they met in 2007 when he was hosting American Idol and she was a part of the dancing competition, Dancing With The Stars (DWTS).
They started dating around 2010 and according to Julianne, she was so scared. He was so influential and she was afraid it might not work out between them. On their first date, she was so nervous that she ended up acting as an interviewer, but things turned out well as they were both in love and found each other irresistible.
However, after about three years of dating, their relationship hit the rocks. There were so many rumors as regards the reason for their split. Julianne would later clear the air, stating that she did not give everything for the relationship. She was so afraid of getting hurt that she held back so much.
She also stated that he lavished so much on her and she felt she did not deserve it. After their breakup, the two maintained a good relationship.
He Dated Shayna Taylor From 2013 Through 2020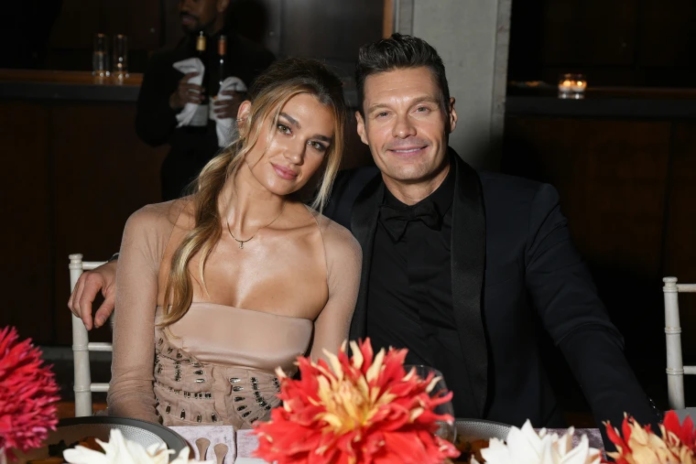 After breaking up with Julianne Hough, Ryan Seacrest soon got into a relationship with Shayna Taylor, a celebrity chef. Their relationship was long-term and it was on and off. At some point when they were off, Ryan even got into other relationships.
Between 2013 to 2020, they broke up and reunited three times. In 2017, they moved to New York and were together until 2019. After breaking up for a while, they were seen together again later in 2019 at York City Ballet Fall Gala looking all loved up.
In 2020, Ryan Seacrest showed the world how much he loved and valued his relationship with Shayna Taylor on Live! With Kelly and Ryan when he wished her a happy anniversary and revealed that it was the third time they were getting back together.
Unfortunately, the relationship came to a permanent end in May 2020 despite all their efforts to make it work.
While His Relationship With Shayna Taylor Was on A Break, Ryan Dated Renée Blythewood and Hilary Cruz
Ryan Seacrest's relationship with Shayna Taylor was unstable and at some point, they broke up. During the period they were not together, Ryan found short-term love with other women. In 2015, he got into a relationship with model Renée Blythewood and after a few dates, their relationship became public at his 40th birthday party, but it didn't last for long.
He later got into another relationship, this time with Hilary Cruz who was Miss Teen USA 2007, but the relationship didn't last for long as he soon got back on track with Shayna Taylor.
Has Ryan Seacrest Secretly Engaged His Girlfriend, Aubrey Paige Petcosky?
Ryan Seacrest has never engaged any of his previous girlfriends, nor has he engaged his current girlfriend secretly or openly. Notwithstanding, he once admitted that he almost proposed once, but he is thankful that he did not do it.
The media personality is not averse to the idea of marriage, as he admires his parents for staying married for more than four decades. In one of his shows, he stated that you can only keep trying until you find the right one and it is obvious that he is doing just that.
A Recap of Relevant Questions About Ryan Seacrest Love Life
Is Ryan Seacrest Married?
No, Ryan Seacrest is not married and he has never been married before.
Is Ryan Seacrest In A Relationship?
Yes, Ryan Seacrest is currently in a relationship.
Who is Ryan Seacrest Dating?
Ryan Seacrest is currently dating Aubrey Paige Petcosky.
How Long Has Aubery Paige Petcosky Been Ryan Seacrest's Partner?
Aubrey Paige Petcosky and Ryan Seacrest have been dating since May 2021.
Does Ryan Seacrest Have Any Children?
No, Ryan Seacrest does not have children. However, he hopes to settle now and father children of his own.