Michael Strahan is not gay. Although he is currently unmarried, he has been married twice, had one protracted but failed engagement, and a plethora of lovers who were all members of the opposite sex.
A former National Football League player, the athlete whose full name is Michael Anthony Strahan played football as a defensive end with the New York Giants of the NFL. Now, he is an award-winning sports analyst, a celebrated author, movie writer, producer, director, and a known philanthropist.
The rumors about his possible gay status originated from his second wife, but the speculations died a natural death as they didn't contain any atom of truth.
What Sparked Michael Strahan's Gay Rumors?
Michael Strahan's gay rumors started making the rounds after his second wife, Jean Muggli, accused him of being a member of the LGBTQ+ community during their divorce proceedings in 2006.
According to Jean, he was cheating on her with a man, specifically television doctor, Ian Smith. Ian gained popularity for contributing quality content to Men's Health magazine's medical columns, ABC's "The View," and VH1's "Celebrity Fit Club".
Daily News went digging and got some tidbits from Jean who alleged that her husband joined Ian to co-habit in his one-bedroom apartment.
Another incident that seemed to give credence to Michael Strahan's purported gay status was his overt support of the LGBTQ+ community. While he and Nicole Mitchell were still an item, Strahan collaborated with her to make and release an explicit video where the duo was spotted campaigning for Marriage Equality.
According to what the former footballer told The New York Times, Marriage Equality should be viewed as a human right above every other thing; that, he said, is his main reason for supporting it.
The former player also made efforts to advocate for inclusion and equality in the NFL. He was featured in a June 2011 ad supporting gay marriages in New York. Talking in an interview session with Hollywood Reporter in April 2013, Michael Strahan expressed optimism that the NFL roaster will soon start accommodating gay players.
Going further, the ex- defensive end for the Giants said people's professions shouldn't be allowed to define them. If someone can actually play football, then, his sexuality cannot affect his job, Michael said.
Michael Strahan Was Quick To Debunk His Gay Rumors
Michael Strahan wasted no time in taking to several media sources to deny the gay allegations from his ex-wife. According to what the former defensive end said on the set of Wendy Williams radio show, fans would have known about his purported gay status if it were to be true.
He also revealed that many of his friends were homosexual and bisexual and he was ok with that. Those who find it difficult to accept people for who they are have no business being in New York, he said.
On his own part, Ian also came up to deny the allegations that he was Strahan's same-sex partner, saying that an intimate relationship wasn't possible for him and the ex-football star since he is happily married.
On the issue of both of them moving in together, Michael said Ian was kind enough to open his door to him when he needed somewhere to stay, though he could have stayed in a hotel.
Fans has since confirmed Michael's responses to be true, especially as his track records with women cannot be overlooked.
Is Michael Strahan Married?
Michael Strahan is not married presently as internet searches have not revealed any details of a third marriage for the sports analyst. In fact, recent speculations reveal that he hasn't been with any other woman after Kayla Quick (his last known relationship), though we can't rule out the possibility that they may still be together (more on that below).
This is not strange considering the fact that he has been through two failed marriages and many other relationships that painted him in a bad light.
Michael Strahan's Relationship History
As a middle-aged man, Michael Strahan has run the full gamut of girlfriends, fiancées, and wives. As earlier mentioned, the former defensive end has been through two marriages with the second one turning out to be extremely tumultuous.
He has been engaged once to Nichole Mitchell and fans were already hoping to hear the wedding bells as they appeared to be so compatible. But unfortunately, the wedding never came to fruition.
The ex-NFL player-turned sports analyst has dated at least four women including Stefani Vara, Nichole Mitchell, and Mariana Hewitt but none made it the alter. He is believed to be currently dating Kayla Quick who has been his girlfriend for several years but there are speculations that the duo has long gone their separate ways. However, this is difficult to tell since the duo has been keeping it under wraps.
Meet Wanda Hutchins, Michael Strahan's First Wife
Wanda Hutchins is the name of Michael Strahan's first wife – an established interior designer and owner of the interior décor company called, Wanda Home Designs. The firm creates decorative pieces like furniture and sometimes, they work on repurposing existing items. Wanda was once an executive director and vice president of Strahan Global Outreach – Strahan's non-profit which she leveraged in distributing furnishings and home appliances to families in need.
The duo met in Germany when Strahan's father, who was in the army, was posted there to serve. Coincidentally, Wanda's father was also an Army officer serving in the same army post, Benjamin Franklin Village (BFV), in Mannheim, West Germany. Michael, who is a year younger than Wanda, was 9 when they met while Wanda was 10.
The duo started as friends and eventually commenced dating in the long run. Michael eventually married his first love, Wanda, at the age of 20 in 1992. Their wedding which took place in Germany was completely devoid of public attention as the aspiring football player was just a college senior who was focusing on building a football career in the future. His busy schedule made Michael miss the birth of his first child, Tanita who came on the 10th of November 1992. Tania grew to become a podcast host.
The couple's second child and first son, Michael Strahan Jr was born on the 12th of September 1995 (he graduated high school in 2013) and within barely a year, Michael and Wanda decided to end their marriage; their divorce was finalized in 1996 but they still remain on talking terms.
Jean Muggli Became Michael Strahan's Second Wife After His Failed Marriage
By the time Michael Strahan crossed paths with Jean Muggli, he was already drafted into the National Football League and was playing as a defensive end for the Giants. It was three years after he closed the chapter of his first marriage that he met Jean who was earning a living at a Manhattan-based skin-care salon. After he took fancy to the lady, the NFL player started frequenting the beauty spa and within a short while, asked Jean out.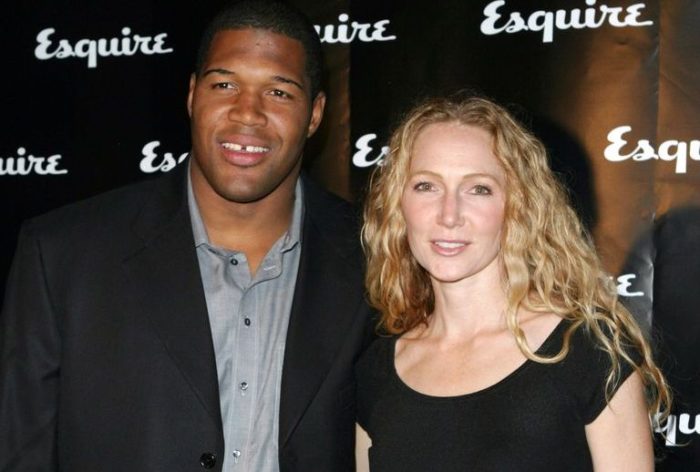 Reports said, Jean, who hails from Dakota, never wanted to date an athlete in her life but gave Michael a chance after concluding that he was different.
The relationship led to a wedding that took place sometime in 1999 but before long the couple found that legalizing their relationship was a huge mistake. When you consider Jean's very difficult pregnancy and Michael Strahan's disappointing season with the Giants coming at the same time, it was really tough on the couple.
As if that was not enough, Michael discovered that Jean withdraw the sum of $3 million from his account without seeking his consent and in the midst of these troubles, their twin daughters, Isabella and Sophia arrived in 2004. Needless to explain why their relationship took a nose-dive with the speed of lightning.
In her divorce fillings, Jean accused Michael of adultery, assault, and neglect. She even accused the NFL player of being gay, but Michael was quick to refute all allegations. Their divorce was finally concluded in 2006 with Jean getting $15.3 million as compensation, including $18,000 per month for upkeep. The amount was cut down following Michael's retirement from active football.
Michael Strahan and Nicole Mitchell Never Passed Their Engagement Stage
Barely one year after he concluded his divorce from Jean, Michael Strahan went to pitch his tent with Nicole Mitchell – ex-wife of American movie superstar, Eddie Murphy. Nicole is also known for the part she played in Hollywood Exes – the VH 1 reality TV show. Her IG handle suggests that Nicole is already a grandma. Their relationship was highly publicized and as time rolled by, the probability of Nicole becoming Mrs. Strahan number three was really high and fans got busy with predictions for the wedding which they already concluded was imminent.
The couple had not dated for two years when the former NFL player himself gave credence to the speculations by popping the big question to the mother of five, and needless to say, she said yes. The two really had a lot of things in common – they both just came out of their previous marriages and share children with their exes.
However, things never progressed past the engagement stage. There was a time that Strahan made an appearance on the set of Wendy Williams Show with claims that they may decide to forgo a big celebrity-studded wedding and just elope, however, this never happened. The couple didn't eventually take the proverbial walk down the aisle as they ended their relationship after seven long years.
Their dalliance which ended in 2014 sparked a lot of speculations from fans, it soon came to the fore that all was not well with the couple's relationship towards the end. Online sources carried the news that it was on and off for them for a while mainly because it was a long-distance relationship – Nicole is an LA resident while Michael Strahan lived in New York.
With very busy schedules, it was difficult to come together to spend quality time, and naturally, it created a huge gap that contributed to the spilt. We must not also forget to mention the fact that Nicole was rumored to be cheating on Michael with another man even though she was quick to debunk this.
To date, both Michael and Nicole have nice memories of each other and have remained friends. Nikki's children are all grown up and she is busy being a dotting grandma.
Michael Strahan and Mariana Hewitt
From what is perceivable, Michael Strahan and Nicole Mitchell did not immediately go public with the news of their separation as the couple let things ride for a while. Besides, Michael was warming up for his induction into the NFL Hall of Fame and wouldn't want anything to disrupt it. However, the former defensive end didn't let the grass grow under his feet before launching into another relationship with Mariana Hewitt within a few weeks.
According to TMZ, Nicole got wind of Michael's new relationship and went to investigate to be sure. Upon verification, she went ahead to make an official announcement that they were no longer together. Strahan, reports said, had no idea that Nicole was going to go public with the news at such a critical time in his life.
Nevertheless, he soon started going steady with Marianna Hewitt – she is a podcaster and works at Summer Fridays as its Chief Executive Officer. Hewitt who is a Heidelberg, Germany native became famous for hosting her own make-up blogs including World's Most Beautiful and Good Morning 90210.
Michael was first spotted with the easy-on-the-eye brunet at the Mercer Hotel as the duo stepped out of his plush Bentley in style. Onlookers didn't need a crystal ball to know that they were lovers as Mariana and the former NFL player were touching each other in suggestive ways and seemed to be more than familiar with each other. The duo dated for almost six years before calling it quits.
Michael Strahan and Stefani Vera
Out of all Michael's relationships, the one that was least publicized is his dalliance with Stefani Vera.
It only came to light that she is among the women he hooked up with but the details of their time together never earned a public mention. Vera works and earns a living as a motivational influencer
Michael Strahan and Kayla Quick
Going through a couple of divorces, one failed engagement, and several other relationships that all went south should be more than enough to deter any man from going further but not Michael Strahan who soon started going steady with Kayla Quick. It was barely a year after he left his last relationship before he went to try his luck again.
According to media sources, the duo became an item sometime in 2016 but has kept things private as that was the way Michael wanted it to be. Sources also said Michael decided to keep a low profile on his new relationships because of the bad publicity that emanated from the previous ones which was understandable. The duo was reported to have met at a Super Bowl after-party that was hosted in 2015.
Another reason he opted for secrecy was because of Quick's past life which never failed to set the media into a reporting frenzy. It later came to the fore that Quick worked and earned a living as a stripper. The Port Charlotte, Florida native also has some criminal records – when she was younger, she collaborated with her boyfriend to rub her grandmother, Margaret Cox, of an expensive piece of jewelry worth $6,000. She has also been to jail for engaging in a serious fight and has gone behind bars for grand theft in the past.
All these didn't seem to stop Michael from dating the former stripper and according to reports, the duo was spotted in public places like The Hollywood Fix. They stayed together for six long years before allegedly calling it quits on their relationship. However, there are people who believe that they are still going strong, but as a result of the private nature of their relationship, the claims are difficult to prove.
Key Questions About Michael Strahan's Relationships and Love Life
1. Who are Michael Strahan's ex-wives? Michael Strahan has been married twice. His first wife is Wanda Hutchins, whom he married in 1992 and divorced in 1996. His second wife is Jean Muggli, who he married in 1991 and divorced in 2006.
2. Does Michael Strahan have any children? Yes, Strahan has four children. With his first wife, Wanda Hutchins, he has a daughter, Tanita, born in 1992, and a son, Michael Anthony Strahan, Jr., born in 1995. From his second marriage with Jean Muggli, he has twin daughters, Isabella and Sophia, born in 2004.
3. Why did Michael Strahan and Wanda Hutchins divorce? The couple attributes their divorce to getting married at a very young age. Their marriage became unstable after the birth of their second child, leading to their divorce in 1996.
4. What were the financial outcomes of Strahan's divorces? Following the divorce from Hutchins, Strahan paid a large sum of money as alimony. The divorce from Muggli resulted in one of the most expensive settlements in sports history, with Muggli receiving $15 million in divorce settlements and an additional $18,000 per month for child support.
5. Who did Michael Strahan date after his divorces? After his divorces, Strahan was engaged to Nicole Mitchell, the ex-wife of Eddie Murphy, in 2009. However, they ended their seven-year engagement in 2014. He is currently rumored to be dating Kayla Quick.
6. Is Michael Strahan currently dating anyone? Yes, he is rumored to be dating Kayla Quick since the two met in 2015 at a Super Bowl Afterparty.
7. Who is Kayla Quick and what is known about her? Kayla Quick is a former cocktail waitress. She was also a stripper at a strip club in Tampa, Florida. Notably, she has a criminal past, including arrests for theft.
8. Is Michael Strahan gay? No, Michael Strahan is not gay. Although his ex-wife, Jean Muggli, accused him of having an affair with a man during their divorce proceedings, Strahan has firmly denied these claims.
9. How did Jean Muggli and Michael Strahan meet? The couple met at a spa and began dating. They eventually got married in 1991.
10. How many times has Michael Strahan been married? Michael Strahan has been married twice.
11. Who has custody of Strahan and Muggli's twin daughters? Jean Muggli has full custody of the twin daughters, however, Strahan frequently visits and spends quality time with them.