Dave Portnoy is currently not married but he is in a relationship with a certain Silvana Mojica, a native of Colombia.
Dave Portnoy is popular as the founder of Barstool Sports, a company he began as a print publication back in 2003 before its major break in 2007 when it went online. On the internet, Portnoy is known as El Presidente, an alias he writes with on his popular sports/gambling blog. His witty blog posts have boosted his sites' visitors to more than one million per day.
Turns out, Portnoy's larger-than-life persona stretches to his private life. Barstool's Chief of Content has already gone through one divorce and has been linked to a handful of attractive women. Portnoy who is no stranger to controversies has been slapped with allegations of sexual assault from multiple women, however, he has dismissed them as the ploy of his haters to cancel him.
Dave Portnoy Is Now Dating Silvana Mojica 
As of this writing, Dave Portnoy is said to be dating a certain Silvana Mojica. A native of Colombia who is resident in Miami, Florida, she works as a Social Media Marketing Assistant at Giti Inc, a role she assumed in March 2020. She holds an Associate of Arts (AA) degree from Valencia College, as well as a Bachelor's degree in Marketing from Florida State University.
Mojica is a strong sales professional with a history of working in the fashion and apparel industry. She has also worked in customer service and is skilled in retail sales, and team building.
After her college graduation, she began working professionally in 2018 as the Junior Account Manager for UnCommon Fashion where she planned and executed social media campaigns, developed road plans for store appointments, and participated in trade shows. She would then work as an accounts executive for Squeem.
PageSix first broke the news of a possible romantic link between Mojica and Portnoy in March 2021 which soon proved to be true. Sources told the online publication that both had been spotted cozying up to each other at parties. Subsequently, Mojica began posting vacation snaps of herself with Portnoy on her Instagram.
Portnoy confirmed that they were dating when he revealed in an episode of The Dave Portnoy Show With Eddie & Co that he had been spending a lot of time with Mojica. He said on the show that he had been going to the derbies with her which was a big step. Mojica later posted a clip of the show on her Instagram stories.
Mojica, who has over 13K followers on her Instagram, is said to be in her twenties which puts the age gap between her and Portnoy who is in his forties at not less than 20 years. He seems to prefer younger ladies – there was a 10 year age gap between him and his ex-wife Renee.
Dave Portnoy's Only Marriage Was To Renee Portnoy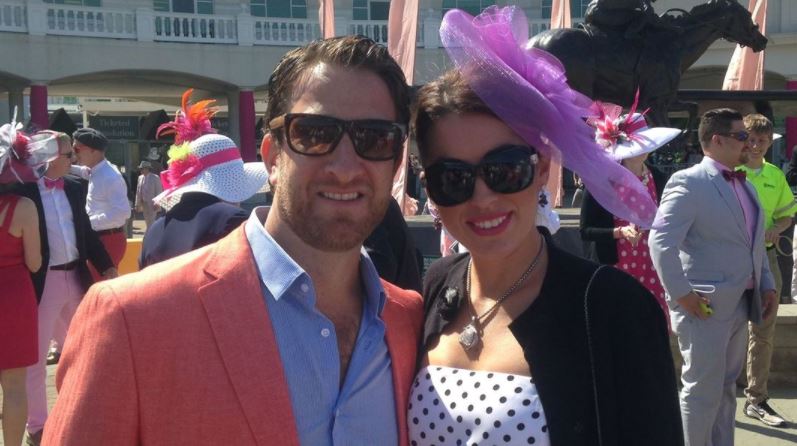 Now back to the dating scene, Dave Portnoy was a married man. He was married to Renee Portnoy (nee Satterthwaite) from 2009 to 2019. They met in 2005 in Boston, a time when Portnoy was working for Yankee Group. Their meeting was said to have happened on a Barstool Sports set where Renee, a social media influencer was helping out behind the scenes.
They began a friendship that quickly blossomed into romance. They got engaged in 2008 and were married in 2009. Soon, loyal followers of Portnoy nicknamed Renee the First Lady of Barstool Nation. She worked behind the scenes for Barstool Sports, helping to boost their international reach while managing all of Portnoy's business activities.
What Happened Between Dave and Renee Portnoy?
In January 2017, word got out that Dave Portnoy and his wife Renee had separated and were headed for a divorce. The reason for their split at the time was said to be due to Portnoy's infidelity after he was caught cheating with fitness instructor Jordyn Hamilton. Portnoy refuted the claims, saying that he and Renee's split was a result of a mutual decision and not because either cheated.
He officially announced his separation from Renee that same year. The couple revealed that they would maintain an amicable relationship for the sake of their dogs. Their marriage produced no kids. Though Renee maintains Portnoy's surname, she, like the Barstool founder, has moved on with a mystery man yet to be identified by the media.
Other Women The Barstool Founder Has Been Linked To
Dave Portnoy Started Dating Jordyn Hamilton After His Divorce
After announcing in 2017 that he and Renee were no longer together, Dave Portnoy went public with his romance with fitness instructor Jordyn Hamilton. However, the relationship proved to be very short-lived as they soon split after Hamilton allegedly cheated on him with another fitness instructor working for Soul Cycle. The messy and very public split made the rounds on social media.
Dave Portnoy Also Dated the Former Cheerleader, Shannon St. Clair
Dave Portnoy soon moved on from the Hamilton fiasco and was then linked to former cheerleader Shannon St. Clair in early 2021. They were spotted out together on a number of occasions, mostly at nightclubs in Miami. St. Clair who worked as a cheerleader for the Philadelphia Eagles and Xfinity Live shared some photos of herself with Portnoy on her IG stories. However, none of them ever confirmed nor denied if indeed they were a thing.
How Many Sexual Assault Cases Has Portnoy Weathered?
Official Team Portnoy Press Release. pic.twitter.com/xNeOfemq1w

— Dave Portnoy (@stoolpresidente) December 13, 2019
In December 2019, a sex tape involving Dave Portnoy and an unidentified woman leaked and was circulated all over social media. In the 8-sec clip, David was naked holding a leach tied to a dog collar worn by his sexual partner. He immediately received backlash from some feminists who said he was objectifying women, after which he took to Twitter to tweet "Breaking: Dave Portnoy f–ks." He later released an official press release video commenting on the sex tape, in typical El Presidente fashion, David lauded the looks of the man in the video and made fun of the whole thing.
Months later, no fewer than three women came out with details of how Portnoy sexually assaulted them, however, none is yet to press charges. According to Business Insider, one of the victims who preferred to be identified with the pseudonym Madison said that Portnoy videotaped their sexual intercourse without her consent. She later told a friend via text that she felt like she was being raped by Portnoy and that he "choked her so hard she couldn't breathe." All three women claimed sex with Portnoy was very aggressive. One of them said she was only 19 during her encounter with Portnoy and that the experience left her with suicidal thoughts which led to her being hospitalized.