Milana Vayntrub is married. However, the name of her husband is unknown. She recently became a mother of one.
The Uzbekistan-born author, comedian, and actress has been married for quite some time, but fans have always thought her to be single. This is because she decided to keep mute about her love life after suffering from the effects of her relationship with singer John Meyer.
Is Milana Vayntrub Married?
Even though she has vowed to keep the details of her current love life under wraps, internet searches have revealed that Milana Vayntrub recently got married. As someone who previously shared the details of her personal life on social media, fans were expecting the actress to reveal her husband's identity, but that has not happened to date.
Vayntrub had refused point-blank to reveal the man's name, the only reference she has ever made about her husband was when she described her dream man. According to the actress, any man she will marry must be a great cook; Milana made this statement before fans heard about her nuptials.
On why she chose to keep her husband a secret, Milana Vayntrub said she is even more afraid of introducing her partner to fans than she is to discuss her romantic dalliances with her parents. She described her dad as a man who loves to tell the tale of a certain time he had to cut off a guy's ear.
On a more serious note, Milana became wary of revealing the identity of the man in her life because of the unpalatable experience she encountered at the hands of the media during her relationship with John Mayer. With all this secrecy, getting the name of her spouse or his profession is impossible.
Does She Have a Baby Daddy?
There were speculations that Milana Vayntrub might have a baby daddy. However, it is unclear whether she does. The father of her son is none other than her wedded husband, whose identity she has refused to reveal. Perhaps, she would have had a baby daddy if she had carried her teenage pregnancy to full term and had the baby, but that never happened.
Milana Vayntrub's Love Life as a Teenager
During her teenage years, Milana Vayntrub had a rough experience cohabiting with her then-struggling boyfriend in a tiny apartment in LA. According to the Uzbekistan-born movie star, she forgot to take her birth control pills for a while, which resulted in pregnancy.
In the absence of the financial capacity to take care of a child, the duo had to decide to abort. Milana said she got a lot of support from her boyfriend and her mother, who stood by her. Then, the actress was a college student, and becoming a mother was ultimately out of the question for her.
Sharing her abortion story via Instagram, Vayntrub said abortion should be treated as a protected right and never a privilege. Since then, she has been projecting herself as one of the strongest advocates of the right of girls who found themselves in similar situations to go ahead and have an abortion.
Comparing her abortion experience to her childbirth story, Milana Vayntrub said the two are inseparable. Throwing more light on the matter, the actress stated that the unbearable pain she experienced during labor and childbirth made her conclude that nobody should be subjected to that kind of pain unless it is absolutely what the person wants.
Why Do Fans Think Milana Vayntrub is Not Married?
Fans have always thought that Milana Vayntrub has never been married in her life. The reason for this assumption is that the "This Is Us" actress has chosen to keep a tight lip about her current love life, and the fact that she was not previously this secretive made fans think that she would likely let them know when she eventually gets married.
Thus, they concluded her to be single as no message of that sort was forthcoming. The belief that she is unmarried prevailed till December 2021, when news of her marriage and motherhood hit the newsstand.
Milana Vayntrub's Relationship with John Meyer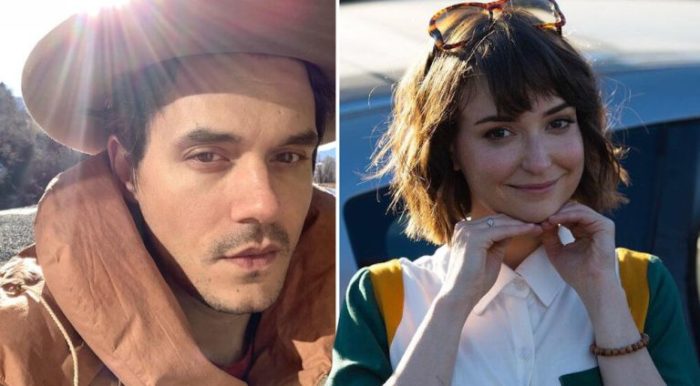 Searches have revealed that John Mayer, the superstar singer, composer, and music producer, was among the men that Milana Vayntrub dated. Further scrutiny of reports showed that they started dating sometime in 2006 when she was just 19 and John was well into his 28th year.
John, who was nine years older than Milana, had a reputation for short-span relationships (he has dated the likes of Jennifer Aniston, Jessica Simpson, Katy Perry, and Cameron Diaz); reports said he specialized in dating ladies who were much younger than him.
With that said, the John/ Milana relationship was not far removed from the singer's past dalliances as it went south within the shortest time. After the couple went their separate ways in 2007, the media publicity that followed their split was rather too embarrassing for Milana, and consequently, she chose to keep her love life under wraps since then.
How Old is Milana Vayntrub's Child?
According to Milana Vayntrub, she had her son on May 2020, which makes him 3 years old. When the Uzbekistan-born actress eventually opened up about having a husband and child, Milana shared her labor room experience with fans. She narrated how her bundle of joy pushed against her spine (sunny side up) each time she experienced a contraction.
The pain she described as unfair made her feel like her back was breaking. But thanks to her husband, who was by her side, squeezing her hips to ease the pain as the contractions came, she could pull through. When the baby eventually surfaced after all the excruciating pain, it was covered in his poop and looking heavy as a bowling ball.
Immediately after the baby was placed on her chest, Milana said she remembered why she was she was there, including why she went through the whole painful experience. She also remembered that this was exactly what she had chosen to do, to create a family. Before her baby's birth on February 7th, Milana Vayntrub shared a picture of her baby bump with fans on IG.
Milana Vayntrub Wishes to Raise Her Son Differently
Milana Vayntrub's relationship with her dad, who is currently a Moscow resident, was quite challenging. In an interview session, she admitted her father's work constantly took him away from the family, which led him to lose a lot during her growing-up years.
As a child, she would be thinking how her father was doing his very best to give them a better life and would find solace in the knowledge that her dad loves her. Because of her childhood experience, she has vowed never to allow her child to experience something similar.
A long-distance relationship with their little boy is completely out of the question as she and her husband would be sticking around constantly. She wants to know her little boy in a way her father never knew her.