How many times have you watched a TV show, fallen in love with a certain character, and find yourself stalking the actor online in a bid to satisfy your curiosity about what their real-life could look like? This is something that happens to many TV and film lovers and a process that shoots the lesser-known spouses of popular celebs to the limelight. This is exactly how Wes Brown's wife Amanda Moye Brown had a lot of people become interested in her life.
Her husband Wes Brown is a staple of the Hallmark Movie Channel with a long list of credits, including Love's Everlasting Courage, Check Inn to Christmas, among others. With Hallmark channel's primary focus being family movies, the interest in the family life of one of its stars is understandable. Amanda Moye Brown has worked in the entertainment industry almost throughout her career, but not in the same capacity as her more visible husband Wes Brown. Amanda works behind the scenes in production companies that are responsible for churning out some of the projects we enjoy on-screen.
Profile Summary Of Wes Brown
Full Name: Amanda Moye Brown
Date of Birth: Unknown
Place of Birth: Florida
Spouse: Wes Brown
Children: 1
Amanda Wes Has Been Married To Wes Brown For 14 Years
Amanda Moye Brown and Wes Brown have known each other for the longest of time. It all began in her 20s when she left her native Florida and relocated to Los Angeles in search of greener pastures. In her words, Amanda said she met Wes not too long after relocating to the big city. They made their debut red carpet appearance in 2006 at Chinese Theatre, Hollywood, California, during the premiere of We Are Marshall, a historic biopic about the deadly 1970 plane crash that killed 75 people.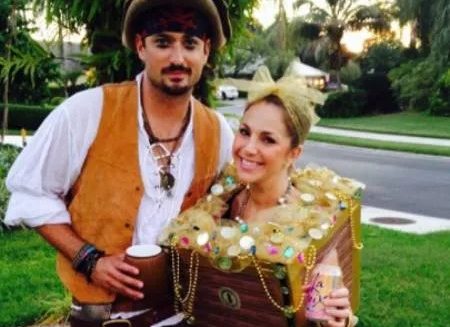 The couple obviously prefers to keep details of their love life private, however, photos seen on Wes Brown's Instagram reveals that they are enjoying a blissful union. After years of dating, they got married on the 2nd of May 2008. The venue for their union was Boston Rouge, Louisiana.

The public only got to see photos of their wedding much later when Wes Brown, the more social media visible among the two, shared moments of their big day on Instagram. The photos revealed that Amanda donned the traditional white gown for her big day complimented by a huge bouquet of white flowers while her husband Wes wore a classic tuxedo. Though the rest of the world did not get information about the wedding, it appeared not to have been an intimate one as the photos Wes posted showed the presence of a crowd.

In the post which celebrated their 10 years of togetherness, Wes Brown summarized the events of their first decade in marriage in a few words, saying that they've relocated a few times, made lots of friends, and had a thousand laughs. He joked in the final sentence that they've had no arguments before clarifying it with "ok that's a lie."
Amanda Moye Brown is occasionally being celebrated by her husband on social media. He seems never to miss to make a tribute to her on their anniversary as well as on mother's day.
What Does Amanda Moye Brown Do For a Living?
Amanda Moye Brown is not your average celebrity spouse in that she does not just sit back to enjoy her husband's wealth but has a lucrative career going for herself. She describes herself as a Creative Entertainment Professional. As of the time of this writing, she works in the music department of Disney Television Animation, a role she assumed in July 2018. With that role, Amanda certainly has a more regular paycheck in comparison to her actor husband, but that does not mean that Wes Brown is earning badly. According to Bio Gossip, Brown could possibly earn around $50,000 annually as a Disney employee. Putting her salary and her husband's in perspective, Amanda and her husband are pretty much comfortable and it comes as no surprise that they occasionally splurge on vacation trips together.

Amanda Moye Brown has been working in the entertainment industry since 1999. She began by working as the management rep at Wright Entertainment Group. She then worked at Glen Ballard, Aerowave as the associate studio manager. She joined Lance Bass Productions in 2004 as a production executive, a capacity she served for two years before the biggest job of her career came knocking in 2006. It was her first Disney ABC job as the executive assistant to the Group's Senior Vice President. Brown obviously did well in that role as she has risen up the ranks at the media giant. She worked as a coordinator for Disney Junior before joining the music department of the animation arm.

In addition to what seems like a great work ethic, Amanda Moye Brown has a selfless cause that is close to her heart. A lifelong empath, Brown is of the opinion that the world needs more empathy, she wishes for a world where humans love each other not for any reason but just because "we are all the same at our core." This is not just wishful thinking for Brown who is putting in her fair share of work to make the world a better place – she set up a blog called Empath on a War Path where she educates and encourages people on how and why they can become more attuned to the feelings of others. It is her compassionate spirit that led her to work as the Foundation and Special Events Coordinator for NSYNC's Challenge for the Children. For 8 years, she served as the Chairman of the Board of Stay At Home Parent, vacating in 2018.
How Many Children Does Amanda Have With Wes Brown?
Amanda Moye Brown has one child, a daughter with her husband Wes Brown. She is named Merrideth Brown and was born in September 2009. A trip to Wes Brown's Instagram page shows he is incredibly fond of his daughter as his page is littered with a number of daddy-daughter moments. From those photos, it is obvious that Merrideth loves to surf and also knows how to use the snowboard. Her father's post reveals that Merrideth is quite athletic, she runs and is also a good swimmer. In one post, her father revealed that she was close to beating him in a race.

Unlike her husband, Amanda Brown reserves photos with her daughter for the viewing pleasure of close family and friends alone as her Instagram page is set to private. On her account abrown5208, she has over 1,600 posts which are seen exclusively by her followers that number just above 400.
Amanda Brown is no doubt doing well as a mother as her husband Wes never fails to appreciate her and make a big deal out of mother's day. The family of three lives in Westport, Connecticut.