Ryan Newman is an American-born car racing expert who was married to Krissie Newman (nee Boyle) for 16 years. However, he is presently single.
Rayan and Krissie started dating after a successful blind date which led to marriage three years later. The couple eventually tied the knot in a 2004 wedding, but their relationship lasted for only 16 years before it hit the rocks. The duo eventually divorced in 2020 but not before the birth of their two daughters.
Is Ryan Newman Married?
Ryan Newman's current relationship status is single. The car racing expert appears to be more interested in building his career and spending his spare time caring for his daughters.
Even though he is not currently dating or married, Ryan has previously been in a marriage that lasted for 16 years. That said, there is no record of his hookups and breakups before marriage.
Newman Met His Ex-wife Through a Blind Date
Many don't believe blind dates can lead to anything tangible, but that was precisely how Ryan Newman first crossed paths with Krissie N. Boyle – the woman who would become his wife. Krissie was employed as a clerk for a judge at that time.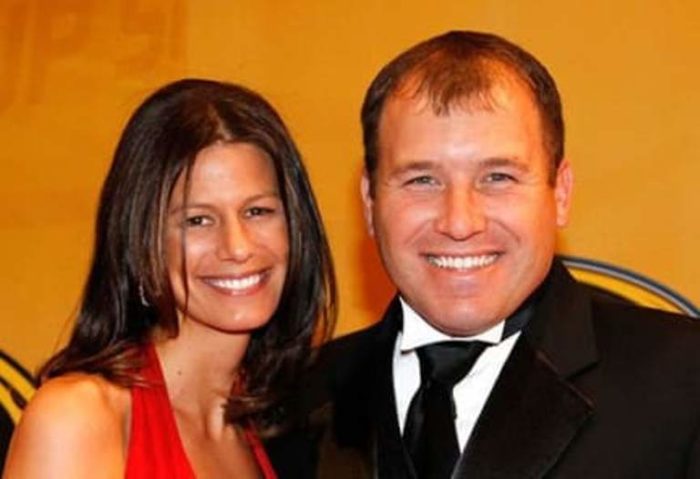 Blind date was trending around 2001, and the expert care racer thought it wise to try his luck with one of those arrangements. According to reports, Krissie's grandmother collaborated with a friend of hers from their church to set up the date.
When they eventually hooked up, Ryan Newman and Krissie started talking on the phone, and after they had a lengthy conversation, the duo decided to go on their first date.
Before long, they took to each other, and their dates became more regular. The couple dated for over three years and considered themselves in love. They decided to take their relationship to the next level within a short while.
Inside Ryan's Marriage with Krissie
The Ryan/Krissie relationship proved people who take blind dates to be a waste of time wrong. Though we were never told when Ryan Newman popped the big question, reports said the two exchanged the forever commitment on the 3rd of January 2004.
There are no details on the type of wedding the couple favored or the venue of their reception, but it is clear that they wedded before the start of the racing season, giving them ample time to proceed on a honeymoon. The newlyweds chose to go have a good time at Jackson Hole, Wyoming.
While their union lasted, it appeared to be the "made in heaven type." Krissie was constantly spotted at races, rooting for her husband. She was committed to seeing him succeed in his racing career, which earned her the title "First Lady of NASCAR."
Alongside her spouse, Ryan Newman, Krissie also went into charity work. In fact, the duo is listed among the racing world's most philanthropist couples as they were devoted to charity. They hooked up with several organizations to do a lot of good, including – waiting tables, fundraising, delivering pet food to animal shelters, and organizing food delivery trucks.
As Ryan Newman's wife, Krissie started working with the Ryan Newman Foundation as its Executive Director. She was also in charge of the day-to-day running of Ryan Newman Motorsports. Krissie would bake a cake for Ryan's team when the car-racing expert was still with Stewart-Haas as a race driver.
The then NASCAR-power couple operated Rescue Ranch – a charitable organization charged with the responsibility of promoting and respecting animals; they also help in enhancing the human-animal bond. The couple was also sensitizing people in environmental, agricultural, and wildlife conservation.
Who is Krissie Newman?
Born in Vernon, New Jersey, on the 28th of October 1977, Ryan Newman's wife Krissie was named Krissie N. Boyle at birth. She is an alum of Shippensburg University, Pennsylvania, where she bagged a Criminal Justice Pre-Law degree.
After graduating from college, Krissie moved to North Carolina to start working as a courtroom clerk at Mecklenburg County Criminal Courts. She was also engaged with a criminal attorney as a paralegal.
Ryan Newman and his Ex Share Two Children
Ryan Newman's 16 years of marriage with Krissie produced two children – all girls. The oldest of the two is Brooklyn Sage Newman, who came into their lives on the 18th of November, 2010. Brooklyn is already 11 years old.
She is old enough to be a high school student, but the academic institution she attends has never been disclosed. Brooklyn soon became a sister to Ashlyn Olivia Newman, who joined the family on the 16th of July 2012. At 10, Ashlyn should be completing her primary education.
The car racing expert has an enviable bond with his girls. Newman has been severally spotted hanging out with Brooklyn and Ashlyn. The proud papa is forever talking about his children and never misses an opportunity to share stuff about the two on his socials.
In fact, Ryan Newman's life revolves around his daughter, especially now that his marriage has ended. The devoted father was once spotted on the set of American pickers television show buying bumper cars for the girls.
According to the NASCAR driver, his official IG handle features only 3Cs; this includes "his cars, his children, and his Cola." Rayan has proved how amazing he can be even as a single father.
Ryan Newman's Marriage Came to an End in 2020
Ryan Newman and Krissie Newman jointly announced the end of their marriage after 16 long years as husband and wife. The couple took to Twitter just before the CORONA Virus pandemic on the 13th of February 2020 to let fans and the general public know their decision.
— Ryan Newman (@RyanJNewman) February 13, 2020
In Ryan's own words, the car racer said they decided to go their separate ways, and the decision was amicable. He also announced co-parenting plans for the girls, saying they intend to remain friends for the sake of their children. Talking about their joint philanthropic activities, the father of two said they would continue with their support for Rescue Ranch.
Ryan thanked fans for their support over the years, urging them to respect their need for privacy at this time in their lives. In all he said, the car racer never mentioned the reason for their split, which has remained hidden to date.