Although Emily Compagno is married, she does not have any children, at least not yet. She has been married to her husband, Peter Riley, since 2017. She met him when she was a teenager in high school but their relationship began years later after they reconnected on the streets of Seattle. 
Emily is probably most known for co-hosting Outnumbered on Fox News Channel. Given the popularity of the show, it is no surprise that her personal life has piqued the interest of viewers scattered across the United States and beyond. But then, Emily seems to prefer keeping her private life away from the limelight. This does not mean the entirety of her personal life has been a mystery, some juicy details have made its way to the public space.
How Many Kids Does Emily Campagno Have?
Emily Compagno does not have any children and has never been a mom. Even though she and her husband Peter Riley has been married for over half a decade and counting, they are yet to have kids. For onlookers, it seems the couple is not in a hurry to become parents but the fact of the matter is that the public doesn't know why they are childless.
Hardly can anyone tell if Emily and Peter decided to not have any kids yet, or are having challenges with that. But most reports seem to believe the former is the case. It is widely thought that the two are too committed to their career to have kids. While they don't have children, they are parents to a dog named Duchess. Emily is also an aunt to her sisters' kids.
So, at the moment, her family life revolves around her husband, their dog, her two sisters (Julietta Compagno Skoog and Natalie), their kids, and her parents, Katherine and John Compagno.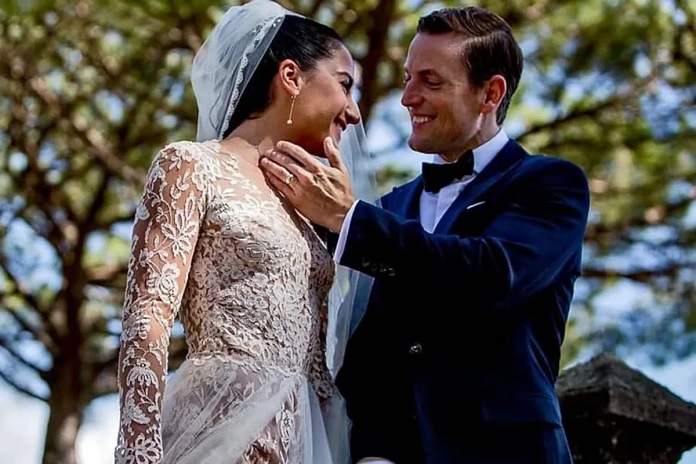 Emily Compagno Has Been Peter Riley's Wife Since 2017
The American TV host has been a married woman since 2017. She got married to her husband, Peter Riley, on the 14th of September 2017. The couple exchanged vows at Villa Cimbrone hotel in Italy. Reports indicate it was a private ceremony witnessed by a few close friends and immediate members of their families.
Emily Campagno had known her husband since she was a teenager in high school. However, they didn't begin dating until years later after they had graduated from college. As the story goes, they both attended the University of Washington where Emily obtained her B.A. in political science. Yet, their relationship didn't begin in college as well.
It is said that they only began dating in late 2015 or early 2016 after they reconnected on the streets of Seattle. They were only a year into the relationship when they decided to take it to the next level. Meanwhile, Emily's husband is a real estate agent who was once a data analyst. The couple has kept their relationship away from the prying eyes of the public but it seems they have been happy in their marriage.
Who is Emily Compagno?
Emily Compagno is an American attorney who first gained mainstream recognition as an NFL cheerleader. Her cheerleading days are long over and she is now best known as a television host. She co-hosts Outnumbered, a daytime news and talk show that airs on Fox News Channel.
The TV host was born in Oakland, California on the 9th of November 1979. She is currently 43 years old and is as old as her husband Peter Riley who was also born in 1979. Emily is one of three daughters born to her parents, Katherine and John Compagno. She studied political science at the University of Washington and would later obtain her J.D. in 2006 from the University of San Francisco School of Law.