Andrew Wiggins does not have a wife, but he does have a longtime girlfriend named Mychal Johnson.
He and Mychal have been together since their high school days, precisely since 2013, and share two daughters, Amyah Wiggins (born December 2018) and Alayah Milan (April 2021). For many, it is only a matter of time before Wiggins and Johnson walk down the aisle. However, some unsavory speculations arose about them in early 2023. All that is unpacked below.
Is Andrew Wiggins Married?
Andrew Wiggins is not married, but he does have a long-time girlfriend named Mychal Johnson. He and Mychal Johnson are high school sweethearts. They both attended St. Joseph's High School in Huntington, West Virginia, and started dating in 2013. Andrew was a senior at the time, while Mychal was in her junior year.
Basketball played a part in bringing them together, as they played for their school's teams, and even when they had to head off to different colleges, Wiggins to the University of Kansas and Mychal to the University of Notre Dame, Indiana, they continued their romance. The couple have been together for more than a decade now, and many believe that they will eventually get married.
Who is Andrew Wiggins' Girlfriend?
Andrew Wiggins' girlfriend is Mychal Johnson. The two have been together since 2013. Mychal is a native of Huntington, West Virginia, and celebrates her birthday on the 10th of November each year. Her birth year is likely to be 1995, going by her educational records, which means that she is presently 28 years old.
Mychal Johnson hails from a family of six. Her mother's name is Holli Johnson, while her father's name is Scott Johnson. Her father is a basketball coach and coaches an age-grade team in the AAU (Amateur Athletic Union) league. Mychal Johnson is the eldest of four siblings. Amongst her younger siblings is a brother named Maki Johnson. He plays basketball for East Tennessee University.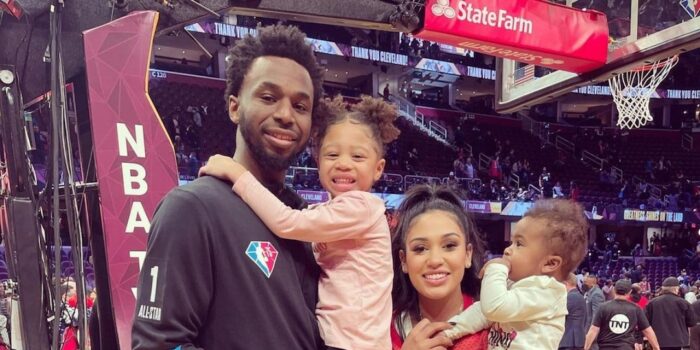 Mychal Johnson is a College and High School Basketball Star
Mychal Johnson also inherited a love for sports, specifically basketball, from her dad and was a standout player during her high school days. She played four years of high school basketball, during which she helped her school achieve an 86 – 17 record. She helped her school win the West Virginia Class A State title for four consecutive seasons.
Mychal was named the 2014 West Virginia State Player of the Year by the West Virginia Sports Writers Association. She was also named the West Virginia Gatorade High School Player of the Year for 2013 and 2014. She was also selected to try out for a place on the USA basketball U-16 national team in 2011.
Mychal Johnson also played basketball for her father's AAU team, West Virginia Thunder, and helped them win the 2010 AAU 13-and-under National Championships. Following a well-decorated high school playing career, Mychal Johnson was also able to play at the collegiate level, specifically at the University of Notre Dame. She was at the institution from 2014 to 2018 and was a regular starter. She averaged decent stats and bowed out on a high.
Since finishing college, Mychal Johnson has turned away her focus from basketball. It is not known the degree she completed, but she is now an entrepreneur and has partnered with brands such as Seint's makeup brand. She can also be described as a social media influencer with more than 30k followers on Instagram alone.
Happy Birthday to the one and only, Mychal Johnson!

🎉 @mycoool_ 🎉 pic.twitter.com/ZsGiZDqPbR

— Notre Dame WBB (@ndwbb) November 21, 2017
Andrew Wiggins and Mychal Johnson Share Two Daughters
Andrew Wiggins and Mychal Johnson have welcomed two children in the course of their relationship. The couple welcomed their first child, a daughter named Amyah, in December 2018. They then welcomed a second daughter, Alayah Milan, in April 2021. The couple and their children make their home in San Francisco, where Wiggins plays for the Golden State Warriors.  Mychal and the girls often make it to the basketball court to watch their daddy in action. Mychal and her man also make sure to organize lavish birthday parties and other celebrations for their children.
Wiggins is very much in love with his family and does not bother to hide it. In an exclusive interview with E! News in July 2022, he described being a girl dad as the best feeling in the world. In his own words "There's nothing like it. I've got two little princesses that I love unconditionally. Every day is just the best."
The NBA rookie of the year for the 2014/2015 season has also revealed that no matter how bad a day he has had, he always looks forward to going home as his daughters will be waiting for him. According to him, they are always happy and always in a good mood. He feels so much love for them, which keeps him going.
Andrew Wiggins has also lavished praise on Mychal. According to him, the fact that she also played basketball means that she understands the sacrifice and everything else he goes through. For him, she is amazing and has always been there for the kids, raising them to be perfect children. He, therefore, respects her a lot, as she makes stuff happen.
Wiggins' commitment to his family was also highlighted back in 2020. At the height of the Covid-19 pandemic, Andrew Wiggins was one of the NBA players who refused to the vaccine. He later relented, but pointed out his hope that the vaccine wouldn't affect his abilities so that he would be able to play for a long time and make good money for his family.
Andrew Wiggins and His Girlfriend Faced Cheating Controversy in 2023
Andrew Wiggins and Mychal Johnson are a celebrity couple, and they have also faced one of the side effects of being in the public eye, which is having unpleasant rumors spread about them. In February 2023, Andrew Wiggins was forced to take time off to deal with an undisclosed family matter. This family matter wasn't revealed, and his coach stated that he didn't know when the forward would be back.
The rumor mill sprang into action and started speculating that Mychal Johnson must have cheated on Wiggins with someone close to him, like a teammate. The rumor persisted so much that Mychal had to react, sharing messages on her social media handle all throughout March. In a Twitter post, she dubbed the internet a sick place with a vomiting emoji. In another, she stated that the rumors were the farthest thing from the truth and that it was so sad that this was what people were up to.
With time, Mychal decided not to feel too bad about the whole thing and got cavalier. In a later Tweet, she expressed her pleasure that people were watching her posts. Then, on TikTok, she posted a short video of herself walking gingerly with a voiceover saying, "Just to be clear, I don't give a f*** about how nobody feel about me." The whole mess has since been cleared up, as Andrew returned to playing in April and revealed that his dad was suffering from some serious health issues.