Dan Bongino is of Italian ethnicity, and his parents' names are John Bongino and Judy. 
Bongino has been quite forthcoming about his Italian ancestry. However, many dispute this and argue that he is of mixed ethnicity and at least part African American, thanks to his looks. Those who assume Bongino is part black are quite critical of his political ideology and have referred to him with the derogatory term – Uncle Tom. But is Bongino actually of black ancestry? Come, let us find out.
Is Dan Bongino Part Negro?
Dan Bongino is not part Negro. The former Fox News personality is of Italian heritage. Italians are Caucasians, and so Dan Bongino is Caucasian and not part Negro. The native New Yorker has explicitly come out to say that he is not Black but Italian, but this has not been able to douse the speculations. Many people point to Bongino's physical appearance, which is more akin to a biracial or multi-racial fellow, and conclude that he must have African-American roots.
Some have also claimed that he is of Latina heritage and is possibly Cuban, Puerto Rican, or Dominican. For others, Bongino is Puerto Rican, but was adopted and raised by an Irish-Italian family. However, all these remain untruths as Bongino has maintained that he is Italian. One must also consider the fact that Italians are olive-toned with regard to skin color, rather than being pasty white. This can explain Bongino's physical appearance.
Puerto Rican-African Dan Bongino is in denial that he's Sub Saharan African. How long will he deny yourself? Wherever he goes, there he is!

— HUBERT TEMBA (@TembaThinker) August 7, 2022
He has Been Accused of Being an Uncle Tom
Even though Dan Bongino has made it clear that he is Italian and Caucasian, many still believe that he is of mixed race origins and is part Black. He has, therefore, been derided as an Uncle Tom for his political leanings. Uncle Tom is an offensive term for a Black man considered to be excessively obedient or servile to white people. The name is derived from the lead character in the anti-slavery novel "Uncle Tom's Cabin" by abolitionist Harriet Beecher Stowe.
Bongino is a conservative and is not afraid to share his conservative views on issues. His conservative stance often goes against what most minorities want, and as such, he has been criticized as an Uncle Tom. One of the occasions when Bongino was dubbed an Uncle Tom was in the wake of the protests that greeted the murder of George Floyd.
While Floyd's immediate family and other black people were campaigning for a reform of the police and defunding of the police, Bongino took the exact stance and argued against it. This led to many calling him an Uncle Tom, and he pointed out that this was a prime example of the ignorance of the liberals, as they didn't even know his race.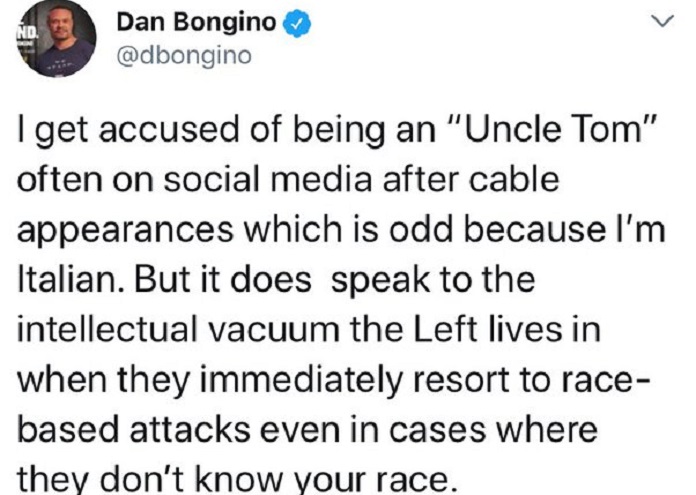 Who are Dan Bongino's Parents?
Dan Bongino's parents are John Bongino and Judy. His father, John, worked as a plumber and building inspector back in the day. He, however, harbored dreams of working for the FBI. Going by the surname, it is obvious that Dan Boingino's dad is of Italian heritage. The name of Dan Bongino's mother is Judy. She worked as a clerk in a grocery store while her son was growing up.
Dan Bongino's parents were married for several years, but they divorced when he was about 9 years old. His mother remarried, and his stepfather, Big Mike, a former boxer- turned-dock worker, was a nightmare of a man. Big Mike was a heavy drinker and assaulted Dan and his brother, Joseph. They had to endure the abuse until they saved up money to move away.
In the interim, Dan Bongino noticed that the only thing that scared his stepfather was the police. This inspired him to shelve his dream of being a doctor to become a policeman. He joined the NYPD in 1995 and spent about four years in service. His father later encouraged him to apply for the Secret Service, and he was successful. Bongino spent about 12 years as a Secret Service agent, during which he was part of the protection detail of presidents Bill Clinton, Barack Obama, and George W. Bush.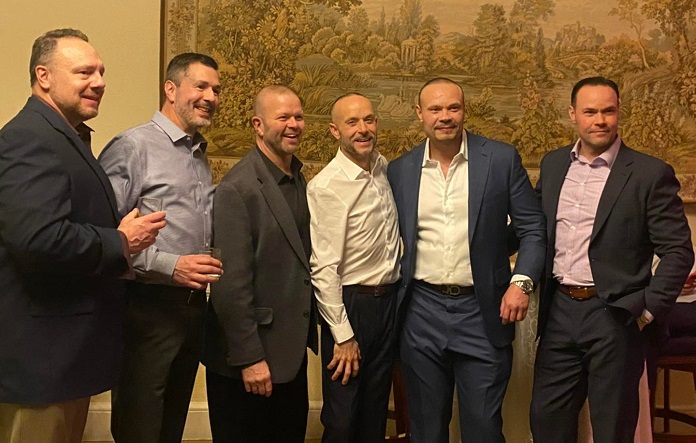 What Nationality is Dan Bongino?
Dan Bongino is of American nationality. He was born on American soil, which automatically confers citizenship to him. There is also the fact that his parents are Americans as well. Any questions over Dan Bongino's nationality may still have to do with the speculations about his ethnicity. Those who wrongly assume that he has Latina origins may believe that he is not American.
However, Dan Bongino is a full-fledged American, and proof of this can be found in the fact that he is quite eligible to run for public office and has actually done that on multiple occasions, even though his candidacy was ultimately unsuccessful.
Where is Dan Bongino From?
Dan Bongino is originally from Queens, Long Island, New York. He was born there on the 4th of December 1974. Bongino grew up between Queens and Brooklyn. These are not necessarily the fanciest parts of New York, but he is proud of his heritage. He has even revealed that why he is such a big fan of Trump is that Trump comes from Queens.
According to him, he understands the braggadocio of the former President. In Bongino's words, "Queens' kids never had money like the Manhattan kids but there's always puffery, everything's huge – even if it's not yours and your car's 10 years old."
Where Does Dan Bongino Live?
Dan Bongino lives in Palm City, Florida. He resides there with his wife, Paula Martinez, a web developer-turned-technical and creative partner in Bongino Inc. They have been married since 2003 and have two daughters, Isabel and Amelia. Prior to Palm City, Bongino and his family lived in Severna Park, Maryland. They moved to Florida to be closer to relatives and have loved it thus far.
The couple appreciates the blend of southern and northeastern culinary and cultural influences. They also like the fact that the environment is one in which their daughters can go out and play. Last, but definitely not least, Dan Bongino appreciates the fact that his present base is dominated by conservative political ideology, as he is a conservative.