Blake Shelton has no biological children; however, he has three stepsons named Kingston Rossdale, Zuma, and Apollo, from his relationship with Gwen Stefani, and he spends much time with the boys.
Shelton is working hard to navigate the stepdad role, which has been a success thus far. He loves his stepsons and cares for them very much. This has fetched him praise from Stefani, who often sends him messages on father's day and has thanked him for helping her raise the boys.
Does Blake Shelton Have Kids?
Blake Shelton does not have any biological kids of his own. This is not a deliberate choice but rather due to circumstances as the singer had previously spoken of his love for kids. In a 2011 interview, Shelton revealed he loved seeing his parents with their grandkids. He also spoke of his appreciation for family and generations.
Given such sentiments, Shelton hoped to have some kids of his own at some point, but this never came to fruition. As he got older, he thought that fatherhood wasn't meant to be for him, but he got a second chance as a stepdad. It has been a wonderful journey thus far and has made the singer realize what he had been missing out on.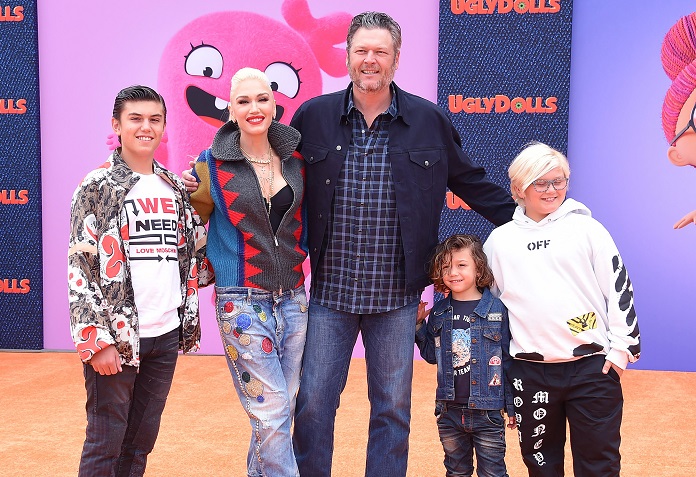 The Singer is a Doting Step Father to Gwen Stefani's Three Sons
Blake Shelton has three stepkids courtesy of his relationship with fellow music superstar Gwen Stefani. Stefani was previously married to rock star Gavin Rossdale from 2002 to 2016. During this period, they had three sons together, namely Kingston. Zuma, and Apollo.
Stefani split from Rossdale in 2015, and she and Shelton commenced a relationship that same year. Their romance spanned five years, during which she and her sons spent copious amounts of time at Shelton's home in Oklahoma.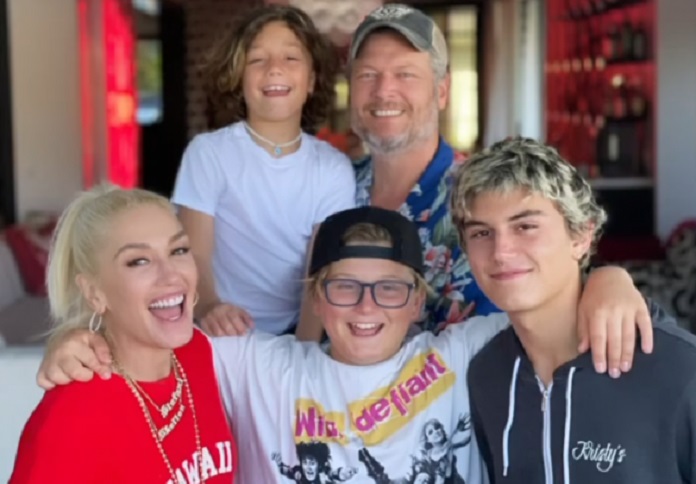 This set the stage for a stepfather and son relationship, which was formalized when she and Shelton married on the 3rd of July 2021. Blake Shelton has made no attempts to adopt Stefani's sons and is likely not to do so as their dad is still alive and actively involved in their care. He is therefore happy to be a stepdad and takes his role seriously.
Blake Shelton's First Stepson is Kingston Rossdale
Blake Shelton's first son is Kingston James McGregor Rossdale. He was born on the 26th of May 2006. He is presently in high school and splits his time between Los Angeles and Oklahoma. Kingston is a budding singer and plays the guitar for a band known as Wild Card.
He has performed at some places. His mom has also shared pictures of him strumming a guitar. It will, therefore, not be surprising if he ends up as a musician in the future. Kingston and Blake Shelton have been pictured together, going to church, running errands, and hanging out.
Blake Shelton's Second Step Son is Zuma
Blake Shelton's second son is named Zuma Nesta Rock Rossdale. Zuma was born on the 21st of August 2008. He is a middle schooler in Los Angeles but spends time with his mother and stepdad in Oklahoma. Zuma is a talented baseball player and plays on the school team. So, he could become an MLB star some in the future.
Zuma could also become a designer or entrepreneur. The young boy is naturally stylish and, in 2019, joined hands with his mom to design a line of stylish glasses named after him. Zuma is quite close to his stepdad and has been pictured fishing with him or cozying up to him on the sofa at home.
Blake Shelton's Third Step Son is Named Apollo
Blake Shelton's third stepson is named Apollo Bowie Flynn Rossdale. He was born on the 28th of February 2014. He was less than two years old when his mom started dating Shelton, so they are pretty close.
Whenever the family steps out of the house, Shelton often carries Apollo in his arms. He also takes care to shield the little boy from the paparazzi. He and Apollo have also embarked on fishing and other fun activities together.
Blake Shelton is Quite Close to his Step Sons and Cares for Them Like his Own
When Blake Shelton started dating Gwen Stefani in 2015, one of the important things he had to confront was the relationship he would have with her sons. It was awkward trying to figure out his place in their lives and what they thought of him.
He, therefore, sought inspiration from his own experience. While growing up, Shelton and his siblings had a stepdad named Richard. He raised them like his own and loved them without reservation. Shelton, therefore, decided to borrow a leaf from his stepfather and apply these principles of love.
When Stefani's kids first visited his massive ranch home in Oklahoma, they found it difficult to acclimatize as they were city boys from Los Angeles. However, Shelton encouraged them to explore their natural environment, and they discovered that they loved it. He also taught them about some of his passions, including fishing.
All this helped Blake Shelton build a wonderful relationship with his stepsons, and he remains very close to them to date. He takes them on routine tasks such as shopping and school. He has also been pictured taking them to Easter mass alongside their mother. Shelton also indulges some of his stepsons' peculiar demands and once had to take time out of his busy schedule to get them a bacon-wrapped turkey.
Blake Shelton also sought the boy's blessings before he proposed to their mother in October 2020. They gave their approval, and he and Stefani eventually wed in 2021. Of course, the boys were also present and looked cute in their matching tuxedos.
Gwen Stefani Showers Father's Day Tributes To Blake Shelton
Like a typical parent, there are some times that Shelton wishes that his stepsons were away at school and times when he wishes that they were home. One thing that is, however, constant is that he loves them as much as he loves their mother. This has helped him become a very good parent, and Gwen Stefani never fails to appreciate him.
She often showers praises on him on occasions such as father's day. For instance, on father's day 2020, she shared several pictures of Shelton with the boys and thanked him for helping her raise them. On father's day 2021, she described him as the most generous, patient, loving, funny guy she knew and declared that she and the boys loved him.