Martin Lawrence boasts of three talented daughters who could potentially take the Hollywood industry by storm, and one of them is Amara Trinity Lawrence.
Amara Trinity Lawrence is Martin Lawrence's last child from his second marriage to Shamicka Gibbs, an American TV star, entrepreneur and chef.
Amara was born in 2002 and had the opportunity to grow up in the love and warmth of a united home for several years. She recently completed high school and is contemplating her future path. One of her options is music, as she is an amazing vocalist and talented guitarist.

Amara Trinity Lawrence's Bio and Profile Summary
Full name: Amara Trinity Lawrence
Gender: Female
Date of birth: 20th of August 2002
Amara Trinity Lawrence's Age: 20 years old
Ethnicity: African American
Nationality: American
Zodiac Sign: Leo
Sexual Orientation: Straight
Education institution attended: Westmark School
Marital Status: Single
Amara Trinity Lawrence's Parents: Martin Lawrence and Shamicka Gibbs
Siblings: Iyanna Faith and Jasmine Page Lawrence
Amara Trinity Lawrence's Height in Inches: 5 feet 7 inches
Amara Trinity Lawrence's Height in Centimetres: 170 m
Amara Trinity Lawrence's Net worth: $1 million
Famous as: Martin Lawrence's daughter
Amara Trinity Lawrence's Instagram: @ponyboiiimusic
Amara Trinity Lawrence is The Youngest Child of the Hollywood Star Martin Lawrence
Amara Trinity Lawrence was born on the 20th of August 2002 in California. Her nationality is American, while her ethnicity is African-American. Amara is the youngest child of ace actor, comedian, and producer Martin Lawrence.
Martin Lawrence started as a comedian in places such as Washington D.C. and New York before landing roles on various TV shows and movies in the 90s. He later made a breakthrough after he scored his TV series, Martin, in the 90s.
Since that breakout role, Martin Lawrence has appeared in several blockbuster movies, usually of a comic persuasion. They include House Party, Do the Right Thing, Big Momma's House, A Thin Line Between Love and Hate, and Welcome Home Roscoe Jenkins. He, alongside Will Smith, is also the star of the multimillion-dollar film franchise known as Bad Boys. There have been three Bad Boy movies so far, and they have grossed a total of nearly a billion dollars.
Her Mother, Shamicka Gibbs, is a Chef, Entrepreneur, and TV Personality
Amara Trinity Lawrence's mother is Martin Lawrence's second wife – Shamicka Gibbs. Gibbs is a native of Los Angeles and was born on the 11th of November 1975. She reportedly has British and Scottish ancestry. Gibbs is a talented chef and once ran her meal delivery service known as Micka's Pantry, specializing in gluten-free and organic foods.
She is also an entrepreneur and owns about eleven outlets of the popular American massage and skincare franchise, Massage Envy. Shamicka Gibbs is also a TV personality and appeared on the talk show Bethenny in 2013. She was also one of the stars of the VH1 reality TV series, Hollywood Exes. Just as the name suggests, the series focuses on individuals previously married to Hollywood celebrities.
Amara Trinity Lawrence's Parents Dated for a Total of 13 Years
Martin Lawrence and Shamicka Gibbs first got to know each other in 1997. They started dating that same year and soon enough moved in together. The couple dated for about three years before welcoming their first child together, a daughter named Iyanna Faith, in 2000. Two years later, they welcomed Amara Trinity.
Amara and her elder sister grew up with both parents for the next several years and lived enviable lives. Their father was a big name in Hollywood, and they had every type of material thing that they ever needed.
They also made their home in a gorgeous mansion located in Beverly Hills. The mansion featured 7 rooms, 10 bathrooms, a built-in aquarium, a game room, a home theatre with a concession stand, and a sunken tennis court.
It was amidst this opulence that Amara Trinity Lawrence grew up. Her parents, however, made sure not to overindulge her and her sister. Her father famously grew up in a poor home and so made sure to teach his children that they won't get everything they wanted on a platter of gold.
They Got Married in 2010 But Divorced in 2012
Amara Trinity Lawrence was about seven years old when her parents decided to wed. As you can imagine, it was a piece of happy news for her and her elder sister, and they eagerly agreed to serve as flower girls for the big day, which occurred on the 10th of July 2010. The ceremony took place at their beautiful Beverly Hills mansion and featured 200 guests, including celebrities such as Eddie Murphy.
Seeing as her parents had tied the knot, Amara Lawrence Trinity most likely expected that the entire family would remain united forever, but that was not to be. Her parents separated just two years into their marriage and filed for divorce that same year. The couple did not disclose any reason for the divorce, but some online blogs accused Martin Lawrence's sister, Rae Proctor, of abusing Shamicka.
Amara Trinity Lawrence Remains Close To Both Parents to Date
Whatever was the reason for her parent's divorce, an 11-year-old Amara Trinity was saddened by the split. She, however, had no choice but to forge on with her life. Thankfully, her parents also eased things for her and her sister by pursuing the path of amicable parenting. They always turned up whenever she and her sister had events at school. She and her sister also got to accompany their dad to movie premieres and the likes.
As a result of this, Amara Lawrence remains quite close to both her mom and her dad, and they take any chance they get to tell her how much they love her. For instance, on the occasion of her 18th birthday in 2020, her dad shared a picture of her and captioned it, my baby girl is 18. He also declared that he was proud of her. Amara's mom was not left out. She equally shared her pictures and declared that she loved watching her grow into a creative, joyful, and confident young woman.
She is a High School Graduate and Budding Singer
Amara Trinity Lawrence previously attended Westmark School, a private school located in Encino, California. She completed her diploma in June 2021, and her parents and sister attended the graduation ceremony.
Her mom shared pictures of the whole ceremony and declared that she and her ex-husband were proud of what their daughter had accomplished. Amara Trinity Lawrence is yet to start college, but in the meantime, she is exploring her passion for music.
The young lady who goes by the handle, ponyboiiimusic, on Instagram is blessed with some crazy vocals and taught herself how to play the guitar. She has dropped a few songs online, and it has led to an outpouring of supportive messages from fans. Her mom has also raved about her talent, stating that she is proud of her.
Despite using online mediums to promote her music, Amara Trinity Lawrence is not so active on social media. She has only about 17 posts on her Instagram since 2018. Her posts consist of just a few pictures of her and a happy father's day post. She also talked about the killing of George Floyd in June 2020.
Amara Trinity Walker has Two Elder Sisters
Amara Trinity Lawrence has two siblings. They include her elder sister named Iyanna Faith. She also has an elder half-sister, Jasmine Page Lawrence, from her father's first marriage.
Iyanna Faith Lawrence
Date of birth: 9th of November 2000
Age: 22 years old
Amara Trinity Lawrence's immediate elder sister is Iyanna Faith. Iyanna was born on the 9th of November 2000, making her two years older than Amara. They share the same mother, Shamicka Gibbs. Iyanna Faith is presently studying creative writing at Sarah Lawrence College. She and Amara are pretty close and accompanied their dad to the red carpet during the premiere of his movie, Bad Boys for Life.
Jasmine Page Lawrence
Date of birth: 15th of January 1996
Age: 27 years old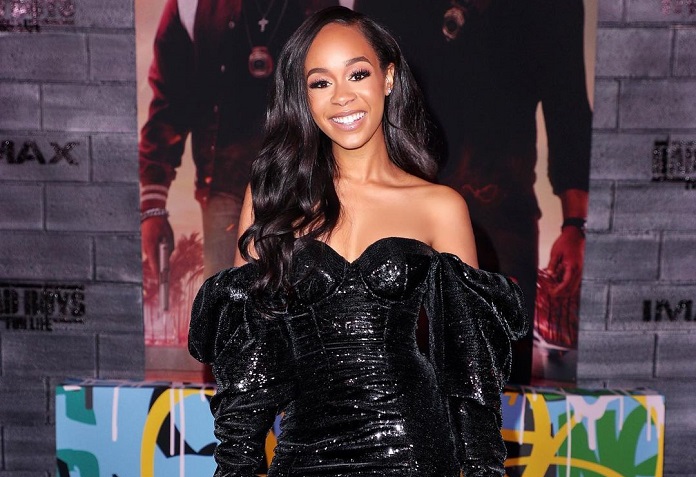 Amara Trinity Lawrence's eldest sister is Jasmine Page Lawrence. Jasmine is her half-sister from her father's first marriage to former beauty queen Pat Smith and is six years older than her. Jasmine Page is an alum of Duke University and is now pursuing a career as an actress. She maintains a close relationship with Amara, and they often hang out together.
Amara Trinity Lawrence's Fast Facts
1. Who is Amara Trinity Lawrence? Amara Trinity Lawrence is the third daughter of actor and comedian Martin Lawrence. She is best known as Martin Lawrence's daughter from his second marriage to Shamicka Gibbs, an American TV star. Amara is pursuing her own career in the music industry and has released a couple of songs already.
2. How old is Amara Trinity Lawrence and what is her ethnicity? Amara Trinity Lawrence was born on August 20, 2002, making her 20 years old. Her father is African-American and her mother is of mixed white and black ethnicity, giving Amara a mixed racial background.
3. Who are Amara Trinity Lawrence's parents and sisters? Amara's parents are Martin Lawrence, a veteran actor and comedian in Hollywood, and Shamicka Gibbs, a TV star best known for her role in the TV show Hollywood Exes. Amara has two sisters, her oldest sister Jasmin Page Lawrence from her father's first marriage and Iyanna Faith Lawrence from her parents' marriage.
4. What is Amara Trinity Lawrence's educational background? Amara attended Westmark School in Encino, California, where she graduated high school in 2022. As of now, it's believed she intends to pursue further education in music.
5. What does Amara Trinity Lawrence do for a living? Amara is carving out a career in the music industry. She has already released two original songs, "To Myself" and "Long Time," which are available on SoundCloud. Her parents have been supportive of her career in music.
6. Is Amara Trinity Lawrence in a relationship? As of the latest reports, Amara Trinity Lawrence is not known to be in a relationship. She is reportedly focusing on her music career at the moment.
7. Does Amara Trinity Lawrence use social media? Yes, Amara uses Instagram, albeit not as much as many others her age. As of February 28, 2023, she has 16 posts and 13.6k followers on her account.