Sam Mshengu's net worth is R3 to R4 million. He is a controversial South African businessman who has gradually climbed the ladder of success, made waves with his large fleet of cars, and had his story told time and time again.
Although a South African, sources have reported his birth country differently. While others claim Makwarela, Venda, South Africa, others claim he was born in Zimbabwe in the 90s.
He is the director of Sam Holdings and is also popular as 'trucker millionaire' and 'Chabalala' even though his real name is purportedly Gilbert Tachuono. As much as he has established himself as an entrepreneur, there are several controversies surrounding him, especially because of his flamboyant lifestyle, and alleged illegal dealings.
Sam Mshengu's Net Worth Started Accumulating From A Young Age
Mshengu dedicated many years of his life trying to find a spot in the world of well-known entrepreneurs, and when he did, he never got scared of showing it off to the world. Because of this, he shows off his many riches on social media. One among the popular display of wealth by the Trucker Millionaire was having 10 of his cars in a convoy of 72 cars posted on his social media. His cars of different brands have a customized number plate of his name displayed. Other than these, he has also shared the picture of his house among other properties.
According to him, his source of wealth is from his business venture Sam Holdings where his 52 trucks are used to convey goods across the country. He also transports with Eskom. From there, he disclosed through an interview that he earned R300,000 a month with salary and commission at a time when he was new in the business. Since he grew beyond that, his earning might probably be above that. He also made it known that he was venturing into mining.
From his business, he has made wealth that led him to have an estimated net worth of R3 to R4 million as recorded by different sources.
His Path To Wealth Was Rough After Losing His Father When He Was 2 Days Old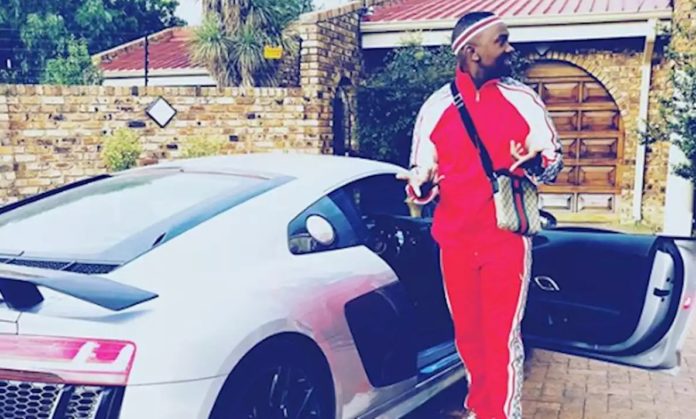 Everyone has always known him as Sam Mshengu, but recent court documents have shown that his real name is Gilbert Tachuona. The controversial truck tycoon was not born with a silver spoon but was able to acquire one later in life. In fact barely two days after his birth, he lost his father who was in the military and his family had to suffer to feed. His father died following a gunshot in DRC Congo.
By the time he was 11, he had already dropped out of school because the family could no longer afford to pay his school fees. At that early age, he started working to earn when he had the job of picking oranges in Limpopo's Orange Farm. Soon, he earned the trust of his boss who would handle his other responsibilities.
In the long run, Mshengu had himself a job that would let him drive truck conveying maize, and other things to Zambia and other neighboring countries. While at that, he learned other things about trucks, was promoted to overseeing other drivers, saved money, registered his company, Sam Holdings Trading in 2014, and started using his boss'  truck; then later bought his own trucks that would turn him into a millionaire in years to come.
Sam Mshengu Is Adding Mining To The List of His Business Ventures
As mentioned above, the top business venture of Sam is transporting commodities with his trucks. From there, he earns a good income that lets him live a luxurious life. Through this business, he started getting contracts even before he got to buy his own.
Having gained success in the transport business, Sam Mshengu ventured into the mining business, listing it as part of the Mshengu Holdings. He founded the Mshengu Mining And Resources after he purchased a small piece of land for the business.
Like many other successful people, Mshengu spends his money the way he wants in a showy way, without living social media out of the picture. Although the show off has landed him many criticisms, he claimed to show off as a means of advertising the business and letting others know what he does.  He spends a lot of his money buying exotic cars, traveling, and perhaps reinvesting.
He Has Been Having Some Legal Battles With The Law
At the heels of all his extravagant show-off, Sam has been having some battles with the police which launched an investigation against him following discrepancies on the story of his life. In 2019 Mshengu was taken into custody by the police with several charges of fraud, corruption, and possession of an unlicensed firearm. Despite claiming that he is a South African and was born in the country, the police found out that he is actually from Zimbabwe and might have gotten his SA citizenship illegally.
Earlier in 2020, speculations went round that the trailer millionaire bribed a police officer with a Mercedes-Benz to clean his initial charges. He was further accused of paying R50, 000 prior to making an addition of R70,000. For the bribe, he appeared at the Middleburg Magistrate court. The same year, he was to appear before the Witbank Magistrate's Court on the charges of corruption, fraud, and illegal possession of firearms as aforementioned, but when he failed, a warrant of his arrest was issued.
In spite of his second arrest, Sam 'Mshengu' Chabalala was again released on an R700 000 bail. His failure to appear in court for the second time as a result of his attempt to bribe the police also got him another warrant of arrest to his name. This means that the South African police are still after him since he is a wanted man.
The Whereabouts of Chabalala Is Not Known
In the heat of his case, negative response towards appearing in court, and being wanted by the police, it is alleged that Mshengu sent his wife and employees a suicide note in March 2020. The letter stated that inasmuch as his wife would love to bury him, he would have himself thrown in the crocodile's river. Whatever that meant, it sure insinuated suicide.
Although the authority still has its doubt about the possibility of him killing himself, he has stayed away from the limelight for a long time. In fact, he last posted on his Instagram page in November 2019. Also, the police still trail him in the hope of finding him – if he's still alive. He also shared in a letter how he was scared that he was going to be killed.
Before he went missing, he seemed to have a beautiful family – a wife Lerato Legodi, and a son.
There Are Many Uncertainties For Sam Mshengu
Since 2019, he has not settled to go about his business as should. Before then in an interview, he shared how he would start his day, working by 3 am till 11 pm. In recent times since his absence, his company has suffered a great loss. Sources have revealed that around June of 2020, about 10 of the company's trucks were auctioned for sale by Aucor Auctioneers in Midrand, South Africa.
As regards his already acquired wealth away from his investments in his trucks, it is unknown if it's still as much as it was last year or the year before last.