Tokyo Sexwale otherwise known as Mosima Gabriel Mosima Gabriel is a South African politician, anti-apartheid activist, businessman, and former political prisoner who went to prison for supporting anti-apartheid activities alongside Nelson Mandela at Robben Island prison.
Tokyo Sexwale is not just a successful businessman but also a politician and an anti-apartheid activist. He garnered fame as the first Premier of Gauteng as well as the former Minister of Human Settlements.
Through his stint as an anti-apartheid activist, Sexwale landed himself in Robben Island prison along with other prominent figures like Nelson Mandela, during the apartheid era. Since then, he has gone on to become one of the most respected icons in the South African political landscape.
Who Is Tokyo Sexwale?
The activist was born on the 5th day of March 1953 and his birth took place in Orlando West City of Johannesburg. Born as Mosima Gabriel "Tokyo" Sexwale, he is the son of a World War II veteran and a Johannesburg General Hospital clerk and his wife.
Tokyo Sexwale's Education
Mosima began his earliest education at St Martins Primary school in Johannesburg. From there he moved to Orlando high, where he graduated in 1973. The name "Tokyo" was given to him as a result of his love for karate when he was young
Even as a student, Tokyo got involved in activism. In his high school days, Tokyo became involved in the activities of the African National Congress (ANC). Soon he became a leader of the South African Student's Movement (SASM), which was a radical movement. He was as well a member of Steve Biko's Black Consciousness Movement.
Education took Tokyo to Swaziland where he got a certificate in Business Studies from the University of Botswana, Lesotho, and Swaziland. He, however, couldn't finish his Bachelor's degree in Swaziland as a result of fears of arrest when his activities with ANC were discovered. He later moved to the Soviet Union, where he underwent a political and military training in Moscow.
Upon completion of his program in Moscow, Tokyo returned to South Africa with a bag-full of knowledge to assist in salvaging black South Africa. This was not to be, however, as he was arrested along with 11 others for terrorism and conspiracy to overthrow the government.
After the trial that lasted almost two years, the Supreme Court of South Africa sentenced him to 18 years in prison. Like Mandela, Sexwale was kept at Robben Island Maximum-security prison. There, he continued his education and got a degree from the University of South Africa. This was after he was released from prison as his study privileges didn't go smoothly.
After spending 13 years in prison, Tokyo was released in 1990, following an agreement by the National Party and African National Congress.
Political Career
Soon after his release in 1990, Tokyo Sexwale began his political career, through which he held various offices. Between 1990 and 1991, he served as an executive member of the ANC. Afterward, he assumed the role of ANC Chairman in Gauteng Region from 1991 to 1997. More so, he was installed as the first premier of the Gauteng Provincial Government, between 1994 and 1998.
After leaving office in 1998, Sexwale stayed away from politics, thus delving into business. A few years later, he became a Non-Executive Director of Barclays Africa Group Ltd, a post he held from 2001 to 2008. From 2002 to 2007, he served as the Executive Chairman at Mvelaphanda Holdings Limited.
He was appointed as Minister of Human Settlement by President Jacob Zuma and he served in that capacity until 2013. Prior to that, in 2007, he aspired to serve as the president of South Africa. However, he withdrew from the race and pledged his support to Jacob Zuma.
In preparation for hosting the world cup in 2010, Tokyo Sexwale also served as a member of the World Cup 2010 Preparatory committee between 2004 and 2010. More so, after the suspension of Sepp Blatter and call for election into the office of FIFA President, Tokyo Sexwale joined the race. With CAF deciding to back Bahrain's Sheik Salman Bin Ebrahim; however, Sexwale's hopes dimmed and he stepped down shortly before the first round of voting.
Who is Tokyo Sexwale's Wife? Do They Have Children?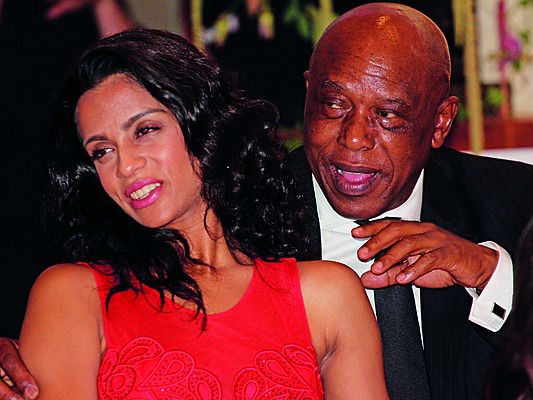 After he was released from prison, Sexwale married his lover, Judy van Vuuren in 1994. The couple began their relationship while he was still in prison. They had two children from their marriage. However, their "made in apartheid marriage" that seemed like made for forever, crashed with a loud sensation 20 years after.
Judy said their marriage had been through a rough patch, accusing Sexwale of "physical, verbal, mental, and emotional abuse and cruelty". Their divorce process was finalized in 2013 and they both went their separate ways.
According to reports, Sexwale's marriage with Judy isn't his first as the activist was said to be previously married. Although the identity of his first wife is unknown, it is known that the duo shares two children; making it four children the billionaire has from his past relationships.
His children are now grown and are all doing well for themselves. His daughter Gabriella Sexwale is a photographer and his son Chris works as an engineer. His other daughter Kay Sexwale wrote an open letter to the surviving Rivonia Trialists.
Having said that, Sexwale continued being active in the love game as he moved on with his girlfriend, Nataxa da Silva. It has been reported that Silva also has a child, a son named Nasima for Sexwale.
Read Also: 50 Inspirational Nelson Mandela Quotes on Education, Love, Leadership, Life
Tokyo Sexwale Net Worth and How He Spends His Money
Undoubtedly, Tokyo Sexwale is a self-made billionaire who has risen to become one of South Africa's wealthiest men through oil and diamond businesses. The politician who served as Human Settlements Minister in Jacob Zuma's cabinet has amassed an impressive amount of wealth for himself. His net worth is estimated at R2.14 billion.
Wondering how the ultra-wealthy politician spends his wealth? Well, Tokyo owns several mansions in Johannesburg including one located in the town of Franschhoek known as a wine-producing town. He also has one located seaside suburb of Clifton, Cape Town and another located around the corner from Nelson Mandela.
Tokyo Sexwale also enjoys vacationing in exotic locations. He owns a private holiday retreat, an island off the coast of Mozambique and a game farm in the North West Province. He had sold the home in Clifton and another in Oxford Avenue.
Despite his wealth, Sexwale isn't the type that lays bare the type of car he rides in. So we can't specifically name the brands of cars he uses but of course, as a billionaire, he supposedly has a fleet of exotic cars.