Themba Zwane's net worth is estimated at $500,000. The 34 year-old Mamelodi Sundowns and South African national team midfielder earns a salary between R250,000 and R400,000.
Thanks to Themba Zwane's net worth, and strong earning power, he can afford some of the luxuries that life has to offer, including fast cars and a large house. Even though football has been the major contributing factor to his net worth, he has other means of making money.
Summary of Themba Zwane's Bio
Date of birth: 3 August 1989
Age: 34 years old
Career: Footballer
Salary: R250,000 to R400,000
Net worth: $500,000
Themba Zwane's Salary and Previous Contracts
It is not a secret that there has always been a heavy silence regarding players' salary in the PSL. However, reports have claimed that Zwane receives a monthly salary between R250,000 to R400,000 each month. His huge salary is because he is one of the club's most important players.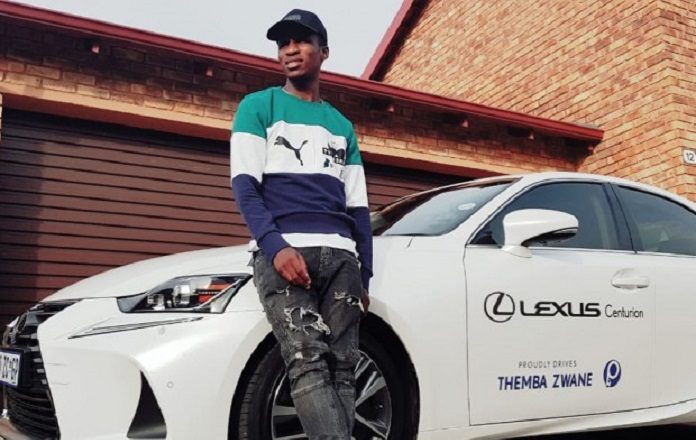 The star started his professional career with Mamelodi Sundowns in 2011. By 2013, he was shipped off to Mpumalanga Black Aces on a loan that lasted a season. Since 2014, he has remained with the Sundowns, and in the process, he was offered various contracts. In 2018, he was offered a three-year deal by the team, which meant that he remains with the club until 2021. At the time, he was valued to be one of the most valuable players of the club, with €1 million (±R15,4 million) put on him.
Themba had an amazing season, which saw him clinch the PSL Player's Player of the season, PSL Footballer Of the Season, and Sundowns's players player of the season, among others, in 2019/2020 season. More so, he found himself recording 14 goals in 41 appearances for the team. Because of this, it was reported in February 2021 that the club was getting set to offer him a long-term contract, which speculations claimed may be a 4-year deal.
Apart from the money he made from his contract and salary, Themba has also pocketed some money due to his achievements with Mamelodi. He took home an incredible R500 000 after being declared the Players' Player of the Season that came with a prize of R200,000; PSL Footballer Of the Season, which came with a prize of R250,000, and PSL Midfielder of the Season with R50,000 prize money. It was an incredible season for him as he also helped the team to win a treble.
In his seasons with the Sundowns, Zwane recorded many successes, which is why the club is eager to keep him. He won the following titles:
5 South African Premier Division titles
2 Telkom Knockout titles
2 Nedbank Cup
CAF Champions League (2016)
CAF Super Cup (2017)
Some Lucrative Endorsement Deals Also Contribute to Themba Zwane's Net Worth
The Mamelodi Sundowns star has also recorded some good earnings thanks to the many endorsement deals that he has attracted. He has an endorsement deal with Puma, which seems to be the most lucrative deal he has, although the deal's true value is unknown.
In 2018, Puma released some new boots with Themba Zwane on the mind. Other players that the boots were meant for were former Atletico Madrid star Antoine Griezmann and Percy Tau. There have been reports that the footballer also cashes out from an endorsement deal with the automaker Lexus.
His deal with Lexus has been on for a while, but the monetary value is unknown. However, he has been cruising in some extensive Lexus cars. Before he became an Ambassador for Lexus, the superstar had an affiliation with Volkswagen.
Themba Zwane's Cars
Footballers are generally known for their high taste in good cars; it is the same with Themba. The footballer has a few great and expensive cars in his garage. While he got some from endorsement deals, he used his money to acquire others.
In 2020, there were reports that the star would spoil himself with a brand new BMW car. The reports emerged after he visited the BMW Menlyn branch and thanked the dealers for allowing him to test-drive the German car. Before then, he had a Golf 7 GTI, which became his well-known car. He drove the car for a while before he exchanged it for another GTI.
This is not surprising because of the legacy that the car has in the PSL. It is the favorite ride for many players in the league, with stars such as Thulani Hlatshwayo and Tshepo Rikhotso having the piece in their garage. The Volks Wagen car is currently priced at anything from R350 to R360,000. The exact series of his Golf 7 is unknown.
Another car that he had in his garage was a Lexus. He was said to have fallen in love with the brand, which led him to get a Lexus GS 350. He drove this car for quite some time before he decided to change it for a Lexus SUV. The GS 350 is priced at over R500,000. He was gifted his Lexus SUV by the automaker. The car is said to be worth R2.2 million.
His new ride runs on a 5-liter petrol V8 engine, and it comes with a top speed of 270km/h, while it can also reach 100km/h in just 4.5 seconds.
Here is a list of the known cars of the Bafana Bafana star:
Lexus GS 350- R500,000
Lexus SUV- R2.2 million
Golf 7 GTI- R350 to R360,000
He Has Kept His Expensive Home A Secret
Themba Zwane is one of the most down-to-earth players in the entire PSL. Unlike many others, he does not splash the things he owns on social media, neither does he make any noise about it. Because of this, there has been sparse knowledge of his home. The value of the property has never been revealed, neither has the main features. However, what is known is that the large property has an outdoor swimming pool and a game room where he spends some time playing.
He has not forgotten about where he came from, as even with the success he has achieved, Themba is always going back to the community in Ecaleni, where he was raised and spending time with the locals. He supports the young ones with boots to play football and other items they may need. Zwane is loved among his people because of how he associates with them.