Andile Jali is a South African professional football player with an estimated net worth of $5 million. The midfield position player, who plays for Mamelodi Sundowns in the Premier Soccer League and the South African national football team, earns a monthly salary of R550,000 which affords him his luxurious house and flashy cars.
What Jali earns from his football career accounts for most of his wealth. However, the 33 year-old also pockets a decent amount of cash from endorsements. This has allowed him to acquire a few luxurious properties and cars. Below is more about the lifestyle he lives.
Major Contributors To Andile Jali's Net Worth Is Football.
The joy and satisfaction that comes with earning a living from something you love doing are absolutely second to none, and this is most likely the kind of satisfaction Andile Jali feels. He was born on the 10th of April 1990 in Matatiele and had always been interested in football since primary school. Thankfully, his parents supported his passion.
He plays as a defensive and central midfielder and has played for six clubs throughout his career, including 44 caps for the South African national team. Andile started playing football at the age of 12 in 2002 when he turned out for the amateur side, Hot Spurs, until 2005. The next year, he joined the Matat Professionals team for a year and left in 2007.
From Matat Professionals, Andile became a member of the Pretoria University football team. In the space of two years, he had 29 appearances and scored just one goal for the team. He left the team in 2009 to joined Premier Soccer League (PSL) side, Orlando Pirates, where he made a name for himself and was compared to legendary footballer Benedict Vilakazi, who wore his preferred number 15 jersey before him.
Andile Jali Established Himself As An Elite Football Star With Orlando Pirates
Andile Jali was actively part of the Orlando Pirates team that made history in South African football for winning two consecutive trebles under the Dutch Coach Ruud Krol. Having won the first three titles in 2011, including the PSL title, the team took the bull by the horn and defended two of their previously won titles, losing one and winning another.
The talented midfielder is not a footballer that hides under the glory of this team; rather, he brings glory to the team. He made a name for himself at Orlando Pirates, winning many trophies for the club. He was called up to the national team in 2010 and was named captain of the Bafana Bafana.
While in Orlando Pirates, his market value grew from €500,000 to €800,000. Football analysts even believe that he has the potential of making a name for himself in European football.
Andile Jali's Salary Makes Him One Of The Highest Paid Players In Mamelodi Sundowns
Just before joining Mamelodi Sundowns in 2018, he was signed into K.V. Oostende from 2014 till 2018. Andile Jali helped the team to make it to fifth place in the Belgian Pro League. At K.V. Oostende, his market value reached €2 million, which happens to be the highest it has been.
The exact details of Andile Jali's contract with all of these clubs and the amount it paid him are unknown. Still, he is receiving a salary of R550,000 from Mamelodi Sundowns and is currently one of the highest-paid footballers at the club. Although his market value may have experienced better days while he was at K.V. Oostende, it is still higher than it was even at his younger age.
He has a current market value of €1 million. His market value may be experiencing a decline because of his age, as we all know that as footballers grow older, they come closer to their retirement age, and their market value declines steadily.
Andile Jali's Net Worth Also Comes From Being The Ambassador Of Two Big Brands
Andile Jali relies majorly on his salary from Mamelodi Sundowns, but he also makes money from the endorsement of major brands. He is currently the brand ambassador for Nike and Lion Match products.
The exact amount he makes from these brand endorsement deals is unknown. However, considering the caliber of footballer he is and the brands in question, you can easily tell that these are huge endorsement deals – financially.
This brand endorsement has also contributed to his whopping net worth of $1 million. Although it does not look like he currently has a sustainable plan for himself after retirement to maintain his net worth, the successful footballer may have an idea that is still in its development stage.
What Does Andile Jali Spend His Money On?
Andile Jali has proven to be someone who loves fancy, expensive, and beautiful things. In 2015, after their child's 3-month birthday celebration, his wife, Nonhle Ndala, took to Instagram to share pictures of their luxurious and beautiful home.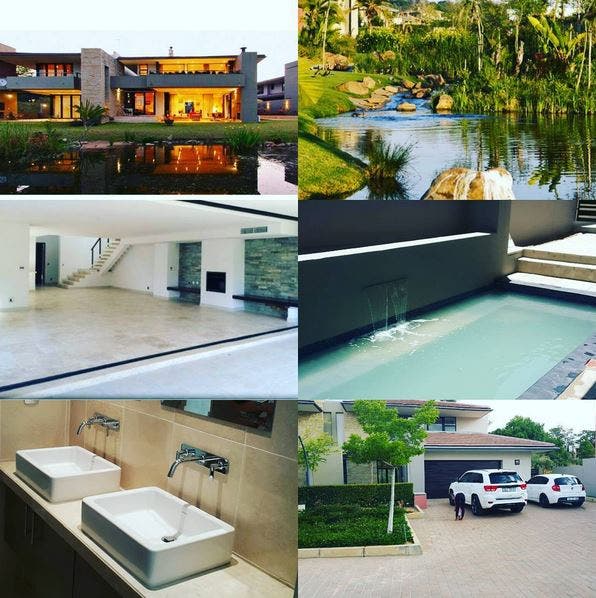 The exact location of their home is unknown, but the interior decoration of the mansion cannot be overlooked. The property is pimped with a swimming pool, beautiful furniture, luxurious bathtubs. It is surrounded by beautiful flowers and well-cut green grasses that give the surroundings a nice view of nature.
The football star is also a father of three cute children he shares with his wife, Nonhle Ndala, and from the pictures of his children that he uploads on Instagram, you can obviously tell that he spends good money on them. He also has a baby mama to who he pays child support.
Andile Jali's Cars
Like every other celebrity, Andile Jali also loves fast cars, of which he has a good number of them. Some of his expensive and luxurious vehicles include:
Jeep Grand Cherokee SRT 8 – R1 million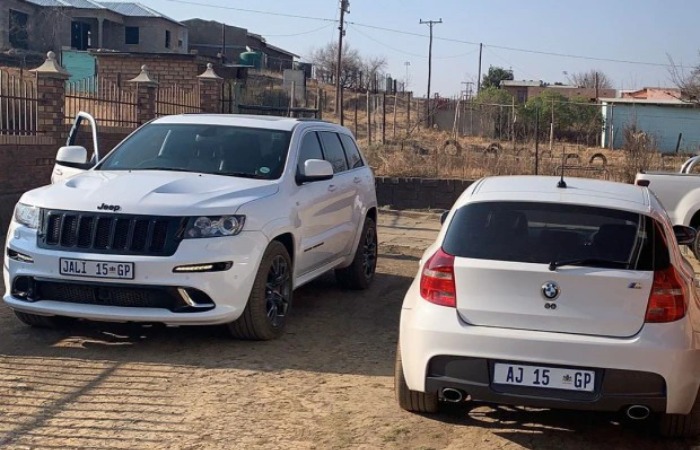 Displacement – 391 cu in, 6410 cc.
Power – 475 hp @ 6000 rpm.
Torque – 470 lb-ft @ 4300 rpm.
BMW 1 Series 118i 5-door M Sport – R518,900
Highest speed – 130Mph
Fuel type – Petrol
Transmission – Manual
Engine Power – BHP 136bhp
Engine Power – KW 100kW
Peugeot 508 1.6 THP Active
He was gifted a Sudan 508 from Peugeot due to his brand ambassador deal with them in 2011.
Power – 156 Hp @ 6000 rpm.
Power per litre -/97.6 Hp/l
Torque – 240-1400 Nm @ 4000 rpm. 177.01 – 1032.59 lb.-ft. @ 4000 rpm.
Engine location – Front, Transverse