Nasty C is a South African rapper singer, songwriter, and producer who has an estimated net worth of $2 million as of this writing. Thanks to his successful career, he can afford almost any car he wants, and among his fleet are a Mercedes Benz C43 AMG and Mercedes AMG GT.
Nasty C's net worth and the cars he drives are borne out of the accomplished South African rapper's greatness and career success. The amazing side of his rap success story is that within a short span of his career, Nsikayesizwe David Junior Ngcobo, popularly known by his stage name, Nasty C, has been ranked in the top ten list of wealthiest rappers in Africa.
His main income sources revolve around music and everything entertainment. The petite-looking superstar is a product of the rap wave sweeping through the South African rap industry – much thanks to its healthy competition, which has seen the country produce rap giants such as Cassper Nyovest, AKA, Khuli Chana, Emtee, and a host of others holding it down for the continent on the global stage.
Nasty C Is A Millonaire
There will be no debate or gist on Nasty C's net worth if the young kid isn't successful and a force to reckon with in the music industry. Jiggy Jigga, as friends often call him, is considered one of the youngest, talented, and hardworking musical acts to have come out of South Africa. In fact, he outsmarts many artists who have been there before him, and it is something his fans are always proud of.
The exact amount the young rapper makes from his shows, songs, and other endeavors is not open to public scrutiny. However, some sources revealed that he charges like $20,000 for a show.
The superstar's yearly earning is yet to be reviewed and publicized. As for his net worth, he is worth a whopping $2 million. Interestingly, a bigger part of this figure came from his rapping and music production business.
A Look At How The Rapper Made His $2 Million Net Worth
Music, apparently, is Nasty C's first love and his biggest source of income. However, apart from the art, he has also topped his account balance through other endeavors. There are several businesses that have contributed to Nasty C's net worth and we shall take a look at them below.
1. Music 
Nasty C was raised in Durban, a town dubbed as South Africa's music hub. He actually began a great interest in rap at age nine through his elder brother's influence. He was the first person who provided a platform for him to learn to rap and produce music.
The rapper formally began his music career in early 2013. Between May 2012 (a year before he turned pro) and April 2014, he released two mixtapes titled "One Kid, a Thousand Coffins" (his debut) and "Price City," after which he dropped an EP titled L.A.M.E (Levitating Above My Enemies), which introduced him to the South African music industry.
However, the rapper did not earn him his big break as he had expected, even after he received airplay on local radio and TV stations. His songs "Juice Back" and "Price City" eventually handed him the needed attention. He went ahead to do a remix with two of the biggest acts in the African music industry Davido and Cassper Nyovest.
Nasty C's musical prowess and love from his fan base won him the Best Freshman Award in the 2015 South African Hip Hop Awards. Inspired by the progress of his previous projects, Nasty C proved that he was undeterred and kept on pushing and striving for more. He eventually won four more prestigious awards in 2017.
Upon hitting a continental success, he collaborated with so many African artists, which expanded his fan base. His duet with Nigerian Pop star Davido (Coolest Kid In Africa) increased his popularity in the continent as it introduced him to the Nigerian audience.
Between 2016 and 2018, Nasty released two studio albums – Bad Hair and Strings And Bling, after which he embarked on his first tour (The Ivyson Tour) to promote the albums. After signing a juicy deal with Universal Music Group flagship Def Jam Africa in May 2020, Nasty C released his third studio album in August titled "Zulu Man With Some Power" (2020).
2. Acting Career
Nasty appeared in the Netflix series Blood & Water, depicting the character of Zhero, alongside stars like Ama Qamate, Gail Mabalane, and Khosi Ngema. Before that, he released a 14-minute film featuring three songs from the Bad Hair album, which commercially featured in different countries like France, Germany, UK, and the US. He also has a documentary titled Zulu Man In Japan, which was released in 2020.
3. Record Label
Nasty C owns the celebrity record label Tall Racks Records, which he launched on 20th August 2018. To date, Rowlene remains named the first and only act to join the label.
The rapper revealed recently that Tall Racks is doing great but not ready to bring in more artists for now.
4. Endorsement Deals
Nasty C is an ambassador of Axe South Africa, a male grooming company and the face of Puma in South Africa. He is also an ambassador of Redbat and Mercedes Benz in South Africa. The exact figures these elite companies pay him are not publicly known, but it wouldn't be surprising that they are in six figures, which has contributed to Nasty C's net worth.
The rapper alongside Nigerian singer, Runtown, worked on an advertorial campaign song "Said" for Cocacola. It was one of the magical moments of his career outside his native South Africa.
Nasty C Is Currently Signed To An Elite Record Label
It is interesting to know that Nasty C has spent just eight years in the rap industry. Within this time, he has gone from that little kid from Durban to an international rap star, living his dreams, bagging multiple endorsement deals, cruising expensive cars, living in his Johannesburg mansion with his girlfriend, and signing contracts.
Though still signed to RedBull Music Group, and owning his own record label, Tall Racks Record, Nasty C has a distribution deal with Universal Music Africa, a management deal with Durban-based artist management company, Free World Music.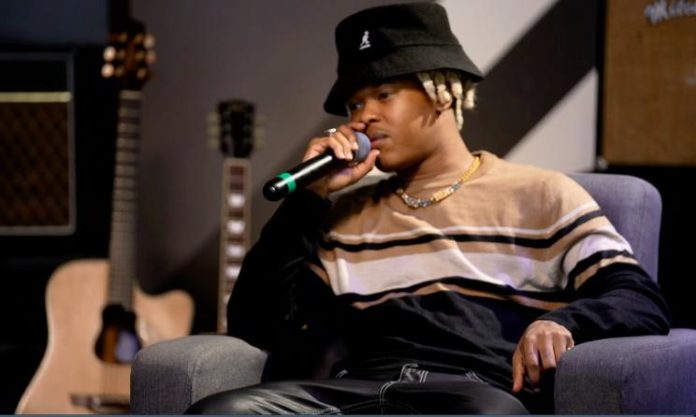 Recently, precisely in March 2020, the self-acclaimed 'Zulu Man With Some Power' reached an agreement (a joint venture) with American label giant Def Jam Records and put pen to paper in a mouthwatering deal, which is considered a big step in his musical career.
The Rapper Has A Soft Spot For Fast German Cars
Celebrities are known for their luxurious lifestyle, and Nasty C is no exception. The celebrity rapper loves fast and German cars. He has a soft spot for Mercedes Benz cars, and being an ambassador of the brand, he receives payment from them for driving their car.
The rapper has a Mercedes Benz C43 AMG, which he purchased from the brand in September 2018. The rapper forked out over a million Rands for the automobile, which has a sharp exterior design and a sporty look with a twin-louvered AMG radiator grille.
Before he bought the aforementioned fancy wheel, he earlier bought a Mercedes AMG GT car for himself sometime in 2017. As revealed in a brief video some time ago, Nasty also has a green Mercedes Benz vehicle that is yet to be cruised in. The rapper didn't state why he is not ready to drive the new car around the town.
Here's A List Of Nasty C's Known Cars
1. Mercedes Benz C43 AMG
Price: Cost over one million Rand
Unique features include:
385 hp @ 6,100 rpm engine power
384 lb-ft @ 2,500-5,000 rpm Torque
6 Cylinders
Premium unleaded gasoline fuel types
Discs front brake.
2. Mercedes AMG GT
Price: Over 1 million rand
Unique features include
Dynamically distinctive in appearance
AMG 4.0-litre V8 bi-turbo engine
extremely sporty
sophisticated cockpit.