Tying the knot more than once is part of life for celebrities. What matters for most of them is finding the right person to spend the rest of their lives with, no matter how long it takes. This is the story of Teko Modise, South Africa's beloved retired professional footballer.
The young man got married for the first time before the age of 30, but unfortunately, things didn't work out between him and his wife, Felicia Modise. Right now, he is a happy man after he found love again – at a time he wasn't ready to begin a relationship.
Teko Modise Has Been Married Twice
As mentioned earlier, the former Ria City football player has tied the knot two times. His first attempt at marriage was in 2010. Sadly, he parted ways with his first wife, following some family problems that almost ruined his football career.
Modise's second marriage took place many years after he parted ways with Felicia. According to the footballer, it was not his intention to fell in love twice, but one thing led to another until things spiraled out of control.
The Meadowland-born athlete was in his late twenties, precisely twenty-eight, when he settled down with Felicia. Not much is known about their time together, but going by his own part of the story on how their marriage crashed, Modise painted a picture that suggests that his relationship with Felicia was not built on love.
His First Marriage Abruptly Hit The Rocks Like It Never Existed
Modise and Felicia's marriage lasted for only three years. The pair got married in 2010 and divorced in 2013. For many months after they went their separate ways, neither Teko nor Felicia opened up about what actually transpired between them and the cause of their divorce.
While Felicia is yet to share her own side of the story, the retired footballer has since shared an elaborate account of his time with his first wife. His narrative is contained in his tell-all book titled: The Curse Of Teko Modise.
The Supersport commentator shared that he met Felicia at a braai and that it was not love-at-first-sight for him. After getting along then, one thing led to another, and Felicia became pregnant. Teko said he was informed one year later about the pregnancy, and at that point, it dawned on him that 'it has to be her.' He admitted that he never planned for Felicia to be the mother of his child, and he was not ready to persuade her to go for an abortion.
Everything happened so fast between them, and Modise was willing to put in his best for his family to be stable and harmonious. At some point, he became angry with himself for being in a relationship he didn't build properly. The retired footballer shared that he had no peace at home, which made life more difficult as he was already having difficulties with the football club Orlando Pirates and running away from the unwanted attention of the media.
In the long run, after things must have become so complicated, Teko Modise decided to choose his childhood passion (his football career) over his volatile relationship with a woman he barely knew. The couple officially divorced in 2013.
Why Teko Modise Had A Rushed Wedding With His First Wife
Modise and his former wife had a low-key wedding ceremony. Indeed, it was not the happiest day of their lives as no one walked her down the aisle, there was no flower girl, there was no venue and even a speech for the football. It was extracted from his memoir that the couple didn't bother themselves about coming up with wedding plans and that there was no big party with family, friends, and loved ones.
The couple's marriage was a private one with no prominent guest in attendance, and everything happened so fast.
Where Is Felicia And Her Child Now?
Felicia currently lives in South Africa. Not much is known about her personal life, family background, and what she professionally does for a living. Recently, she was on the popular Mzansi Magic reality show, Diski Divas. The show revolves around the glamorous lives of South African football players' wives, exes, and girlfriends.
As for the child she had with Teko, there is no information about her whereabouts and what she has been up to. It is not known if she stays with her mother and is in school. In September 2020, it was reported that Modise's daughter was thrown out of school for non-payment of school fees. The child's mother later came out and accused the footballer of failing to perform his fatherly duties while touring the world and throwing parties for his second wife while his daughter's school fees haven't been paid.
It is not clear if Teko has been part of his child's life as he has never introduced, revealed the identity of the child, or spoken about his offspring.
The Retired Footballer Eventually Found True Love A Few Years After Divorce
Teko Modise found love again five years after he lost interest in his first wife. Neither the footballer nor his beautiful wife Lerato Kgamanyane has publicized their love journey – it is unknown where, when, and how they met. The couple had a private wedding in 2018, and since then, they have been living peacefully.
Lerato seems to be the perfect woman for Teko. On several occasions, the football player has professed his undying love for her and also credit her for the massive positive changes he enjoys in every ramification of his life. The two are not parents yet, but it has never stopped them from appreciating themselves and showing the world how much they mean to each other.
All The Facts About Teko Modise's New Wife
There is little information about Modise's new wife. Lerato seems to be more of a quiet and reserved person. She is hardly in the news for whatsoever reason. She is mostly seen with her husband having fun. They often travel around the globe and also spend quality time building their young family.
Teko's wife is said to be a social media influencer. She is also a fashion enthusiast and a strong pillar in her family.
What Teko's Tell-all Memoir is All About
Teko Modise's book The Curse Of Teko Modise is his life on paper. It documents every of his life's pains and gains, victories and defeats, poor to rich journey, love and divorce story, struggles as a footballer, fallouts with some individuals, including his former coach.
It also brought to the limelight the pain he went through as a young boy after being kicked out of home when he was eight following his keen interest in football. The Curse Of Teko Modise was launched at Exclusive Books, Mall of Rosebank, in Johannesburg on November 29, 2017, and was authored by journalist Nikolaos Kirkins.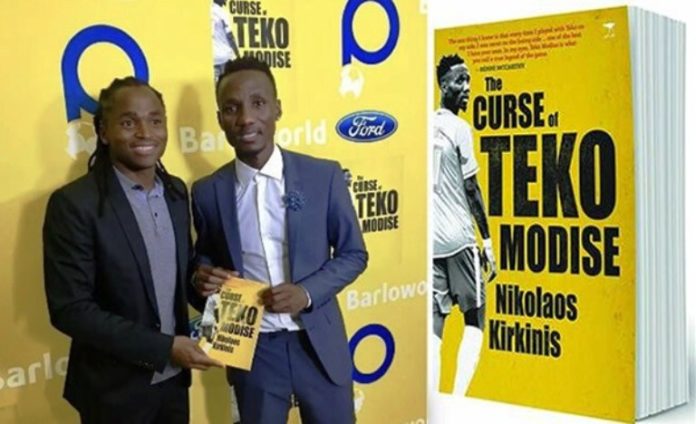 The reason Teko Modise wrote the book was to address certain issues surrounding his life that have lingered. One of such is his soured relationship with the South African coach Pitso Mosimane and his failed marriage with Felicia. Felicia hasn't commented on her ex-husband's revelation about their marriage, neither has she publicized her own side of the story.