DJ Heavy K (Real Name: Mkhululi Siqula) is a South African DJ and music producer known for his Djing skills.
It took DJ Heavy K courage and determination to abandon his childhood ambition of becoming a doctor or scientist and switch to music-making. Ever since he debuted as a DJ in the South African entertainment industry, he has surpassed his critics' expectations. He has continued to grow his craft year after year, and it appears he is just getting started.
Being one of the most hotly sought-after DJs in South Africa, it's no surprise that DJ Heavy K has earned both fortune and fame through his flourishing career. Beyond the shores of the country, his name rings a bell in neighboring African countries, and it has everything to do with his Djing skills. The DJ cum record producer has an impressive number of fans who are loyal to him and enthusiastic about his music at the same time.
Summary of DJ Heavy K's Biography
Full name: Mkhululi Siqula
Nickname: Heavy K Drumboss
Gender: Male
Date of birth: December 4, 1991
Place Of Birth: Veeplaas, Port Elizabeth
DJ Heavy K's Age: Use Age Shortcode31 Years Old

Ethnicity: Black
Nationality: South African
Zodiac Sign: Sagittarius
Sexual Orientation: Straight
Marital Status: Divorced
DJ Heavy K's  Ex-Wife: Ntombi Nguse
DJ Heavy K's Children: 2
Occupation: Record producer, DJ
Famous for: His Djing skills
DJ Heavy K's Instagram: heavykdrumboss
Twitter: @HeavykDrumboss
DJ Heavy K Hails From Port Elizabeth
Heavy K Drumboss, as he is popularly known, is a native of Veeplaas, Port Elizabeth, South Africa. His parents gave birth to him in the locality on December 4, 1991. This talented DJ was not brought up in Veeplaas as an only child; he has a brother who was instrumental in his journey to greatness in the music world. His name is yet to be revealed.
DJ Heavy K studied at Mzimhlophe Public primary school and also spent part of his primary school at Emfundeni. He attended Ndzondelelo Secondary School for his secondary school education, but it's unclear if he went to college. Similarly, further information about his family history is flying under the radar.
He Came From Humble Beginnings
DJ Heavy K was raised in an average home. His family lived in a four-room apartment in Veeplaas, where his parents moved to their respective workplaces every day. His father, Phindlie Siqula, had a bicycle he rode to work for 18 years as a welder, earning R200 every week. Drumboss's mother, Thobeka Joyce Siqula, also helped her husband in managing their home through various means. She made a lot of sacrifices to make ends meet in her family.
Thobeka sadly passed on a night after his son welcomed his first child with his ex-wife. She reportedly died from stomach complications.
Drumboss' Father Is Obviously Reaping The Fruit Of His Labor
Drumboss may have lost his mother, he is still grateful that his father is alive and reaping the reward of his labor. According to the record producer, Mr. Phindile has since been stopped from working. He now lives in a house DJ Heavy K bought for him in Algoa Park, Port Elizabeth. In addition to that, he moves around in a Mercedes Benz C200 and receives R12 000 monthly as salary from his son.
Port Elizabeth Is Also Home To Some Prominent South Africans
Port Elizabeth is a well-known city in the Eastern Cape province. The region has produced an overwhelming number of personalities who have excelled in different fields of endeavor both locally and internationally. Below are the names of popular South Africans whose homeland is Port Elizabeth.
Danny Jordaan – 2010 FIFA world cup organizing committee chairman
Siya Kolisi – professional rugby union Player
Athol Fugard – Playwright, novelist
Reeva Steenkamp – model and Oscar Pistorious' former girlfriend
Shawn Phillips – singer-songwriter
Saki Macozoma – entrepreneur, former political prisoner
Ronwen Williams – professional footballer
Zim Ngqawana – renowned jazz musician
Ashton Nyte – musician
Moonchild Sanelly – dancer, singer
DJ Heavy K's Musical Career Began In His Room
Mkhululi developed a keen interest in music at a young age – thanks to his mother, who was also involved in the music ministry. His love for the art skyrocketed after he walked into a recording session to meet his brother's friend.
This is where I produced Lento by Professor! I was only 16 years old! Dear African Child Never stop dreaming🌐🌐🌐 pic.twitter.com/ln7m13at2Y

— HEAVY-K (@HeavykDrumboss) December 24, 2015
After falling with beat production, he went on to self-tutor himself on how to be a DJ and record producer. He would form his music producing group called Point 5, after which he produced his debut song.
His music ambition got into full swing in the year 2009 after he met the popular South African DJ Oskido Mdlongwa, who gave him a spot on his 'I Believe Programme.' The duo later collaborated on the track "Woza Nana" in 2013, which was a major hit.
His Popular Songs Include:
Drumboss
Inde Heavy K
Easy To Love
Broken Heart
Uyeke
Beautiful War
Ziyamporoma
A Prayer
Woza Nana
Imithandazo
Mculo
Mzwangendwa
Let Them Talk
Drip Drip
Sondela
Therapy
FOREVER
Take Me To PE
Here are the titles of his albums:
Respect the Drumboss 2018
Respect the Drumboss 2013
Respect the Drumboss 2015
1950 (2016)
Khusta (2020)
First Injection (2014)
Talk To The People (2020)
Never Stop Dreaming (2016)
Mari Been Woke (2020, EP)
DJ Heavy K's Thriving Career Has Won Him Recognition In The Industry
The Take Me To PE crooner has won an award from numerous nominations in the industry. So far, his projects have been nominated four times for awards, but three of them were won by other artists while DJ Heavy has one under his name.
Some of these awards and nominations include:
Easy to Love – won the song of the year at the South African Music Awards (2015).
Respect the Drumboss 2015 – nominated for the best dance album at the 15th Metro FM Music Awards (2015).
Umoya – nominated at the 15th Metro FM Music Awards for song of the year (2015).
Personal Paradise Remix – nominated at the South African Music Awards for the best remix of the year (2015).
Siqula Has Worked With Every Artist He Dreamt Of Working With
DJ Heavy K has banded together with a good number of African artists since he debuted. Virtually all the songs he featured these artists in are nothing short of incredible and fan favorites. It is quite understandable that his connection to these top-notch has everything to do with his fantastic skills behind the turntable and consistency in the industry.
Being one of the most hotly sought-after DJs in the country, the Veeplaas-born star has more heights to attain and great opportunities ahead of him to become the number 1 DJ in South Africa in the nearest future.
Some of the artists he has worked with include: King Monada, Nokwazi, Bucie, Mpumi
Nokwazi, Natalia Mabaso, Martin East, Cabo Snoop, Torre, Claude Monnet, Black Coffee, Mahoota, Professor, Speedy, DJ Sox, and Black motion.
The Port Elizabeth native has banded together with the following artists since the beginning of his career:
King Monada
Nokwazi
Bucie
Mpumi
Nokwazi
Natalia Mabaso
Martin East
Cabo Snoop
Torre
Claude Monnet
Black Coffee
Mahoota
Professor
Speedy
DJ Sox
Black motion
DJ Heavy K Is A Divorcee
Siqula was previously a married man; he and his ex-wife Ntombi Nguse called off their young marriage in December 2019. The couple tied the knot in October 2018 after being together for a couple of years. The two met in 2014 at a club in Grahamstown, Eastern Cape.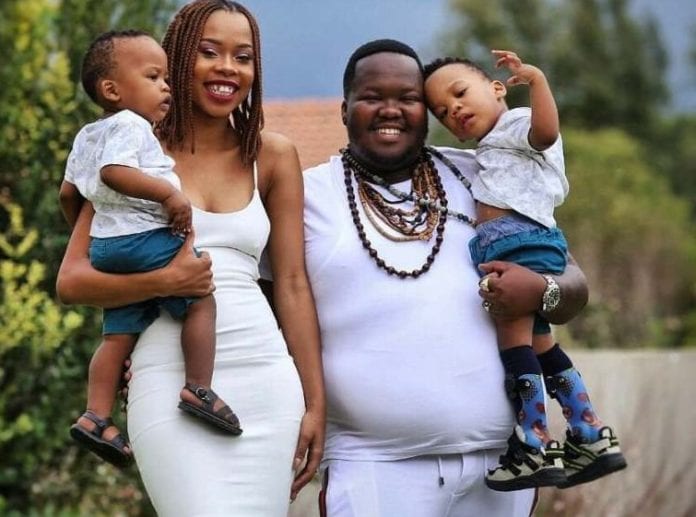 In a statement issued by his former wife on their divorce, Nguse announced she and the DJ decided to go their separate ways because their relationship became 'toxic' at some point. She stated that they wronged each other and that it was difficult to save their relationship after many attempts.
The Couple Has Decided To Remain Friends For Their Kids' Sake
Ntombi also maintained in her statement that she would keep a cordial relationship with DJ Heavy K for the sake of their kids. The couple had two sons – Juju and Yuri – before their divorce. Juju has cerebral palsy, a condition that has affected his growth and development.
It is not known exactly under whose custody the kids have been since DJ Heavy K and his wife called it quits.