Mogoeng Mogoeng is a South African lawyer, judge, prosecutor, academic, as well as an ordained pastor. He became popular following his role as the Chief Justice of South Africa; a position he assumed since September 8, 2011. He was appointed by the then-president of South Africa Jacob Zuma and he took over the position from Sandile Ngcobo.
His career in the justice system of South Africa has spanned several decades. Prior to his appointment, Mogoeng Mogoeng had previously served in different capacities both as the Judge President and as a Judge of the North West High Court (1997-2009). More so, since 2017, he has been acting as the Chancellor of the University of KwaZulu-Natal. Learn everything you need to know about the SA Justice and his family below.
Who Exactly is Mogoeng Mogoeng?
Born Mogoeng Thomas Reetsang Mogoeng on the 14th of January, 1961, Mogoeng is a native of Goo-Mokgatha near Zeerust in South Africa's North West Province. He is the oldest of three sons of Gaboipone Mogoeng (mother) and Setshwaelo Herbert Mogoeng (father). He spent his early years in the Goo-Mokgatha neighborhood, where he graduated from Mokgatlha Primary School. Mogoeng had always possessed a political mindset since he was very young and during his high school days, he was politically active.
At the time, he was briefly suspended for organizing a memorial for the fallen victims of the Soweto rising. His interest in politics didn't stop, even during his days at the University of Zululand. There, he was an active member of the Azanian Students' Movement, during the time of the grave repression by the SADF. Soon after he graduated with a B.Juris in 1983, he went on to acquire a Bachelor of Laws degree from the University of Natal in 1985. Four years later, in 1989, he got his Master of Laws from the University of South Africa.
Upon graduation, Mogoeng first started his career as an advocate at the Johannesburg Bar. After a few years, he returned to Mahikeng, where he practiced law for six years. During his time in Mahikeng, he became the chairman of Lawyers for Human Rights' Bophuthatswana chapter. He also served as a part-time lecturer at the University of Bophuthatswana, now known as North-West University.
His Judicial Career and Rise to Prominence
Mogoeng Mogoeng's judicial career has spanned over two decades and still counting; it was in 1997 that it all began. Though he felt he was inexperienced for a higher position at the time, he was made the judge of the North West High Court by Nelson Mandela. He served in that capacity for 12 years, ending in 2009. While there, Mogoeng became the judge for the Labour Appeal Court in the year 2000 and two years later, he was named the Judge President of the North West High Court; a post he held until 2009.
During the time of President Jacob Zuma, Mogoeng was appointed to South Africa's Constitutional Court. The Constitutional Court is currently the highest court in South Africa. He was appointed alongside Sisi Khampepe, Chris Jafta, and Johan Froneman.  However, in 2011, less than two years after his appointment to South Africa's Constitutional Court, Mogoeng Mogoeng was nominated for the post of Chief Justice.
His nomination was deemed controversial as the press, bar councils, local civic organizations, international civic organizations, the Tripartite Alliance, and legal academics all strongly criticized his nomination. This was because he was one of the youngest members of the Constitutional Court and was less popular when he served in one of the smallest high court divisions. More so, his lack of experience was a major reason for the criticism and his past judicial judgments were also being called into question.
Despite that, the Judicial Service Commission (JSC) interviewed the SA judge to determine his suitability for the position. Afterwards, his appointment was recommended by the commission and was finally confirmed by President Zuma on September 8, 2011. He was confirmed alongside Dikgang Moseneke, who became his deputy.
Since then, the jurist has been working both as the Chief Justice of South Africa as well as the head of the country's Judicial Service Commission (JSC). Under his leadership, the JSC has attracted several criticisms as regards its attitude to the racial transformation of the judiciary. Through his "powerful" and "profound" judgment, Mogoeng has endeared himself to many South Africans, who have come to build confidence in his leadership.
See Also: 5 South African Incidents That Shocked The World In 2017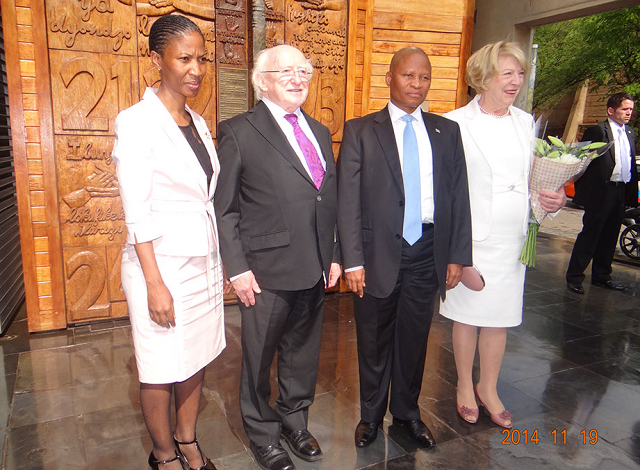 Is Mogoeng Married, Who are His Wife and Family?
While he has become a well-known figure in the South African Judiciary, the Constitutional Court justice is also successful in his personal life. He is a happily married man and a proud father of three children. He got hitched to his childhood sweetheart and love of his life named Mmaphefo. However, there is no much information available with regard to their relationship.
The much we know is that the SA Justice proposed love to Mmaphefo for seven years before she finally accepted him. While the details of their wedding, including when and where their wedding took place are not public knowledge, it might interest you to know they are parents to three children; two daughters named Johanna and Oteng as well as a son, Mogaetsha.
When asked about his wife, Mogoeng said: "My wife has been a pillar of strength throughout my life. I'm neither ashamed nor afraid to say I am what I am because of her". The couple has been living happily ever after and their marriage has stood the test of time.