Nomsa Buthelezi is currently married to her same-sex partner, Zandile Shezi, however, before they tied the knot, she had been in a relationship with an unidentified man who happens to be the father of her two children.
In 2018, the entertainment community and fans were left in shock when award-winning actress Nomsa Buthelezi took to social media to declare her love for her partner who happened to be a woman. Most people were surprised because the actress was known to have been in a relationship in the past with a man, and has already had kids in the process.
Although some claimed that she was only in a same-sex relationship because she wanted to gain publicity, she revealed that her sexuality had always been clear to her, and even though she had not flaunted it before her fans and the media, it was not hidden to those close to her. More than a couple of years since she came out as gay, and since she tied the knot to her partner, Nomsa seems to be enjoying happy family life, even though fans still have questions bordering on her sexuality, love life, the men she previously dated, and her children, among other things.
Quick Profile Of Nomsa Buthelezi
Full name: Nomsa Buthelezi-Shezi.
Date of Birth: 7 April 1982
Profession: Actress and TV presenter
Partner: Zandile Shezi
Kids: Olwethu  and Lindiwe buthelezii
Nomsa Buthelezi Came Out As Lesbian in 2018
While it was until 2018 that many got to know that she was a lesbian, the actress and mother of two revealed that she was a lesbian for as long as she could remember. What's even more significant is the fact that she revealed her mother had also known it for a very long time.
Even before she accepted who she was, Nomsa claimed that her mother told her that she knew who she was and that she was always attracted to women. Her mother, Magdalene Buthelezi, encouraged her to accept who she was and live her life, that there was nothing wrong with being attracted to women. The older woman also told her to stop living her life for others or be scared that people would judge her.
Thanks to the encouragement of her mother, the actress decided to stop living for others. She soon started her lesbian relationship with her partner, Zandile. Even though her close friends and associates knew about her sexuality, the public did not know until she took to her Instagram to wish Zandile a happy birthday in August 2018.
She declared her love for Zandile in the Instagram message while also stating that her King was a woman. The actress said she wanted to be able to stand tall and declare that she was in love with a woman and make it known that there was nothing wrong with it.
She Once Had A Partner Who Was A Man
There was never a time that Nomsa could recall that she was attracted to the opposite sex. However, she did not bring herself to start dating early until when she was in her early 20s. At the time, she only brought herself to date only women.
She got into a relationship with a man once, and he turned out to be the father of her two kids. According to her, the love was not there on her part, even with the two kids between them. Seeing this, her baby daddy, whose name and identity she has not revealed, decided to give up on the love he had for her. As soon as he realized that there was no future for the both of them, he decided to let go of her, for which she was glad.
Since their relationship ended, she continued dating only women, but since she was a private person, she also kept her relationship and love life away from the prying eyes of the public. Because she dated a man publicly once, she claimed that it became hard for her to reclaim who she really was before the public.
Nomsa Buthelezi's Lesbian Partner is Zandile Shezi
The Our Perfect Wedding presenter has now seemed to find a perfect person for herself in her partner, Zandile Shezi. Zandile, who also prefers to keep her personal information hidden from the public, is not a celebrity herself but only got to be known, thanks to her relationship with the actress.
The only information available about Shezi is that she is a Senior Physiotherapist at Ladysmith hospital in Johannesburg. According to her LinkedIn, she has been working with the hospital since 2016.
The Couple Got Married In 2019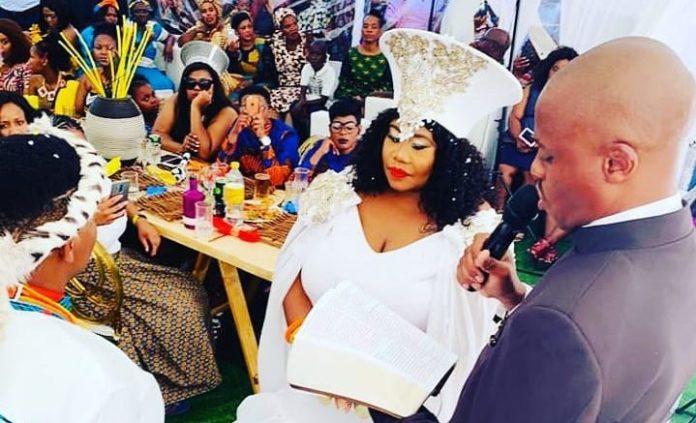 When Nomsa first came out to announce that she was in a relationship with Shezi, they had already been in a relationship for six months, having first met in Mpumalanga. For them, it was practically love at first sight. She revealed that she was madly in love with her partner, and so it was not surprising that they tied the knot only a year after in September 2019.
When Zandile first proposed marriage to Buthelezi, the actress did not think she was serious and she avoided the topic. However, Shezi continued to persist. It was until she asked for a date from the OPW presenter's father that she knew she was indeed serious. A date was set for the traditional rights and lobola negotiations. She sent a team to Joburg for the lobola negotiations, which at first was tough because Nomsa's side of the family was asking for a high price. However, her team's negotiator was able to beat it down and come to a common ground.
The duo got married in a private and intimate event that was attended by close friends and family members in Alexander. Nomsa Buthelezi wanted to have a simple wedding; rather than worry about things like the decor, she was more interested in making sure that only those who meant well to them attended the ceremony because she had met many fake people in her life who smiled at them as a same-sex couple only to turn around and say nasty things.
Among the stars that attended the wedding were Samkelo Ndlovu, Zola Nombona, and presenter Salamina Mosese. A year after their marriage, in October 2020, the couple was nominated for the Cutest Couple of the Year at the 12th annual Feather awards that honor the LGBTIQ community. For now, she is still yet to have any kids with her partner.
How Nomsa Buthelezi's Coming Out as a Lesbian Affected Her Children
https://www.instagram.com/p/B6JRjFVJcU5/
Since coming out as gay, Nomsa Buthelezi has continued to get both hate and love from people across aisles. Most importantly for her, she has gained the support of her parents, as well as her children.
She revealed that although at first, her kids did not understand so much about sexuality, they knew when she was happy and when she was not. They knew that since she met her lover, she became a happier individual, and her son, who was 14 at the time, commented about it. More so, they also knew who she was and had no problem embracing that, and they have an organic connection with Zandile.
The sexuality of Nomsa did not come without its effect on her kids as they became the target of bullying by those who had biases against homosexuals. She stated that they have now developed thick skins against such homophobic attacks.