In a government that has been tainted by various scandals from some of its very high political office holders, Malusi Gigaba appears to be no different than his colleagues even though he was once hailed as a breath of fresh air. The South African politician, who has served as Deputy Minister of Home Affairs, Minister of Public Enterprises, Minister of Finance, and Minister of Home Affairs of The Republic of South Africa, has been embroiled in more than a few controversies, some of which have made the headlines of blogs and led to parliamentary hearings.
Who is Malusi Gigaba?
As mentioned above, Malusi Gigaba is a South African politician. Born Knowledge Malusi Nkanyei Gigaba, the former minister of Home Affairs began his journey to the top of South African politics through his involvement with multiple student organizations, including the South African Youth Congress (SAYCO), Young Christian Students (YCS), Congress of South African Students (COSAS), and South African Student Congress (SASCO).
Gigaba's participation with these groups laid the groundwork for his involvement with the African National Congress Youth League as most of the student and youth organizations in the country were aligned with the African National Congress (ANC) which was at the time banned. Following the unbanning of the ANC Youth League in 1990, he joined the group that went on to elect him as president three times in a row (1996, 1998, and 2001).
In 1991, Malusi Gigaba was first elected to the National Assembly of South Africa as a Member of Parliament for the African National Congress. Despite resigning in 2001, he was again elected to the body in 2004, becoming Deputy Minister of Home Affairs soon after. He held the position until November 2010 when he was made the Minister of Public Enterprises. Gigaba served as Public Enterprises minister from then until May 2014 when he was moved to the helm of the Home Affairs ministry.
Malusi Gigaba was again on the move in March 2017 when President Jacob Zuma appointed him Minister of Finance. He spent less than a year here before he was renamed Minister of Home Affairs by new South African President Cyril Ramaphosa. Much to the surprise of everyone, Gigaba resigned from his position on the 13th of November 2018. Two days later, he also resigned as a Member of the National Assembly.
His Education and Qualifications 
Malusi Gigaba is a learned individual who was once hailed as the bright spot of the country's politics; a rising star. He had his education in the country from primary to tertiary level, including a Masters degree
Malusi Gigaba attended The following schools:
Mathonsi Primary School in Mandeni
Vryheid State High School
Ethalana High School in the district of Umzinyathi
University of Durban-Westville (UDW), where he earned a Bachelor's Degree in Education.
University of Durban-Westville (UDW) (Masters Degree in Social Policy)
Unraveling Malusi Gigaba's Marriages
A look at the personal life of Malusi Gigaba will reveal that he has been involved with a number of women over the years. The former minister is currently in his second marriage after his first one came to an ugly end. He was previously married to a woman identified as Thabong Gigaba whom he shares a daughter named Lerato. Details of when they got married or how they met are unavailable. In 2010, however, things came to a crashing end for the couple as they got embroiled in an ugly divorce dispute and custody battle that made headlines all across the country.
As divorce proceedings went along, Gigaba was said to have already begun a relationship with Nomachule Mngoma, an IT executive at one of South Africa's top IT companies. The couple is said to have met in a Johannesburg restaurant where they immediately kicked things off. Their relationship went on to produce two sons; Nkanyezi and Mvelo, before they decided to exchange marital vows in a lavish wedding ceremony in December 2014.
All appeared to have been going well for the couple until it emerged that Malusi Gigaba was involved in a number of extra-marital relationships. New York-based stylist Buhle Mkhize was one person who was said to have been involved with the minister. She and Gigaba's wife went on to feud on social media as both women continue to engage in several spats.
What We Know About His Sex Scandals
Malusi Gigaba Had An Affair While Married To Noma
In 2015, while his marriage to Nomachule Mngoma was just about a year old, a scandal involving Minister Malusi Gigaba broke out. It was revealed that although married, the minister was having an illicit affair with a New York-based fashion stylist known as Buhle Mkhize. Mkhize and Noma engaged themselves in an ugly banter on Twitter, calling each other unprintable names before the former took it a step further by making the 'big reveal' in an open letter where she exposed all the details of her affair with the then minister of home affairs.
She revealed that they met on the picture-sharing platform, Instagram, in July 2014 from where they set the ball rolling as they noticed they share a lot in common. The platonic friendship soon evolved into a romantic one and then a visit by Mkhize to Cape Town where she met Gigaba and they spent a couple of days together. Despite the letter, the two women seemed to have put an end to their fighting and even apologized to each other until 2017, when a second wave erupted.
During Noma's now-infamous interview on eNCA in 2017, she referred to the affair, stating that it was a tough time in her family's life and that she felt it was punishment for what she had done to her husband's first wife – as she was apparently sleeping with him while he was still with Thabong. Mkhize, who is now married, was enraged by her actions and questioned why Noma could not just decline the interview or avoid the question and let bygones remain bygones. She went on a Twitter rant claiming she could no longer stomach Noma's lies.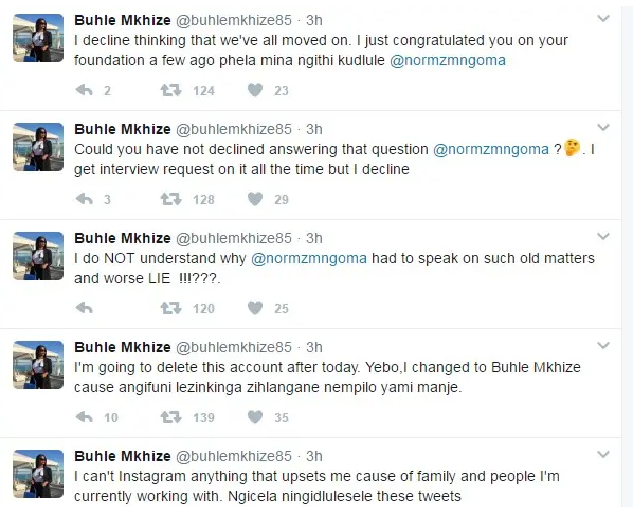 Gigaba, on his part, denied the affair after refusing to comment while the heat raged on.
His Sex Tape Scandal
In 2018, a leaked sex recording of the minister found its way to the internet. In the video which was uploaded on the pornographic website, Pornhub, at the time, Gigaba can be seen playing with his manhood while talking into the camera (or the supposed recipient of the tape) to imagine giving him a blowjob. The viral video prompted him to apologize to the public and his family. He stated on a Twitter thread that the video, which was being used to blackmail him, was meant for his wife.
My wife and I have learned, with regret and sadness, that a video containing material of a sexual nature, meant for our eyes only, which was stolen when my communication got illegally intercepted/my phone got hacked, in 2016/17, is circulating among certain political figures…

— Malusi Gigaba (@mgigaba) October 28, 2018
Did The Scandal Lead To Malusi Gigaba's Resignation?
Barely a month after the Gigaba sex tape leak, the minister resigned from not only his office as the South African Minister of Home Affairs but also as a Member of the National Assembly. Many have been quick to assume that the reason for his resignation is the sex tape scandal but that is not the case – even though the release of the sex tape from his phone might have also been a factor.
Read Also: 10 Ideal Ways To Survive In South Africa Without The Government's Help
While the nation recovered from the aftermath of the sex scandal, the Constitutional Court and Supreme Court of Appeal found Malusi Gigaba guilty of perjury. Gigaba had lied before a high court over his involvement with the Oppenheimer family as regards the Fireblade Aviation case. His resignation was said to have brought great relief to the presidency and also boosted the ANC's crusade against the misuse of public office and corruption in government.
However, the court's ruling against Gigaba also threw up different questions: Is it possible that he lied about the destination of the sex tape? Can a man who lied before the courts be trusted to tell the truth about a scandal of such magnitude?