Mabel Jansen is a South African jurist who specializes in intellectual property, mercantile and constitutional law. She made headlines in 2016 due to a series of issues stemming from her controversial comments on Facebook about rape being part of black culture. This led her to resign her position as a judge and since then, there has not been any news about her.
Prior to the incident, Mabel was one of the most highly revered judges in South Africa. However, the racist comments she made, raised several eyebrows; thus bringing her credibility under scrutiny.
Meanwhile, Mabel has been in the legal profession for a very long time and has been serving as Pretoria High Court Judge since 2013. Following the uproar caused by those comments, the jurist has since resigned from her position as a Pretoria High Court Judge. Learn more about Mabel Jansen below, including her career, controversies, and where she is now.
Summary of Mabel Jansen's Biography
Full name: Mabel Jansen
Gender: Female
Ethnicity: White
Nationality: South African
Sexual Orientation: Straight
Marital Status: Married
Mabel Jansen's Children: 2 daughters
Famous for: Her Facebook comment in which she expressed her belief that rape was part of black people's culture
Who is Mabel Jansen?
She is a South African jurist and the former judge of the Pretoria High Court. She was born and raised in South Africa. However, there is no information available regarding her date and place of birth. There are also no details about her family including her parents and siblings. While much is not known about Mabel's early life and childhood, there is also no information available when it comes to her educational background.
The former Pretoria High Court Judge has attained maximum intelligence in the law field. Prior to her law career, Jansen first worked as a senior copywriter for De Villiers and Schonfeldt in 1977. During her stay with the company, Jansen was involved in the creation of adverts for Rembrandt, Wonderbra, Caltex, the Dried Fruit Board, and all of the advertisements for San Lameer, etc. More so, through her skills as a multi-lingual, Jansen also helped the company to convert all their English advertisements into Afrikaans. However, after three years and a few months, she left the company in 1980.
In 1984, she became an advocate and a member of the Society of Advocates of South Africa. Later in the same year, she started working as a senior counsel (Silk) for the Pretoria Bar Council; a position she has held even to date. Here, she specializes in Intellectual Property Law including Media Law, Internet Law, MCC Law, Law of Contracts and acquisition. Others are Corporate Law, Mercantile Law, Copyright and Advertising Law. Interestingly, over the course of her career, she has served as both the chairman as well as the vice-chairman of the bar council.
Her Career as the Chief Judge of Pretoria High Court
Following her outstanding track records and wealth of experiences, Mabel Jansen was appointed as the Gauteng High Court Judge on the 1st day of December 2013. Before then, she has equally acted as a judge on various occasions as well as an arbitrator and external examiner for the intellectual property law attorneys, among others. She has also represented notable companies such as McDonald's, Monsanto, Kellogg's, Vodacom, BMW, Ericsson, Sasol, the Whisky Association, and many other large scale trading companies in South Africa.
While her career as the chief judge of Pretoria High Court soared, Mabel handled several cases that cut across rape, theft, burglary, corruption, and other civil cases. However, she became a person of interest in mid-2016 following a series of incidents which led to her being labeled a racist. As a result, she resigned from her position in 2017.
What Did She Do and Where is She Now?
As earlier mentioned, the former Judge of the Pretoria High Court faced lots of backlash over racist comments on Facebook. The news of the incident first made headlines in mid-2016, when her comments caused a public outcry. The controversy stems from her discussion with Gillian Shutte regarding her opinion on black culture. The comments read:
"In their culture, a woman is there to pleasure them. Period. It is seen as an absolute right and a woman's consent is not required. You may find this hard to accept and unpalatable as did I. I still have to meet a black girl who was not raped at about 12. I am dead serious."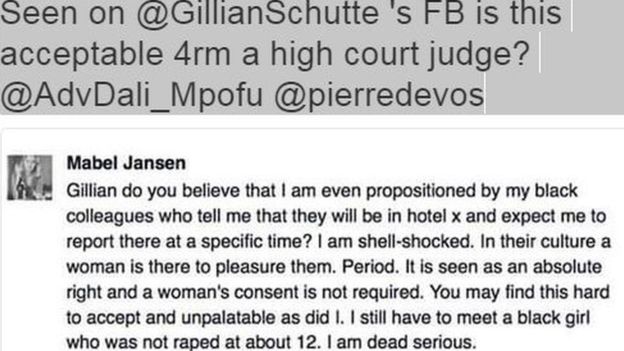 "It is only now that women realize that they have rights and have to be taken up seriously that we are being hit by the veritable tsunami of rape cases. But we often have to hear that it was only about the third time that they sought to report it that they were taken up seriously.
Mothers are so brainwashed that they tell the children that it is the fathers' birthright to be the first. I must hand you – 10, 20, 30, 40 files and you will adopt a completely different attitude. The white people have a lot to account for. But this? I feel like vomiting… So no – the black people are by far no angels. Their conduct is despicable."
Thinking that was all, she went on to add a few more thoughts:
"Murder is also not a biggy. And gang rapes of baby, daughter, and mother a pleasurable pass time. That, in reality, is the flip side of the coin. They are simply now in a position to branch out and include white women."
See Also: Whoever Said We Are All The Same Was Wrong: 6 Things White People Have That Black People Don't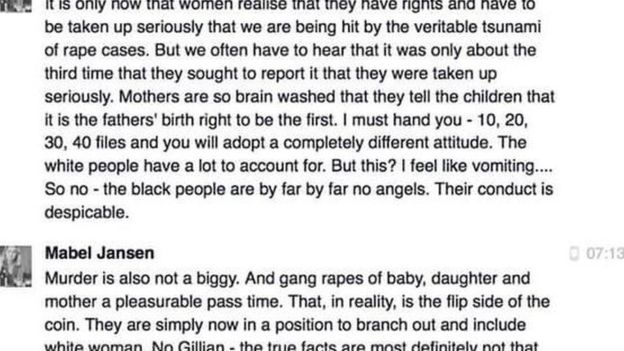 After these conversations were made public, many on social media demanded that she should be sacked. However, Mabel Jansen took to her Twitter page to defend herself, insisting her postings had been misrepresented. According to her, what was stated confidentially to someone in a position to help, has been taken completely out of context and referred to specific court cases. She added that "the real issue is the protection of vulnerable women and children and endeavor to cure the pandemic. It is very bad when you are attacked on this basis when you know it is the opposite. I don't know what she [Ms Schutte] is trying to do."
That notwithstanding, Judge Mabel Jansen abruptly resigned in May 2017. This came as the JSC had, on the recommendation from the Judicial Conduct Committee, JCC, requested Chief Justice Mogoeng Mogoeng to appoint a Judicial Conduct Tribunal to investigate whether the jurist should be removed from office.
She had written a letter to then-President Jacob Zuma who accepted her resignation, rendering her impeachment irrelevant. While she faced public outcry since her discussion on Facebook went viral, the department concluded that her resignation means that no further disciplinary process against her is required.
Prior to her resignation, Judge Jansen apologized, saying she is "profoundly sorry for the manner in which her "words were conveyed and for the hurt and rightful offense it caused; not only to every right-thinking person in South Africa but also to so many whom she holds dear". Since her resignation, there has not been any news about Mabel and her subsequent endeavors. However, it is believed she is now into private practice.