South African songstress, Kelly Khumalo knows her game when it comes to dishing out hot tracks that make her fans go gaga, but the same can also be said of her knack for 'dishing out' hot exes. The Empini hitmaker has dated several high profile celebrities, including late footballer Senzo Meyiwa, rapper Jub Jub, late businessman Prosper Mkwaiwa, to mention a few. However, Kelly Khumalo and Chad da Don had a whirlwind romance that rocked the country's entertainment scene.
Out of the blue, Kelly Khumalo and Chad da Don sprung a relationship on everyone that was watching, and while it lasted, their romance was the toast of the internet. The lovebirds did all that was possible to put their amorous entanglement out there for everyone to see. They did almost everything together – they attended events, interviews, got tattoos of each other's initials – and ensured that they posted everything on their social media platforms, especially on Instagram.
And then suddenly, there was quiet in the camp – no more pictures, no interviews together, and no grand appearances together at events. As fans were trying to understand what had gone wrong, Chad announced a new girlfriend, and then it was confirmed that Kelly Khumalo and Chad da Don's fairytale romance was over before it even started.
The Fairytale Romance Began On The Set Of Kelly's Music Video Shoot in 2018
The shooting of Kelly Khumalo's hit single Dance Comigo in 2018 had a pleasant 'attachment' with it. When the award-winning singer posted the video of the shoot fans could not help but notice the presence of rapper Chad da Don in the footage. More so, there was visible chemistry between the two South African musicians, which was an indication that something was brewing.
WATCH | Kelly and Chad all loved up as they take pictures🥰🥰🥰
"One more," she says after Chad whispers something in her ear#Feathers10 pic.twitter.com/JPAT84oCZS

— TshisaLIVE (@TshisaLIVE) November 15, 2018
What began as a video shoot developed into a full-fledged romantic affair in a couple of weeks as the couple appeared in public together for the first time at the annual Feather Awards in Johannesburg. This was in November 2018, and from then onwards, it was a public show of love and affection for each other.
Fan raised concerns about their relationship, with some suggesting that the whole affair was a PR stunt. But while that was being said, the love-struck duo took it a notch higher by inking tattoos of each other's initials on their ring fingers. And if this did nothing to win over the naysayers, they were definitely wooed over when news of their engagement broke. At this juncture, so many succumbed and began to take Kelly Khumalo and Chad da Don's relationship a bit seriously.
Were the Lovebirds Ever Married? 
The only hint that suggested the ex-power couple were ever married were now-deleted cryptic posts that they shared on Instagram at intervals, which suggested that they had said 'I do' to each other. One of such posts was one by Kelly on Instagram, which showed her wearing a massive 12.03-gram rose-colored gold ring that had 40 'natural round' diamonds. She also described Chad as 'my husband' in her write-up, even though so many had their reservations with her assertions in the post, it was never a complete impossibility – going by the fact that nothing about their relationship up to that point had been normal.
Similarly, Kelly Khumalo and Chad da Don's engagement was speculative as the spontaneous nature of their off and on relationship did not help fans understand the genuineness of the relationship. They broke up a few times but always found a way to stage a comeback. However, Chad's mother and manager, Norma Mansoor, had always thrown her weight behind the relationship and expected the couple to go one step further (in holy matrimony) – which sadly, was never the case.
Furthermore, going by statements and interviews made by Kelly Khumalo after they went their separate ways, she clearly says she is grateful that they never jumped the proverbial broom.
Their Relationship Ended Because They Had Different Beliefs
Having met in 2018 and served their fans with hot sizzling romance, Kelly and Chad started in a year strong together and many expected the wedding bells to ring sooner than later – as they had already begun to refer to themselves as husband/wife. However, they would break up later in the year – as fans noticed that they started deleting pictures of each other from their social media accounts.
Their split was confirmed by Chad da Don in an interview with DRUM in March 2019. This made fans allude to the fact that the affair was a publicity stunt. However, by April, the lovebirds were back together again – already engaged to be married – with Chad's mother, Norma Mansoor, confirming a forthcoming wedding and slamming the naysayers.
In another deleted Instagram post in May, Kelly described Chad as a perfect role model for her son, Christian – a son she had with rapper Jub Jub. Also in April 2019, while answering questions in an interview with Channel24, she mentioned the fact that the tattoo on their ringer fingers was a sign that they are forever bound to each other.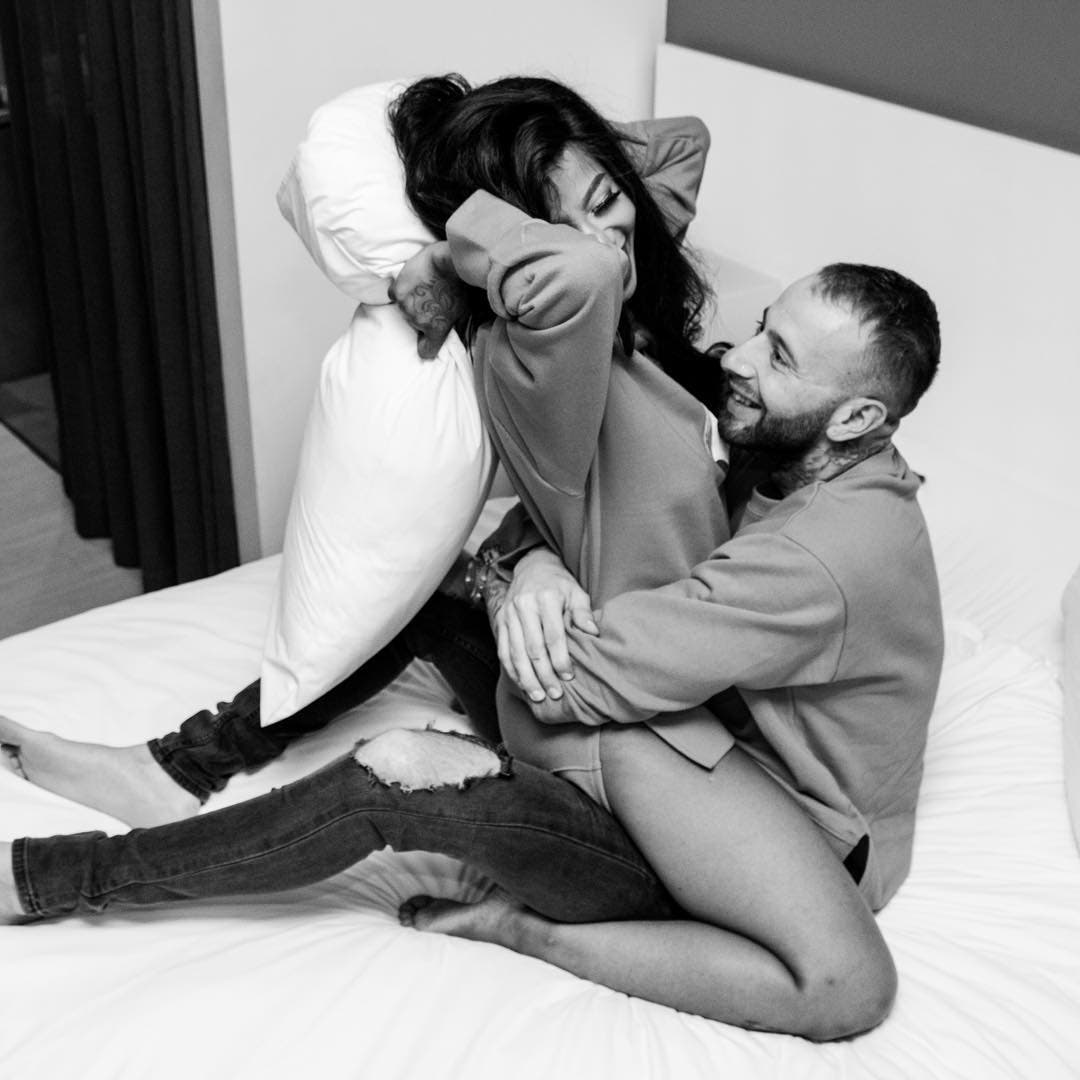 This message of admiration and commitment was not enough to hold the duo together as they went the separate ways – even though not publicly as fans only got wind of what was happening after they deleted their pictures from each other's social media page. By November 2019, Chad quickly moved on. He began flaunting South African model, Carlla Poggenpoel, releasing pictures of them together on social media.
The fact that the relationship between Kelly Khumalo and Chad da Don ended didn't come as a surprise to many who believe the signs of their eventual break up were all over the place. Kelly has gone on to explain on Podcast and Chill with MacG why it was not possible that she would have ended up in a marriage to rapper Chad da Don. The 41 year-old mother of two has expressed gratitude to God for saving her from what would have been the worst mistake of her life.
Kelly Khumalo and Chad Da Don Have Moved on With Their Lives
When a high-powered celebrity relationship ends, it is always a very sad moment, especially for fans of the celebrity couple. Most of them pray and hope fervently that their favorite couple will be reunited while some others go as far as sending messages on the respective individuals' timelines, imploring them to get back together.
For the affected couple, it is a time to either go back into your shell or come out blazing: this is dependent on the particular break-up situation. But whatever happens, you must expect fans to always have a say on whatever their next move would be.
Chad Da Don Moved on to Date Carlla Poggenpoel
Chad Da Don wasted no time in opening his heart to love again after his whirlwind romantic endeavor with Kelly Khumalo ended. The songwriter and music producer show that he is not a man to take things slow as he immediately hit it off with Carlla Poggenpoel, a model signed up with Grace Models Agency, and they can't seem to get enough of each other. With the way he immediately picked up things with his new girlfriend, fans of the duo have blasted him for moving on too fast, calling him a player, while feeling sorry for the Uthando crooner.
From all indications, Kelly Khumalo has not been in any public relationship since 2019 when things ended between herself and rapper Chad da Don. Maybe she has been busy with her latest 2020 album project, The Voice of Africa (TVOA), which she released under Universal Music South Africa. Now that is out of the way, we may expect her to serve us some hot pepper sauce – with regards to relationships.