Josef Zinnbauer (born 1 May 1970, age: 52 Years Old) is a German football manager and former player who played as a midfielder and coached the Orlando Pirates before his resignation. He's won many trophies, including the MTN8 title he won with the Pirates.
When Josef Zinnbauer took over as the new coach of Orlando Pirates in 2019, there was no denying that he was getting himself into a herculean job, most especially because the Bucs were sitting at 11th place on the ABSA Premiership league. To back him up was a rich resume showing the many clubs he has managed and the clubs he played for over a decade as a football player.
With a life that revolves around football, Josef recorded many achievements in his playing days and as a football manager. He has taken charge of some big teams such as Hamburger SV and FC St. Gallen before moving to South Africa.
Summary of Josef Zinnbauer's Biography
Full name: Josef Zinnbauer
Nickname: Joe
Gender: Male
Date of birth:

1 May 1970

 Place of Birth: Schwandorf, Germany
Josef Zinnbauer's Age: 52 Years Old
Ethnicity: White
Nationality: German
Zodiac Sign: Taurus
Sexual Orientation: Straight
Religion: Christianity 
Marital Status: Married
Josef Zinnbauer's Wife: Irena Zinnbauer
Josef Zinnbauer's Children: Dominic, Fabio, and Noah Zinnbauer
Career: Football manager and businessman
Josef Zinnbauer's Height in Inches: 5'9″
Josef Zinnbauer's Height in Centimetres: 181
Famous for: His coaching career
Josef Zinnbauer's Instagram: joe.zinnbauer.official
Who Is Josef Zinnbauer?
The football manager was born on 1 May 1970 in Schwandorf, Germany. He was brought up in his home country, where he used to serve as an altar boy. Famously referred to as Joe Zinnbauer, the earlier part of his life has not been revealed in details, including his parents, siblings, and education.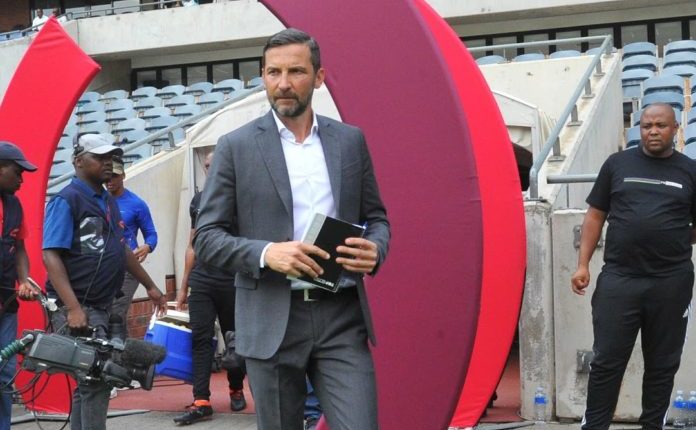 However, we know that he initially wanted to become a cutting machine operator, and he had an apprenticeship in that area. He decided that instead of building a Porsche, he would rather prefer to drive one, which led him to train as an insurance salesman. When he had gained all the knowledge he needed, he trained as a manager, which gave him an edge in the business world. He went on to have a leg in business and the other in football, achieving a lot in both.
Josef Zinnbauer Played Football For Over A Decade For Over 10 Clubs
While you find many people go into football for the money, Josef, nicknamed Jay Z by the South African football community, started playing because of his passion for the game. He was already a successful young man when he signed his first contract to play for Karlsruher SC, where he played alongside Jürgen Klopp in the 1990s.
Before this period, he had already played for several clubs, including FV Wendelstein, where his career started in 1988, and SVG Göttingen 07 in 1989. By 1990, he had moved to TSV Vestenbergsgreuth. He played for SC 08 Bamberg, SpVgg Bayreuth, and SSV Ulm 1846 in 1991, 1992, and 1993, respectively.
In 1995, he left Karlsruher for 1. FSV Mainz 05, where he spent a season before moving to SG Post/Süd Regensburg and SC Weismain, continuing with his tradition of spending only a year in the clubs. Josef played for TSV Wendelstein from 1998 to 2004 and finally for Henger SV from 2004 to 2005. His career came to an end as a player in 2005 when he suffered an injury that left his cartilage damaged.
Here's a list of all the clubs Josef Zinnbauer played for:
FV Wendelstein (1988–1989)
SVG Göttingen 07 (1989–1990)
TSV Vestenbergsgreuth (1990–1991)
SC 08 Bamberg (1991–1992)
SpVgg Bayreuth (1992–1993)
SSV Ulm 1846 (1993–1994)
Karlsruher SC (1994–1995)
1. FSV Mainz 05 (1995–1996)
SG Post/Süd Regensburg (1996–1997)
SC Weismain (1997–1998)
TSV Wendelstein (1998–2004)
Henger SV (2004 –2005)
Josef Zinnbauer's Coaching Career Started While He Was Still Playing
Josef's respected career as a coach started in 1996 when he was still a player. He coached SK Lauf for a year, and then he took over TSV Wendelstein and then Henger SV, where he began getting attention as a manager. His first real coaching job was as the manager of VfB Oldenburg from 2005 to 2010.
His next job was with Karlsruher SC II in 2012, and then he remained without a coaching job for a while until 2014 when Magic Joe, as he was nicknamed, joined Hamburger SV. This became the first time he was coaching a top-tier team. From 2015 when his work with HSV ended, he coached FC St. Gallen until 2017.
It is worthy of note that his career up until 2017, when he left St Gallen, had always been charged with most teams in lower divisions or relegation-threatened and struggling clubs. Nonetheless, he had always had a way of performing with most of the teams.
List of all the clubs Josef Zinnbauer has managed:
SK Lauf (1996–1997)
TSV Wendelstein (1998–2004)
Henger SV (2004–2005)
VfB Oldenburg (2005–2010)
Karlsruher SC II (2012)
Hamburger SV II (2014)
Hamburger SV (2014-2015)
Hamburger SV II (2015)
FC St. Gallen (2015–2017)
Orlando Pirates (2019 – 2021)
Magic Joe Won His First Trophy With Orlando Pirates
In 2019, after a poor run that left the team at 11th position in the league, Orlando Pirates fired their former manager, Micho Sredojević, and in his place, Josef was appointed. Before this period, he had been without a management role since 2017 when he left St. Gallen for more than two years.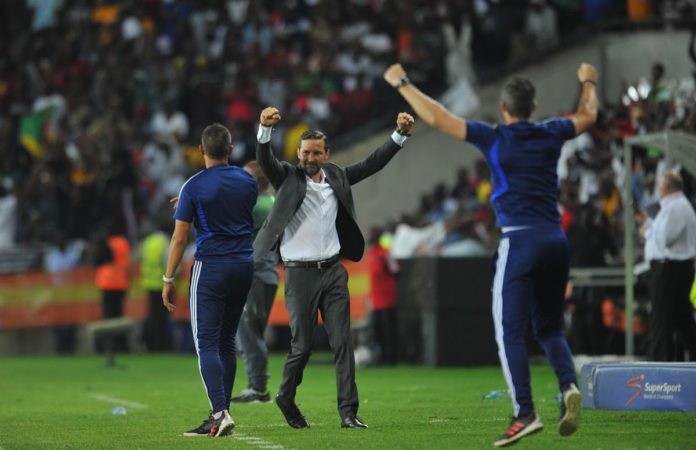 In his first 8 games with the Buccaneers, Magic Joe won all his games but 1. He led the team from its 11th position on the league table to 3rd. This became an achievement that was well talked about. What was even more impressive was that he celebrated his first year with the club by defeating Bloemfontein Celtic to land the Buccs the MTN 8 title.
This trophy was his first as a football manager, which places it as his most important achievement thus far as a coach.
Joe Zinnbauer Is A Successful Businessman With A Company That Makes Over R70 Million Annually
The name of Joe Zinnbauer might always be tied to football, but those closest to him would tell you that he was first a businessman before a footballer. He made his money even before going into the football business as a professional.
According to some reports, before the mid-1990s when he signed his first footballing contract, he was already driving a Ferrari, which was said to be his extra car, and he had more than a mobile phone; this was a time when mobile phones were not common even in a place like Germany. He became a millionaire when he was still in his early 20s. A better part of his fortune at the time was made from farming.
He also made money as a financial advisor, and his aforementioned Ferrari was bought when he was just 21 years old. Looking at his playing career, it is unarguable that he was not the best man on any football pitch, but he has always been up there with the best as a businessman. It was reported in 2014 that his company, Zinnbauer & Partner, which was into many things, including Insurance and real estate, made revenue of over 70 million annually.
When a paper reported that his company made 70 million, he did not waste time to correct them that it was quite more than that. By the end of his playing days, he had already had 5 branches of his business, as he was always said to open a branch wherever he joined a new club. Thanks to all these, he was able to fund his colorful lifestyle with many cars, including a Ferrari 308 GTS Spider, Mercedes SL convertible, and a Porsche Carrera convertible, all of which he bought when he was still in his 20s.
A Close Look Into Josef Zinnbauer's Family Life With His Wife And Kids
Josef is notoriously private when it comes to his wife and kids, even though he always tasks to his Instagram to share photos of his beautiful family. He is a married man to his wife, Irena. The couple shares a close and beautiful relationship.
Although the number of the kids he has is unknown, we know he has three sons, namely Dominic Zinnbauer, Fabio, and Noah, the youngest. The older two are both football players in Germany. Dominic plays for DJK Falke Nürnberg, while Fabio plays for SV Gutenstetten-Steinachgrund.
Fabio came to the limelight after a tragic car crash in 2020 that almost cost him his life. The automobile crash happened in Germany, and it left the son of the Orlando Pirates' boss in a coma for quite a while. When Pirates clinched the MTN8 title, Josef Zinnbauer dedicated the victory to his son, who was still fighting for his life at the time.
The successful coach resigned from Orlando Pirates on the 16th of August, 2021; stating that he has been without his family for the previous 2 years, while thanking the fans and the club's management.