Emtee's net worth is about $300,000. Any book on how to be a successful rapper must have at least one chapter dedicated to bragging and showing off wealth. This has become a norm in the hip-hop music genre as almost all rappers from anywhere across the world tend to tell stories about the luxuries their wealth has been able to provide. South Africa's very own Emtee has stuck to this script as he often raps about what he is worth and shares photos of all the good things life has offered him. This has been evident right from the time he broke into the music industry as his first-ever released song was titled "In It To Win It". The multiple award-winning rapper has since then been able to make a lot of money from his career to live a lavish lifestyle that is the dream of many others.
Emtee Wanted to Become a Musician Right From the Time He Was a Child
Emtee, whose birth name is Mthembeni Ndevu, revealed in an interview on ANN7 that he always wanted to become a musician. He said he started leaning towards music right from when he was a child in first grade in primary school. By the time he turned 9, he was able to perform for the first time on stage at his primary school talent show. This experience further propelled him to chase his dream and so he kept on working on his craft all through his teenage years.
The Rockville, Soweto-raised rapper paid so much attention to music as a student that he was unable to get good enough grades that would allow him to attend a top university in the country. He was then required to repeat the year but he opted against it to instead launch his music career.
In 2010, Emtee released the song "In It To Win It" which was a collaboration between him and rapper Maraza. The song helped put him on the radar as it was featured on Channel O. Things subsequently did not move as quickly as he had hoped since he was unable to produce another hit song in the following years. During that time, he joined forces with fellow South African rappers; Sjava and Saudi to form the rap trio that went by the name, African Trap Movement.
Emtee Began to Worth A Lot More After He Was Signed By Ambitiouz Entertainment
In early 2015, Emtee announced himself to a greater audience following the release of the song, "Roll Up", which would eventually become his debut single. This came after he signed on the dotted lines with Ambitiouz Entertainment, a South African independent record label owned and founded by Kgosi Mahumapelo.
While the terms of the contract between the two parties have not been made public, Emtee evidently began making a lot of money around this time as his "Roll Up" song received massive airplay, peaking at number 2 on the local iTunes hip hop/rap chart and at number 1 on YFM's DJ Speedsta's hip hop chart. Before the end of the year, the song had won the rapper a couple of awards and attracted heavyweights like Nigeria's WizKid and SA's AKA who both featured on the official re-release titled "Roll Up Re-Up". The song has since been downloaded over 500,000 times, with the Recording Industry of South Africa (RiSA) certifying it 3x Platinum.
He Has Sold Thousands of Records
On the 4th of December 2015, Emtee released his debut album titled Avery. In less than two months of its release, the album was at the top of the South African Hip hop / Rap iTunes Chart which meant he was receiving a good amount of money from streams. By July 2016, RiSA certified the album Platinum for selling over 40,000 units. As mentioned above, songs from the body of work, including "Roll Up" and "Roll Up Re-Up" have also been certified Platinum by the certification body. Other songs to receive such certification include "Pearl Thusi", "Ngeke", and "We Up". The mother's day promotional single titled "Mama" was certified Gold.
The album, which was named after his first son, further won the Best Hip Hop Album and Best Rap Album award at the 15th Metro FM Music Awards and 22nd South African Music Awards respectively.
Concerts Have Contributed to His Wealth
Concert tours are one of the major ways through which artists make their money. While Emtee himself will admit that he still has a very long way to go before he is able to worth or make anything near what artists overseas take home, like singer Ed Sheeran whose ÷ Tour grossed $775.6 million in 2019 to become the highest-grossing concert tour of all time, the South African rapper has undoubtedly received handsome payments for stepping on stage.
Emtee has had the pleasure of performing all across his home country and in various other countries in Africa. He has impressed at the Matatiele Music Festival, Cotton Fest, and Okapi Fun Festival among other places. In 2017, he performed at that year's All Africa Music Awards (AFRIMA) in Lagos, Nigeria. Two years later, he was one of several artists invited to Namibia to perform at the Gazza Milli Concert in Sam Nujoma Stadium.
Read Also: Khuli Chana: A Complete Biography Of The Motswako Rapper
Emtee Owns Cars That Reflect His Net Worth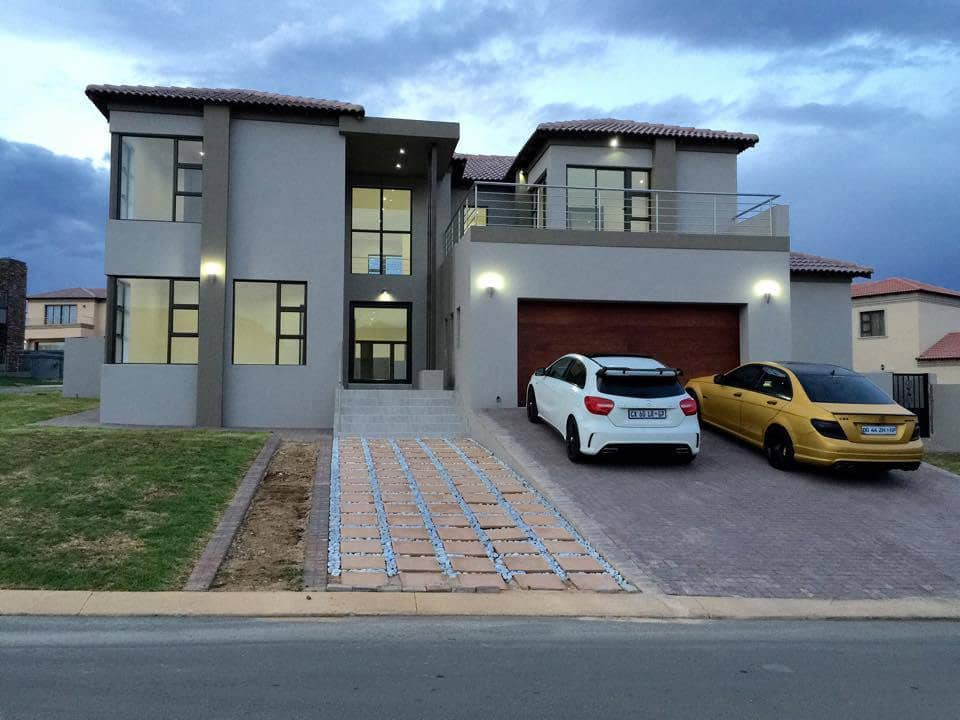 Emtee, who is estimated to be worth around $300,000 as a result of proceeds from his music and other related deals, spends a good amount of money on himself. He owns a beautiful storied house with a pool and enough space to accommodate extended family and visitors. There are also a few luxury cars in his parking lot. He made headlines when he bought himself a Mercedes-AMG A45 which costs about R800,000.
The rapper further does not hold back when it comes to making sure that he and his family are comfortable and happy. He does not mind going over and above to give his children things he never had when he was growing up. One such occasion he did such was when the Soweto-raised rapper took his sons on a helicopter ride.