If corruption has a home, its South Africa. For it's plainly impossible to give an adequate description of the corruption, embezzlement and corporate fraud pervading the country. The government parastatals are virtually out of control, bloated and infested with fraud, deceit, corruption, and abuse of power just as the masses are increasingly losing the beauty of their souls in exchange for the money that comes with corruption.
In the words of Ray Davies, "money and corruption are ruining the land, crooked politicians betray the working man…" And regrettably, both the government and the governed are uninterested in coming together to get rid of this enemy of development. We instead have endlessly played the blame game. The people blame the government, the government blame apartheid. We keep spinning around in this circle of blame and corruption keeps thriving.
Underneath are the top 10 corruption scandals in South Africa. Based on the reports of a trade union – Solidarity – nine of these corruption scandals cost taxpayers much more than the R246 million spent on Jacob Zuma's home in Nkandla. Perhaps, reminding us of them will serve as an eye-opener which will boost our will to do more about corruption than simply resort to blames.
1. Local Government
Bongi Mlangeni, Corruption Watch spokesperson once lamented that they "receive too many reports about maladministration, mismanagement of public funds and abuse of resources by officials at local government levels. It seems there is a need to rethink how systems of accountability can be applied at these levels". Similarly, Tahir Sema, spokesperson of South African Municipal Workers Union (SAMWU) wailed that the local government "is riddled not only with financial woes but also with corruption, maladministration and a lack of accountability". To that end, Corruption Watch named local government in 2013, the most corrupt institution in South Africa.
More than two-thirds of the municipalities and over 40% of the municipal entities are involved in alarming deals of supply chain management (SCM) irregularities which revealed that "304 awards were made to suppliers at 72 auditees (22%), totalling R60 million in which employees and councillors had an interest. A total of 189 employees, 21 councillors and 198 suppliers benefited". Meanwhile, The Solidarity Research Institute, in its research concluded that "municipal managers, chief financial officers, and mayors in numerous municipalities around the country have, with impunity, syphoned off millions meant for serving the need of residents." And that "these instances are merely the cases reported in the media and do not fully encapsulate the many transgressions that go unnoticed and unpunished".
2. Tenderpreneurship Fraud
Tenderpreneurship was meant to empower disadvantaged business people. But it is now all about greedy government employees partnering with people "politically connected", manipulating the supply chain management procedures in order to win tenders from the state. Typically, the prices are grossly inflated to favour both parties. Those awarding the tenders are paid by those who are awarded the contracts. Ultimately, everyone gains except the taxpayers who will have to consume the low-quality products and services delivered by those awarded the contracts. Sometimes these products and services are not even rendered at all.
There are many instances of the "egregious abuses taking place at a provincial and municipal level under the banner of tenderpreneurship…" There are many findings "concerning uncompetitive and unfair procurement processes and these findings were also the main cause of the irregular expenditure of R11 351 million".
For instance, while irregular expenditure almost doubled from R2 million to R3,5 million between 2012-13 and 2013-14 In Limpopo, irregular expenditure of R2,429 billion was incurred by 17 auditees in the Free State during 2013-14, with R4,32 billion incurred in KwaZulu-Natal.
3. The SAPS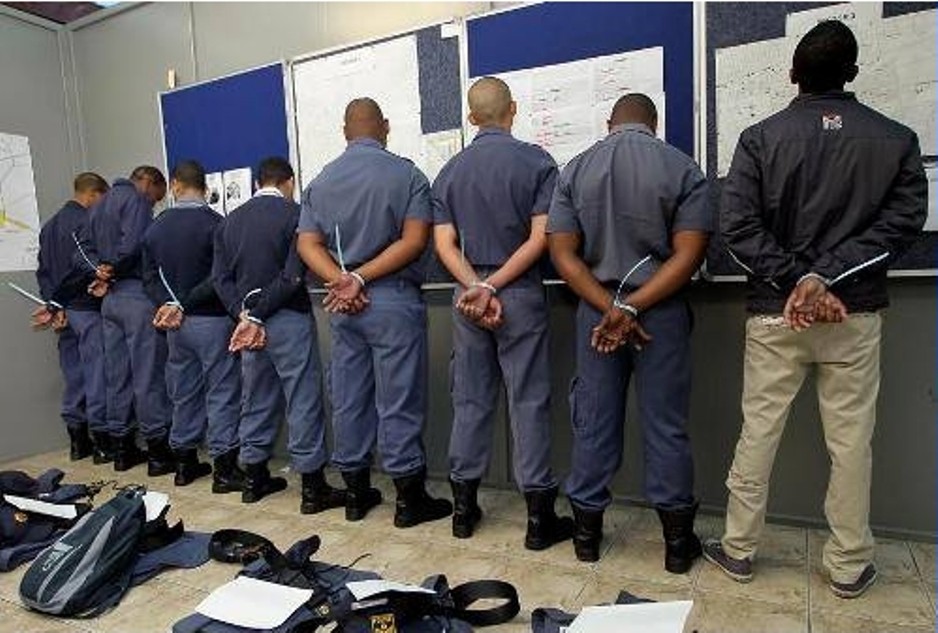 In the South African Police Service, corruption typically manifests in forms of criminals bribing officers to manipulate pieces of evidence against them whereas victims especially those who can't afford to bribe the officers are denied justice. Some of the instances referred to here include:
1. The 10 SAPS members who were arrested at the Parow police station on bribery and corruption charges in late 2014;
2. The 6 police officials arrested by Hawks earlier this year in three different provinces, accused of corruption;
3. The national police commissioner, Riah Phiyega, who is accused of tipping off the Western Cape police commissioner, Arno Lamoer, about a Hawks corruption probe against him;
4. Arno Lamoer who was allegedly bribed by the Cape Town drug dealer Salim Dawjee with more than R1,6 million so as to manipulate his cases;
5. And the corruption scandal involving the R500 million lease of the police's new headquarters in Pretoria.
4. The Metro Police
It's no longer news when Metro police officers are accused of brutality, soliciting and accepting bribes from motorists and harming those they are paid to protect. As reported, 184 officers at the Johannesburg Metro Police Department (JMPD) were probed for corruption and recently, four members of the JMPD were arrested for soliciting a bribe from a suspect. It was however emphasized here that the situation is exceedingly more serious than what is reported in the media.
5. Tshwane Prepaid Meters
Interestingly, the DA equated that the cost of the corruption scandal involved in what was praised as a wise measure of resolving the non-payment of electricity in Tshwane to eight Nkandlas. So if R246 million was spent on Zuma's Nkandla home, how much is involved here? Outrageous huh? Here's how we got to lose that much to corruption.
Tshwane paid PEU R830 million between October 2013 and May 2015 to install 800 000 meters and manage the project for eight years. When Tshwane called-off the contract due to the controversies surrounding it in May this year, only 12 930 meters had been installed whereas PEU was required to install more than 435 000 during the first two years.
It was reported that when "asked about the reasons for the cancellation, the Metro stated that it got too expensive and blamed AfriBusiness, the business watchdog of the Solidarity Movement, for undermining the roll-out of the meters." According to Willie Spies, representing AfriBusiness, the termination was just as corrupt as the agreement itself. He added that the Metro was planning to keep paying PEU R3 million per day (R800 million) after the cancellation of the agreement. "This means that the cancellation of the agreement will be even more harmful than the maintenance thereof." Meanwhile, Tshwane mayor Kgosientso Ramokgopa told a press briefing that PEU would again be able to tender when the bidding process is reopened.
In all, this scandal is better described by Cilliers Brink (DA councillor in the Tshwane council) who said the deal revolves around "unreliable comrades in government to unreliable comrades in business, while we all end up paying more".
See Also – Poverty In South Africa: 5 Facts You Don't Want To Know
6. Prasa Scandal
The "Derailed" report of the public protector exposed many unbelievable happenings in the Passenger Rail Agency of South Africa (PRASA), aside from the R620 million wasted on unsuitable trains. Some of the highlights that indicated South Africa was equally derailed by corruption in this sector are as presented below:
1. R3,9 billion was wasted in irregular, fruitless and wasteful expenditures;
2. Prasa extended the amount awarded for tenders for passenger gates to an outrageous cost of R1.95 billion;
3. And Lucky Montana, the former CEO was found responsible for large-scale maladministration, abuse of power and wasteful expenditure during his tenure at Prasa.
7. False Qualifications
The corrupt practices of South Africans have also manifested in the falsification of curriculum vitae, with government officials claiming they are what they aren't. Although this situation is unlike the case of manipulating tenders and bribery, the people involved here cunningly earn salaries they're unqualified to earn, denying the country of competent service delivery.
The ANC spokesperson Carl Niehaus lied about his qualifications in 2014, it was discovered that Pallo Jordan the former minister of Arts and Culture lied about his PhD and has no claim over any form of tertiary qualification, Daniel Mtimkulu the Head of Engineering Services at Prasa resigned after it was uncovered that he has no PhD in engineering and is not even registered with the Engineering Council of South Africa.
In SABC, the former board chairperson Ellen Tshabalala and Hlaudi Motsoeneng were discovered less qualified than they claimed; the acting CEO Nico Bezuidenhout and board chairperson Dude Myeni at SA Airways (SAA) were also caught, former Minister of Cooperative Governance and Traditional Affairs Sicelo Shiceka lied about having a Master's degree, and former Sanral board chairperson Tembakazi Mnyaka resigned after it was discovered that she has no Master's degree in town planning as listed on her CV.
The salaries they received throughout their stay in office were way bigger than the cost of Zuma's home, and the consequences even more devastating.
8. The Corruption In Home Affairs
The report here stated that due to the nature and functions of the department of home affairs, the department is incredibly vulnerable to corruption.
Owing to the fact that someone cannot apply for work, study, obtain a driving license or conduct most personal and professional affairs except with an identity document or birth certificate, the officials with the power to issue such documents most times encounter bribery offers, and are subsequently involved in bribes to falsify identity documents, passports, and other similar services.
In a 2015 research, 51% of respondents experienced corruption while queuing at the Marabastad office, with 30% stating that they were denied entry to the offices because they could not pay bribes.
9. The Cabinet And Parliament
Some of the few corrupt scandals identified here are as listed below:
1. The Travel-gate scandal that saw 14 ANC LPs who abused parliamentary travel vouchers, convicted and fined after pleading guilty to theft and fraud charges;
2. Fikile Mbalula, the Sports Minister who spent R65 million on one award ceremony in 2013 and R110 million on various prize giving ceremonies;
3. ANC LP and Minister of Social Development Bathabile Dlamini who pleaded guilty to submitting travel claims worth R254 000 she wasn't entitled;
4. The Minister of Energy, Tina Joemat Pettersson, who irregularly awarded a contract amounting to R800 million when she was the Minister of Agriculture, Forestry, and Fisheries.
10. Jacob Zuma Nkandla's Home

In a nutshell, it was found that works done on President Jacob Zuma's private home were not worth the R246 Million it cost taxpayers.