FNB cellphone banking is arguably one of the best things that have come out of modern technology. A division of First Rand Limited, First National Bank is one of South Africa's "big four" banks that have made banking easier for customers.
One of the services that have made this bank stand out is the FNB cellphone banking. While it's fast, safe and secure, it is equally, particularly helpful when your internet network speed is low. Above all, you can do your transactions anywhere you find yourself, even without an internet connection.
What You Can Do With FNB Cellphone Banking
As a user, you can do so much with FNB cellphone banking without breaking a sweat. Some of the options available for customers include:
View balances
Buy prepaid airtime, SMS and data bundles
Buy prepaid electricity
Send money
Pay your accounts
Apply for loans
Make payments (incl. once-off payments)
Transfer money between accounts
Place notice on your savings accounts
Other value-added services include:
Soccer 6
Cellphone contracts
eBucks
Pay traffic fines
Read Also – Truecaller: Everything You Should Know About the Innovative Mobile App
How To Register for FNB Cellphone Banking
Registering for cellphone banking has been made easy. There are four different ways to register for this mobile banking. You can either do it yourself or go to the nearest FNB branch for assistance. To make things easier for you, view the options below and chose the right one that suits you.
For inContact customers, Dial *120*321# on your cell phone, select "More Features" from the menu and accept the Ts & Cs
You can also register online by using FNB Online Banking. Login to www.fnb.co.za with your Online Banking username and password, and go to Settings.
At an FNB ATM, Go to More Options or My Banking Options on the menu and select Register for Cellphone Banking.
Apply at any FNB branch.
How to Login to Cellphone Banking on fnb.mobi
To log in via this channel, the customer must enter www.fnb.mobi on their handset browser and select "Login to Banking". Subsequently, the login screen will be displayed with two options to log in to Cellphone Banking. Select your preferred option and proceed thus;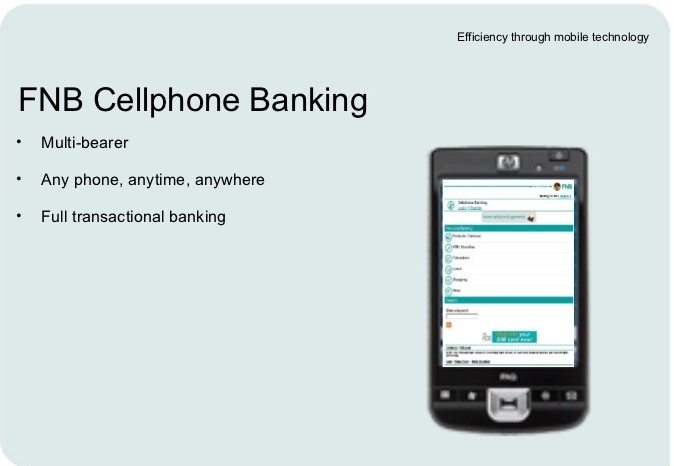 Online Banking (using online Banking login details):
Enter your User ID and Password (that you use to log in to Online Banking); Click Login.
OR
Cellphone Banking:
Enter your Cellphone Number, Cellphone Banking PIN as well as the unique code (capture) that is found just underneath the Cellphone Banking PIN text box; Click Login.
Notably, you can log in to Cellphone Banking with your Online Banking details even if you are not registered for Cellphone Banking.
How to Buy Airtime from Your FNB Account
Buying airtime gets easier and faster if you do it directly from your bank account. Thus, following these easy steps will get your phone loaded in no time.
Log in to Online Banking using your username and password.
Select the Airtime & Bundles tab and choose Once-Off Purchase.
Choose the options you require and fill in the cellphone number.
Select the account you want to use to pay for the airtime/data and click Buy.
Notably, you can also buy data bundles by following the aforementioned steps.
FNB Cellphone Banking Limits
While you are enjoying the benefits, don't forget that there are limits to what you can do with your FNB cellphone banking on weekly and monthly basis respectively. These limits dictate how much a customer can transact on a daily and monthly basis.
Here's a list of the set daily transaction limits:
R1 500 daily limit for purchases (cash withdrawals, all prepaid products, National Lottery products & eWallet)
R5 000 daily limit for once-off payments (pay2cell & once-off payments to individuals)
R50 000 daily limit for payments (pay linked recipients, traffic fines, clothing accounts and once off bill payments)
R100 000 daily limit for transfers between your own FNB accounts
Here's a list of the set monthly transaction limits:
R10 000 monthly limit for purchases
R20 000 monthly limit for once-off payments
R100 000 monthly limit for payments
Cellphone Banking Lite
This is a limited version of cellphone banking that offers limited functionality. Here, no Cellphone Banking PIN is required to get you started. However, the service enables customers to transact for a Maximum of R200 per month.
Notwithstanding the restrictions, Cellphone Banking Lite customers have an option to upgrade to unlimited Cellphone Banking. Customers must be registered for inContact in order to access the CB Lite service.
What you can do with Cellphone Banking Lite
1. Buy Prepaid Airtime; SMS Bundles, Data Bundles, All-in-one Bundles and BlackBerry Bundles; Lotto & Powerball; Prepaid Electricity (collectively capped at R200 per month)
2. Get Balance (Single or All account/s)
3. Get Mini Statement (consists of last 3 transactions)
4. Rewards (Redeem & get more information).
You can also upgrade to Cellphone Banking using Cellphone Banking Lite.