Thabang Molaba (born December 14, 1994) is a 28-year-old South African actor and model who is best known for his roles in the South African series The Queen and Blood and Water.
The young Blood and Water actor Thabang Molaba is the total definition of a handsome, well-built, and stylish man. He is a 'spec' for so many South African ladies who can't get enough of his good looks. Since he landed a recurring role in the popular South African series The Queen, he has become of interest to many people,e as many fans want to know where this handsome young man has been before he became famous.
Well, the short answer to that is, just like many other celebrities, he was on his way to fame, and the things he did at that time are what we are set to discuss, so you should absolutely keep reading.
Summary of Thabang Molaba's Biography
Full name: Thabang Molaba
Nickname: Abuti Thabi, Kevinn and Kale Dinero
Gender: Male
Date of birth: December 14, 1994
Place of Birth: Bethlehem, Free State, South Africa
Thabang Molaba's Age: 28 years old
Ethnicity: African
Nationality: South African
Zodiac Sign: Saggitarius
Sexual Orientation: Straight
Religion: Christian
Marital Status: Unmarried
Thabang Molaba's Parents: Richard Molaba and Lisbeth Molaba
Siblings: Bonginkoshi Bongz Tshabalala and Thabang Lebeha Shalako
Education: Harrismith High School, Tshwane University of Technology, Pretoria
Occupation: Model, Actor
Famous for: Karabo "KB" Molapo in Netflix's series Blood & Water (2020)
Thabang Molaba's Instagram: thabangmolaba_
Twitter: @thabangmolaba
Thabang Molaba Was Raised In Harrismith
Born in Bethlehem in Free State, South Africa, Thabang Molaba was raised In Harrismith in a very religious home where both parents – Richard Molaba and Lisbeth Molaba – are both teachers. Despite being born and raised in small towns, he did not allow the town's size to limit his ability to think bigger.
Molaba is not the only child of his parents; he has an elder brother named Thabang Lebeha Shalako, co-founder and owner of LTSehlako – PTY LTD. He also has a younger brother Bonginkoshi Bong, a student at the Tshwane University of Technology.
Thabang attended high school at Harrismith High School, and while in high school, he was passionate about sports but was always being bullied. Thankfully, that episode did little to stop him from being passionate about something. He furthered his education at the Tshwane University of Technology, Pretoria, where he earned a Diploma Graduate in Logistics and Supply Chain Management.
What he read in school had almost nothing to do with his passion for acting, as from a very young age, he was already acting in small stage dramas. Despite having a good degree, he followed his passion, and it's paying off today.
He Had His Major Breakthrough When He Scored A Role In The Queen
As someone who had always had a passion for acting and modeling, he found it difficult to combine his acting career and studies, so Molaba decided to settle for modeling – which is less time-consuming. Thabang Molaba eventually had his debut acting appearance in a promo segment with models at the Comedy Central sitcom I Live. He played a role in Mzansi Magic's Ring of Lies and Diamond City.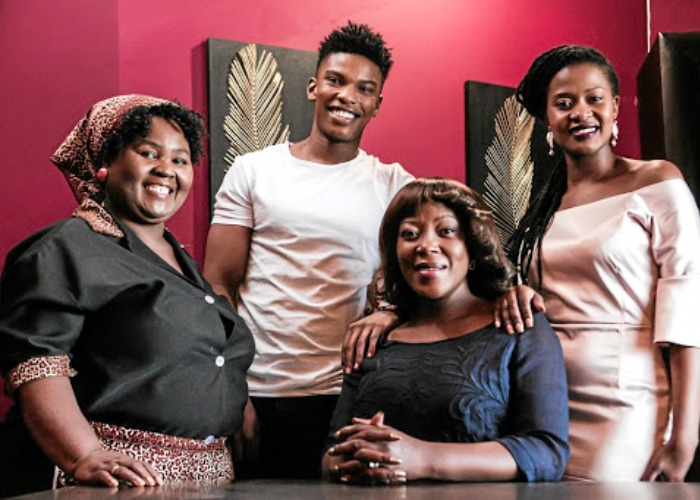 Finally, he had his major acting breakthrough when he scored a role in The Queen – one of South Africa's most popular soap operas – as Gift Mabuza. He played his role so well that viewers picked interest in him. His biggest acting role so far is his role in the popular Netflix series Blood and Water. He and Ama Qamata, who played the role of Puleng Khumalo, have a very memorable kissing scene that made him more famous.
In the Netflix original series, he played Karabo Molapo (KB), a friend to Fikile, a successful swimmer at Parkhurst High school. Puleng Khumalo was in a quest to discover her lost sister Fikile, and while at it, she fell in love with KB.
Thabang Molaba Is Also A Model
The success of his acting career was a great boost to his modeling career as it attracted the attention of major brands. He models and endorses both national and international brands like Jean Paul Gaultier. Modeling and acting are not the only things Thabang Molaba is involved in. He is also an upcoming rapper and released his debut album titled 'Soul and Ties' in 2019. That same year, he released a single titled Focus – available on Spotify, Tidal, Apple Music, and Google Play Music.
The actor and model has so far proven to be a man of many talents, although acting seems to be where more of his fame stems from. Hopefully, he would also get a breakthrough in his musical career.
He Is A Role Model To Many Young South Africans
Doing drugs, smoking, and hanging out with many girls have become the order of the day for most young male celebrities like Thabang, but he has stood out. His decision to be different makes him an ideal role model for many South African youths. His story of the hard work he put into becoming successful also encourages many people. He is also a very kind and down-to-earth young man.
The young South African actor still hopes to achieve more career milestones. Taking his age into consideration and how far he has come, you can agree that his success so far has put him in place to score more major acting roles, and before he turns 30, he could become one of South Africa's most successful actors.
Being a model, he is also very stylish with his everyday outfit. Guys who are interested in fashion and looking good should consider following him on Instagram. Thabang is also a lover of sports- rugby and soccer, to be more specific. He is also close friends with Ama Qamata and uploads many videos and pictures of both of them.
The Actor Keeps His Relationship Life Private
For a young, handsome, famous, and rich young man like Thabang Molaba, it really won't surprise anyone to know that many ladies will love to be the queen of his heart. In 2017, he tweeted about being ready to be a boyfriend and treating someone's daughter like a queen. This sent a signal to many ladies that 'Prince Charming' was single and ready to mingle.
Ever since then, he has not introduced anyone to fans as his queen. So it is not clear whether he is single, dating, or in a situation-ship. But hopefully, when he is ready, he will let us know his exact relationship status.