Hlompho Kekana is a South African football player who currently plays for Mamelodi Sundowns F.C. in the South African Premier Soccer League (PSL). He has a net worth valued at R5.9 million. Kekana started his journey to the limelight in football as far back as 2002 while he was in high school. His football career has been active from 2002 to date. Over the course of his football career, he has played with a variety of teams and clubs.
An outstanding moment in Hlompho's career was in 2016 when he scored a 65-yard goal against Cameroon. Moments like this contributed to bringing Hlompho to the international limelight. Playing football has landed him several endorsement deals, and currently, he plays for Mamelodi Sundowns F.C. as a midfielder.
Quick Profile of Hlompho Kekana
Full name

: Hlompho Kekana

Place of birth

: Zebediela, Limpopo

Date of birth

: 23rd March 1985

Age

: 38 years old

Nationality

: South African

Occupation

: Footballer

Current club/Jersey No

: Mamelodi Sundowns F.C./8

Net worth

: R5.9 million

Height

: 1.76 meters

Relationship status

: Married

Children

: one (a daughter)
Hlompho Kekana Started His Football Career With Tshiamo Soccer Academy
Hlompho Kekana started his football career in 2002 while he was in high school. He played for Tshiamo Soccer Academy, where he developed and honed his raw football talents. Not much is known about the number of goals he scored at Tshiamo Soccer Academy and the assists he recorded.
He Began His Professional Career in 2004 With The Black Leopards
Kekana's senior career started in 2004 when he was signed up by Black Leopards F.C., a Limpopo-based football club founded in 1983 and currently plays in the Premier Soccer League (PSL). His stay with the club did not last so long as it soon ended in 2005 when he gained another move to City Pillars F.C. He played for the team between 2005 to 2007 before the club was dissolved. This meant he was signed up again by the Black Leopards for a second spell, where he went on to make 37 appearances between 2007 and 2008.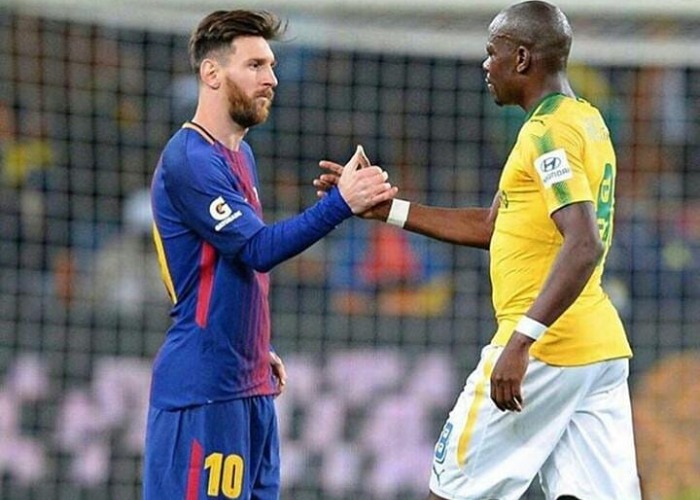 Even though Hlompho Kekana spent four seasons at the two clubs, nothing is known about his market value or the salary he earned when he was with both clubs. Even the number of goals he scored from 2004 to 2007 is unknown. But those years were the years he developed himself into being the die-hard footballer he is today. He has since revealed how grateful he was to have been given a platform by Black Leopards F.C.
Hlompho Kekana Also Played For Supersport United and Bloemfontein Celtic
In 2008, Kekana made a major career move when he was signed up by PSL giants Supersport United. Although coming from the back of their maiden PSL title win, he would further propel them to retaining the title for the following two seasons he was with the Pretoria-based club side – 2008/2009 season and 2009/2010 season. After his final title-winning season with Supersport United, he was signed up by Bloemfontein Celtic in 2010.
After spending one year with Siwelele, where he made 27 league appearances scoring just one goal, he moved to Mamelodi Sundowns F.C. in 2011. From 2011 to date, Hlompho Kekana has been and is still playing for The Brazilians. He has scored up to 28 goals for Sundowns and has propelled the South African-based professional football club to win many trophies – a feat that has helped them become the richest PSL team in South Africa. In 2020, he sealed another four-year contract with Mamelodi Sundowns, which would expire in 2024.
The South African Midfielder Has Made Huge Wealth from Football
Over the course of his career, Kekana has made a mouth-watery sum from football. For a career that has lasted for over a decade, it comes as no surprise that his net worth is estimated at R5.9 million. Learn more about how he made his wealth below.
He Earned About R54,200 At Supersport United F.C. 
Kekana played for Supersport United from 2008 to 2010. In his two years stay in the club, he scored just one goal. His transfer from Black Leopards F.C. to Supersport United F.C. earned him €85,000 in 2008.
As of 2010, Hlompho Kekana's monthly salary was €250 (about R4,500). This means that his salary back then was about €3,000 (R54,200) per year. Although he has experienced a drop in salary in his football career, his annual salary at Sundowns is still almost twice his salary at Supersport United.
At Bloemfontein Celtic, Hlompho Kekana Earned R48,800
In 2010, Hlompho Kekana moved to Bloemfontein Celtic F.C. and played for them for a solitary season before he got his big move to Mamelodi Sundowns. Over the course of Kekana's one-year stay in Bloemfontein Celtic, he experienced a drop in his market value from €250 (about R4,500) per month to €225 (about R4,000) per month. This drop in his market value was the reason why he earned an annual salary of €2,700 (about R48,800) at Bloemfontein Celtic.
A Peek Into Hlompho Kekana's Salary Since 2010
For someone who has a net worth of R5.9 million, you can obviously tell whether or not football has been good to him. Currently, Hlompho has a market value of R7,200 (€400) per month, which means he earns roughly R86,400 (€4,800) per year from football only. From 2010 to 2018, Hlompho experienced an exponential increase in his market value and salary. His value was at its peak in 2018 when he was worth €700 (R12,700) per month, about €8,400 (R151,900) per year. This is more than twice what he currently earns (in 2021).
In 2019, Kekana experienced a fall in his market value, and since then, he has not risen to meet the financial heights he reached in 2018. He has continued on a downward spiral from 2019 to date.
2010

: Supersport United – R54,200

2014

: Mamelodi Sundowns – R75,950

2016

: Mamelodi Sundowns – R108,500

2018

: Mamelodi Sundowns – R151,900

2019

: Mamelodi Sundowns – R141,000

2020

: Mamelodi Sundowns – R97,650

2021

: Mamelodi Sundowns – R86,400
The reason behind the constant decrease in salary progression is not known, but his age could be a big factor. Although Kekana still shows off a lot of talent and agility on the football field, we cannot deny that he is getting old, and with an increase in age comes a decrease in player value.
Hlompho Kekana Has Also Made Money From Endorsement Deals
Besides the money Hlompho makes from playing football, he has also made some good money from endorsement deals. Currently, he is the brand ambassador of Audi Polokwane and Volkswagen. The exact amount he makes from this deal is not known. But, certainly, he makes a good amount of money from it. Football is not the only thing Kekana likes; he likes cars too and was recently gifted a new set of wheels by Audi Polokwane – to add to several luxurious cars the star midfielder already has.
He Has An Envious Collection of Luxury Cars
Audi Polokwane gifted their brand ambassador the beautiful, fast and powerful Audi A4 sedan. This red machine is worth R700,000 and ranks number 3 in the list of luxury small cars. Kekana also has other choice cars in his collection. See them below.
Audi A4 Sedan
Price

: R700,000

Luxury interior

4 inline cylinders

Can accelerate from 0-100km in 5.5 seconds

It has a fuel tank capacity of 15.3gal

Can accommodate up to 5 people

188-349 HP

Has 4 one-touch power windows
VW Golf R
Price

: R676,000

280 lb-ft @1800 rpm torque engine

292 hp @ 5400 rpm HP

4 inline cylinders

2.0 l base size engine

36.8ft turning circle
VW Arteon
Price

: R599,900

Consumes 5.6 liters of fuel for 100km

Highest speed limit of 2kph

Can accelerate for 0-100kph in 5.6 seconds

4 cylinder engines
VW Amarok
Price

: R704,100

4 inline cylinders

2.0L engine size

 400Nm @ 1500rpm Max. Torque

132kW @  4000rpm Max. Power

80 liters fuel capacity
Kekana Lost His Mother-In-Law In A Car Crash
On the 7th of November 2017, Hlompho Kekana's mother-in-law was involved in a car crash that took her life. Unfortunately, Kekana's two-year-old daughter was also in the vehicle with her. As a result of this car crash, the South African team (Bafana Bafana) had to release him from training to deal with his family issues. Although Hlompho tries to keep his family matters private, there has been no report that his daughter also lost her life. So, it is safe to conclude that she survived the crash.