From the depths of South Africa, Yolandi Visser has risen to become one of the most acclaimed rap acts in the world and along with her on the journey is lifelong friend, Watkin Jones. Together, the duo form the popular rap group, Die Antwoord and have released five albums to date, popularizing the zef subculture. They have also toured various parts of the world, including the U.K., the U.S., and Australia, and have made their mark in Hollywood with movies such as Chappie.
Yolandi Visser is truly an all-around achiever and this equally reflects in her private life. The rapper was in a long-term romance with her partner, Watkin Jones, but they have since called things off in order to focus on their music. They remain besties and homies though and this has reflected in their evergreen success in the industry.
Yolandi Visser Met Watkin Jones in 2003 But They Started Dating a Year Later
Visser has a long history with rap partner, Watkin Jones, and their legendary story dates back to the year 2003 when they met each other outside a nightclub in Cape Town. At the time, Jones was still trying to make headway in the barely-existent South African hip hop scene while Visser looked like a little Goth kid. She, therefore, didn't have anything in common with him and told him off on that first occasion. As fate would have it, Visser later ran into Jones at one of his shows and he asked her to lend her vocals to one of his tracks. She blew him away with her voice and attitude and what was supposed to be a one-off thing eventually turned into them making music together.
Visser and Jones did not have any romantic entanglement at first but focused on their music. Jones inevitably developed strong feelings for his rap partner but didn't know how to tell her. He was further disappointed when she started crushing on another battle rapper named Sammy Sparks. The whole thing left Jones lost and hopeless before Visser caught on to the fact that he liked her. Luckily, she reciprocated his feelings and promised him that she would stick and climb with him up the mountain and if he were to fall and break his wings, she would help him fix it and climb up again.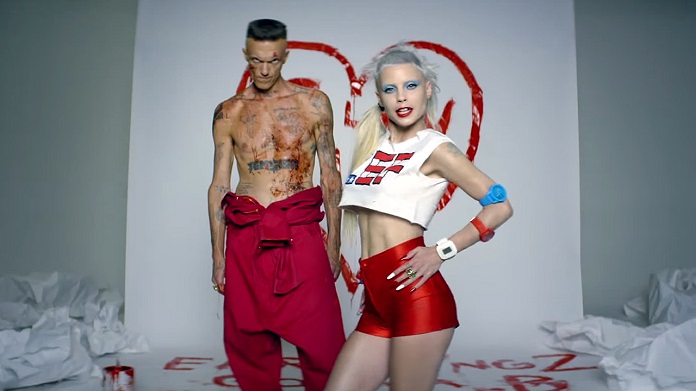 Their Romance Lasted For About a Decade Before They Broke Up Around 2013/2014
Following such a strong declaration, Yolandi Visser began dating Watkin Jones in 2004. Their love blossomed and along with it their music career. By 2007, they decided to start a group and joined hands with DJ Hi-Tek, to form Die Antwoord. The first three years of the group's existence were quite tough and they were lucky to get any venues to play. They continued pushing it though and thanks to staying true to their unique style, their music eventually catapulted them to international stardom in 2010.
In the years that would follow, Visser and Jones would hang out with some of the biggest names in the music industry, Kanye West and Marilyn Manson, and score a recording deal with the likes of Interscope. Their unusual magnetism also attracted the attention of moviemakers and they were each offered lead parts in acclaimed movies such as The Girl with the Dragon Tattoo and Elysium. They however turned most of these movie projects down because what was most important to them was their music. Throughout this rollercoaster ride of a career, Yolandi Visser continued her romance with Jones.
Their relationship enjoyed longevity and solidity and many fans started wondering when they would get married. That wish never materialized as the duo called things off around 2013. The breakup was not due to any unsavory fact but rather as a result of their unquenchable love for their music. Visser and Jones regard their music as a calling and when the time came to make a choice between their romance or the band, they easily choose the latter. The relationship between Visser and Jones has been over for several years now but they remain best friends and homies. According to them, what they now have goes beyond the physical and they have seen each other at their worst and best.
Yolandi Visser Has a Total of Four Children, Including a Biological Daughter, Sixteen
Yolandi Visser may no longer be dating Watkin Jones but she would forever be tied to him. This is not only because of their music but the child that they share. While the couple was dating in the 2000s, Visser got pregnant and she went on to welcome their daughter named Sixteen Jones. From the onset, Visser and Jones included Sixteen in whatever they did, be it their music videos or magazine shoots. She also attended several fashion events with them. Sixteen is now grown up and has followed her parents into music. She is part of a band known as The Boy with the Rainbow Face and serves as the backup vocalist and writer.
Asides from Sixteen, Visser also has three adopted kids namely Tokkie, Meisie, and Jemile. Visser first got to know Tokkie when he was nine years old and growing up as a street kid in Johannesburg. His parents were quite poor and so she offered to care for him occasionally. She subsequently decided to adopt him in 2010 so that he would realize his potentials. Such beautiful maternal instinct in Yolandi Visser also saw her adopt Tokkie's sister, Meisie in 2010 and another girl named Jemile in 2015. Not much is known about the two girls but they occasionally appear on their mom's Instagram.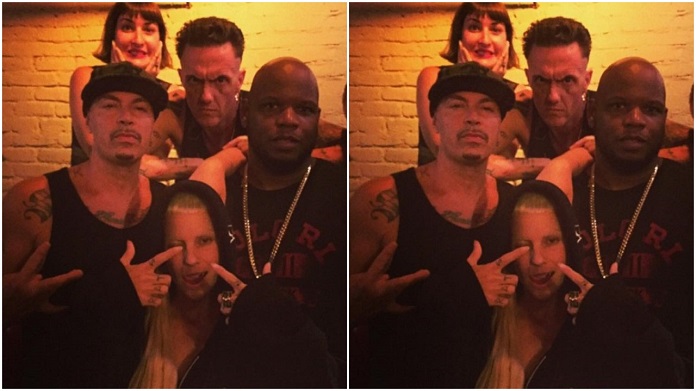 Yolandi Visser Has Been Romantically Linked To the Likes of DJ Muggs
Since her romance with Watkin Jones ended, Yolandi Visser has largely concentrated all her attention on her music and kids. She has not been confirmed to be dating anyone but rumors have it that she had a thing with American rapper and producer, DJ Muggs. Muggs produced several of the tracks on Die Antwoord's 2016 album and it may have been the period of working together that spurned a romance. Visser and Muggs have never confirmed that they dated but the rumors have gathered momentum, so much so that Eminem even dissed Jones about it.
The legendary American rapper has a long-running beef with Die Antwoord and in his 2018 Kamikaze album, he mocked Jones because Muggs slept with his girl. Both Visser and Jones took this in stride and made a response video in which they joked that Eminem must have missed them. Jones also made it clear that Visser was no longer his girl, as such, she is free to date whoever she pleases, but she remains his best friend who loves him. Aside from being linked to DJ Muggs, Yolandi Visser has not been in any confirmed romance. This does not mean that the edgy rapper is now celibate but simply implies that she chooses to keep her love life private. Watkin Jones on his own part is said to be married now, though little is known about his wife.