Koko Mantsha (Real Name: Lydia Mokgokoloshi; Born September 27, 1939) is a 84-year-old South African actress and educator best known for her role as Mma Nkwesheng in the drama Bophelo ke Semphekgo.
Mokgokoloshi is still alive and healthy, contrary to a false report that circulated on the internet in July 2021 claiming she and singer Zola 7 had passed away. She began her career as an actress in the 1980s and has no plan to retire yet.
Summary of Koko Mantasha's Biography

Real name: Lydia Mokgokoloshi
Nickname: Koko Mantasha
Gender: Female
Date of birth: September 27, 1939
Lydia Mokgokoloshi's Age: 84 years old
Ethnicity: Black
Nationality: South African
Zodiac Sign: Libra
Sexual Orientation: Straight
Religion: Christianity
Marital Status: Widow
Lydia Mokgokoloshi's Husband: Deceased (1990s)
Lydia Mokgokoloshi's Children: Deceased (2003)
Lydia Mokgokoloshi's Net worth: $200,000
Famous for: Portraying Mma Nkwesheng in the 1980s drama, Bophelo ke Semphekgo
Koko Mantsha was Born in Limpopo Province on September 27, 1939
Lydia Mokgokoloshi was born and nurtured in Botlokwa, a Polokwane town in Limpopo province. She was born on 27th September 1939 and is presently 84 years old. Her father was a schoolteacher who ran his home till his death.
The Skeem Saam actress first attended Manthata Tribal School before transferring to Botlokwa Primary. Additionally, she attended Mokomene High School, where Mr. D. Sekgota served as an inspiration.
Mokgokoloshi applied for teaching training at Mokopane because she wanted to become a teacher like her father and her role model, Mr. Sekgota. After graduating, she obtained her diploma and was authorized to teach in Limpopo.
She spent ten years teaching students in her hometown before eventually relocating to Soweto after purchasing a home there. As a teacher, she enjoyed writing drama for her learners and children in church, and her works were well appreciated.
The actress gave birth to one child with her husband. Sadly, she lost her husband in the 1990s and later her son in the year 2003. Lydia's sister, Mahuma Rapetsoa, tragically died in the year 2020.
She Started her Acting Career in the 1980s
Mokgokoloshi began her acting career in the South African TV industry after she retired from teaching. She admitted that she was afraid to tell her parents that she had become an actress because no one believed in the art then, and also, her community didn't think acting was for black people.
She debuted as the fictional character Mma Nkwesheng in the 1980s drama Bophelo ke Semphekgo. Her character was an evil mother-in-law who caused so much pain in the life of her daughter-in-law.
Tonight on #SkeemSaam

Koko's plan to protect Kat sacrifices another. @Official_SABC1 pic.twitter.com/gG8KwCHUgd

— OFFICIAL Skeem Saam 11 (@SkeemSaam3) March 28, 2022
Koko Mantasha bagged her next acting gig in the 1982 project Ngwanaka O kae, where she starred as Mmago Rateka. She also had a starring role on the popular TV soapie Muvhango and her on-screen delivery was amazing.
Koko Mantsha Became a Popular Skeem Saam Actress After Joining in 2011
The Limpopo screen goddess won her longest TV role in the year 2011 on the local soap opera Skeem Saam. She portrayed a granny called Koko Mantsha. Lydia's character on the show was quite interesting and fun to watch.
The actress was also a delight to watch each time she appeared on TV. From the way she delivers her line to how she flows with other actors, Mokgokolshi really proved that age and performance have nothing to do with talent.
In an interview with a local tabloid, the actress admitted that she was initially nervous about joining the TV show because its storyline focused on the youth. She eventually got along after seeing other veterans on the set and discovering that the actors enjoyed what they did.
In early 2022, South African Entertainment Commentator Phil Mphela announced that the actress had joined the popular SABC 2's telenovela Giyani: Land Of Blood, which airs Mondays to Wednesdays at 21h30. She plays the role of Manoko (played by Rami Chuene)'s mother.
CASTING NEWS:

Mme Lydia Mokgokoloshi joins Giyani

Veteran actress, best known to tv viewers as MmaNkwesheng and Nkoko Mantsha on #SkeemSaam, will play Manoko's mother.

Giyani airs on SABC2, Monday to Wednesday at 21h30#KgopoloReports pic.twitter.com/9fqG2KtEJo

— Kgopolo (@PhilMphela) March 1, 2022
Koko Mantasha TV Series
Bophelo Ke Semphekgo (1980)
Ngwanaka O kae (1982)
Skeem Saam (2011-2020)
Giyani: Land Of Blood (2022)
Is Koko Mantsha Dead or Still Alive?
Koko Mantasha is healthy and vibrant. She trended on the internet in the month of July 2021 after it was revealed that she had passed by. Her fans expressed their sorrow to her family and on the internet as a result of the news.
Skeem Saam producers later identified the news as incorrect, confirming that she was still alive and doing well. Some individuals viewed the report with a grain of salt because Koko Mantasha had never been reported to be ill until the news broke.
This is the Koko Mantsha I know.Let's show her some love.#skeemsaam
Kwaito
Skeem saam pic.twitter.com/0RcMIWXB3r

— Buhle (@Thandubuhle_) June 25, 2021
The veteran actress is currently busy doing what she absolutely loves to do – acting. In 2021, an emotional Lydia was almost brought to tears while accepting an enviable award from the Limpopo Arts Movement for being a force to reckon with in the entertainment industry for over 40 years and counting.
In her speech, she stated that she felt so honored to have been honored in her home province, adding that she appreciated the fact that her talent got noticed by the people.
The Limpopo Arts movement's president Mpho Mashabela shared that they felt it was worthwhile to give Koko Mantasha her roses now she is alive. Mpho asserted that they were scared when they heard about the fake news of her death and decided to take it as a sign to appreciate the veteran actress.
Lydia Mokgokoloshi's Awards
Skeem Saam actress Koko Mantasha has received three notable awards in the course of her career. She bagged her first award in the year 2017 (Lifetime achievement award) at the South African Film and Television Awards (SAFTAs).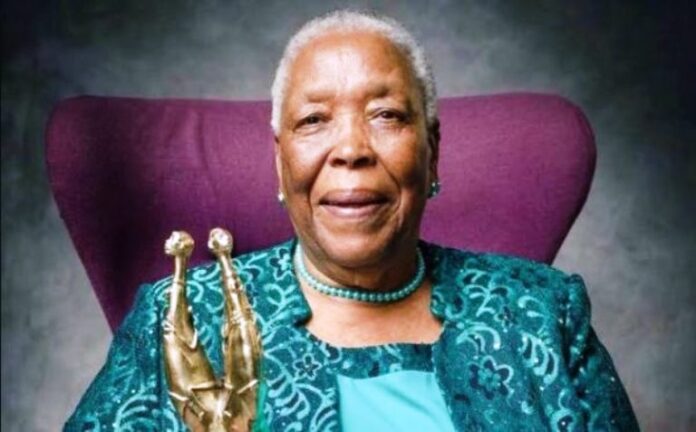 The SAFTAS Lifetime achievement award is a special award that is awarded to performers who have made creative contributions of outstanding artistic significance to the film and TV industry.
The veteran's second actress came in 2021 from the Limpopo Arts Movements, while the third is a Golden Horn Award in celebration of her role in Skeem Saam, which is her most prominent work on TV.
What is Koko Mantsha's Salary and Net Worth?
Koko Mantasha's net worth is estimated at $200,000. She amassed a huge part of her wealth by taking up TV roles in the industry. She is believed to have made a substantial income from her role in Skeem Saam, which spanned nine years.
Sadly, the exact amount she received as a monthly salary on the show is not available for public consumption.