Since Muvhango first aired in 1997, several actors on the show have walked the aisle with their heartthrob in real life. Our list is made up of over 10 actors on Muvhango who have tied the knot from 1997 to date. Interestingly, a good number of them have stayed happily married regardless of how people judge them based on their characters on the show. 
It is also important to note that a handful of actors on the show share kids with their baby mamas and baby daddies and are yet to legally tie the knot. A good number of other actors on the show are still single and probably searching, while others are in serious relationships. This article focuses mainly on those that have exchanged their marital vows from 1997 to date.
Muvhango Actress Getting Married
News of Muvhango actresses getting married is one of the best reports the show's fans love reading about the cast. Between 1997 and this year, Muvhango viewers have witnessed marriages between their favorite actresses on the show and their sweethearts. Recently, it was reported that one of the actresses on the show would be walking down the aisle.
If you've been wondering who the actress is married to and when exactly she would be tying the knot, we've got you covered. In addition to that, we would be looking at other actresses on the show who have since begun their forever journey with their spouses.
1. Maumela Mahuwa 
Mahuwa is one of the best actors on Muvhango. In fact, she is currently the longest-serving cast member on the show. In April 2022, news broke out that Maumela, who plays Susan in the TV show, and her Muvhango co-star Gabriel Temudzani are engaged in real life.
Interestingly, the two are an on-screen couple and play the roles of Azwindini and Susan Mukwevho. A spokeswoman for Muvhango Thanduxolo Jindela confirmed that the actors' marriage plans had gone underway at the time.
It was also revealed that the soapie – Muvhango would sponsor their high-end wedding, which will be taken care of by a well-known celebrity wedding planner. Right now, the show's fans can't wait to find out about other Muvhango actresses getting married.
Though very vocal about her work and other aspects of her life, Mahuwa has concealed everything about her personal life including unverified reports about her alleged marriage to a South African man from the public over the years.
Some time ago, she was said to have posted pictures of her alleged husband without a caption. This left her fans confused and wondering if she actually did that on purpose. Since then, the actress has stopped posting pictures of the man, leading to most people wondering if they are still together or not.
The actress is yet to respond to the numerous unverified claims and reports surrounding her marriage and the man. Unfortunately, information about how she and her mystery husband met, how long they dated, the kind of wedding ceremony they had, and the man's current whereabouts are difficult to come by.
Away from Muvhango actresses getting married, here are also some of the show's other actresses and actors who have walked down the aisle since the telenovela started airing.
2. Liteboho Molise
Liteboho Molise is a popular South African actress famed for her role in Muvhango. She could be getting married any time soon following her messy divorce from her husband. The actress was previously married to a construction mogul called Thabo Twala in 2015.
Sadly, their marital bliss lasted only one year following a shocking discovery by the actress that her husband was a polygamist who had two other wives in his life. She was asked by her curious fans if she was a home breaker, but she insisted that Twala told her that he had broken up with the women (Kate and Mpho) when they met.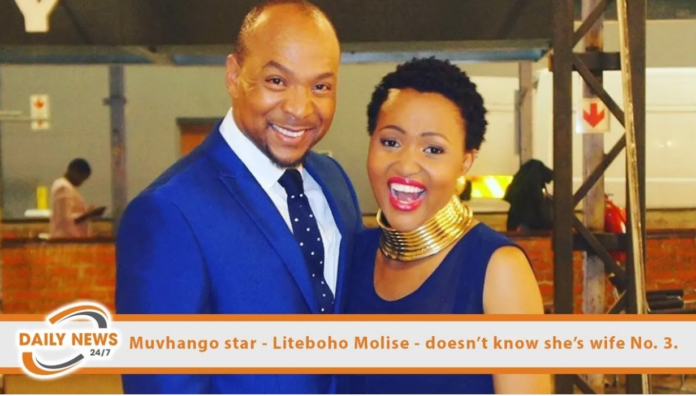 Her version of the story was subsequently disputed by the women. Given the circumstances surrounding her short-lived marriage, information about how long she and Thabo dated and how and when they met has been concealed from the public.
The Muvhango star currently lives with their only child in Midstream Estate, northeast of Joburg. In addition to his construction business, Molise's ex-husband is a notable philanthropist and political activist.
Other Married Muvhango Actors and Actresses
3. Azwimbavhi Rambuda
Azwimmbavhi Rambuda, who plays the role of Mpho in Muvhango, is happily married to her long-time partner. The two tied the knot in the month of August 2022 in an extravagant wedding ceremony that took place in the country.
The ceremony had in attendance their families, an impressive number of her colleagues from the entertainment industry, as well as well-meaning South Africans.
It is not clear yet how long they dated before marriage and how and when they first met as friends. The actress is yet to share this part of their love journey with the public. Mr. Litelu describes himself on his Instagram bio as a leader, entrepreneur, strategist, speaker, lobbyist, investor, and futurist.
Besides being known as Azwimbavhi's husband, he is also a successful businessman and founder/CEO of ICRD Group Holdings, a local company with interests in businesses such as media, professional services, cleaning technologies, and natural resources. However, there is no detailed record of the brand he has worked with or for currently.
The two are parents to two kids presently – their little son named Lesedi and Azwi's daughter from her previous relationship (Rendani). She currently stays with the actress's parents in her hometown in Limpopo province.
4. Inocentia Manchidi
Inocentia, who plays the role of Rendani on Muvhango, is married to her long-time sweetheart Mpho Manchidi. The two exchanged their marriage vows in the month of April 2019 in a lavish wedding in South Africa.
Inocentia and Mpho dated for a couple of years before finally walking down the aisle, but the exact number of years they court is not publicly known. There is no information anywhere about Mr. Manchidi's occupation as well as when he first met the actress.
The two are yet to give birth to their own kids.
5. Connie Sibiya
Connie Sibiya plays hangwani in Muvhnago. She's been a married woman since 2009 when she said "I Do" to Dr. Abraham Thamsanqa Sibiya, the provincial Archbishop of the Continent of Africa of The Communion of Episcopal & Apostolic Churches International BOCSC. They share five beautiful kids together.
In addition to acting, Connie is also a Bishop and someone who is highly respected in the Christian circle for being a voice for women. The particular year she and Dr. Abraham tied the knot is not known publicly.
She has kept her fans in the dark about how long they dated and the kind of wedding ceremony they had during their marriage. Regardless, this doesn't take away the fact that she is a talented actress.
6. Gabriel Temudzani
Gabriel Temudzani is a South African actor and TV presenter who is easily recognized for his lead role as Chief Vhafuwi Azwindini on Muvhango. He has said "I Do" on more than one occasion. He got married for the first time in 2013 to a South African lady called Refiloe Temudzani.
Unfortunately, the two separated after a couple of years, leading to his second marriage in the year 2020 to Bongiwe Matsebula. The actor has successfully kept information about his marriage private over the years. Not only that, a quick search on the internet showed that there is no record of the lives of these women, their occupations, and their current whereabouts.
Refiloe has since made her Instagram account private, which has 200 posts and over 2500 followers. It is difficult to tell when exactly how and when exactly he met these women, how lavish their respective wedding ceremonies were, and his current relationship with his ex-wife. The actor and his first wife had kids together, but it's not clear if he and his new wife have given birth to another child.
7. Macdonald Ndou
Though known for his selfish behavior and for being a serial abuser of women in Muvhango, Ndou is nothing close to his character in real life. He has been in a happy relationship with the love of his life since the year 2018 when he traditionally sealed his love for her in a decent Venda wedding.
However, he has been careful not to dish out too much information about his wife and family to the public. This explains why his wife's name, background, and other information about her life and profession or occupation are not known to the public.
Again, he has not really publicized how the connection between him and his wife was established, how long they dated, and whatnot. The actor's wife seems to be an amazing woman, who supports her husband in every good aspect, including financially.
8. David Sebe
David Sebe has been a married man for years. His wife was born in 1974 in South Africa, but there isn't further information about what she does and the kind of family she came from. The actor has not been generous enough to share information about his wife and family with his overwhelming fans.
Sebe, who plays a polygamist man in Muvhango, has only one wife in real life. He is someone who detests polygamy even though his character doesn't. There is no available information about the kind of wedding ceremony he and his wife had, how long they dated before marriage, how they met, and how long they've been married.
Besides shielding his wife from the curious public, he is also raising his kids away from the spotlight.
9. Mmabatho Mogomotsi
A Dramatic Arts Graduate from the University of Witwatersrand, where she studied Dramatic Theory, Theatre, Practice Scenography, Drama, and Film, South African actress Mogomotsi is one of Muvhango's actors who have said: "I Do."
Popularly known for being very private when it comes to matters pertaining to her personal and family life, she has successfully kept a low profile on her marriage and family. However, we can establish that she is married, and her marriage is blessed with two beautiful daughters.
What the public doesn't know, however, is the particular year she got married, how long she and her husband dated, and the kind of marriage ceremony they had. Her husband's names, occupation, and background are also not public knowledge.
She portrays the fictional character Moipone in the TV series.
10. Humburani Tsharani
Humburani plays the role of Sangoma Mulimisi. He is a father of two lovely children, who he had with his wife, actress Mboneni Jade Tsharani. Sadly, the two have since divorced and went their separate ways following irreconcilable differences.
The exact year Tsharani got wedded and the number of years he dated his now ex-wife is not known to the public. It is believed they had a descent wedding ceremony. Mboneni has maintained a low profile since her exit from the actor's life and spotlight.
Her current whereabouts and job are under the radar, and it seems she has been very active in the acting space as she hasn't been part of any known local project in recent years.
The actor has been recently linked to a South African lady called Tshitshonga Tsharani. The two reportedly got married in the year 2014 but have kept a low profile on their marriage since then.
11. Nathaniel Ramabulana
Muvhango's viewers know Nathaniel as Tenda and the on-screen husband of Aziw on the show. In real life, however, he is married to a beautiful lady called Mpho Mukwevho. They got married in the year 2012 at a grand wedding ceremony in the country, and they've been together since then.
The couple recently celebrated their 10th anniversary, and the actor had to repropose to his wife at the exact venue they did it the first time. Unlike her husband, who is a public figure, Mukwwevho leads a private life.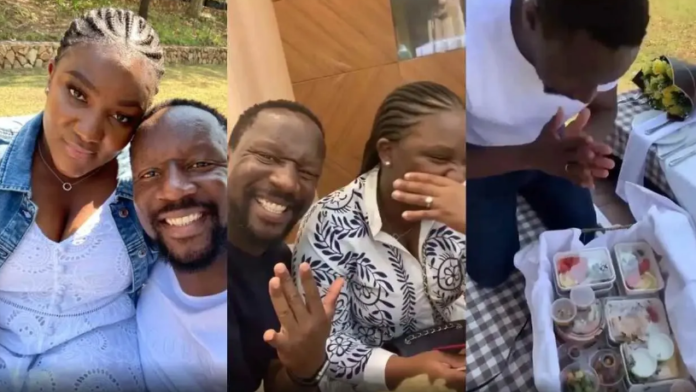 She is hardly seen in pictures with her husband, and there is no available information about her background and occupation. Not only that, no one knows exactly how they met and how long they dated before marriage.
12. Sydney Ramakuwela
Sydney Ramakuwela is the actor who plays Mulalo in Muvhango. He is a father to a beautiful girl who she's been part of her life for years. However, the actor has never shared about the mother of his child or even opened up about her.
This has severally led to his fans being curious about the mother of his daughter, her identity, background, current whereabouts, and occupation. It seems the actor has been intentionally keeping her away from the spotlight or that they were never married or have probably gone their separate ways.
The actor once shared that the reason he is making everything possible to be part of his daughter's life is that he grew up without his father in his life. Nevertheless, he is a hands-on dad and someone who seemingly loves parenting.
Given Ramakuwela's silence on his love life, it is difficult to tell when and how he met the mother of his child if they took their relationship to the next level, and if they are currently together or not. Some folks believe it is possible the actor is protecting her from the curious media and public, hence, the reason she is missing from the picture.