Ntando Duma's boyfriend is not publicly known as she is not in any documented romantic relationship at the moment. The actress is not married but she has a baby daddy. 
Ntando has garnered attention for both good and bad reasons since she burst into mainstream success, mostly because of her complex personal life. It's interesting to note that she has also exploited the publicity she receives to launch successful careers as a model, actress, presenter, and TV personality. She also amuses her followers with her seductive photographs on social media, where she has a sizable following.
Is Ntando Duma Currently Married?
Ntando Duma is not married at the moment. She hasn't exchanged marital vows with any man, not even with the man with whom she had her daughter. However, the actress hasn't completely ruled out the prospect of eventually getting married to her ideal man, though.
She's mentioned how much she's looking forward to her wedding day a number of times. For the time being, she is prioritizing her child's upbringing and her booming mixed career.
Who Are Ntando Duma's Ex-boyfriends?
Duma has kept a low profile on her personal life since she split from her baby daddy, making it difficult to determine whether she is single or discreetly dating someone.
However, there have been rumors about the actress dating some famous people in the past. Even though she claimed to have never dated the majority of these men, she only obliquely acknowledged one of her speculated numerous affairs.
The names of the men she is alleged to have had affairs with are listed below.
Ntando Duma and Blessing Gama 
People started to speculate that Blessing Gama and Ntando are more than just buddies in 2021 after seeing them acting out like a couple in numerous locations across the country.
The couple attracted a lot of attention from the public due to their closeness, but the actress emphasized that they were only friends when rumors of a relationship spread online.
After receiving the unwelcome attention from the public, their chemistry seemed to have faded away. Gama never bothered to confirm or deny whether he and the presenter were having a serious relationship at the time.
Blessing is a well-known South African director and content producer.
Ntando Duma and Musa keys 
Rumors about Duma dating South African Amapiano singer Musa Keys began to circulate in October 2022 after they began spending time together.
In contrast to Ntando, who publicly pleaded with South Africans to stop "forcing boyfriends" on her, Keys never bothered to clarify the facts surrounding the alleged affair.
She made it very clear that they had been 'unfortunately wrong' in thinking she and the singer were dating.
Sicelo Buthelezi and Ntando Duma
Ntando publicly spoke about finding her Mr. Right for the first time in 2020 after her painful split with her baby daddy. She finally found the bravery to reveal the man who had won her heart to her followers after teasing them about him for a few months.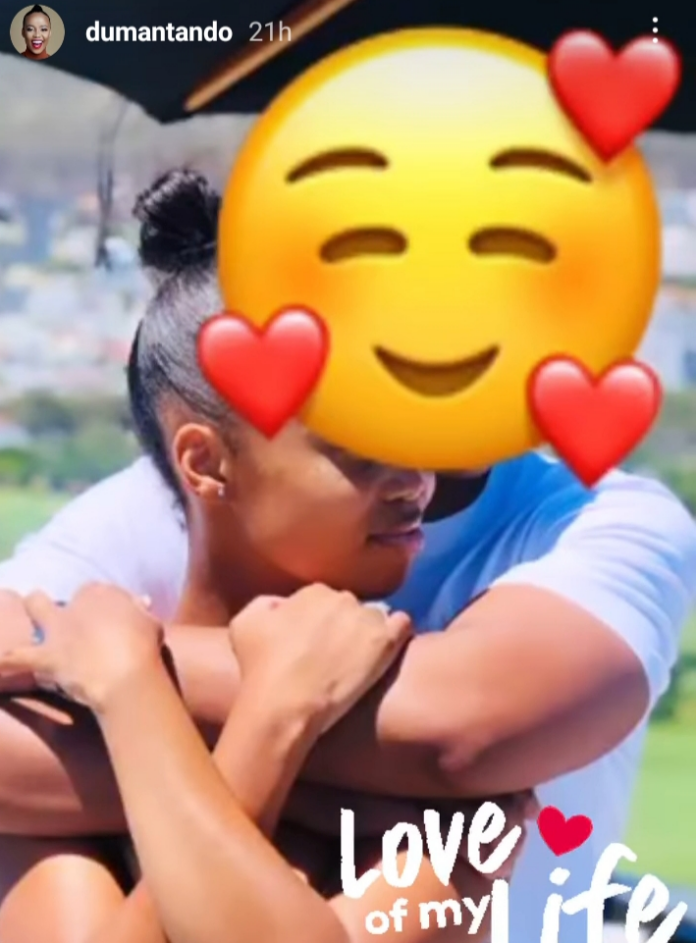 Her use of an emoji to conceal the man's face in an effort to hide him from the public grabbed the attention of her followers when she eventually shared a photo of herself and her man on Instagram stories.
This action sparked a lot of people's curiosity about her boyfriend, and within a short period of time, many people made the connection and concluded that her lover was Gomora star, Sicelo Buthelezi.
After Buthelezi was identified as her lover, the actress remained silent about the alleged relationship.
Costa Titch and Ntando Duma
Soweto-born TV presenter Ntando Duma gave her followers the impression that she was secretly dating the late South African hip-hop artist Costa Titch at the time of his death when she wrote a moving eulogy for him on the day of his memorial service which took place on March 18, 2023.
In the tearjerking tribute, Duma praised him for loving her, believing in "them," and letting her share his life while he was still alive. Although she wished they had spent more time together, she expressed thanks for the time and memories they had shared.
Aside from the emotional tribute, she hasn't talked or revealed anything about her relationship with the late artist or how it was while he was still alive.
Ntando Duma Has Only One Baby Daddy
Duma, who is best known as a presenter on e.tv's youth program Craz-e, has only one baby daddy and his name is Junior De Rocka. His real name is Junior Mzizi.
De Rocka is a Kwa-Mashu, Kwa-Zulu Natal-born DJ and TV presenter. He was born in 1992 and is famous for hits such as Catalia, Izinto Zakhona, On The Road, AmaDimoni, and Been Thinking.
The two-time Platinum selling South African DJ and Duma welcomed their daughter on June 28, 2007. Her name is Sabhle Mzizi.
When and Why Did Ntando Duma and Junior De Rocka Break Up?
It's not clear when exactly he and Ntando started dating or when they met. The public got to know that they were in a relationship when the DJ got the actress pregnant.
The pair ended their romance two months into Duma's pregnancy after she allegedly found out that he was cheating on her with another woman. According to the actress, De Rocka lied to her about going on a gig but ended up having an affair with a woman after forcing her [Duma] to go stay with his mother.
She also claimed that she called it quits with Junior because their relationship was one-sided and she was done fighting with him always.
The former lovers have fought dirty severally on social media about their failed relationship. They re-ignited their online feud in 2019 when the actress accused the DJ of being a deadbeat father.
Ntando slammed her baby daddy for neglecting his fatherly role in the life of their daughter after the DJ donated some valuable items to some children in a charity course.
De Rocka fired back, accusing her of lying and being jealous of his efforts. To further prove that he had been taking care of their daughter, he shared some receipts of the payments he made for his daughter's upkeep and welfare.
Mzizi and his baby mama put their differences aside for the first time in 2020 when they jointly organized a beautiful birthday party for their daughter when she turned three that year.
It's been a long time since they made headlines for any reason.