Lerato Kganyago is a South African award-winning television presenter, club and radio DJ. Though a down-to-earth celebrity, she lives in one of the mega-mansions in the country. Her glamorous home, which she shared with her husband while they were still together as husband and wife, is an epitome of luxury and comfort.
Their cozy home is situated in one of the choicest areas in South Africa. The rented apartment is far glamorous than most people think. It boasts many charming features, including spacious rooms and other exotic essentials that befit her status. Kganyago doesn't only feel at home in her castle but also in her exotic cars, all of which are popular choices among A-listers.
Lerato Kganyago's House Is Situated In One Of The Wealthiest Suburbs In South Africa
Lerato Kganyago and her man Thami Ndala's home is located in Sandhurst, Sandton, in the city of Johannesburg, in Gauteng province. The suburb is one of the wealthiest (if not the wealthiest) suburbs in the country. The area is not where average families live as houses there cost a fortune.
As gathered, Kganyago and Thami's mansion is a rented apartment. The sprawling crib is a sight to behold and an epitome of luxury. It is not known exactly when Thami rented the mansion and how much he paid for it. However, we could tell from pictures of the house available online that their mansion is one of the most beautiful houses in the area.
The Suburb Also Houses Well-known VIPs And Celebrities
Sandhurst boasts most of the expensive residential properties in the country. As of 2019, most homes on the market in Sandhurst are priced somewhere between R20 and R30 million, which clearly shows that it is indeed not meant for the poor or struggling families.
Lerato's mansion is surrounded by the apartments of prominent people in South Africa. Most of these people are entertainment heavyweights as well, while others are political giants. One of Kganyago's most prominent neighbor is none other than president Cyril Ramaphosa.
The public came to know about this after the TV presenter mentioned it in one of her posts on social media. According to her, Ramaphosa and motorcade usually drive past the gate of her home. Being one of the choicest places among South African celebrities, it is believed that the Sandhurst suburb houses a whole lot of other VIPs in the country.
Lerato Kganyago's Stunning Mansion Is All Shades Of Elegance 
Celebrity homes are often the pinnacle of comfort, affluence, and opulence, and it has everything to do with their glamorous lifestyle. Lerato and Thami's mansion is not exempted as it has the most incredible amenities that befit their class. The apartment is unique in style and also reflects the creation of the most skilled interior designers around.
Lerato's mansion often leaves most people daydreaming, but unfortunately, its specifications are not open to public scrutiny. What is obvious, however, is that the apartment has spacious rooms and is packed with exotic amenities. Its outdoors also have beautiful floral designs, a pool, and other elegant features.
The Radio DJ Only Spent Two Months In The Mansion After Her Traditional Marriage
Just two months after Lerato Kganyago traditionally tied the knot with Thami Ndala, things turned sour in their relationship resulting in the TV presenter moving out of their well-designed luxurious dream home.
She confirmed their separation on Twitter after one of her followers asked if the president has passed her gate that day. In response, she truthfully replied that she has moved out of their house. Kganyago later issued a statement explaining the reason she and Thami amicably parted ways.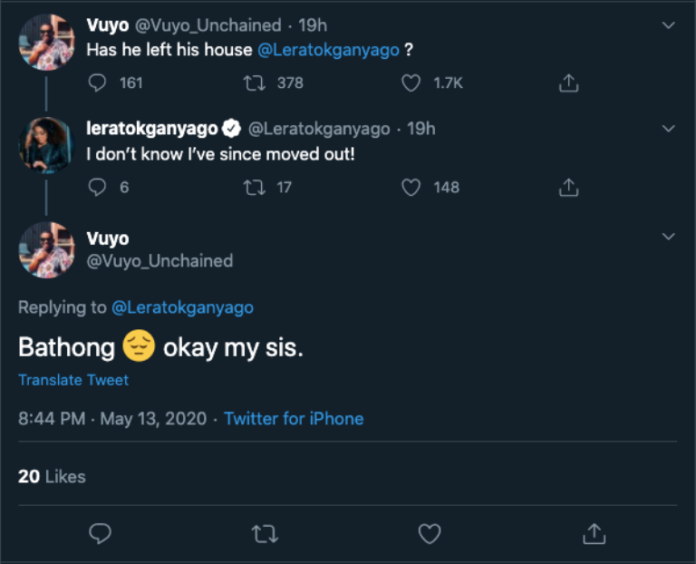 The South African DJ shared that they ended their two-month marriage because their individual workloads and priorities could not afford them the time to put in everything needed for their relationship to blossom.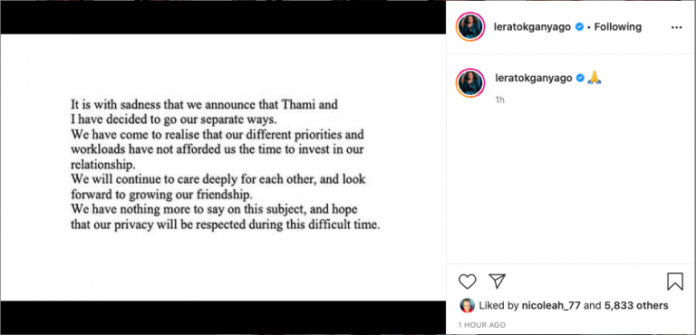 Lerato also requested the public to respect their privacy as they would not be making further statements about their divorce.
Where Did Lerato Kganyago Live During Their Separation?
It's unclear where the DJ spent her days and nights after she and Thami Ndala briefly divorced. Being a 'big girl', of course, she must have spent those days somewhere as comfortable and luxurious as her husband's mansion.
Lerato Kganyago hasn't really opened up about her post-divorce days, and how she was able to pull through throughout her trying period. However, many believe that she stayed in touch with Thami as she mentioned in her post, which could be one of the reasons their reconciliation happened so fast.
It Seems She Has Moved In Again Following Her Re-engagement
It appears Lerato Kganyago has since moved back to her husband's house. In an Instagram video she shared in July 2020, the DJ was captured coming down from her bedroom only to see lots of surprise from Thami downstairs. She was seen shouting with excitement from the stairs to the point where Thami asked her to marry him 'again'.
https://www.instagram.com/p/CC8VyfCpid_/
Though it was supposed to be Lerato's birthday, her husband-turned-fiance decided to shoot his shot by asking her to be his woman for the second time. It was indeed such an adorable moment for her.
Considering how everything played out, many concluded that the couple is back to each other's arms and are going stronger like they never parted ways. The video also left her fans talking about how lucky she is to have been engaged for the second time by the same man.
Second proposal @Leratokganyago and for the rest of us dololo 🤷‍♀️🤷‍♀️🤷‍♀️🤷‍♀️ https://t.co/SmcoEgfPYU

— Makhumalo_nonto (@MakhumaloNonto) July 22, 2020
Lerato Kganyago Is A Proud Owner Of Luxury Cars
Lerato Kganyago is a successful celebrity with a flourishing career to show for her effort. Like most people, she had a rough start, but today, she occupies a spot on the list of South African A-listers. Below is the photo of the car she drove before she became a popularly known superstar.
Once upon a time I drove this baby, took me from one audition to another, many looked down on me. Some of them being my peers today. The fire in me never died. Today I sing a different tune, cuz I was patient and trusted My Jesus, My Lord, My Savior! Dreams never die! 💜 pic.twitter.com/hdfzGNCijV

— leratokganyago (@Leratokganyago) February 28, 2018
My Package has just arrived. Time to hit the road… let's see how this one WOMAN trip goes…💃🏻 driven by #LandRover #TheGlen #DurbanJuly pic.twitter.com/W6YxXQd9nT

— leratokganyago (@Leratokganyago) July 5, 2018
It is believed that she has lots of luxury cars in her garage. However, in 2018, she shared that she acquired a new fancy wheel – a new Mercedes-Benz C200 Coupe. Since then, she has shared picture (s) of any other car neither has she mentioned buying another one. Lerato is known for her love for fast cars as much she loves her thriving career and glamorous lifestyle.