In August 2020, wealthy South African tombstone entrepreneur Lebohang Khitsane lost his life at the age of 44 after a renal failure. His death came as a shock to many, but what remains even more shocking is the drama that followed his demise, which started even before he was finally laid to rest.
The drama began when the previously peaceful event was interrupted by his sister, who made a damning claim against the wife, alleging that when Lebohang was still battling for his life, his wife brought a man into the house. The claim only led to more drama surrounding the truth behind his death, as well as other dirty linen of the family.
Quick Profile Of Lebohang Khitsane
Name: Lebohang Khitsane
Date of birth:1976
Death: August 2020
Wife: Maria Khitsane
Profession: Tombstone entrepreneur
Lebohang Khitsane Lost His Life to Renal Failure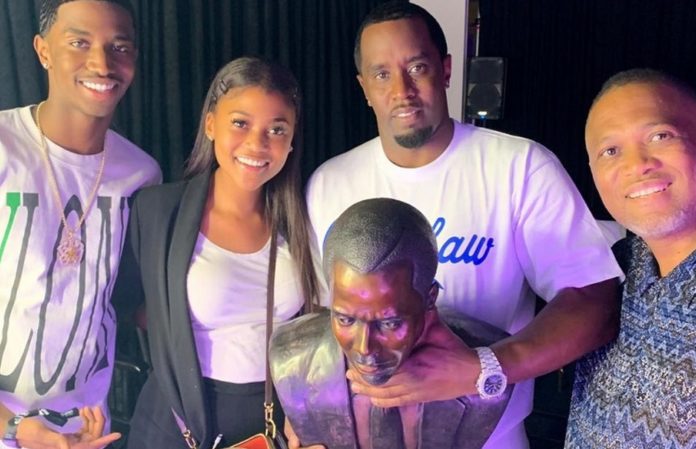 A man often described as the Steve Jobs of South Africa, the two men had more than their revolutionary stature in common, having changed their respective industries, they also died pretty much at their primes. According to reports, the entrepreneur, who died at the age of 44, lost his life to renal failure.
Initially, details were not made known about his sickness, which made his death rather shocking and sudden. It is reported that he was sick for weeks, and spent some time in the ICU before he returned home, only to relapse again and be returned to the hospital, where he lost the ultimate battle.
Before the tragic event, Lebohang has been in the tombstone business since 2005. By 2011, it was reported that his company had already sold more than 11,000 tombstones. He has worked on the tombstones of some important South Africans, including Nelson Mandela, Joe Mafela, Mandoza, Baby Jake Matlala, Vuyo Mbuli, and Robbie Malinga, among many others.
His Funeral Was Highlighted By The Drama Between His Wife And Sister
The funeral of the entrepreneur ended up in a rude shock for many as a result of the drama that ensued between his only sister, Semati Moedi, and his wife, Maria Khitsane. During the memorial service, which was captured live on TV, Semati was given the microphone to deliver her tribute to her brother, but instead of doing just that, she grabbed the opportunity to take a shot at her sister-in-law.
According to Semati, her brother's wife shamelessly brought a man into their matrimonial home, even at a time when he was still battling for his life. To save face, a water bottle was thrown at the older woman to stop her from talking, but that did not work. More efforts were made to get the microphone from Semati Moedi, but she resisted as she continued to scream and alleged that her sister-in-law brought a man into their home while her brother was still in pain.
The actions got Moedi trending on social media, leading to a #RakgadiChallenge. While many supported her actions, saying it was good that she called out the woman, some said no matter what the issue was, she was not supposed to have done that during the memorial service of her brother.
Did Lebohang's Wife Really Cause His Relapse?
Although officially, the death of Lebohang Khitsane is said to be caused by renal failure as stated, there is also the allegation against his wife that she contributed to his death due to her alleged infidelity. The allegations went further, stating that as a result of the alleged infidelity by his wife, Lebohang relapsed and later died a bitter man.
To add to the twist of the story, a man referred to as the friend of the Lebohang, Isaac Mangena, was said to have also claimed that Maria was actually cheating on her husband before his death. He allegedly revealed that Lebo, as his friends call him, underwent heart surgery before he contracted COVID-19, which got him in the ICU for over 5 days.
According to the man who claimed to be his friend, after all these, Lebo returned home to confront his wife, who had been cheating on him, thus leading to a fight, and he suffered a heart attack. He was returned to the ICU, where he spent several weeks before he died due to renal failure.
Isaac stated that Lebo told his friends about the issue, and he was sure the man also told his family members before he passed. He said right from the start, his family had never liked Maria, but he was very much in love with her, and so he didn't deserve what he got from her. Even though the truth of the allegation is still not known, it has come to raise more questions on his wife and whether or not she has contributed to his relapse.
Lebohang Was With His Wife For Close To Two Decades
Despite all the drama that followed his funeral, Lebo and his wife were together for many years. In fact, some sources claimed that they were together for almost two decades, although it was between 2006 and 2007 that they got married.
The union was blessed with three kids, all of whom were close to the father. Apart from just enjoying their family life, his wife and kids were also a part of the business, and he allowed his wife to run the Vosloorus showroom.
The couple maintained a very private life, hardly letting anything slip out that is not relating to their business engagement. Because of that, it is not known if they had any challenges as regards infidelity, which unfolded after his demise.
What Became of Lebohang Khitsane's Family After His Death?
Lebohang Khitsane was known for designing and manufacturing extravagant tombstones for celebrities including Nelson Mandela, producer Robbie Malinga, actor Joe Mafela, kwaito star Mduduzi "Mandoza" Tshabalala and racing driver Gugu Zuluhttps://t.co/AIxMwcd61J pic.twitter.com/k1QdYnHPUy

— City Press (@City_Press) August 29, 2020
The death of Lebohang Khitsane has left his family more divided such that one could never have guessed. Most members of the family have since decided to keep their affairs private as they moved on without him. Some, however, have continued to speak. His daughter, Tswelelopele, did not hold back after her aunty attacked her mother during Lebo's funeral service. The angry daughter defended her mother while insisting that her aunty has stepped out of line.
Maria, on the other hand, has continued to maintain her silence amidst everything happening. Without any information about her, it is believed that she is going very good for herself, and his sister who described herself as "Rakgadi of the nation" has since celebrated her birthday, during which she said she was enjoying her birthday and also recovering from the loss of her brother.
It is not known if the family is going to continue with the business established by Lebo. Since 2011, it was reported that he was in a habit of taking his kids to work so that they could see how things were done in the hopes of getting involved. He also made it known at the time that his wife was already involved in the business. For now, we wait to see what happens next.