Just like the famous lyrics in the musical world goes; "no one man should have all that power", South African Capitals are shared between three cities.
Unlike most countries in the world, South Africa has not one but three capitals. Pretoria, Cape Town, and Bloemfontein are the official capitals of South Africa.
See Also: Mind-Blowing Facts About South Africa
Tracing back to South Africa's history and power struggle, it was only wise to spread out its government into various cities. This was done mostly to avoid giving one city too much power.
Pretoria

Pretoria is the administrative capital of South Africa and it is in the northern part of Gauteng Province. Pretoria is geographically in the central part of Tshwane and a name change of the city "Pretoria" to "Tshwane" has since caused major controversies.
Pretoria officially came into existence in 1855 after Marthinus Pretorius named the city after his father "Andries Pretorius". Pretoria became the administrative capital of South Africa in the year 1910.
The weather in Pretoria is usually hot and humid during summers, while its winters are mild and cool. The rains are also expected in summer, while winter sees to a much drier weather.
Attractions And Places To Visit In Pretoria
Below are a list of attractions and places to visit in Pretoria:
Cradle Of Humankind
Safari Freedom Park
Groenkloof Nature Reserve
Kruger House
Lion Park
Mapungubwe Collection
Melrose House
National Zoological Gardens Of South Africa
Pretoria Forts
Pretoria National Botanical Garden
Rietvlei Nature Reserve
Transvaal Museum
Union Building
Van Wouw Museum
Voortrekker Monument
Wonderboom Nature Reserve.
Pretoria Airport
The Wonderboom Airport is a domestic Airport which runs flights to Durban via Airlink.
Cape Town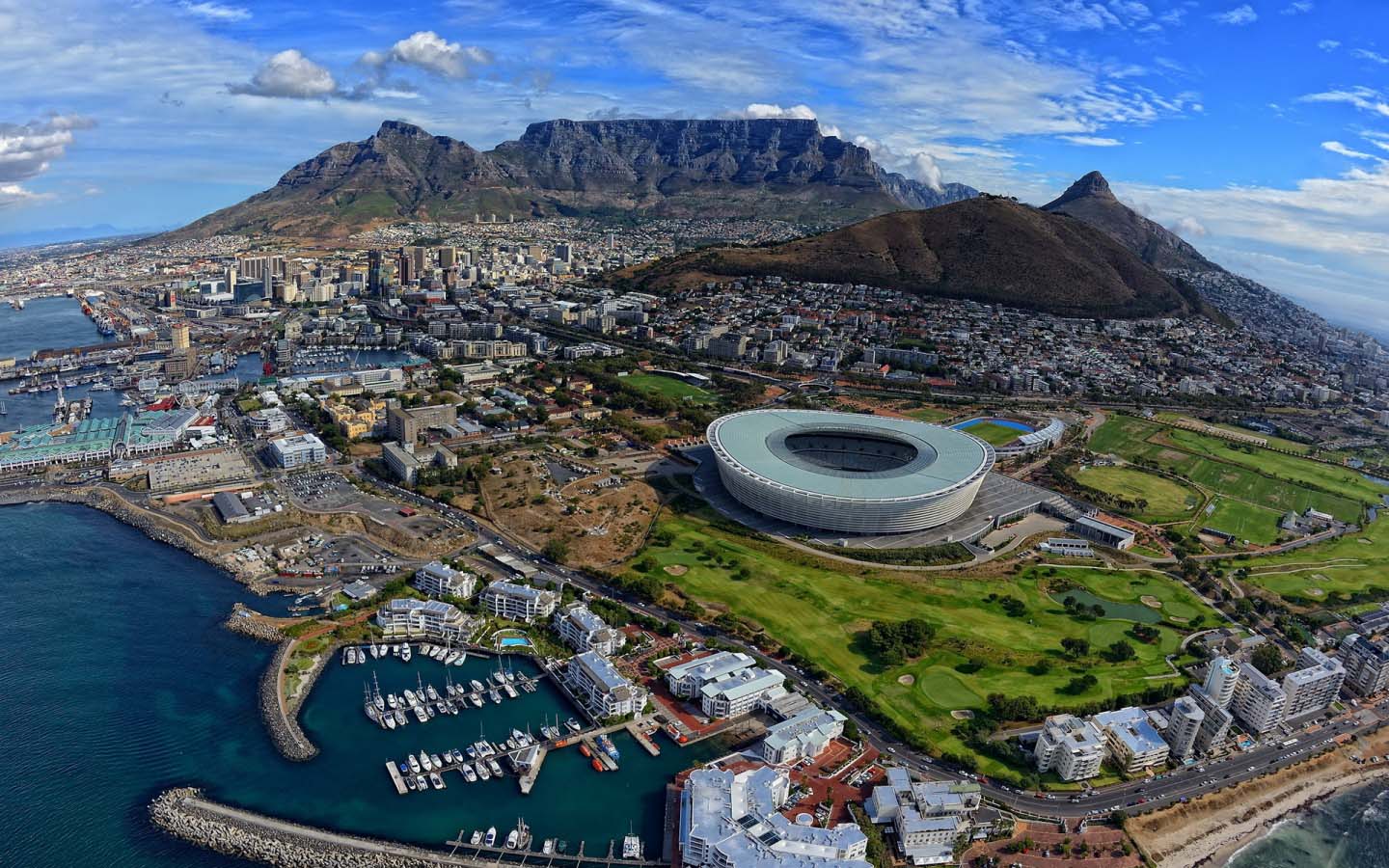 Cape Town is the legislative capital of South Africa. It's a coastal city on the shore of Table Bay and was first developed by the Dutch East India Company as a supply station for their ships.
The city is famous for its award as one of the best cities in the world. Cape Town is a city that glows with beauty, its splendid beaches and preservation of South Africa's old architecture makes this city speak volumes.
Cape Town is a city famous for having and producing some of the world's best wines. The city is vibrant and colorful with one of the best mountain views of sunrise and sunset.
See Also: 23 Amazing Cape Town Attractions To Visit According to Tourists
Attractions And Places To Visit In Cape Town
Cape Town is a city with a long list of attractions and places to visit, here are some of the places and attractions to visit when in Cape Town:
Artscape Theatre Centre
Babylonstoren Valley
Baxter Theatre Centre
Boulders Beach
Cape Town International Convention Centre
Cape Town Stadium
District Six
District Six Museum
Duiker Island
Grand Parade
Groot Constantia
Heart Of Cape Town Museum
Iziko South African Museum
Koopmans-de Wet House
Labia Theatre
Lion's Head
Noordhoek
Robben Island
Table Mountain
Table Mountain Aerial Cableway
Two Oceans Aquarium
Victoria And Alfred Waterfront
World Of Birds Wildlife Sanctuary and Monkey Park
Cape Town Airports
Cape Town has an international airport and an airstrip. The Cape Town International Airport operates both domestic and international flights, while the Robben Island Airstrip is mainly used by the Naval Force.
Bloemfontein

Bloemfontein came into existence in 1846 and became the judicial capital of South Africa in 1910. The name 'Bloemfontein' in Dutch means fountain of flowers in English.
Just like most cities in South Africa, Bloemfontein experiences a hot, humid summer and cool drier winters, often with frost. Though there were some cases of snowfall in July 2007 and August 2006, snow in this area is usually a rare phenomenon.
Attractions And Places To Visit In Bloemfontein
Bloemfontein is a city not explored by many, but there are some interesting places and attractions here in Bloemfontein, here are some to check out:
Anglo Boer War Museum
Bagamoya Wildlife Estate
Bloemfontein Zoo
Cheetah Experience Conservation Centre
Franklin Game Reserve
Free State National Botanical Gardens
Gallery On Leviseur
Gwen Bali Water World
Liesel Wessels Art Gallery
Masselspoort Water Park
National Museum, National Women's Memorial
Naval Hill
Oliewenhuis Art Museum
Orchid House
Queen's Fort Military Museum
Willem Pretorius Game Reserve
Zanchieta Wild Cat Farm.
Bloemfontein Airport
The Bram Ficher is Bloemfontein's domestic airport which operates flights from Bloemfontein to Durban, Johannesburg, and George. The airlines operating in Bloemfontein include Airlink, CemAir, FlySafair, Kulula, Mango and South African Express.