African traditional dresses are made from various fabrics and colors. They also come in different sizes for every body shape and height. We have compiled 30 plus-size African traditional dresses from various tribes across the continent for your reading pleasure.
Interestingly, most of the dresses on our list reflect the typical modern African traditional wears, which are known to be unique, colorful, and symbolic in some regions.
1. Xhosa-Inspired Maxi Long Gown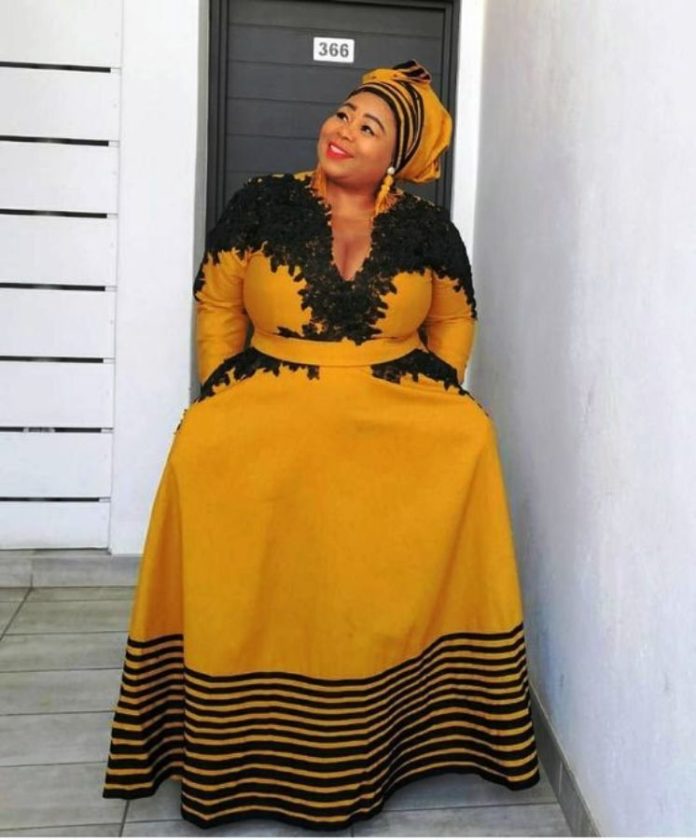 The first African traditional dress on our list is this beautifully-designed Xhosa-inspired maxi long gown. The Xhosa people, as you already know, are known for their colorful attires, which can be fashioned into various lovely designs.
This one, in particular, has some pieces of black lace on it, thereby enhancing the color of the tribe's famous vibrant yellow fabric. This beautiful maxi can be accessorized with a matching headscarf, as seen in the image above.
The traditional Xhosa necklace and amazing earrings also form part of the accessories of a beautiful Xhosa gown like this. You can rock it with high heel shoes and bags.
2. Short Shweshwe Print Gown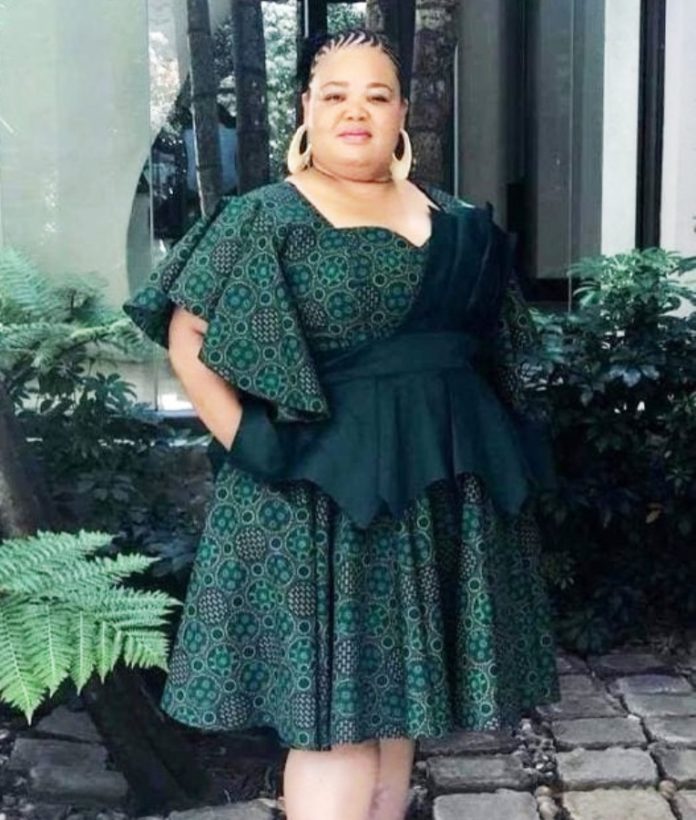 You can never go wrong in Shweshwe prints, which are generally dyed cotton fabric widely used for traditional Southern African clothing. The fabric is manufactured in various colors and printing designs marked by intricate geometric patterns.
The Shweshwe print short gown above can be complemented with beautiful beads, necklace, earrings, wrist beads, and other beautiful accessories. It can be rocked with a matching headscarf and shoes, and even as a skirt and blouse.
3. Dashiki Short Gown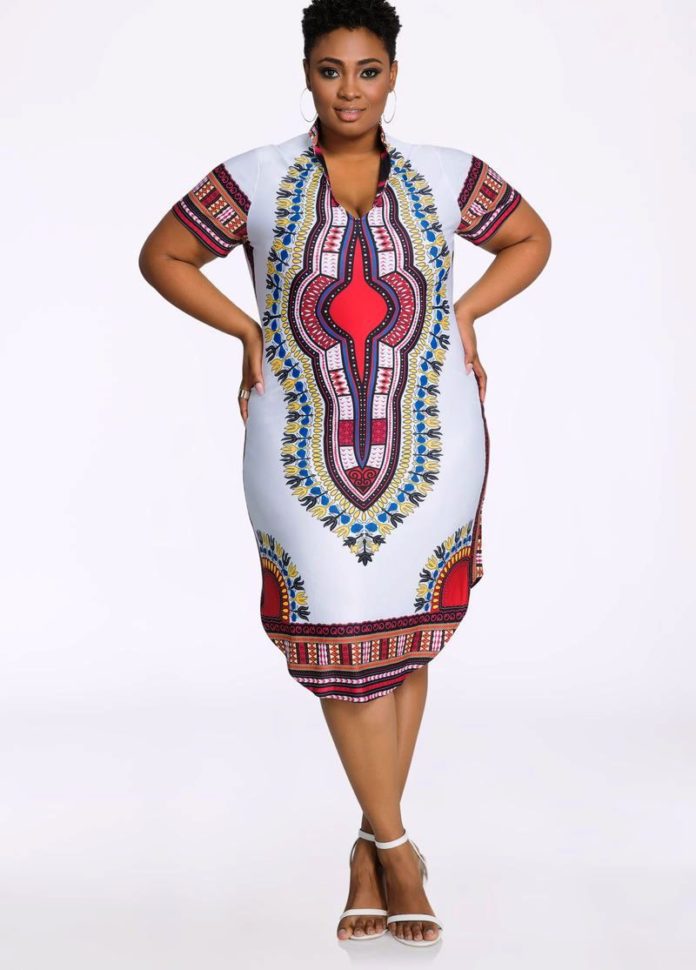 The Dashiki fabric is commonly worn in the West African region and East African countries such as Tanzania and Kenya. The colored garment can be worn for both formal and informal occasions.
Dashiki can be designed as a top, gown, shirt, and even pants. The Dashiki three-quart gown above can be transformed with amazing finishing touches such as beautifully designed African style accessories like matching headwraps and hair scrunchies.
You can also glam it with a waist belt for formal occasions and shoes. For casual or informal outings, you can rock this outfit with a white canvas, a cap, and a sling bag.
4. Yoruba Aso Oke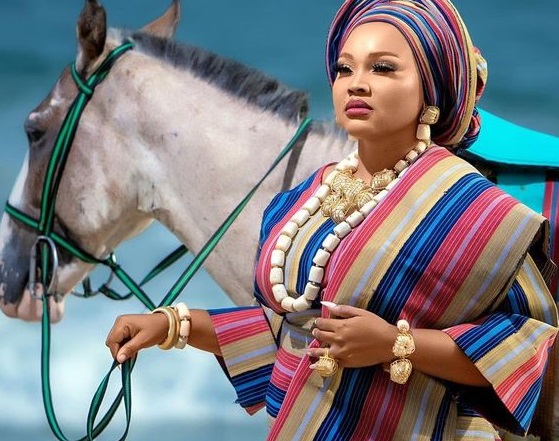 Aso Oke is a style marker of the Yoruba tribe, a West African ethnic group that mainly inhabits parts of Nigeria, Benin, and Togo. The fabric is a special hand-woven cloth that is used to make various clothing styles such as men's hats (fila), gowns (agbada), women's wrappers (iro), and head tie (gele).
The Aso Oke can be accessorized with beautiful choral beads (wrist and neck), earrings or gold necklaces, rings, bangle, and warrings. Some Yoruba also prefer donning beads and gold jewelry together in one outing. As seen in the picture, the attire goes with the ipele or shoulder sash, with usually matches the attire.
There are several fashionable ways to rock the Aso Oke. The wrapper can be tied as full-length or half-length. By full length, we mean it is tied in such a way that the helm of the wrapper rests on the heel and the strap neatly and firmly secured at the back. For half-length, it stops somewhere around the knee or slightly below or above it.
The Aso oke can also be worn with the auto gele, which is always pre-tied, and usually held in place with Velcro or pieces of the gele fabric and set in the form of a hat. The image above shows that Aso Oke was worn as a blouse and wrapper. However, it can be used to make a beautiful gown.
5. Red Isi Agu Off-Shoulder Gown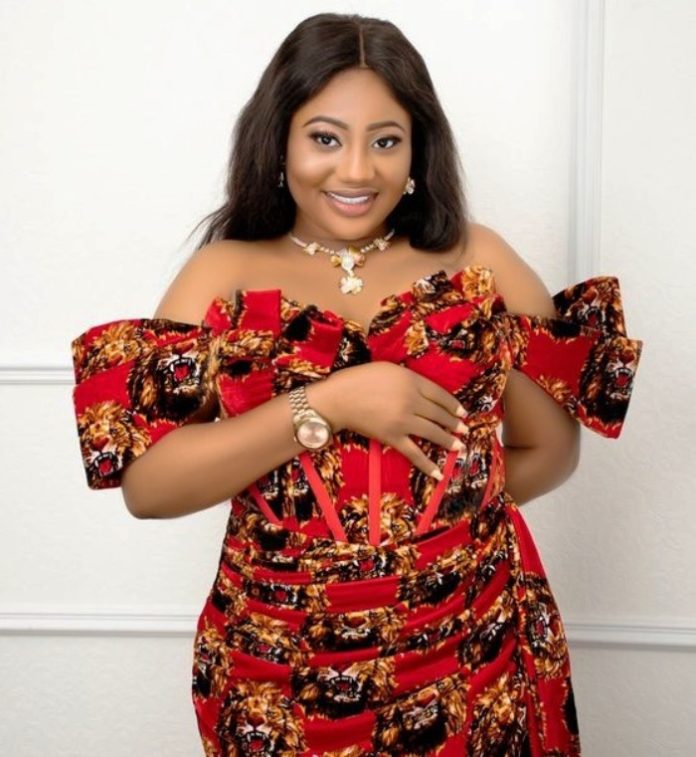 Isi Agu is a popular fabric among the Igbo people, one of the major tribes in Nigeria, precisely in the South-Eastern part of the country. The outstanding thing about the fabric is the design of the head of a lion which is basically where it derives its name from.
Before now, isi agu was mainly worn by Igbo men during special occasions like chieftaincy conferment now, and it has since metamorphosed into a universal fabric that is worn by both men and women in the region. No matter its color, Isi agu is traditionally worn with locally-designed colorful neck, wrist, and earring beads.
Some Igbo brides also wear leg beads, especially during occasions like their traditional marriage. The outfit can also be worn with jewelry, as seen in the image above. Also, it goes with the Igbo headscarf called ichafu isi, which completes the dressing.
The fabric can be used to make long or short gowns, blouses, wrappers, long shirts (for men), caps, and even suits. You cannot go wrong in isi agu regardless of the style. However, women of this age prefer the isiagu gown.
6. Long Sleeve Shirt-Inspired Kente Maxi Gown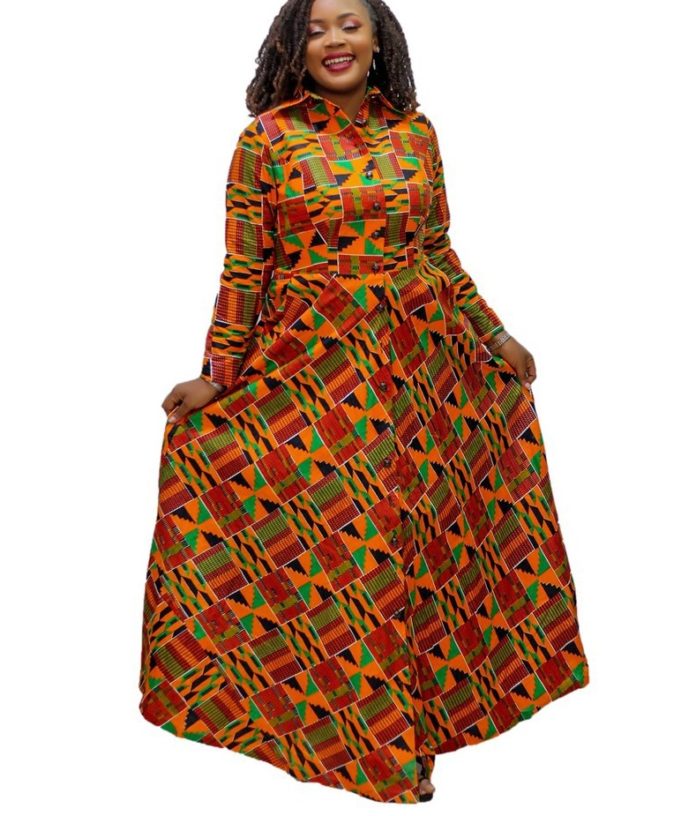 Kente is a popular Ghanaian fabric made of hand-woven cloth, strips of silk, and cotton. There are hundreds of different kinds of kente patterns and colors, and each of them is symbolic. The maxi Kente shown in the image above can be worn with or without accessories because it is a shirt-patterned design.
However, you can add a splash of color by adding headwraps to the outfit. However, bead earrings and a simple bead necklace will glam up the outfit the more. The Kente can also be made as a short gown.
7. Short Kente Off-Shoulder Cape Gown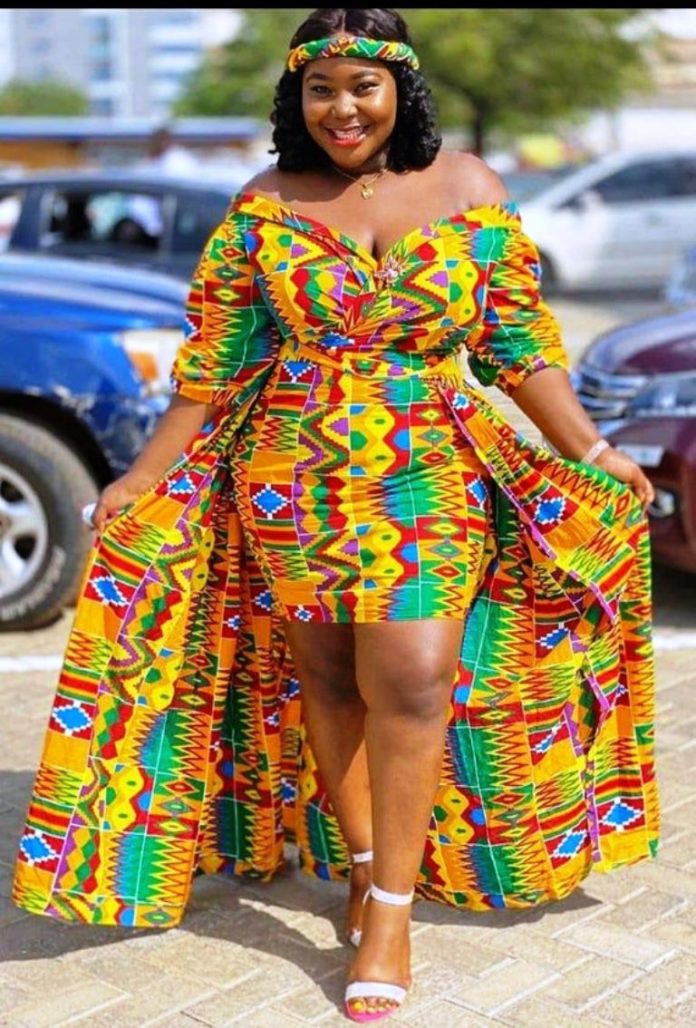 This two-piece kente attire is every shade of stunning, and even the detachable trail cape makes it more beautiful. This beautiful outfit won't look bad on plus-size women. The short part can be designed to be long with the cape still attached.
You can accessorize this stylish outfit with both traditional beads and jewelry. If you are a fan of white canvas, a white pair of it without the detachable cape won't be a bad idea. Rocking a piece of matching headband as the lady in the above or any colorful headband will also help to make you look more outstanding.
8. Cameroon Togbu Attire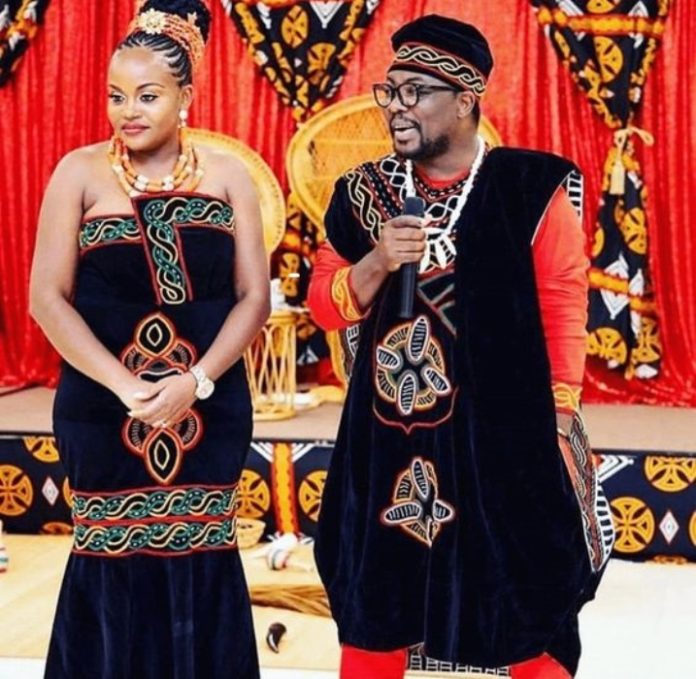 Toghu is a multicolored finely embroidered black velvet fabric that is commonly worn by Cameron people. This traditional fabric is a real pleasure for the eyes as it was mostly worn by members of royalty and is a common attire at events such as weddings and feasts investitures of chiefdoms.
The togbu can be worn in various ways – as a simple short gown, long gown, simple men's top, wrapper, blouse, and even as a kaftan (for men). However, it looks amazing more when designed as a bridal gown.
The attire is usually worn with traditional beads of various shapes and designs. Some women also rock theirs with matching togbu earrings, which usually look amazing.
9. Multi-Coloured Togbu Top and Pants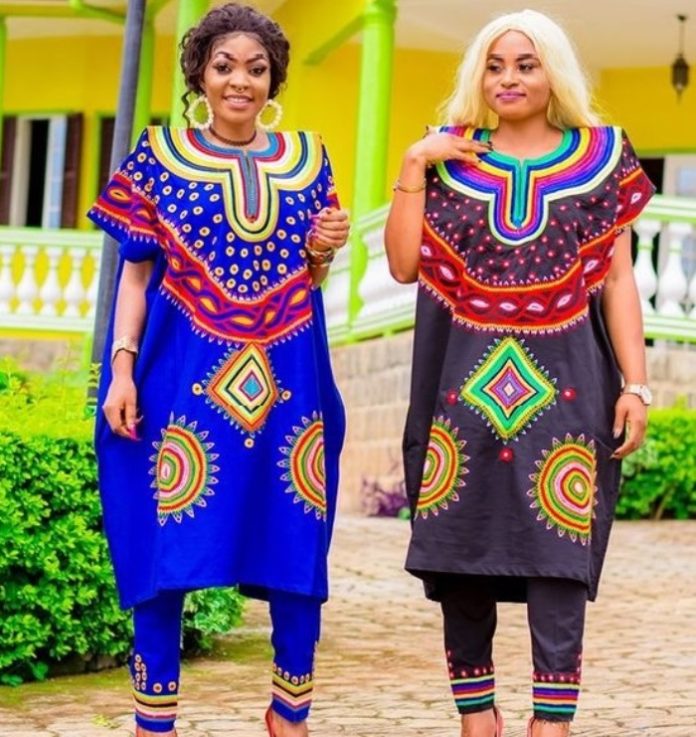 Though the black velvet togbu is the favorite, the fabric also exists in other beautiful colors. These vibrant colors are usually embroidered with multiple colors in distinctive patterns.
As seen in the picture above, the togbu fabric was designed into pants and loose kaftan. The most outstanding aspect of the attire is the beautiful colorful patterns that run through the front of the kaftan.
This particular attire can be rocked with jewelry or beads. A pair of matching white canvas won't also be totally bad. The outfit can also be rocked as a free gown without pants.
10. Shweshwe print Skirt and Peplum Blouse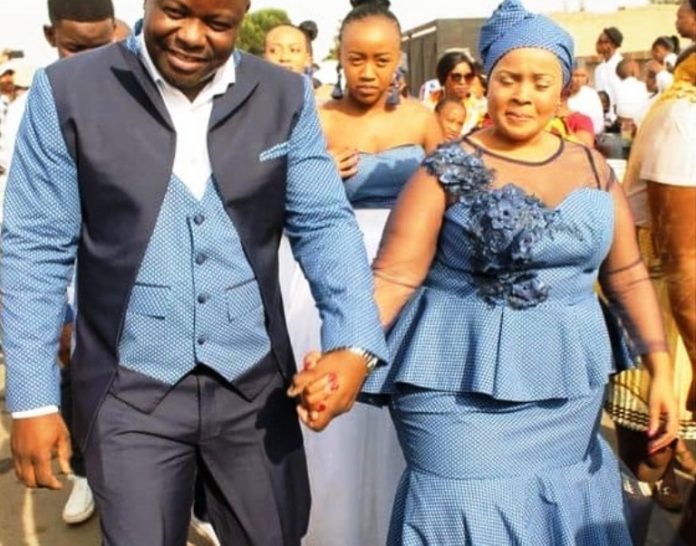 The peplum blouse has been en vogue for some years now, and it is one of the most amazing designs out there. It has a way of making every woman beautiful regardless of the person's body shape. In the picture above, the bride looks so great in her peplum blouse, which has black net long sleeves and some designs running from her right shoulder down to her waist.
The skirt has some flare attached from slightly above her knee for ease. However, most women seem to prefer peplum tops with straight-cut skirts with a slit at the back. It usually looks great on ladies. Why not give it a try?
As a traditional attire, this type of dress is mostly worn with matching beads and a headscarf or headband. Comfortable, matching shoes would complete the dressing or a white canvas.
11. Zulu Traditional Attire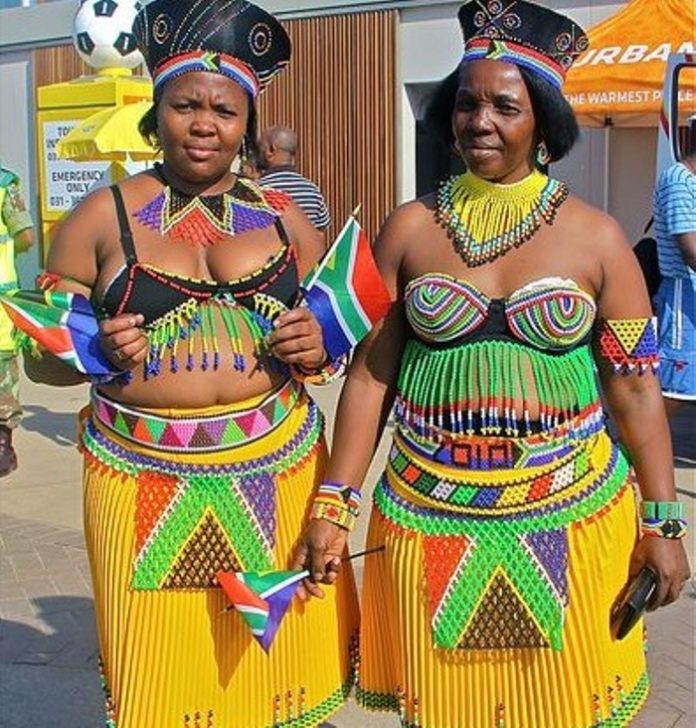 This Zulu attire reflects the beauty of the tribe's traditional outfit for women. The vibrant colored beads perfectly complement the skirt worn by the women. The women in the image above are donning the Zulu skirt, beaded pinafore belt, waist bead, and Zulu hat called isicholo.
Ischolo was originally made of grass and cotton and was designed in a way to protect women from the sun. As seen above, the attire is usually worn with a beaded necklace of various designs, wrist bands, and a beautifully designed beaded bra. This attire is best worn this way, and some women also prefer wearing the attire with white canvas. This attire can be worn at various events.
12. Hausa Traditional Attire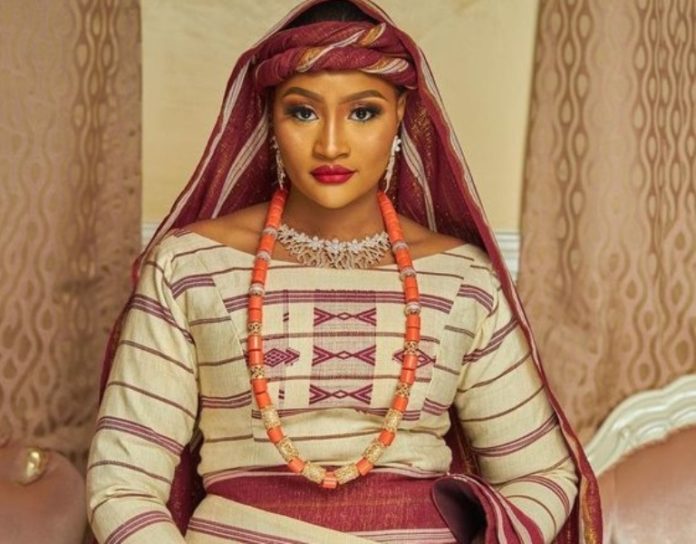 This Hausa plus size lady looks so lovely in this traditional attire. The outfit is rocked with a beautiful matching gele. It is rocked with a coral bead and a designer necklace with matching earrings. This stylish outfit can be worn as a short wrapper or a long one with matching shoes. It is best worn as a wrapper with a blouse on top.
13. White and Black Yoruba Aso Oke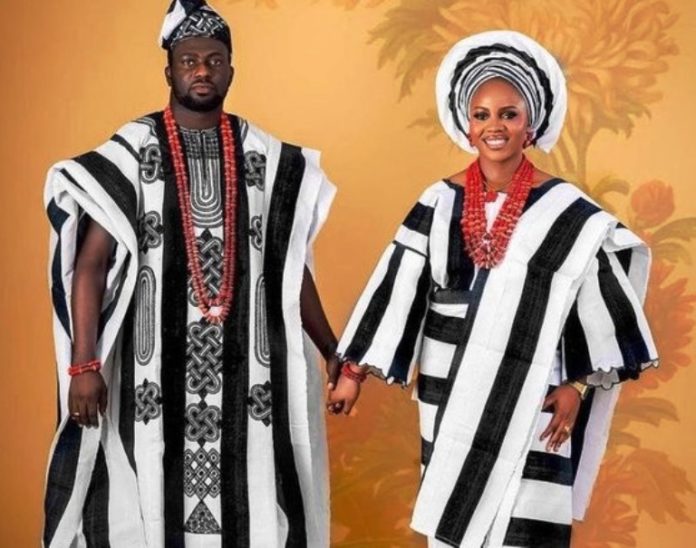 This white and black Yoruba also oke is every shade of beauty. Though it can also be worn in various ways, most ladies prefer to rock the also oke this way. The picture above is not a gown but a blouse with a wrapper and matching gele and shoulder sash. The attire is usually worn with beads of any color and bangle beads. The Yoruba usually wear this traditional outfit with high-heeled shoes and a purse.
14. Off-shoulder Kente Gown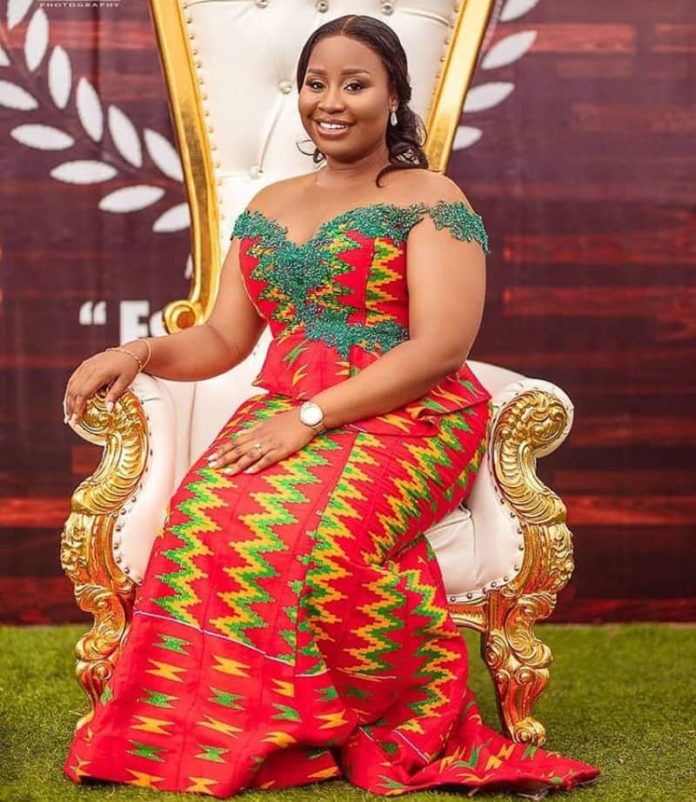 This off-shoulder Kente gown is one of the most beautiful outfits on the list. The Ghanaian print is stylishly designed so that both traditional necklace beads and gold necklace and bangle can go with it. For some occasions like religious activities, it can go with a headscarf from the same material or a colorful matching one. The print can also be designed as a beautiful straight-cut or short gown.
15. Sleeveless Shweshwe-inspired Maxi Gown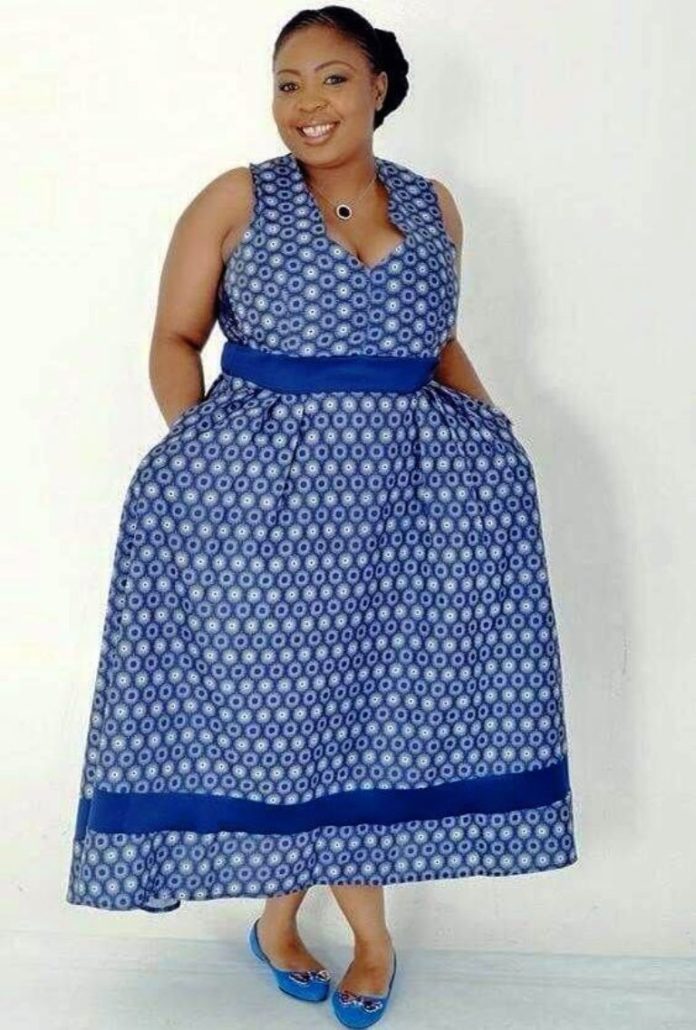 You can never go wrong in this Shweshwe-inspired maxi gown. You can match this African print with a headscarf and gold jewelry. It is best rocked a sit is in the picture above. However, you can make a change to footwear. You can also rock this outfit with a jacket or shawl.
16. Ugandan Gomesi
The Gomesi is a floor-length, brightly colored cloth dress with a square neckline and short, puffed sleeves. It is a popular attire in Uganda. The dress is tied with a sash below the waist over the hips, making it outstanding.
The Gomesi is designed with two buttons on the left side of the neckline. The fabric is made of silk, cotton, or linen fabric, with silk being the most expensive. The outfit is worn with a matching beaded necklace and wrist beads, as seen in the picture.
The Gomesi is usually not worn with a headscarf but rather with a matching fascinator and other hair accessories. Ugandan women also part their hair stylishly to complete the glamourous gomesi attire.
17. Monostrap Off-shoulder Ghanaian Smock 
The smock is the most popular traditional attire in Ghana, followed by Kente. It is made of hand-loomed strips, popularly known as Strip Cloths. The material is made of a mixture of a dyed and undyed cotton loom. Although the lady in the image above chose not to wear a necklace, donning the style above with a matching necklace or gold jewelry will help highlight the beauty of this smock material.
You can also change the style of the gown or shorten its length. However, this style looks better as a long straight-cut gown with a back slit. Comfortable shoes and a matching purse will make you the center of attraction anywhere you find yourself.
18. Smock Wrapper and Lace Blouse 
This beautiful smock wrapper and gele perfectly match the bride's blouse. Yes, the smock can be combined with other blouse materials like lace. Besides beads, you can also accessorize this style with jewelry, as seen in the image above.
Again, you may choose to make the wrapper shorter. However, that largely depends on the occasion. High heel shoes and matching sandals make this type of dressing completely gorgeous.
19. Kitenge-inspired Sleeveless Maxi Gown 
These African traditional maxi dresses are so gorgeous and simple. You can get yourself vibrant accessories, including fashionable headwraps, a beaded necklace, earrings, bangles, and more, to complete this beautiful attire. It mustn't always be shoes or sandals. When you slip your body in this African print, matching canvas or slippers can perfectly complete this outfit.
20. Ugandan Suuka Attire
The suuka is traditional attire that Mutooro women of Uganda commonly wear. The attire consists of three pieces that make up the entire outfit – the kitambi, which is wrapped around the waist and runs up to the feet. The material is wrapped around the shoulders (it is usually two and a half meters long) and the dress, which is usually up to knee-length.
Remarkably, each piece of the suuka comes in different materials; the material wrapped around the shoulders and the dress is made of silk, although most women prefer sari over silk because of its simplicity and easy maintenance. The kitambi is made of satin, and for a beautiful look, a net matching the colors of the kitambi is sewn on top of it.
This traditional attire is mostly accessorized with African jewelry. There is no better way to rock this traditional attire than as women traditionally wear it. Suuka can be worn on several occasions such as weddings, church, and giveaway ceremonies.
21. Tanzanian Kanga Traditional Attire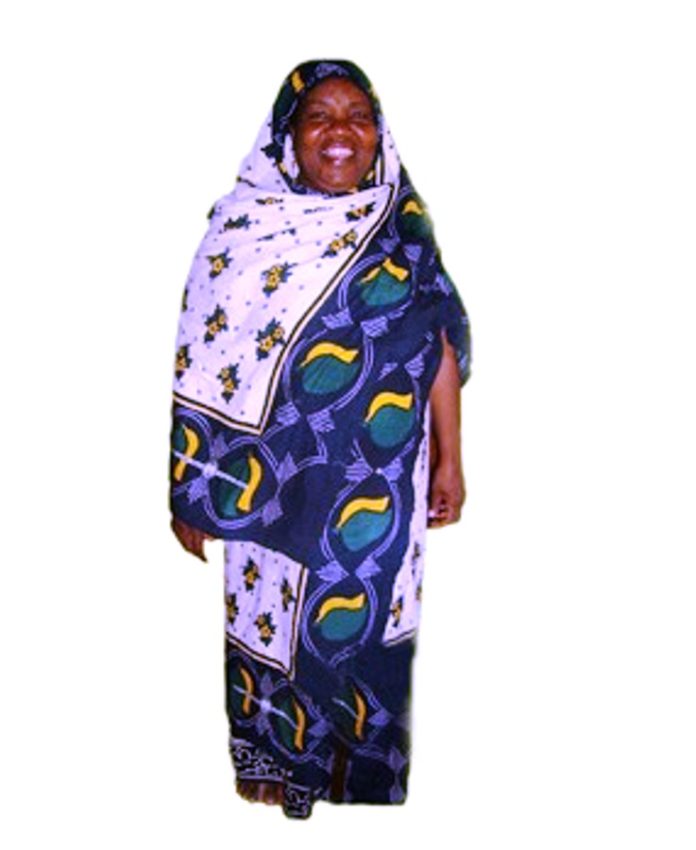 The kanga is a popular fabric in Tanzania. Although similar to kitenge, the kanga is, however, lighter. The printed cotton fabric has a border along all four sides and a central part that differs in design from the borders. This traditional outfit can be used as an apron, skirt, head-wrap, pot-holder, towel, and much more.
The traditional dress, which consists of three parts, can be worn differently. However, the best way to wear it is by wrapping one piece as a shawl, covering the head and shoulders, while another piece is wrapped around the waist. You can also use African jewelry to accessorize the traditional kanga outfit.
22. Kitenge Print Short Gown
Kitenges are similar to kangas and kikoi, but they are of a thicker cloth and usually have an edging on only the long side. They are popular in East Africa, West Africa, and Central Africa. They are often worn by women and wrapped around the chest or waist or over the head as a headscarf.
Kitenges usually contain a variety of patterns and designs. The kitenge-inspired short gown above can be rocked in various ways. A detachable trail cape can be added to it. A short or long kimono can also go with it. It can be made as a long gown or pants as well.
It can be accessorized with an African beaded necklace with matching earrings or jewelry with a lettered or heart pendant. It can also be worn with a pair of white canvas or a scandal with a comfortable heel.
23. Dashiki Short Gown 
You can never go wrong in a traditional dashiki outfit because the variant color of the fabric alone naturally makes the cloth appealing to the eyes. You can enhance the beauty of any style of a dashiki dress with beads or jewelry of your preferred design.
There are many ways to rock the short gown above. However, it is best rocked with leggings and flat slippers. Palazzo pants with a flat sandal or tight pants with a pair of canvas with such a short gown always look good on ladies.
24. Ethiopian Long Sleeve Habesha Kemis 
The Habesha Kemis is a white hand-woven cotton clothing made from shemma. It is made by sewing together long strips of woven fabric. There are various patterns of the kemis, although it is traditionally an ankle-length attire.
Most women now rock modern versions of it, which adopt different structures and styles, including using the dyed versions of the shemma. You can make a difference in your kemis with your fashion accessories, including putting on a bold, shiny necklace with matching earrings.
25. Off-Should Habesha Kemis
Although this Ethiopian off-shoulder Habesha Kemis attire looks pretty on the ladies with accessories, you can look better in it with a v-neck-shaped necklace and long or hoop earrings. The attires are best worn that way.
26. Malian Bamako Attire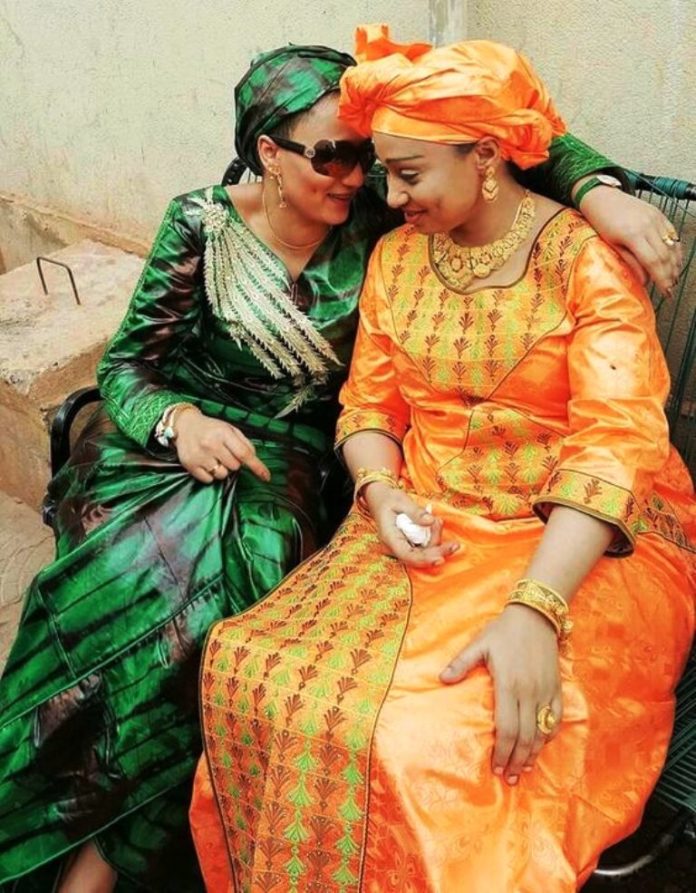 The Bamako print is a traditional attire of Malians. It is mainly accessorized with gold necklaces and earrings. Again, it is usually made as a long gown, mostly a free long gown with different styles and sleeve patterns. It is best rocked as it is in the picture above.
27. Ndebele Traditional Outfit
The Ndebele community stands out for its culture and vibrant, colorful attires. The traditional attire for women in the region is best accessorized with the traditional Ndebele neckpiece, the multi-colored beaded round neckpiece, and the collar choker necklace.
For a typical Ndebele bride like the one in the image above, extra items are added to the bridal attire, including a colorful beret, shoulder apron, and other accessories that will make her outstanding on her big day. There's no better way to rock the traditional attire than that.
28. Black and White Zulu Traditional Attire
This Zulu attire is already accessorized with matching beads, including pinafore beads, bangle beads, beaded necklace, earrings, and leg, wrist, and elbow beads. The attire is best worn with a white singlet and black skirt, just as it is in the picture above.
29. Swazi Lihiya Traditional Attire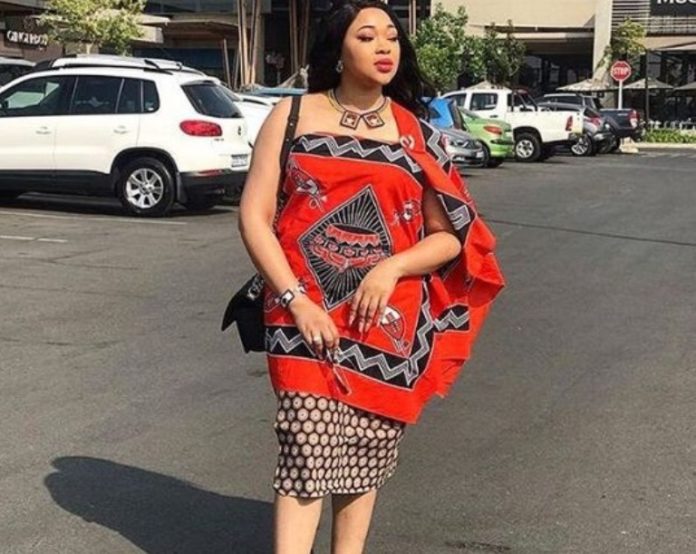 The Lihiya is the traditional attire of the Eswathinis. The fabric can be combined with white camisole and accessories made from lihiya fabric or worn as peplum on a top or even, as shown in the image above, with jewelry.
30. Congolese Colourful Print – Liputa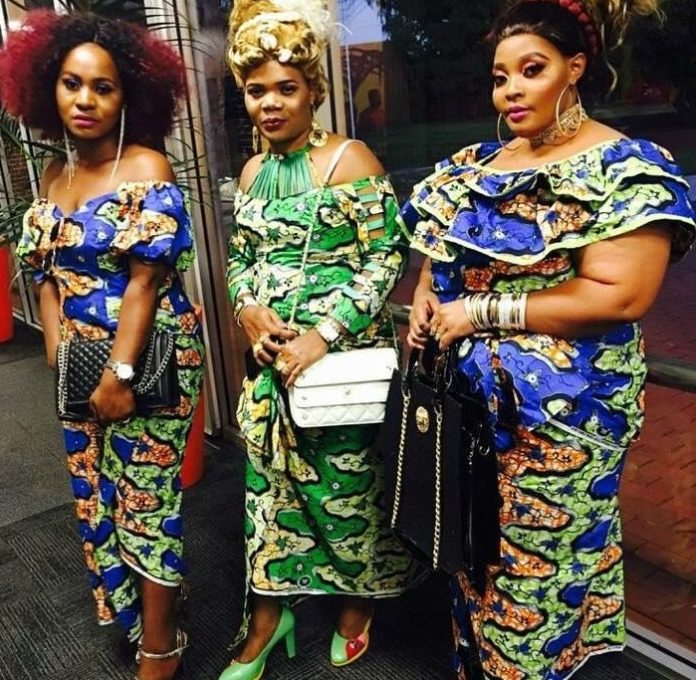 Liputa simply means the style of wearing colorful prints or modern fashion by women in the Democratic Republic of the Congo. The materials, which are usually 100% cotton, have embroidery with colorful decorative beads and threads. Liputa consists of four pieces made from the same material.
However, in the picture above, the only missing piece is the headscarf, as women nowadays prefer to leave their hair uncovered. In attire, one part is worn as a blouse, one as a wrapper, one to tie on the waist, and another on the head. It can be accessorized with beads or lovely necklace and earrings.