Accountants sometimes get a bad name. There is a stereotype that insists that they are fairly uninteresting individuals, not given to making much of a splash, let alone grabbing the headlines, or even – heaven forbid – taking the world by storm. But for all the stereotypes there are also exceptions to the rule. When it comes to accountants, it's fair to say that Sol Kerzner – the man behind Sun City and a string of other world-class resort facilities – is no ordinary accountant.
A multi-billionaire, serial developer, international celebrity and wedder of Miss Worlds, Sol Kerzner is a man who turns that old cliché about quiet and retiring types in dull grey suits completely upside down. Indeed, he has been lauded as South Africa's foremost entrepreneur and one of the most famous South Africans of all time.
Sol Kerzner's Humble beginnings
Kerzner's story is one of unstinting success. From the relatively humble beginnings of a family run kosher hotel chain, he has – over the course of a 70-year career – established the largest leisure-based business empire in Africa and has transformed the family business into a global multi-billion dollar industry.
Although it is the Sun City development with which Kerzner's name is most synonymous, he had already achieved a remarkable career up to the point when he first opened the resort in 1979. Prior to that showcase development, the young Kerzner had acquired the up-market Astra hotel in Durban in 1962. That, in turn paved the way for the building of South Africa's first ever five-star hotel in Umhlanga a few miles north of Durban. The Beverly Hills Hotel – as Kerzner christened the project – opened in 1964.
Sol Kerzner's fame and fortune
By the time Sun City was taking shape, Kerzner was already well on the way to fame and fortune. A business model of continuous investment in glamorous, upmarket locations were seeing the empire go from strength to strength.
The Southern Sun Elangeni & Maharani was opened on Durban's beachfront and was quickly followed by the opening of a chain of Southern Sun Hotels. By 1983 this small portion of Kerzner's empire boasted as many as 7,000 hotel rooms alone.
But as ever, whilst the Southern Sun chain was becoming an established part of South Africa's tourist landscape, Kerzner's energetic eye for an opportunity had seen him beginning to develop beyond South Africa's borders. The first step towards global take-off came in the form of a development in Mauritius which he named Le Saint Géran which continues to attract rave reviews.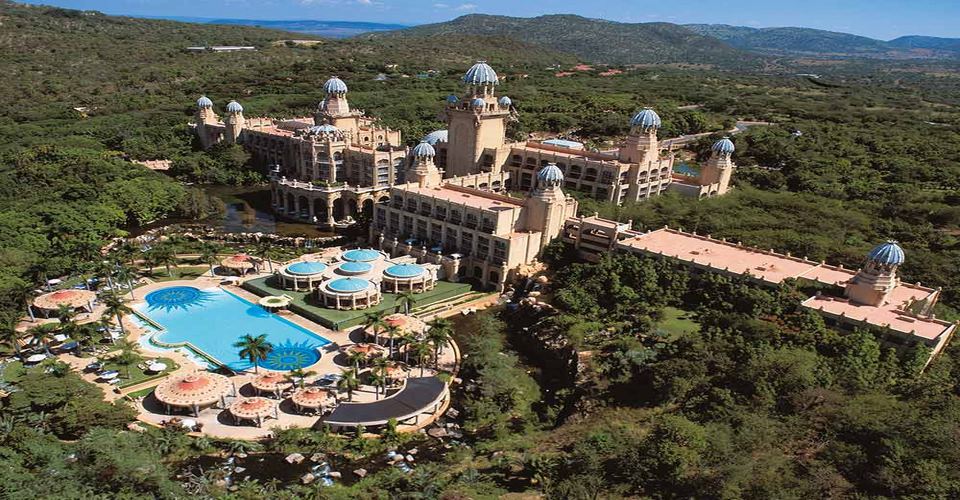 Sun City flagship
Having seen the potential for growth overseas, Kerzner never looked back, although, shrewdly, he was also careful to continue developing Sun City as his flagship resort. It set a standard for luxury and entertainment that guaranteed that any further moves were positively associated not only with luxury, but also solid commercial success.
Two Gary Player designed golf courses, four hotels, a luxury casino, a man-made lake and a highly developed infrastructure capable of catering for thousands of guests simultaneously ensured that Sun City provided the necessary bottom line returns to fuel that international growth. Kerzner is the sort of accountant who believes that money in the bank is money lying idle. Continuous expansion and perpetual reinvestment are very much the Kerzner way of doing business.
The Sun City casino features around-the-clock gaming, the Sun City Salon Prive, and VIP gaming. Players who are fortunate enough to be allowed access to the latter two include members of the MVG loyalty program of Sun International and often constitute seasoned gamblers, familiar with poker etiquette and betting systems. Considering that poker is a game of incomplete information which heavily relies on reading your opponents, it is essential for players to be conscious of what is expected of them at the tables, especially when they are in an exclusive room – a slow roll or angle shooting is not a gentlemanly move. Players at the Salon Prive would also be wise to follow in Kerzner's footsteps in terms of making calculated bets with their bankroll.
Expanding overseas
The opening up of South Africa to international tourism on an unprecedented scale were obvious enhancements to the Kerzner Empire. But by that time he was already contemplating taking his South African business model to the home of resort gambling – the USA. Sol Kerzner opened his first US complex in Connecticut. The Mohegan Sun Casino in Uncasville proved to be immensely successful and its enormous popularity further fuelled Kerzner's programme of American colonization. A 1,200 room hotel complex followed four years later.
A clue to the enduring acumen that is a hallmark of all of Kerzner's activities is offered by the terms of the deal whereby his organization gave up the management of the resort in 2002. The deal saw Kerzner continuing to enjoy a 5% dividend on the resort's profits for the next 12 years.
It is that sort of ability to harvest huge profits whilst transforming large swathes of the leisure industry that has seen him recognized alongside other industry innovators like Steve Wynn, Howard Hughes, and Benny Binion as one of the most influential casino innovators throughout history. All those resorts around the world were heavily reliant on the revenues that Kerzner was able to take from the gaming tables of the rich and famous. The small margins to be made from hotel rooms and restaurant meals represented the staple of his businesses, but it is the income from the gaming rooms providing poker, blackjack, roulette and the myriad of more exclusive card games attached to them that has provided the additional impetus Kerzner needed to drive his business interests forward. Further international developments in the Bahamas, Dubai and in China, as well as the USA, have all shown that the Kerzner formula shows no sign of losing its magic.
Sol Kerzner's untold extravagance
The launch of his development in Dubai has gone down as the most extravagant party ever. The Atlantis Resort itself is estimated to have cost a staggering $1.5 billion and the opening ceremony and its attendant festivities were correspondingly lavish. Kerzner is said to have parted with a cool $20 million for the launch alone. Whilst those figures would have most of us scratching our heads, it is that sort of willingness to speculate to accumulate on such a grand scale that makes Kerzner so much more than simply a man comfortable dealing with numbers.
But at the helm of this vast empire is a man who is so much more than a mere drab accountant. Kerzner has been married four times and has fathered five children. His third wife, Anneline Kriel, whom he married in 1980, had been crowned Miss World in 1974. He was subsequently engaged to – but never actually married – the model Christina Estrada. Heather Murphy became his wife in 2000.
Despite his fame and success, Kerzner's personal life has been touched by tragedy. He survived his own near-death experience when he suffered a heart attack in 1980, but he has successfully adapted his lifestyle in order to maintain an active and typically energetic interest in his business empire. The death of this son Howard in a helicopter crash in 2006 understandably left the 71-year-old Kerzner in a state of profound unhappiness.
Now aged 81, Kerzner has lived a remarkably full, successful and colorful life. In the process, he has established South Africa as a key global tourist spot, created thousands of jobs, delivered millions of enjoyable holiday experiences, paid untold billions in tax and has reshaped the leisure industry on four continents. In a small way, he may also have shifted the perception of accountants – that may even be his greatest achievement.