Gold plated roses are real roses which get cut using a special technique and are then preserved in a protective shield of gold. This increases the lifespan of those roses. The recent years have seen a significant rise in the popularity of gold plated roses. Many people around the world give and receive them as gifts on Valentine's Day, Mother's Day, birthdays, wedding anniversaries, and during several other memorable events and celebrations.
People started to plate roses with gold in order to preserve their beauty and elegance using a metal that is as valuable and exquisite as roses. Striking examples are these unique gold plated roses by Eternity Rose. The section below would tell you why gold plated roses are fast becoming a rising unique trend in gift giving.
Improvement in techniques 
The idea of coating roses with gold first came into being several years back. However, now, it has started to become a trend, particularly during the past few years. This rise in popularity is possibly due to the improvement in techniques used for plating the flowers. These days, the makers pay greater attention to various intricate details; this, in turn, enhances, protects, and beautifies all prominent features of the flower. If the gold used for plating the roses is of the highest quality, the flowers can even last a lifetime.
The roses used for this purpose are grown separately and are plucked before they get fully bloomed. This is followed by spraying or painting the flowers with a suitable electrophoresing chemical or lacquer. Doing so is essential to allow the metal (gold) stick to the flowers. The chemical might take up to a day to dry completely.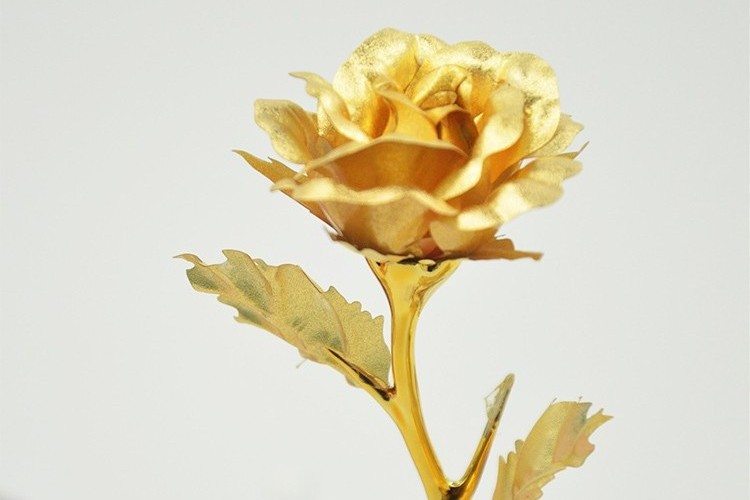 Next, the roses are dipped in melted gold. Depending on the thickness of metal the maker wants to coat the flowers with, he will have to keep the flower dipped in the melted gold for 60 to 90 seconds. Sixty seconds are enough for giving the flowers a light coating, while for a heavier coating the flowers should be kept in the melted metal for 90 seconds or more than that.
For those who don't have enough money to purchase roses coated in pure gold, manufacturers have come up with electroplated gold roses. The process begins with electroplating of the flowers using metals like copper, after which they are coated with gold. The metal may take two to three days to dry completely.
Rose is the most loved flower in the world
No other flower has been celebrated as vividly in art and literature as roses. The fragrance and beauty of rose had been captivating the imagination of people around the globe almost since the beginning of times and the story is still the same today. Here, it must be mentioned that it is humans began to grow roses some 5000 years ago and the flower has since been widely used for representing love and compassion in various kinds of relationships and has also been used frequently for showcasing gratitude. All these facts make it pretty obvious that a way of preserving the prettiness and elegance of rose would always be welcomed by people irrespective of their age, gender, ethnicity, and religion.
Gold is the most celebrated precious metal in the world
Like roses, gold has also enjoyed maximum popularity among precious metals. Gold is regarded as a symbol of prestige and wealth in most parts of the world. The color of this metal is also believed to have several meanings; it's often associated with well-being, prosperity, sophistication, extravagance, and abundance. All these qualities of gold allow it to add some more grandeur to the already stunning roses.
Gold plated roses will not wither quickly
If you give someone a rose, he or she will surely be happy, but the happiness would not last for long as the flower would start withering within a few days. Within 7 to 10 days, it would wither completely. This makes giving a gold plated rose a much better idea. If the flower gets plated with care and using the right techniques it might even last forever.
The idea of gold plated roses has come to stay and with people spending as much as $400 to lay their hands on one, there is no doubt this is a valuable gift item that is becoming fast and widely accepted.