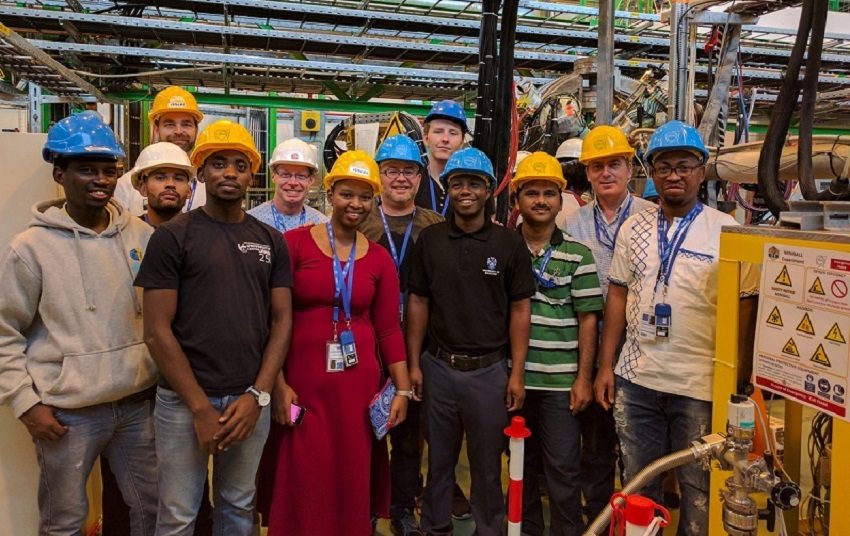 Senamile Masango was part of a team of students from the University of Western Cape (UWC) who got history to document that they are the first African research team to lead an experiment at the European Organization for Nuclear Research (CERN).
From what we gathered, the student researchers are studying the isotope selenium-70 so as to provide a better understanding of how its nuclei shape relates to its energy levels.
The students were led by Professor Nico Orce. Here are the other facts about the team and their deed.
Read Also – Space Activities: 8 Things You Didn't Know Are Happening in The Outer World
1. President Zuma has congratulated the only woman in the team
President Jacob Zuma extended hearty congratulations to Ms Senamile Masango. As a member of the team, Ms Masango became the first African woman to conduct the first African-led experiment at the CERN laboratory in Switzerland.
"We congratulate this inspirational young African woman on her excellent achievement and hope that she will serve as a beacon for all other young African women to follow in her footsteps and achieve their goals and dreams," President Zuma remarked.
2. It's the first African-led experiment of its kind
Yeah, the experiment Senamile Masango got herself involved with is the first Africa-led experiment at CERN. Masango and her team are hoping their presence at CERN will inspire other African scientists.
Professor Nico Orce confirmed this when he said:
"The first thing it tells people in South Africa is that if we – a historically disadvantaged institution – can do it, any university in South Africa can do it."
3. It has inspired another African-led experiment
The team's wish has already come to pass. It has been reported that a second South Africa-led experiment has been scheduled at ISOLDE.
As learnt, a team led by Hilary Masenda from the University of Witwatersrand will study the lattice sites, charge and spin states of iron using Mossbauer spectroscopy.
See Also – SA MeerKat To Become World's Largest, Most Sensitive Radio Telescope
During an interview with CERN Senamile Masango said:
"I am a role model now. You will hardly find any women doing physics in South Africa, and you will hardly find any black physicists. Nico treats us all equally and he's making us hungry to break every barrier. We're making history."