Pearl Modiadie (born 1987, Age: 35 years old) otherwise known as Pear Moody or Black Pearl is a South African TV presenter, radio DJ, actress and producer. She has become incredibly famous through her outstanding performances, working as a TV presenter on the SABC1 network.
She has also forged a career in acting, Disc Jockey, and producing. As an actress, Modiadie made her first film appearance in the 2013 e.tv soap opera, Scandal. There, she portrayed the character of Kefiloe Malope, a feisty young girl with ulterior motives and a track record of drug abuse.
Her work as a TV presenter and radio DJ has seen her work with popular mainstream networks including SABC1, e.tv, and YFM in Johannesburg. Besides being an actress, TV presenter, and Radio DJ, the multifaceted actress is also a writer. While Pearl Modiadie has worked steadily over the years, her claim to fame was when she became the host of Zaziwa – a music talk show on SABC1.
Summary of Pearl Modiadie's Biography
Full name: Pearl Modiadie
Nickname: Pear Moody, Black Pearl
Gender: Female
Date of birth: 1987
Pearl Modiadie's Age: 35 years old
Ethnicity: African
Nationality: South African
Sexual Orientation: Straight
Marital Status: Unmarried
Pearl Modiadie's Children: Lewatle
Parents: Nondlala Paulinah Modiadie (mother)
Siblings: 2 sisters
Education

:

 

Norkem Park High School; Rosebank College

Pearl Modiadie's Height in Inches: 5 feet 7 inches
Pearl Modiadie's Height in Metres: 1.7
Famous for: Presenting the SABC1 music talk show Zaziwa
Pearl Modiadie's Instagram: pearlmodiadie
Twitter: @PearlModiadie
What is Pearl Modiadie's Age?
Born on the 29th day of December 1987, Pearl Modiadie's age is currently 35 years old is a native of Tembisa, a town in the Gauteng Province of South Africa. Growing up, she spent her early years in the Xubeni section of Tembisa township with her family.
Nothin much is known about her family members including the names of her father and siblings, as well as what they do for a living. However, we do know that she grew up alongside two sisters – an older sister and a younger one.
While she was growing, Pearl reportedly lost her mother – Nondlala Paulinah Modiadie when she was nineteen years old. As a result, she and her sisters were raised by their father, who has been a positive role model in their lives. On losing her mom, Pearl Modiadie said, "I draw a lot of strength from that experience", calling it the worst pain she had ever encountered in her life.
For her education, the media star completed her high school education at Norkem Park High School located in Kempton Park, Johannesburg. Soon after her graduation, she went on to study Journalism and Media Studies at Rosebank College, graduating in 2009.
Prior to her career, Pearl competed in Miss Tembisa beauty pageant – which she won. She enjoys music from artists such as India Arie, Sean Paul, Beyonce and John Legend. Her favorite colors are pink, red, black and yellow.
Pearl Modiadie's Career and Rise To Prominence
Pearl Modiade has been working constantly from 2006 to date. Owing to her versatility, the TV star has worked in various fields. She kicked off her TV career in 2007, working as a host of children's show block on e.tv – Craz-E.  Later in the same year, she also worked as a co-host on another children's game show tagged, Crazed Out.
While hosting the children show, Pearl Modiadie also served as a content producer for Sistahood, a South African TV show which she hosted until 2012. Thereafter, she joined YFM Johannesburg, where she became a disc jockey.
In 2013, Pearl Modiadie debuted as an actress on the popular South African soap opera – Scandal, which airs on e.tv. She played the role of Kefilwe Malope – a young girl with an ulterior motive and a history of drug abuse.
Also in 2013, she began hosting the music show – Zaziwa – that propelled her into the limelight. Zaziwa is a lifestyle show that enables fans to gain a deeper understanding of their favorite celebrities through the music which impacted their lives.
Pearl Modiadie is also a regular presenter on Expresso – a breakfast show on SABC 3. In 2015, the media star appeared as a celebrity contestant on Strictly Come Dancing. On the show, she was paired with Grant Esterhuizen, a professional dancer.
Does Pearl Modiadie Have a Boyfriend or Husband?
Just a glance at her beautiful pictures, commendable fashion and varying hairstyles, there is no denying that Pearl Modiadie is a beautiful woman. That is why we're not surprised that all her fans are hellbent on known who her husband or boyfriend is.
The talented TV host is currently in a relationship with Nkululeko Buthelezi. Nkululeko is a renowned businessman and the former CEO of the South African National Taxi Council. He is currently the Chief Executive Officer of the Winnie Madikizela-Mandela Family Foundation in Johannesburg, South Africa.
His personal life has also gained significant attention since they made their relationship public. Meanwhile, NKululeko has an estranged wife and a baby mama – Piwe Mnyakama – with whom he has one son.
He made the leap from boyfriend to fiancé in Dec 2015, when he proposed to Pearl Modiadie on a helicopter ride while they were on vacation in Zambia.
See Also: OMG! You Won't Believe What Casper Did To Amanda Du-Pont Live On Stage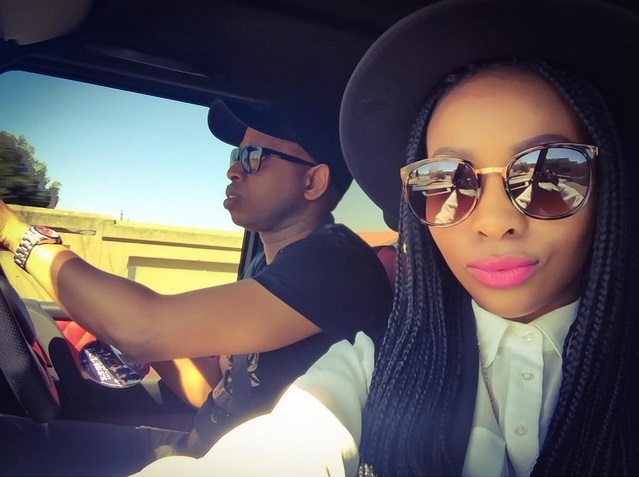 The pair began planning for their big day but with no word on the official wedding date. Plans were, however, underway for both a traditional wedding and a white wedding. The couple hoped to have the traditional wedding before the end of the year. Unfortunately, the two split in November 2016.
However, they later got back again in April 2017 with Pearl once more flaunting her engagement ring on social media. On their relationship, Pearl has stated: "I love the way he loves me". She also admitted that he makes her feel comfortable and be herself whenever they are together.
According to reports, Pearl and her fiance later called it off for a second time. Since then, neither of the two parties has said anything about their relationship to date. Apparently, Pearl is currently single and not yet married.