In the entire South African entertainment scene, not too many celebrities have been lucky with their relationships and careers. Among the very few that seem to have both boxes checked is gospel singer, Rebecca Malope who has been married to her husband, Themba Tshabalala.
Even though she is one of the most successful musicians in her genre, Malope has managed to keep her love life and family hidden for a very long time. She recently revealed that she had been married to her better half for a very long time, and they are happy together.
Quick Profile of Rebecca Malope
Full name: Batsogile Lovederia Malope
Age: 55 Years Old
Occupation: Singer
Husband: Themba Tshabalala
Children: Zweli Malope, Noluthando Malope, and Thandeka Malope
She Had Phobia Of Getting Married For A Long Time Before Meeting Her Husband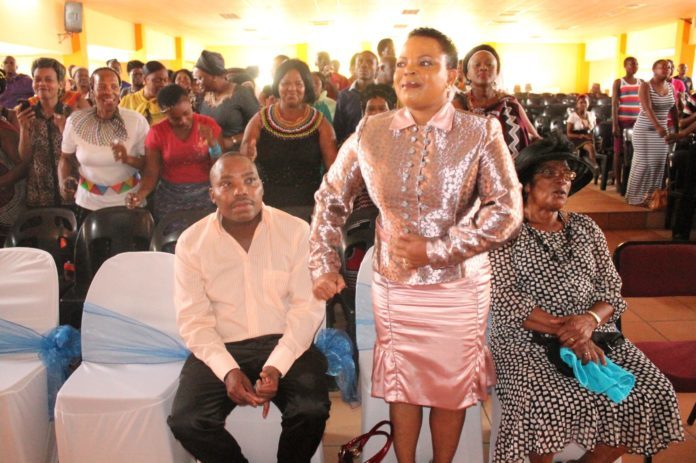 For a better part of her adult life, Rebecca Malope was not associated with any man as her lover. This is because the singer grew up with a phobia for marriage due to the experience she had while growing up.
She revealed that her father was a very abusive man towards her mother. He physically abused her on more occasions than one, and at a point, he attempted to kill her by throwing her in a river full of crocodiles, but she managed to survive the act. In fact, the abuse her mother suffered started even before the birth of Rebecca. Her father beat up her mother when she was pregnant with the singer, which led her to give birth to her daughter prematurely.
The queen of gospel, as she is famously known, also felt the abusive grunt of her father as he would also beat her. One day, he returned home and fetched her brother and sister, leaving her behind with her mother. That was the last time she would see him for a very long time until she became famous and he became old, sick, and broke. Her mother did not want her to have anything to do with him, but when she got a call that he was sick, she still decided to see him because she wanted to have answers to events of her dark past.
Because of all she went through at the hands of her father, Rebecca had men coming to marry her, but she always rejected them because she was scared they may later change and abuse her just like her father did.
Apart from what her father did to her and her mother, her uncles also abandoned them, and her sister was killed by her boyfriend. More to her experiences with men, she was raped by her aunty's husband when she was young. All these experiences came together to make her fear ever getting married.
Rebecca Malope and Themba Tshabalala Have Been Married For Long
By 2012, Sis Ribs, as the singer is also called, was already 44 years old and with 27 years of experience in music and still not married. However, she revealed that she had met a businessman named Themba Tshabalala, who she was not only dating but was also engaged to.
According to her, she overcame her fears of marriage, and she was considering walking down the aisle with the man in her life. She stated that they had met and remained acquainted for up to a year before they started dating. Even after they were engaged, she made it known that they were still getting to know each other better.
In December 2020, she made a shocking revelation that they had been married for a long time, and they were living happily. The singer's children love and respect her husband in the same way that he loves them. She did not mince words when revealing that he is a very kind man who is also cherishing. Sis Ribs and her husband are enjoying their marriage without any controversy, but they do not have any kids together.
Themba Tshabalala Is A Businessman
Before his relationship with the famous singer, Themba Tshabalala has always maintained a tranquil life, without any reason to throw himself in the public lights since he is not a celebrity.
Even with their union, nothing much has been known about him except that he is a businessman who has also recorded some level of success in his own rights. As revealed by his wife, his business doesn't cut into the media; hence, his life has remained rather hidden.
Other aspects of his life remain unknown, including his past life, whether this was his first marriage, and his biography.
She Kept Her Husband Away From The Public Because She Cherishes Her Security
The exact year that Rebecca Malope and her husband got married is unknown, but according to her, they have been together for a very long time. Nonetheless, she has kept him away from the public until 2020.
According to the singer, the simple reason why she did not reveal who her husband is earlier than she did was that she cherished her privacy and security. Even after revealing that they were now married, she still ensures that she keeps a better part of their marriage private.
The decision to keep their love life private is something that the two of them decided on doing as her husband also wants it that way. More so, she is trying to ensure that her professional life and the fame it comes with don't interfere with her private life and marriage, most especially.
Rebecca Malope Is A Mother Of Three
Even though the gospel singer did not get married early, she has been a mother for a very long time; all her children are now adults. The singer adopted her three children from her sister, who died suddenly in 1996 after being shot by her boyfriend. That was the toughest year for her as she also lost her father and brother. With all the tragedies, she had to raise her children alone.
The first of her three children is Zweli Malope. Although he has maintained a rather quiet life, it is known that he was born in 1981. The most popular of the kids is Noluthando Malope, who is the second child. She was born in 1989. She has become very popular thanks to the close relationship with her mother, who is also the singer's manager. Apart from that, Nolu is also a media personality who works as a TV presenter and host.
There is also Thandeka Malope, who is the youngest of Malope's children. She was born in 1993. She is a vocalist and a businesswoman, although she has also made an effort to keep her personal life away from the public. Rebecca Malope is not only a mother; she is also a grandmother to two wonderful boys born by her daughters.
The singer may not be able to have any kids of her own. She has since revealed that as a result of some complications, she might not have kids. She once took in but had a miscarriage. Besides that, age is no longer on her side to have kids as she has already seen the other side of her golden ages.