Nomvula Paula Mokonyane (born 28th of June 1963, Age: 60 years old) is a South African politician who served as the country's Minister of Environmental Affairs following her appointment on 22 November 2018 under President Cyril Ramaphosa.
Never far away from controversy and allegations of misconduct, Nomvula Mokonyane is another one of the many South African politicians that the public had had high trust in but has ended up appearing to be amongst the worst of the leaders of the country.
A former student activist, Mokonyane began her political career in Gauteng provincial politics, serving in the legislature before rising to become the province's first female premier. After holding that position, she was appointed to head a ministry by President Jacob Zuma, a role she held even after the president was forced to resign and a new president was elected. The Gauteng native would later go on to head two other ministries in less than two years before which it was announced that she will not be returning to parliament in 2019.
Summary of Nomvula Mokonyane's Biography
Full name: Nomvula Paula Mokonyane
Place of Birth: West Rand township of Kagiso, Gauteng
Gender: Female
Date of birth: 28th of June 1963
Nomvula Mokonyane's Age: 60 years old
Ethnicity: Black
Nationality: South African
Zodiac Sign: Aries
Sexual Orientation: Straight
Marital Status: Married
Nomvula Mokonyane's Husband: Serge Mokonyane
Nomvula Mokonyane's Children: 2 (one is late)
Siblings: 11
Famous for: Her political career
Nomvula Mokonyane's Instagram: mokonyanenomvula
Twitter: @NomvulaMokonyan
Biography of Nomvula Mokonyane
Monkonyane was born Nomvula Paula Mokonyane in the West Rand township of Kagiso, Gauteng on the 28th of June 1963. While the identity of her parents is unknown, it is known that she is the youngest of twelve siblings that comprises of seven girls and five boys.
According to her educational records, the then-future South African minister attended Masupatsela High School in Kagiso. She would later move overseas to Sweden where she obtained her Certificate of Local Government and Planning Management and Community Development.
As a schoolgirl, Nomvula Mokonyane began to make strides towards becoming a politician. She was first a student activist who in the early 1980s became a member of the Young Christian Students (YCS) and contributed to the founding of the Congress of South African Students (COSAS). She would later serve as the publicity secretary of the United Democratic Front's Krugersdorp branch as well as an organizer of the Federation of Transvaal Women which provides assistance to families of youth and other detainees in their struggle for democratic representation in student councils.
As a result of her involvement in political issues, Mokonyane was often harassed and detained by the apartheid security police. She was, however, unrelenting in her struggle and would go ahead to enjoy the fruits of her labor when the formation of political organizations was unbanned in 1990. This led her to be involved in the re-establishment of the ANC and SACP structures.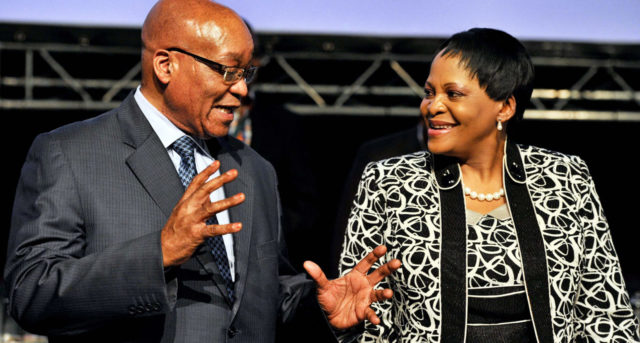 In 1994, when the first democratic elections were held in South Africa, Nomvula Mokonyane was elected to serve in the Gauteng Legislature. She was then appointed as a Member of Executive Council (MEC) for Agriculture, Conservation and Environment in 1996. From 1999 to 2004, she was in the MEC for Safety and Liaison and from 2004 to 2009, she was in the MEC for Housing.
In 2007, at the ANC's 52nd National Conference in Polokwane, Mokonyane was elected as a member of the National Executive Committee. It was after this that she went on to be elected as the 5th Premier of Gauteng in May 2009, a position she held until May 2014. That same month, she was appointed as the Minister of the newly created Water Affairs and Sanitation ministry. She would later go-ahead to serve as the Minister of Communications and Minister of Environmental Affairs.
5 Facts You Should Know About The Former Minister
1. Mokonyane is Married With Three Kids
For many decades, Nomvula Mokonyane was married to her husband, former trade union worker, and businessman Serge Mokonyane, who is the founder of ZKM Consulting and Project Management. The pair are said to have first met during a rally that was held in 1984 before courting and later getting married. Their union was blessed with three children before Serge passed away on the 4th of April, 2019.
2. One of Her Sons Committed Suicide
On the 23rd of November 2010, Mokonyane lost one of her children to suicide. Her son, Retlabusa (Giggs as he was known to his friends), was found dead in a Johannesburg townhouse where he had shot himself. Prior to his death, the young boy was involved in a number of crimes that led to him having more than eight open police cases. Assault with intent to inflict grievous bodily harm, abduction, driving under the influence of alcohol, arson, and car theft were some of the charges opened against him.
3. Allegations of Corruption and Misconduct
In 2019, the former Chief Operations Officer of Bosasa claimed that for many years, monthly payments of R50,000 was been made out to Mokonyane in order for her to protect the company from law enforcement agencies. She was one of many ANC leaders to be implicated in the scandal.
Prior to the unveiling of this scandal, the minister had been accused by tabloids of favoring some young politicians in the country with tenders and contracts. Some of the people that were mentioned to have received something from her include ANC Youth League (ANCYL) treasurer Reggie Nkabinde, former football player turned businessman Jimmy Tau, and lawyer Luvo Makasi.
4. She is the Honorary President of the People's Association for Friendship with China in South Africa
In Johannesburg, on the 21st of March 2013, the SA-China People's Friendship Association (SACPFA) was founded to promote exchange and improve mutual understanding between the people of South Africa and China. Nomvula Mokonyane was thereon named as the Honorary President of the association for friendship with China in South Africa.
5. She Has Other Educational Qualifications
Other qualifications of Mokonyane include a Certificate Course in Emerging Economics from the University of Pennsylvania's Wharton Business School. She also studied leadership and governance at Harvard University and also received a Certificate in Project Planning.