Celebrity relationships often seem quintessential of what every other relationship should be like, but at some point, we get to realize that celebrities are not immune to some of the challenges regular people face in their relationships as well. At least we know this to be true with Prince Kaybee and Zola Mhlongo's relationship where the former cheated on his bae. Prince has however admitted he wronged his girlfriend by stating he humiliated her. But does Zola think he deserves a second chance after what he did to her?
Prince Kaybee and Zola's Relationship in Retrospect 
Musician Kabelo Motsamai who is also known as Prince Kaybee and his girlfriend Zola Ayabulela Mhlongo, who is on radio regarded as Zola Zeelovin met on social media before they fell in love with each other. At the time, Kaybee was in Bloemfontein while Zola lived in Durban.
Kaybee was casually scrolling through his social media feed when he saw a picture of Zola that someone tagged the on-air personality on, he liked how she looked and dropped a comment on the picture. Zola responded to the comment with a thank you and it was then that Kaybee slid into her DM. At the time, Zola was in another relationship so they decided not to go further but instead remained friends.
Prince Kaybee began working in the same radio station as Zola as a resident DJ in a fortunate twist of events. With this, they occasionally bumped into each other and gradually reignited sparks of friendship between them. Zola was also single and it didn't take long for Kaybee to win her over. She, however, admitted that she was skeptical about falling for a DJ because according to her "We don't fall for DJ's because they will play you like a disc."
Despite her misgiving, she couldn't resist the surge of passion her tender self was brimming with for the winsome DJ. Meanwhile, Prince Kaybee was equally elated when Zola accepted to date him. In his opinion, he just didn't want to date her but he wanted something more; having kids together and bringing her into his line of business. Apparently, Kaybee knew he has found the woman of his dreams while Zola was convinced she has seen the man she earnestly prayed for. When asked who professed love to the other first, the DJ admitted he was the first.
He Cheated on Zola Zeelovin For 5 long Years
Aside from being a talented musician whose song readily gets people dancing, Prince Kaybee is also famous for how he readily flaunts his woman Zola Mhlongo on social media, perhaps much to the envy of other women who would have loved to have him. To them, Prince is everything they would desire in a man and even more. But apparently, Zola wasn't enough for the musician as he decided to seek out one of these other women.
The Gugulethu hitmaker got involved with a certain woman whose only publicly known name is Eurica. They were probably at it for a considerable length of time before they fell out with each other, otherwise what would make any woman who could have Prince Kaybee in her arms decide to make their sexual clandestine affairs public. Ms. Eurica (as we assume she is not married) took to social media and began sharing cryptic messages she has been exchanging with Kaybee for what we have come to understand went on for half a decade.
The screenshots of their Instagram and WhatsApp chat the woman shared on Twitter contained details of their flirty chats, meeting arrangements, uber rides, and all whatnot in plain language. It was easy for anyone to tell that a lot was going on between the two by merely looking at their messages. Well, the Twitter posts where Eurica made the disclosure has since been taken down for obvious reasons.
Kaybee Initially Denied Having an Illicit Sexual Affair Before Admitting He Screwed Up
As the news went wild, Prince first took the defensive route and denied having a prolonged relationship with Eurica as according to him, she was just but a fling. With his weak defense, the South African social media space wasn't having any of it especially fans of his girlfriend Zola Zeelovin. The worst happened when fellow DJ Hazel Mahazard posted Prince Kaybee's nude, showing his male copulating organ. With this, it was undeniable that Kaybee has not been faithful to Zola.
He then made a U-turn, more like a confessional statement in a tweet, and revealed that Eurica was a costume designer who worked for him. From his admittance, Kaybee claimed that they met when Eurica came for costume measurements in an event he was performing in Cape Town. Price Kaybee further tweeted and tried to defend his actions by saying he has learned his lesson about giving people work. From this, it can be inferred that he possibly met the girl when she came for his costume measurement and they hit it off from there.
Finally, the long-awaited confession and apology came as it seemed that with more denials, came subtle admittances from Kaybee that he indeed knew his accuser more than what is ordinarily permissible for an employee-employer relationship. On 5th May 2021, he made a post on Twitter where he admitted to cheating on his girlfriend with Eurica. He apologized to his girlfriend, his fans, the brands he represents, and his mother.
Prince Kaybee and Zola are Moving on Quietly
Within the space of time when Prince Kaybee was in denial of Eurica, a lot happened that shocked fans of the musician and Zola and her fans. Zola remained silent most of the time and we can only imagine what an ordeal it has been for her. She later took to her Twitter account to address an accusation made by Kaybee's fan. She was accused of cheating on her ex only to quickly hook up with Kaybee. Zola responded thus –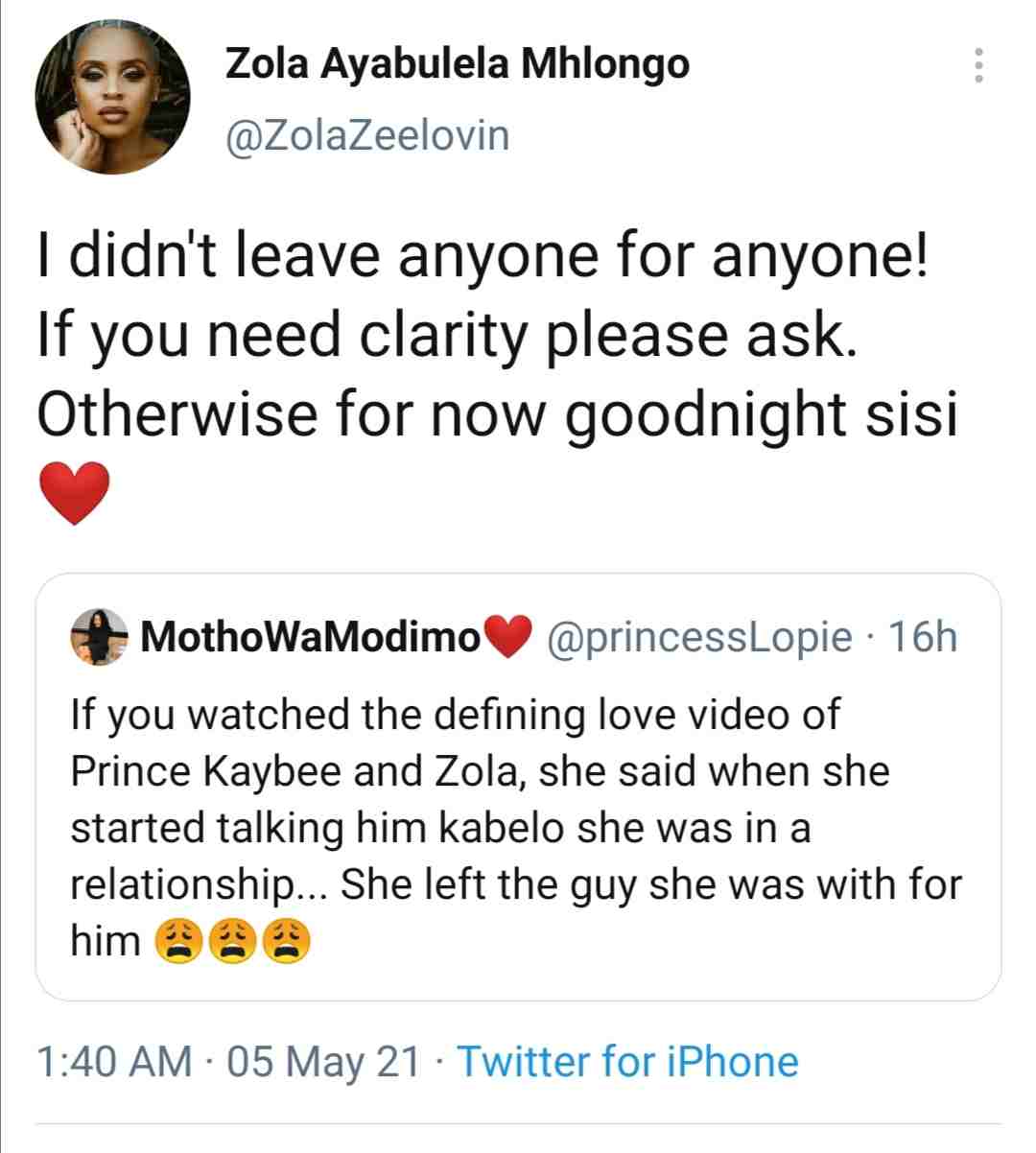 For now, no disclosure has been made on whether she has broken up with her lovey-dovey bae or perhaps she forgave him like many people expect she would do. Their social media pages have been suspiciously quiet on whether or not they are moving on with their relationship but time will tell. Prince Kaybee has been posting pictures of himself and work while Zola has also been doing the same. In all, they are both keeping a positive attitude, and just maybe, they have reconciled and decided to keep their relationship away from social media.