In May 2018, fans could not help but notice the charming beauty of Chante Jantjies on #WTFTumi, which airs on SABC3. To be sure that they were not the only ones who noticed her stunning features, some fans took to Twitter to express how they feel about her beauty. Well, that should not come as a surprise as Chante Jantjies is not a stranger to pageantry. She has been involved in beauty pageantry from a very young age, and we can all agree that it takes a wonderful lady to get involved in such competitions.
On SABC, she was not presenting as a beauty queen but rather as an anchor. This is because the 30-year-old Chante Jantjies is a beauty queen with brains and talent, and she has been able to build a good name for herself in the television and broadcasting industry. But, just like pageantry, she also started her TV presenting career as a young girl.
Profile Summary Of Chante Jantjies
Name: Chante Siyamthanda Jantjies
Age: 30 years old
Date of birth: April 11, 1993
Ethnicity: Scottish-Italian, South African
Relationship: N/A
Occupation: News anchor, entrepreneur, model, radio presenter
Hobbies: Sky diving; Bungee jumping
Instagram handle: chantejantjies
Chante Jantjies Was Just 10 When She Won The Title Of Little Miss SA
Finding the perfect place to fit in while growing up was not really easy for Chante Jantjies, especially because she was born by parents of different races and ethnicity. While her mother is of the Xhosa tribe in South Africa, Jantjie's dad is a Scottish-Italian man. From her skin color to her hair texture, it is easy to notice that she is of mixed race.
This may sound cool to everyone, but it was not easy for her to decide where she wanted to be, especially since her father was not South African and was living in South Africa. Thankfully, she was able to find a perfect place for herself in the South African showbiz industry at the very young age of 10.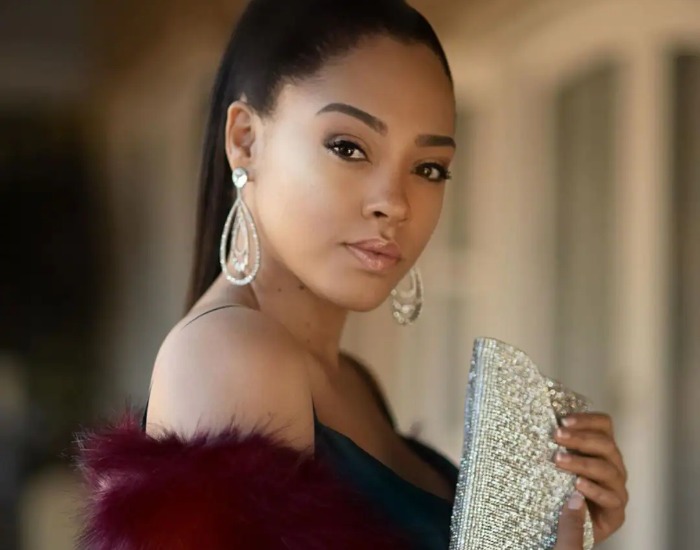 While in secondary school, Chante Jantjies had already developed an interest in public speaking. This helped her to start developing her skills in the field. She tasked her talent (and beauty) and auditioned for several beauty pageantries. While she participated in a couple of them, the talented young lady also bagged several awards.
One of the notable awards Chante Jantjies won as a young beautiful, and talented young woman was the title of Little Miss SA in 2004 at the age of 11. At the age of 16, she bagged the crown of Miss SA Teen title in 2009 – and she was not done yet.
After taking home two notable South Africa beauty princess crowns, the following year, she took part in an international beauty pageant, Miss Teen Universe, and once again, she brought the crown home to South Africa as the winner. In 2018, she was a part of the ladies who made it to the semi-final of the Miss SA competition, but she did not make it to the top 12, as she was eliminated.
At The Age Of 14, She Became a Teen Presenter For KTV
While Chante Jantjies was still winning teen pageant crowns, she landed her first TV presenting role with KTV. This was a breakthrough for her, as it opened her path up in the industry and gave her the exposure that has contributed to making her one of South African's favorite news anchors.
Considering how good she is at news anchoring, you may be surprised to know that this was not her first choice – in terms of a career path. At the age of 18, Chante Jantjies landed a job with ANN7 (now Afro Worldview). Although she initially auditioned for the role of a lifestyle presenter, there were many top candidates who also wanted the same role. In the end, she did not land the job. Not willing to let her go, the TV station employed her as part of the weather reporting department, and she was responsible for giving five minutes weather forecast.
This was not her initial expectation, but Chante Jantjies took the job, and when an opportunity availed itself for her to be an alternative news anchor because the original anchor had a panic attack, she took it graciously. Since that event, the former beauty queen has remained a news anchor, and her career has continued to grow. She has now fallen in love with being a news anchor as well.
At ANN7, she was always on-air every weekend morning from 6 am to 9 am and in the evening from 9 pm to 12 am. After completing her studies, she had more time for her job, so she took a position in prime-time which was airing from 12 pm to 3 pm. At 21, she was already a co-anchor for the prime-time evening news.
It is not very common to find young people who seem to have their lives all figured out in their early 20s, but Chante Jantjies is an awesome exception. Starting out early has helped her launch herself and her career to a better position while she is still young.
Chante Jantjies Joined SABC At The Age Of 23
After years of working and growing with ANN7, Chante Jantjies left the station in 2016. Her reason for leaving is not known, but sources referred to her exit as 'unfortunate,' implying that it may not have been an amicable exit. However, it did not take her so long to land another job, and this time with SABC, one of the popular TV stations in South Africa that also airs on DStv.
She has continued to work for SABC, and according to her, she is glad that she can use her job at SABC to take her career to another level. Chante Jantjies is also a presenter for Metro FM, and considering her age; it's obvious she has many more years to achieve her career dreams and desires.
She Is Also A Philanthropist And Entrepreneur
In order to give back to society, Chante Jantjies has a foundation called Chante Cares Foundation. Through the foundation, she is able to reach out to the less privileged by helping them access their basic needs.
Jantjies is also an entrepreneur. She is the founder of the first Mara Experience Store in South Africa. Located at Maponya Mall in Soweto, it is a Mara franchise store where anyone can get quality and affordable phone devices and other gadgets. Mara Corporation has a manufacturing facility located at KwaZulu-Natal, and this inspired her to invest in the franchise store.
Who Is Chante Jantjies Dating?
It is normal for fans to desire to know their celebrities beyond what they show them on the screens. They often want to know more about the personal life of their favorite celebrities, but unfortunately, not all celebrities are that open – including Chante Jantjies.
On her Instagram account, you can find stunning photos of herself and sometimes her friends, but she does not show any man as they love of her life. Also, considering how stunning and successful she is, it may be untrue to say she is single. As such, you can agree that it is safest to say her current relationship status is not known.